Learn from Home Offer TAKE THIS BUNDLE
DATA SCIENTIST Course Bundle - 150 Courses in 1
608+ Hours of HD Videos
150 Courses
Verifiable Certificate of Completion
Lifetime Access
TAKE THIS BUNDLE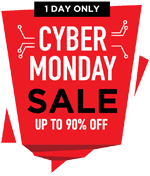 * One Time Payment & Get Lifetime Access
What you get in this DATA SCIENTIST Course Bundle - 150 Courses in 1?
608+ Hours
150 Courses
Course Completion Certificates
Lifetime Access
Self-paced Courses
Technical Support
Mobile App Access
Case Studies
About Data Scientist Course Dubai
| | |
| --- | --- |
| Course Name | Online Data Scientist Course Dubai |
| Deal | You get access to all videos for the lifetime |
| Hours | 608+ Video Hours |
| Core Coverage | You get to learn data science using R, Python, Machine Learning, Artificial Intelligence, Big data & Hadoop, Predictive Modeling, Business Analytics, Data Visualization, and other areas under Data Science. |
| Course Validity | Lifetime Access |
| Eligibility | Anyone serious about learning data science and wants to make a career in analytics |
| Pre-Requisites | Basic knowledge of data and analytics |
| What do you get? | Certificate of Completion for the course |
| Certification Type | Course Completion Certificates |
| Verifiable Certificates? | Yes, you get verifiable certificates for each150 course, Projects with a unique link. These link can be included in your resume/Linkedin profile to showcase your enhanced skills |
| Type of Training | Video Course – Self Paced Learning |
| Software Required | None |
| System Requirement | 1 GB RAM or higher |
| Other Requirement | Speaker / Headphone |
Data Scientist Course in Dubai Curriculum
---
We ensure that the following skillsets will be added to your tech stack after completing our Data Scientist Course in Dubai. Topics on Data Science with Python, Python Programming, Artificial Intelligence with Python, Data Visualizations, Video Analytics using Opencv and Python Shells, Pandas, Machine Learning with SciKit-Learn in Python, Statistics for Data Science with Python, Predictive Analysis, Linear Algebra, Probability, Random Forest, Classifiers, NLP, R Programming with R studio UI and Script Basics, Logistic Regression with R, Decision Tree modeling using R, Hypothesis Training, Heuristic Search, Forecasting, Neural Network, Kmeans Clustering, Vector Machine, Normalization, Seaborn, Pyspark, Financial R in Analytics, etc.
The curriculum is devised in a very comprehensive way covering all the beginners and advanced level concepts well.
There is a 50+ Hands-on Project that covers all the important concepts and trains you efficiently to handle those predictions. These projects on SAS, Hadoop, Predictive Modelling, TensorFlow, Churn Prediction Model using R Studio, R and Tableau, etc will clear all your concepts and hardwire the necessary abstract in you which will help you in your future endeavors with Data Science Projects.
At the end of completion of the Data Scientist Course in Dubai, we award a certificate of completion to the students which will carry weight and would help you in the interview process.
Data Scientist Course – Certificate of Completion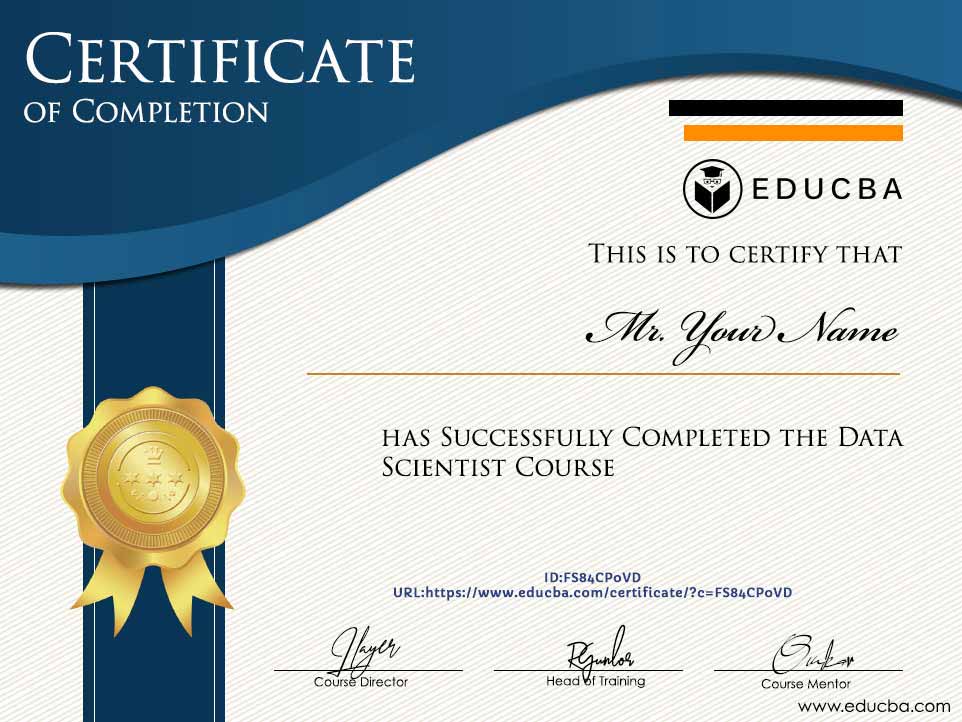 What is a Data Scientist?
Experts who have the technical skills to solve complicated problems and also the knack to deep dive into the problems that need to be solved. They are with good mathematic skills and also good computer skills. They have great expertise in the IT world and the business forum. Hence, it is considered to be one of the most sorted after profession presently. The need for a data scientist has risen recently and there was not much requirement of a Data Scientist earlier but the era of data explosion has called for such a need of the hour. People mostly from statistics or data analysts enter this career path. It requires a lot of analysis skills, curiosity, and the skill to turn high ideas into profit. Also, it is to be noted that there is not a definitive job description for a data scientist. A Data Scientist has to make the analysis and also deal with all the other processes involved in spotting trends to help a business to grow. The large volume of unstructured data needs proper business insights and thus, a data scientist comes into the picture.

Industry Growth Trend
The overall data science platform market is expected to grow from USD 19.58 billion in 2016 to USD 101.37 billion by 2021, at a CAGR of 38.9% from 2016 to 2021.
[Source - MarketsandMarkets]
Average Salary
Average Salary
$120,301 per year
The average salary for a Data Scientist is $120,301 per year in the United States.
[Source - Indeed]
Which Skills will you learn in this Course

?
The comprehensive Data Scientist Course in Dubai bundle consists of 76 online courses and it well-tailored to the needs of a beginner. It is a very insightful course and has received a good number of recommendations from people who have already taken the course.
The important basic level courses like Python, Data Visualization, AI, Python Shells, Pandas, Statistics, Probability, Predictive Analysis, Gradient Descent, etc. will be learned in-depth.
Python is a very important programming language along with R, and it is covered well in our training videos. All the Python R, SAS, Hadoop, SPSS, Tableau, Minitab, Splunk3, MATLAB, etc related videos are present to cater to the need of a budding Data Scientist from scratch.
Pre-requisites
Here are the following pre-requisites for becoming a Data Scientist.
Scientists are highly educated. There are people mostly who have a Masters' Degree and others who have attained PhDs. It is not wrong to say that there cannot be exceptions to this directive. One can even go forward with this study if one has a Bachelor's Degree in Computer Science, Statistics, Physical Science.
Education: The most common fields of Studies are Mathematics, Statistics, Computer Science, and Engineering. A required degree in any of the above-mentioned fields can open your path for Data Science. Apart from the degree, many data scientists have taken up specific data scientist courses to aid them with their learning in data science.
Technical Skills: Knowledge of R Programming, Python Coding, Hadoop Platform, SQL Database, Spark, Machine Learning, Data Visualization is needed.
Non-Technical Skills: From the above mentioned technical skills, one needs to have business acumen, a curiosity for intellectual, good communication skills and should be a good team player.
Target Audience
There is a huge number of career options available to the one who opts for the course of Data Scientist at EDUCBA.
One can become a Data Analyst, Business Analyst, Quality Engineer, Machine Learning Engineer, AI Expert, AI ML Engineer, SAS Programmer, Predictive Modelling Professional, Statistical Modeler, Spark Developer, Market Research Analyst, Solution Architect, Analytics Manager, etc.
A Data Scientist is considered as the sexiest job of the century and anyone who wants to receive an amazing hike and greater learning opportunity should take up Data Scientist Course in Dubai.
Anyone can choose a Data scientist for a career transition. Anyone willing to put in the required effort which is required to perform well in this field can become a Data Scientist.
Data Scientist Course Dubai – FAQ's
---
Is Python the most important programming language for aspiring Data Scientists?
Yes, because of Python's strong library support and data manipulation tasks, it is an ideal choice for applications that are data-centric for libraries NumPy, Pandas, Matplotlib, etc. Python is being used for the analysis of data interactive computing since a very long time. R is important for all the statistical tasks and even that needs to be learned along with Python. Our comprehensive course at EDUCBA takes into consideration all these parameters and has a very well devised course on Python and R for beginners.
What is the future of Data Scientists?
We can perform powerful abstractions with Data Science than before now since the time Apache Hadoop had made its entry into the market. Data Science is used to predict the future. Mostly every organization is moving towards AI solutions and the market of Data Scientists is just going to grow from there.
Sample Preview
---
Career Benefits
Data Science is the buzzword that is afloat in the IT Industry in the present. There are so many perks of becoming a Data Scientist that one can never ignore:
Business Review has considered Data Scientist as the sexiest job of the century. Many companies have started taking a serious interest in operational research and into data science more now. It is becoming a very big job trend now.
One is free to work on the domain that interests that particular individual as all the technology in which a data scientist deals with finds its application in almost every domain.
Apart from the above-mentioned perks you also get associated with all the big names in the market as so many IT giants have realized the importance of a Data Scientist.
Why should you take up the Data Scientist course in Dubai?
IT market is calculated to be Dh22 million by the year 2019. This information was released by the Dubai Chamber of Commerce and Industry. If anyone wishes to have a high income and profitable career in the IT market, Data Scientist Course in Dubai can act as a very important stepping stone. The IT market all over the globe realizes that the growth of the business can be possible only if the proper business analysis is done.
What is the Data Scientist market trend in Dubai?
Diversification efforts in the Middle East have made an attractive Information Technology market possible. The UAE is the second biggest economy in Arab. According to the Fitch index, it has scored 68.4 points. As the idea of the Smart City initiative has been around, investments in IT have increased across MEA. The amount pitched in for this undertaking is supposed to reach an estimate of about $2.7 billion in 2022. Dubai and Riyadh are leading their way according to the researches made in recent times. The very upbeat notion is present for Data Scientist's jobs and is just going to take a positive trajectory in no time as the requirements of Data Scientists grow and dominate the market.
Data Scientist Course Testimonials
---