Learn from Home Offer TAKE THIS BUNDLE
DATA SCIENTIST Course Bundle - 150 Courses in 1
608+ Hours of HD Videos
150 Courses
Verifiable Certificate of Completion
Lifetime Access
TAKE THIS BUNDLE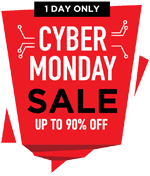 * One Time Payment & Get Lifetime Access
What you get in this DATA SCIENTIST Course Bundle - 150 Courses in 1?
608+ Hours
150 Courses
Course Completion Certificates
Lifetime Access
Self-paced Courses
Technical Support
Mobile App Access
Case Studies
About Data Scientist Course Canada
| | |
| --- | --- |
| Course Name | Online Data Scientist Course Canada |
| Deal | You get access to all videos for the lifetime |
| Hours | 608+ Video Hours |
| Core Coverage | You get to learn data science using R, Python, Machine Learning, Artificial Intelligence, Big data & Hadoop, Predictive Modeling, Business Analytics, Data Visualization, and other areas under Data Science. |
| Course Validity | Lifetime Access |
| Eligibility | Anyone serious about learning data science and wants to make a career in analytics |
| Pre-Requisites | Basic knowledge of data and analytics |
| What do you get? | Certificate of Completion for the course |
| Certification Type | Course Completion Certificates |
| Verifiable Certificates? | Yes, you get verifiable certificates for each150 course, Projects with a unique link. These link can be included in your resume/Linkedin profile to showcase your enhanced skills |
| Type of Training | Video Course – Self Paced Learning |
| Software Required | None |
| System Requirement | 1 GB RAM or higher |
| Other Requirement | Speaker / Headphone |
Data Scientist Course in Canada Curriculum
---
This training program has been very carefully designed and developed to fulfill the requirements of everyone willing to learn Data Science, people regardless of their knowledge of any data science element. Python derived units are the main part of the course. You learn how python is used in these units to work with large quantities of data to produce useful information. You can learn about Python's special libraries with numerous features and the user can extend the features in the application. You will also learn about R programming, another important part of data science. Many program features are implemented using the language of R programming and you will learn them in this Data Scientist Course in Canada. However, via SAS you will also learn about data science and take part in the live campaign. The learning and the project part are available for all subjects included in this course. The project helps you to understand the internal workings of the system through the technologies or techniques described above.
The course provides you with a deep knowledge of modules such as SPSS, Minitab, Hadoop, Tableau. The approach, which is considered as data science, is endorsed by every topic defined here. Finally, before you finish your course you will be able to get to know Matlab and Splunk so that you can learn all aspects of data science. Along with the topics, projects are being developed for each technology or tool that has been introduced in this Data Scientist Course in Canada to help you get hands-on experience. During the time you practice your task, you will learn about the real-time problems in the production environment and overcome these problems can help you to understand the technology deeply.
Data Scientist Course – Certificate of Completion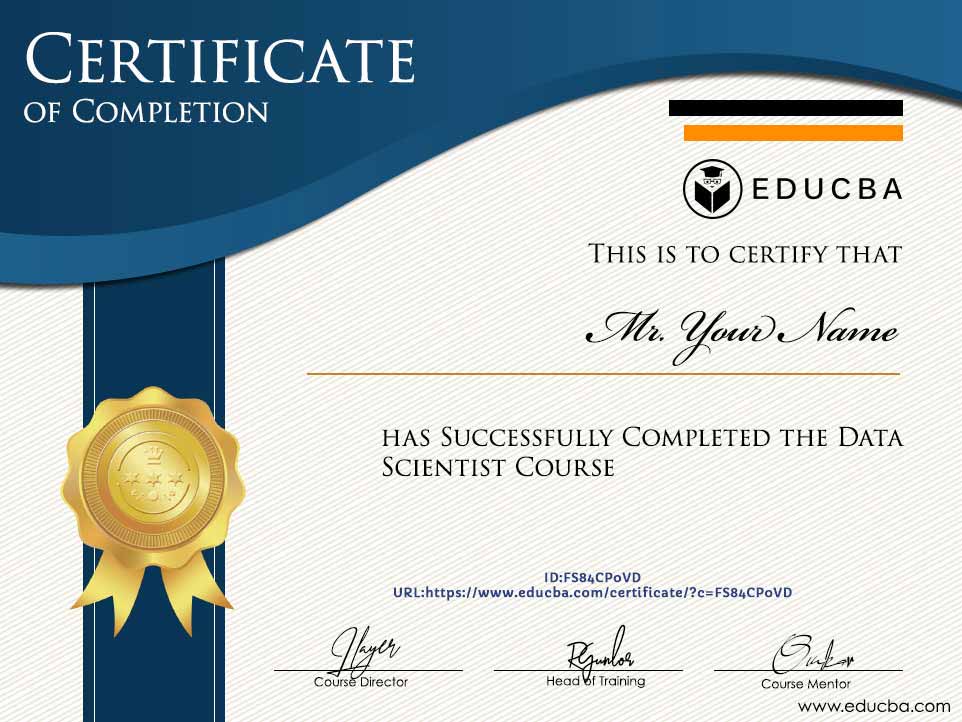 Who is a Data Scientist?
The data scientist can be described as an expert with huge amounts of data to extract useful information from it. A data scientist uses many information-processing techniques. We generally use languages such as python and R that have a good understanding of different frameworks. A data scientist's core role is to process the data through the application of algorithms and unique methods. He also understands technologies such as MatLab, Hadoop, Splunk, etc. The organization which handles much data is required to make the decision.
In the graphical representation, the data scientists can also produce data, making decision-making too easy. They also know how to conduct mathematical calculations based on statics that support the data processing, as well as the programming abilities and knowledge of several techniques. In reality, they transform the mathematical form into an algorithm to process the data and produce useful data.
Which Skills will you learn in this Course

?
This Data Scientist Course in Canada includes all the elements you need to know to be a data scientist. Because the topics are python-based, you can learn more about python and certain frameworks. You'll also learn the R language programming which data scientists need. You will also learn to work on other software such as Splunk, MatLab, SAS, Minitab, image, etc. The course also includes the project module introduced to give you real skills. You will all be a data scientist in all the units that are covered in this course, and these are your skills.
Pre-requisites
There are certain preconditions for certain courses that must be met to proceed. But in this situation, we have nothing as a requirement, but certain technologies will promote training for you.
is the first thing. The software designed for data processing in Python is built using different frameworks. If you know how to code Python and R you will be very helpful. Apart from that, some of the tools or technologies can help you to be a data scientist. A basic understanding of technologies such as Hadoop, Minitab, MatLab, and Splunk should be found.
Target Audience
Everyone trying to learn can be the best target audience for any course and the same implies to this Data Scientist Course in Canada. The best audience for this training can be professionals interested in expanding their careers in the field of data science. Upon completing this course, you will get to learn various new things and be rewarded in the interviews or current work. The students who are ready to be a data scientist in the final year of their studies will start their career in this course. Since this Data Scientist Course in Canada focuses mainly on the practical side, the students will learn a lot of new things in their academics.
Data Scientist Course Canada – FAQ's
---
Why should you study data science in Canada?
Organizations in India are exponentially expanding their eCommerce & online service.
Organizations look for candidates who have extensive experience working with the data and help them obtain accurate information. As a data scientist in India, it's much more competitive because of the high demand for skilled data scientists. There are huge job opportunities in the current labor market and the near future, the number will grow rapidly.
You may choose to take this Data Scientist Course in Canada that will improve your data science skills if you want to use the highly demanding software.
How long is the validation period?
This Data Scientist Course in Canada credentials is valid for a lifetime. It is necessary to change all the certificates. You can also take further advanced courses to increase your understanding and help you develop your career.
How long is this Data Science Course going to take?
It is generally recommended 10 -15 hours a week. Time to complete the course may differ, but the majority of students can complete the course in 6 to 7 months if they are given 10 – 15 hours a day
Will the course obtain a certificate?
Yeah, that's right. The Data Science course is awarded to all those students who successfully pass the course along with project completion and who earn a lifetime validity certificate.
What is the Data Science market trend in Canada?
It's not long since strong growth has been recorded by data science. Canada is big with a population of lakhs and most of them use the internet to produce huge knowledge. Businesses in Canada required specialized and extensive technology to handle this information, and that was the time when data science made its debut in Canada. A few years ago, this technology was not so demanding, but at the same time it is highly demanded in Canada and virtually all of the industries need the expert in data science. The phenomenon is already booming and is to be intensified shortly.
Sample Preview
---
Career Benefits
This Data Scientist Course in Canada includes all the modules that someone prepared to develop his or her

requires. You can learn advanced new technologies, as this course covers all the subjects that fall within the Data Science Court. The important part of this training is that you know how the project in data science is done in combination with the learning component because every system or software has a project module. You can work as a data scientist after completing this Data Scientist Course in Canada and can also manage work on your own in the manufacturing environment. You may wish to become involved in the area of data science if you are looking for a rewarding career that offers better competitions.