What is a Cover Letter?
A cover letter is a document that uses paragraphs to elaborate on your experiences and skills in detail. It is typically a one-page letter introducing you as a candidate and explaining why you got interested in and qualified for the position. Additionally, it is an important component of the job application process that should get noticed and addressed. You can significantly improve your chances of landing your dream job by donating some time to create a thoughtful, well-written cover letter highlighting your abilities, experience, and passion for the position.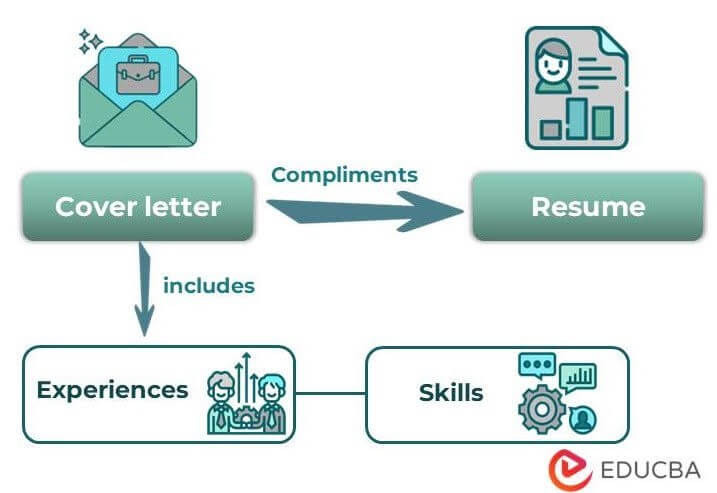 A strong cover letter complements your resume by revealing points related to the position. It is a promotional presentation explaining why you are best suited for the job. Recruitment experts encourage job seekers to spend some time tailoring each cover letter for every opportunity rather than sending mass emails. As a result, it may take more work but can be rewarding because it helps the candidate stand out.
Key Highlights:
A cover letter is a written document that accompanies a job application and elaborates on the candidate's skills and experiences.
The purpose of a well-written cover letter is to persuade the employer that the candidate is a good fit for the position and to express interest in the job.
A hook is an attention-grabbing sentence that encourages readers to continue reading the cover letter.
Cover letter templates are pre-designed documents that contain a heading, welcome, introduction, main paragraph, and conclusion section.
Writing a professional cover letter is crucial to ensure its effectiveness and appropriateness for the job application.
How to Write a Cover Letter?
Writing a cover letter that grabs the reader's attention and leaves a positive impression can be difficult. Using an intriguing hook in the first paragraph of your cover letter is a great approach. A hook is a memorable sentence that grabs readers' interest and nudges them to read further. Here is a thorough approach for drafting such a cover letter:
Step 1: Research the Company and Position
Investigating the company and the position you're applying for is crucial before writing your cover letter. By doing so, you can customize your letter for the particular position and comprehend the company's values, objectives, and culture.
Step 2: Identify Your Unique Selling Points
Once you understand the company and your position, it's time to pinpoint your unique selling points. These traits and background knowledge distinguish you from other applicants and make you the best choice for the job.
Step 3: Craft an Engaging Hook
Your cover letter should start with an attention-grabbing hook that piques the reader's interest and compels them to keep reading. There are various techniques for creating an intriguing hook, such as:
Begin with a forceful declaration: Start your cover letter with a strong claim demonstrating your special selling features and passion for the job.
Step 4: Highlight Your Relevant Experience and Skills
After an interesting lead, you should highlight relevant experience and skills in the rest of your cover letter. You can describe your unique skill set and why you stand qualified for this position. Give clear examples and metrics to illustrate success and quantify the impact.
Step 5: Close With a Strong Call To Action
The last line of your cover letter should include a clear call to action, encouraging readers to take the next steps, such as scheduling an interview or reviewing your resume. You can also show your enthusiasm for the role and prove your qualifications.
Step 6: Edit and Proofread
After you've finished your cover letter, proofread and edit it accordingly. Check for typos and grammatical errors, and ensure the tone and content are professional and interesting.
Cover Letter Templates
A cover letter template is a pre-designed document that provides structure and a framework for writing a cover letter. It is usually divided into a heading, welcome, introduction, main paragraph, and conclusion section. Furthermore, it can help you organize your ideas and communicate your qualifications and experience logically and efficiently. Keep in mind, however, that the cover letter template should only be useful as a starting point and not as a finished product. You should tailor the cover letter to the position you are looking for.
John Andrew
Management Student
[email protected]
451-434-9852
Auckland, New Zealand
To:
Mark Antony
Human Resources Manager
Brilliant Digital Solutions
Auckland, New Zealand
15 July 2023
Dear Mr. Antony,
I am writing to show my interest in the internship opportunity with your company. I came across your company from my college placement department and social media platforms.
Currently, I am pursuing my master's in business administration from XYZ University, Auckland, New Zealand. And I believe that my (Skill 1) and (Skill 2) will enable me to contribute to the success of your organization.
Talking about my previous experiences, I interned at a management firm where I gained a better understanding of the natural management world. In addition, I had the opportunity to work closely with top management employees. From my previous experience, I have gained much knowledge, which I can apply while working with your company to drive growth.
I am intensely looking forward to having a healthy discussion regarding this internship opportunity.
Thanks for your consideration.
Yours sincerely,
John Mathew
Examples of Cover Letters
Did you know that the content of a cover letter changes with a change in your position at a firm and for the role you are applying for? If not, let's look at different types of cover letters.
#1 University Student Cover Letter
You should have a cover letter in your resume when applying for an internship or job, where you can introduce yourself and discuss your interest in this role. It provides an opportunity to showcase your writing skills and personality. Here is an example:
Oliver Smith
[email protected]
Marketing Student
461-445-6546
Auckland, New Zealand
To: 
Sophie Williams
Human Resources Manager
Initech
Auckland, New Zealand
10 January 2023                                             
Dear Ms. Williams,
I am writing to show my interest in the summer internship your company offers. I learned about your company via the placement department at my university, and after visiting your website, I have immersed myself in your ground-breaking work in the transportation industry.
Currently, I am pursuing a marketing major with a minor in statistics and will receive my degree in August. Your company is well-known in similar areas, and having the privilege of serving as an intern with you will surely increase my learning opportunities and give me exposure.
After graduation, I wish to work for an agency like yours to broaden my experience and skill set. The right opportunities and experience in working with prominent clients will help kick-start my agency in a few years.
Previously, I got offered an internship at a local advertising agency. During that internship, I learned about advertising, Photoshop, and product design while working on a crucial project for HCL. My knowledge of advertising and product design could interest you as I read in the job description that you are seeking an individual with a good understanding of advertising and Photoshop.
I would love to have a talk with you regarding this internship opportunity. Please contact me if you have any questions or want to see any specific work samples. You can reach me at 461-445-6546 or [email protected]
I appreciate your consideration.
Sincerely,
Oliver Smith
#2 Cover Letter for Middle-Level Managerial Roles
A strong manager's cover letter should describe your professional interest in the position and highlight your most important skills and achievements. It should support and complement your resume. Here's an example that will help you understand this type of cover letter.
Charlotte Brown
[email protected]
Senior Project Manager
491-499-9158
Auckland, New Zealand
To:
Ethan Taylor
Human Resources Manager
Vehement
Auckland, New Zealand
15 July 2021
Dear Mr. Taylor,
I am writing to show my interest in your company's senior project manager position as a highly skilled senior project manager with 15 years of experience. I have served in this field for several years and can add value to your company.
After working for over a decade in project management, I have advanced knowledge in developing scopes, keeping projects moving, checking deliveries, and ensuring a smooth and seamless experience for all parties. Moreover, my previous position taught me diverse skills, including excellent relationship-building and time-management abilities.
Please review my attached application for more details regarding my overall experience and accomplishments.
I appreciate your consideration.
Sincerely,
Charlotte Brown
#3 Cover Letter for a Career change
The format of a cover letter for a career change can be similar to that of a typical cover letter. Still, the content should be tailored specifically to discuss how your current experience relates to the position and company. Here's an example through which you will be able to understand this type of cover letter
Emily Jones
[email protected]
Senior Project Manager
411-464-9512
Auckland, New Zealand
To:
Jacob Davis,
Human Resources Manager
Globex Corporation
Auckland, New Zealand
26 July 2022
Dear Mr. Davis,
With a formal background in marketing and proven success in sales, I look forward to transitioning into public relations. I am an excellent fit for your company's Public Relations Manager position, and I am confident that my transferable skills, such as [skill 1], [skill 2], and [skill 3], as well as my willingness to learn, adapt, and thrive in a new environment, will enable me to contribute to the success of your team.                                                                            
I have honed my abilities to [specific skill or accomplishment] throughout my career, and I am excited to apply these skills to a new industry where I can continue to grow and learn. In addition, my strong work ethic, attention to detail, and ability to collaborate with others will make me a valuable asset to your team. 
If you have any doubts, please contact me at 411-464-9512 or [email protected]
Thank you for being so considerate.
Sincerely,
Emily Jones
#4 Cover Letter for Managerial Level Role
A cover letter for a management position is a letter that introduces the candidate to the hiring manager along with a resume. The intention of a cover letter is to convince the employer that you are a good fit for the position. You highlight your skills and experience and explain why you got interested in the post. Here's an example of this type of cover letter to help you understand it
Lucas Garcia
[email protected]
Senior Project Manager
431-422-9192
Auckland, New Zealand
To:
Chloe Robinson
Human Resources Manager
Massive Dynamic (Fringe)
Auckland, New Zealand
07 September 2022
Dear Ms. Robinson,
I am joyous to submit my application for the [Job Title] position at your company as a successful business professional with a proven track record of tremendous business growth. I have the necessary skills, experience, and leadership qualities to excel in this position.
Here are some of the skills which I will bring to your company,
Strong commitment to the industry.
Solid marketing background
Strategic thinking and planning
Problem-solving and decision-making, etc.
I am a manager known for [specific leadership qualities, such as motivation, delegation, communication, and mentoring]. I thrive in fast-paced, challenging environments and can effectively prioritize given tasks and manage multiple projects simultaneously.
Looking forward to discussing the job application.
I appreciate your consideration.
Sincerely,
Lucas Garcia
#5 Cover Letter for Senior Executive Position
Excellent leadership, management, and technical skills are important in leadership positions. The cover letter should highlight the candidate's ability to inspire and lead teams, manage complex projects and large budgets, and make strategic decisions. Here's an example through which you will be able to understand this type of letter.
Isabella Green
[email protected]
Senior Project Manager
457-424-9152
Auckland, New Zealand
To:
William Thompson,
Human Resources Manager
Soylent Corp (Soylent Green)
Auckland, New Zealand
15 July 2023
Dear Mr. Thompson,
I am incredibly excited to be writing to you today. The position of Senior Executive in your organization is the perfect role for me. My previous work experience at one of your competitors demonstrates my skills and knowledge, while my academic accomplishments show my commitment to academic excellence.
With over 20 years of successful and long-term growth, I seek to monitor marketing and sales numbers to identify improvement areas closely. I am well known for improving performance through technology upgrades, implementing best practices, and improving employee training protocols.
Moreover, as a skilled working professional with a master's degree and a background in marketing and sales, I am confident that I will be an asset to your company in achieving the stated objectives. I want to discuss how I can help you meet your goals.
I hope to hear from you soon related to this job application.
Thank you for being so considerate
Sincerely,
Isabella Green
Things To Remember While Drafting a Cover Letter
There are several factors to consider while composing a cover letter to ensure it is efficient and appropriate. Here are some important things to remember:
#1 Tailor Your Cover Letter
Take the time to tailor your letter to the job and company you are applying. Use the job descriptions' keywords and phrases when researching the company to learn about its guiding principles, culture, and mission.
#2 Address the Recipient by Name
Use a specific recipient's name in place of a general salutation like "To Whom It May Concern." This demonstrates that you have conducted thorough research on the company.
#3 Write Professionally
A cover letter should be written professionally. Avoid using slang or wording that is too informal, and double-check the letter before sending it.
#4 Highlight Your Accomplishments
Explain why you are a good fit for this job in the cover letter. Emphasize your accomplishments and skills.
#5 Demonstrate Your Interest
Use your cover letter to demonstrate your interest in the position and why you want to work with the organization.
Final Thoughts
Finally, a cover letter is a valuable tool that can make or break your job application. It is your opportunity to highlight your unique qualifications and strengths. A well-written letter can help, while a poorly written one can hinder your job search.
It should be concise, professional, and error-free. Take some time to research the company and learn about its values and culture, and then use this information to demonstrate why you are a good fit.
As a result, with some effort and attention to detail, you can create a cover letter that will make a lasting impression and help you land your dream job.
Frequently Asked Questions (FAQs)
Q1. Should the cover letter be first?
Answer: A cover letter should usually come before the resume when submitting a job application. The hiring manager can better understand the applicant's suitability for the job by reading the letter. But, sometimes, a company may specify a different order or format for submitting application materials. Thus, it's important to follow the employer's specific instructions.
Q2. Are cover letters still relevant?
Answer: Yes, cover letters are still valid in the job application process. While some employers may not require them, many still do, and even if they are not, submitting an appropriately written cover letter can help you stand out from other candidates. Furthermore, a cover letter lets you introduce yourself, explain your interest in the position and the company, and highlight your relevant skills and experience.
Q3. How long should my cover letter be?
Answer: A professional cover letter should be one page long and ideally no more than three to four paragraphs. Avoid using long-winded sentences and unnecessary information. Instead, highlight your relevant skills and experiences that make you a good fit for the job. Remember, the cover letter supplements your resume, not a replacement.