Updated November 8, 2023
Introduction to ChatGPT on YouTube
Welcome to the amazing world of ChatGPT on YouTube, where we investigate the uses and potential of this potent artificial intelligence model.
In this article, we'll walk you through how ChatGPT transforms online content interaction and show you how to grasp, utilize, and utilize its potential fully.
With the ChatGPT for YouTube browser extension, you can quickly grasp the main points of a YouTube video by creating a text summary of the video using ChatGPT's capabilities.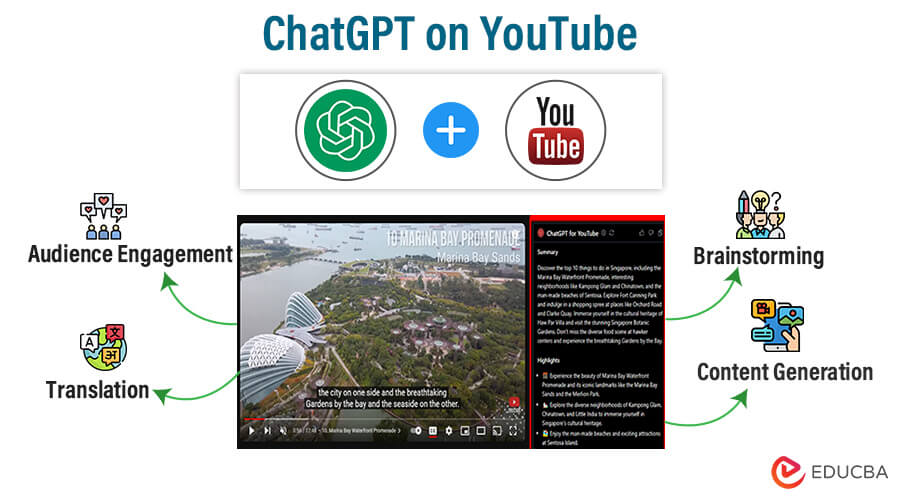 Table of Contents
What is ChatGPT?
ChatGPT is an advanced AI model developed by OpenAI.
Basically, it is a language model that is highly proficient in processing and creating text that resembles that of a human. This means that it can answer queries, produce original content, engage in natural and context-aware dialogues, and carry out a wide range of language-related tasks with impressive skill.
Why use ChatGPT on YouTube?
There are several compelling reasons to incorporate ChatGPT into your YouTube experience:
Enhanced Content Interaction: ChatGPT can interact in real-time with YouTube videos and their descriptions, offering shrewd analysis and extra details.
Ideation and Brainstorming: If you're a content creator, ChatGPT can help you brainstorm new video ideas, generate scripts, and refine your content strategy.
Audience Engagement: ChatGPT enables deeper interactions with your audience in the comments section, making your content more engaging and informative.
Content Generation: From video titles to video descriptions, ChatGPT can assist in generating high-quality text for your videos, saving you time and effort.
Accessibility: ChatGPT can provide text-to-speech services for video descriptions, ensuring that your content is accessible to a broader audience.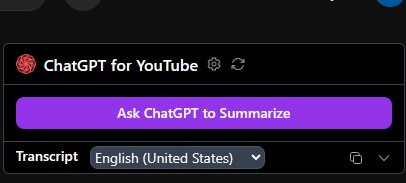 Installing the Plugin on YouTube
To bring ChatGPT to your YouTube experience, you can install it as a browser plugin. Here's how to do it in detail:
Choose a Compatible Plugin: Search for a ChatGPT browser plugin that suits your preferences and browser type. Many plugins are available for popular browsers like Chrome, Firefox, and Edge.
Install the Plugin: Click on the download or install button provided by the plugin. Follow the on-screen instructions to add it to your browser.
Configure your plugin: After installation, open the plugin and configure it to work with YouTube. You may need to grant permission or specify how you want ChatGPT to interact with YouTube content.
Enjoy Real-Time Assistance: Once configured, you'll have ChatGPT readily available while watching YouTube videos. You can summarize the content that you want.
With ChatGPT as a YouTube plugin, you'll unlock a wealth of possibilities for content enhancement, creativity, and audience engagement. Join us on this journey to leverage the full potential of ChatGPT on YouTube!
ChatGPT YouTube Tutorials
Beginner's Guide to ChatGPT
"Thank you for visiting the ChatGPT Beginner's Guide!
In this concise tutorial,
"We present ChatGPT, an AI model for natural language creation and understanding, in this brief tutorial. Discover how to use it to your advantage. We go over how to create concise prompts, how to come up with content, and useful apps for writing, solving problems, and other things.
Learn how to use responsibly, how to avoid frequent mistakes, and how to get better outcomes. This handbook highlights ChatGPT's potential across various fields and enables new users to harness its power. Get more about AI by subscribing, and check back for more in-depth tutorials."
Crash Course for Beginners
Video Title: "Crash Course for Beginners on ChatGPT: Get Started on YouTube"
Introduction:
Welcome beginners and explain the purpose of the crash course.
Highlight the benefits of using ChatGPT for YouTube content.
Chapter 1: What is ChatGPT?
Define ChatGPT and its key features.
Explain why it's valuable for YouTube content creators.
Chapter 2: Getting Started with ChatGPT on YouTube
Step-by-step instructions on accessing and integrating ChatGPT for YouTube.
Tips for a user-friendly experience.
Chapter 3: Crafting Engaging Video Titles
A walkthrough on how to use ChatGPT to generate captivating video titles.
Share best practices for SEO and viewer engagement.
Chapter 4: Enhancing Video Descriptions and Content
Demonstrate how ChatGPT can assist in creating compelling video descriptions and content.
Showcase examples of how to improve content quality.
Chapter 5: Audience Engagement and Comments
Explain how ChatGPT can enhance viewer interaction through comments.
Share insights on answering questions and maintaining engagement.
Chapter 6: Errors to Prevent
Highlight common pitfalls and misconceptions when using ChatGPT on YouTube.
Offer tactics and answers to overcome obstacles.
Chapter 7: Resources and Upcoming Steps
Encourage viewers to explore further learning resources related to ChatGPT.
Suggest how they can advance their YouTube content creation.
Conclusion:
Summarize key points from the crash course.
Reiterate the value of using ChatGPT on YouTube.
Invite viewers to like, subscribe, and explore more content.
From Beginner to Pro in One Video
"Open ChatGPT's YouTube video to see how to get from a beginner to an expert. We'll review the fundamentals, intermediate tactics, and advanced methods for producing material at the professional level. Discover your next steps, avoid frequent traps, and learn from real-world success stories. Up your YouTube game immediately!"
Understanding ChatGPT
What ChatGPT can do
ChatGPT is a powerful AI language model with a wide range of capabilities:
Conversational AI: ChatGPT can engage in natural and context-aware conversations, making it ideal for chatbots, virtual assistants, and customer support.
Content Generation: It generates human-like text, making it valuable for creating articles, stories, marketing copy, and more.
Text Summarization: ChatGPT can summarize long texts, helping users quickly extract essential information.
Question Answering: It can answer questions based on the text it has been trained on, making it useful for information retrieval.
Language Translation: ChatGPT can translate text between various languages, facilitating communication across language barriers.
Coding Assistance: It can assist programmers by generating code snippets, explaining code concepts, and providing debugging assistance.
Educational Content: ChatGPT can explain complex topics, making it a valuable resource for students and learners.
Creativity and Storytelling: It can co-create stories, poems, and creative content with human users.
Applications on YouTube
ChatGPT's integration with YouTube offers several exciting possibilities:
Real-Time Comments: ChatGPT can provide insightful and engaging comments on YouTube videos, enhancing the viewer experience.
Content Suggestions: For content creators, ChatGPT can generate video ideas, scripts, and descriptions, saving time and boosting creativity.
Audience Engagement: ChatGPT can interact with viewers in the comments section, answering questions and facilitating discussions.
Accessibility: ChatGPT can provide text-to-speech services for video descriptions, making content more inclusive.
Translation: It can assist in translating video titles, descriptions, and comments to reach a global audience.
Content Enhancement: ChatGPT can suggest improvements to video titles, descriptions, and tags to increase discoverability.
Reputation Management: Content creators can use ChatGPT to draft professional and engaging responses to comments, maintaining a positive online presence.
Understanding ChatGPT and its applications on YouTube opens up new opportunities for content creators and viewers alike, making the YouTube experience more interactive, informative, and engaging.
Content Creation with ChatGPT
Leverage ChatGPT's capabilities to supercharge your content creation process on platforms like YouTube.
Generating Content Ideas
ChatGPT on YouTube can now summarize the content of your videos in a second. You will get the text format easily. However, it only summarizes the content that has subtitles. You can get the script in just seconds. You can copy them.
By using "Chatgpt on YouTube," you quickly get the content of the video, save time, and learn quickly.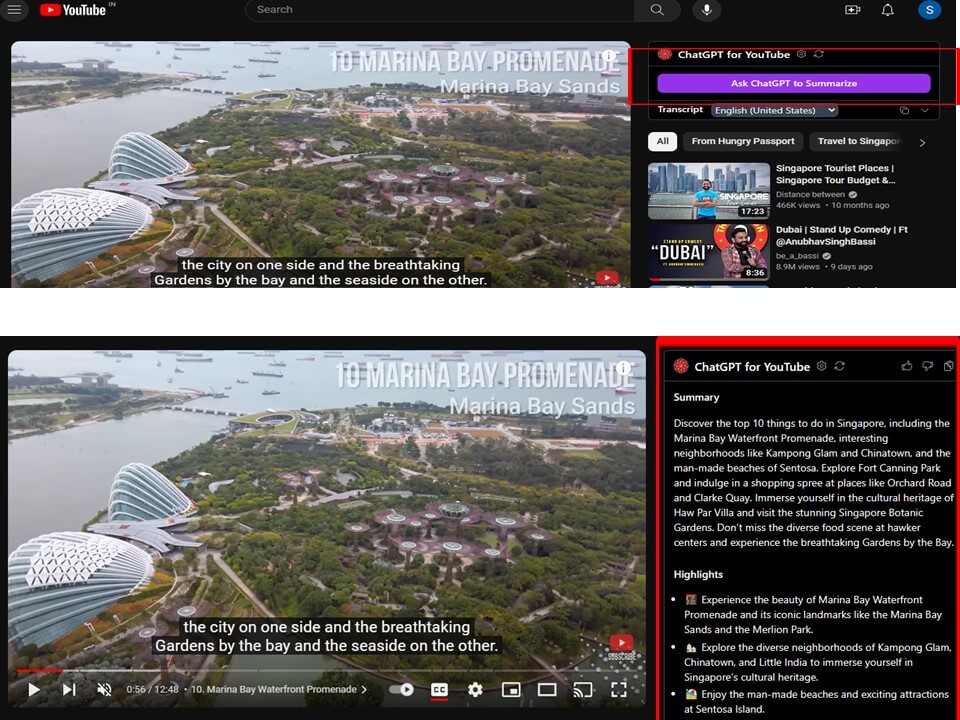 Transcript the content
The content you have summarized that you can translate into the languages provided.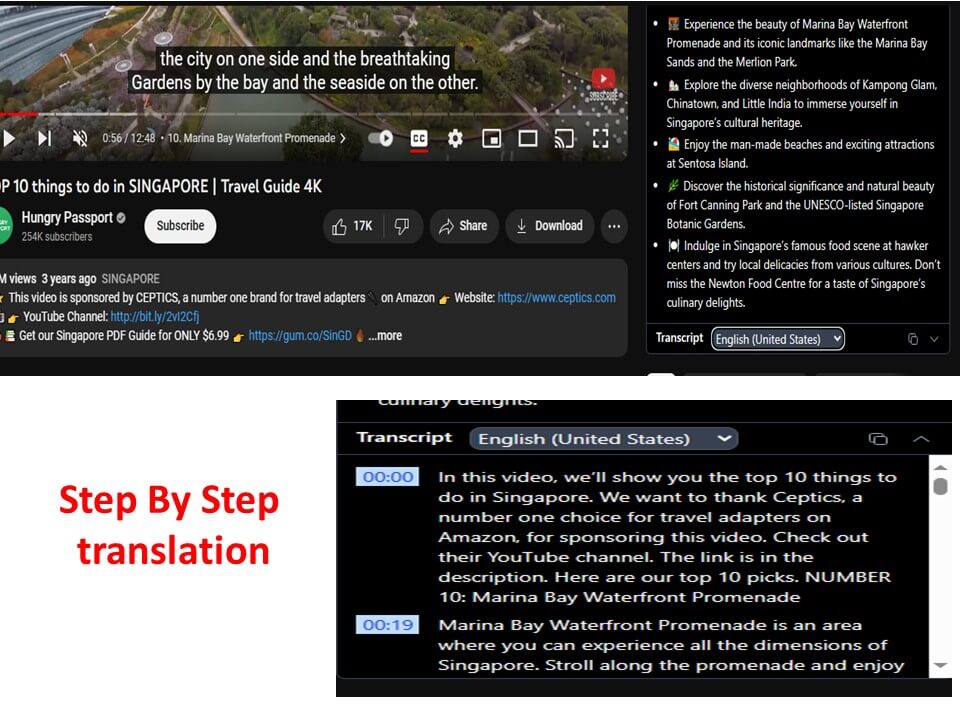 Experiment with different writing styles and tones to keep your content fresh and appealing.
ChatGpt on YouTube is the best option for students or learning persons who are learning from YouTube, They can now easily save the content in PDF or text format. you can easily copy them.
Learning with ChatGPT
Using ChatGPT for Skill Development
You can effectively use ChatGPT for skill development in various ways:
Research and Information: ChatGPT can provide detailed information on the skill you want to develop. You can ask it about resources, best practices, and foundational knowledge.
Learning Recommendations: ChatGPT can suggest online courses, books, video tutorials, and other learning materials tailored to your skill development goals.
Concept Clarification: When encountering complex concepts or questions while learning, ChatGPT can break them down and offer simplified explanations.
Problem-Solving: If you face challenges or difficulties related to your skill, ChatGPT can help you troubleshoot issues and provide solutions or workarounds.
Practical Tips: Seek practical advice and tips to improve your learning process, such as time management, note-taking, and effective practice techniques.
Study Plans: ChatGPT can help you create structured study plans, including goals, milestones, and a timeline for skill development.
Language Learning: If you're learning a new language, ChatGPT can assist with vocabulary, grammar, pronunciation, and even practice conversations.
Coding and Programming: For technical skills like coding, ChatGPT can provide code examples, debug assistance, and guidance on coding best practices.
Progress Tracking: Use ChatGPT to set benchmarks and track your skill development progress. It can help you stay motivated by celebrating your achievements.
Continuous Learning: ChatGPT can keep you updated with the latest trends, tools, and practices in your chosen skill, ensuring that you remain on the cutting edge.
Community Engagement: It can guide you to online forums, communities, or social media groups where you can connect with fellow learners and experts to exchange knowledge and experiences.
Mentoring and Guidance: ChatGPT can act as a virtual mentor, providing insights and guidance throughout your skill development journey.
ChatGPT is a versatile tool that can significantly aid your skill development process by providing information, support, and resources tailored to your specific goals. Whether you're learning a new language, picking up a musical instrument, mastering a programming language, or developing any skill, ChatGPT can be a valuable companion on your learning path.
Learning Any Skill Quickly
Here are some tips for learning any skill quickly using ChatGPT:
Set clear goals: What do you want to learn? How much time do you have to learn it? Once you know your goals, you can use ChatGPT to create a personalized learning plan.
Break down the skill into smaller steps: ChatGPT can help you break down any skill into smaller, more manageable steps. This will make the learning process less daunting and more achievable.
Be consistent: The best way to learn any skill is to practice regularly. ChatGPT can help you stay on track and progress towards your goals by providing feedback and keeping you motivated. 
Tips for Using ChatGPT on YouTube
Precise directions: Give ChatGPT precise and specific directions to get accurate and relevant responses.
Start with a well-crafted prompt or query to direct the AI's response.
Check and Edit: Review and edit the AI-generated material to ensure it meets your requirements and style.
When looking for information, ask ChatGPT for sources or references to confirm the authenticity of its responses.
Be mindful that ChatGPT may generate opinionated content; you should double-check the result.
Privacy and security: Because the AI is a machine learning model, avoid sharing sensitive or personal information with it.
Follow community guidelines and terms of service.
By following the above steps, you can use ChatGPT effectively and responsibly while getting the most out of its capabilities.
Conclusion
ChatGPT on YouTube can significantly improve content creation, engagement, and audience interaction. The tool's ability to generate innovative ideas, provide answers to questions, and promote dynamic conversations can be beneficial for both creators and viewers. However, it's crucial to use it responsibly and ethically to maintain a positive online environment and uphold the quality of the content.
Recommended Articles
We hope that this EDUCBA information on "ChatGPT on YouTube" was beneficial to you. You can view EDUCBA's recommended articles for more information.