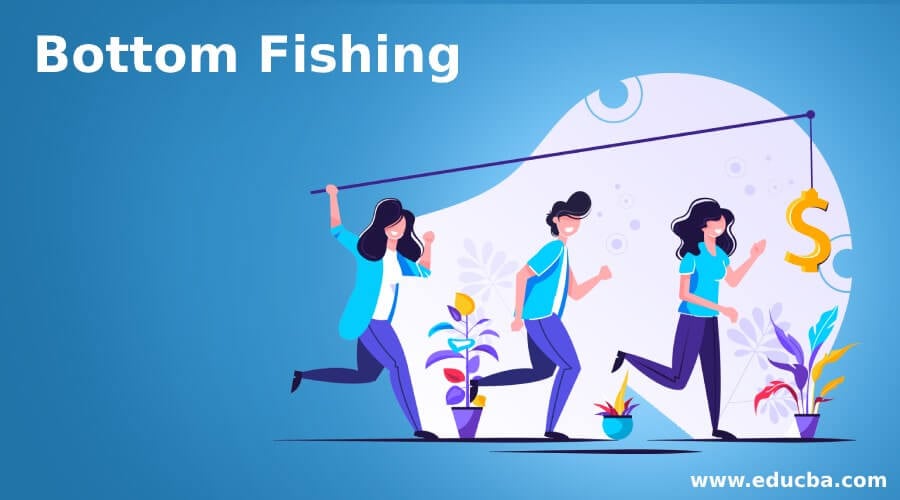 Definition of Bottom Fishing
Bottom fishing is a short-term price action strategy where the investor buys securities that have observed a sudden fall in their prices over a very short period with or without any big fundamental change in the prospects of the company. It is a high-risk strategy that is entered into with the intention to make a quick short-term profit and may or may not be supported fully by technical and fundamental indicators at the time of investing. Those who undertake the bottom fishing strategy are also known as bottom fishers. The main rationale behind undertaking bottom fishing is the belief that the price of the security is undervalued and a reversal in price is expected in the short term.
Explanation
The bottom fishing strategy is like catching a falling knife. it is a high-risk high-return strategy suitable for those investors who understand the risks associated with this strategy. It involves taking a contra bet on security which has observed a steep fall in its price; which can be based on fundamental analysis, technical analysis, or maybe a combination of both.
When undertaken with fundamental analysis, bottom fishing is sometimes denoted as value investing with renowned fund managers and value investors having applied it in security selection.
Examples of Bottom Fishing
Bottom fishing examples are common in stock markets and are evident across multiple asset classes. the recent crash in the NASDAQ in March 2020 due to the pandemic coronavirus led to a substantial fall in prices and many investors undertook bottom fishing by buying blue chips stocks such as Facebook, Apple, etc as they expected that fall in the price of such securities is overdone and short-time price reversal expectation which can be seen with the way Nasdaq has hit its lifetime highs.
Another example of an investor buying airline stocks in the current scenario of pandemic coronavirus where the whole aviation and hospitality industry is facing economic depression is an example of bottom fishing.
Let's undertake one practical example as well to better understand Bottom Fishing.
ABC limited purchased the stock of reliance industries limited when the price of the stock fell from $100 on 12 feb 2020 to $43 on 31st March 2020. According to ABC limited, the impact on the price is beyond the stock intrinsic value which has made it highly undervalued and it expects the price to retrace and make a reversal. After hitting the low $35 the price of stock reversed and reached a price of $60 on 05 June 2020, thereby allowing ABC limited to make a gain of $17 per share in a very short period. This short-term profit of $17 per share is an example of bottom fishing.
Techniques of Bottom Fishing
Major techniques adopted while undertaking bottom fishing can be broadly classified into two techniques:
Technical Analysis: Under this investors buy those securities which have fallen fast from their highs and are at oversold levels with their relative strength indicator (RSI) at oversold levels. Such Analysis when supported by volume and other long-term trend analyses can instill more confidence for the investor to do bottom fishing.
Fundamental Analysis: Under this, the investor undertakes value investing whereby the rationale is the fall in prices doesn't justify the intrinsic value of the security. Fall in price may be on account of bad quarter result or temporary lockdown in business. Those undertaking bottom fishing using fundamental analysis are usually buying from a medium-term perspective.
Benefits of Bottom Fishing
Bottom Fishing offers multiple advantages. Few noteworthy points are enumerated below:
It offers a greater reward in a short period. In case the security makes a reversal the reward potential is more and fast compared to normal investments.
It can be supported by technical setups where security is deemed oversold on multiple time frames due to heavy selling without any underlying change in its fundamentals and business prospects.
Disadvantages of Bottom Fishing
Despite the benefits Bottom fishing suffers from multiple disadvantages namely:
It is a high-risk strategy that is not suitable for all types of investors and is in contravention to the momentum investing strategy.
Although bottom fishing is considered a short-term profit generation strategy, at times it has been observed that such securities take longer than normal investing to recover which leads to non-attainment of the purpose behind opting for this strategy.
How Bottom Fishing Differs from Momentum Investing Strategy?
The two strategies are used in conjunction at times; however, the two have some key differences which make them apart. Key differences are enumerated below:
| | | |
| --- | --- | --- |
| Basis | Bottom Fishing Strategy | Momentum Investing Strategy |
| Definition | It involves buying securities that have experienced a substantial decline in their prices over a short period. | Momentum Investing involves buying those securities which are regularly making new high and selling those securities which are regularly making a new low. |
| The premise of the Strategy | It is based on the premise that a fall in value doesn't justify the intrinsic value (which is more) and the price should reverse back. | It is purely based on technical set up and has nothing to do with intrinsic value. Investors opting for Momentum Investing are purely guided by technical set up. |
| Buy-sell mechanism | It is based on the strategy Buy low sell high. | It is based on Buy High, Sell even high (For uptrend securities), and Sell low and buy even lower (For downtrend securities). |
Conclusion
Bottom Fishing is one of the many stock selection strategies that investors opt for in the Securities Market. The strategy involves buying stocks that are beaten down and find their origin in Contra Investing. Bottom Fishing can be highly rewarding for investors if done correctly and achieve the stated result; however, the strategy carries higher risk compared to other security selection strategies. It is ideal for those searching for bottom fishing to make use of sophisticated market data tools to better undertake technical and fundamental analysis before placing their bets to have a better probability of making handsome gains.
Recommended Articles
This is a guide to Bottom Fishing. Here we also discuss the definition and techniques of bottom fishing along with advantages and disadvantages. You may also have a look at the following articles to learn more –