Updated February 28, 2023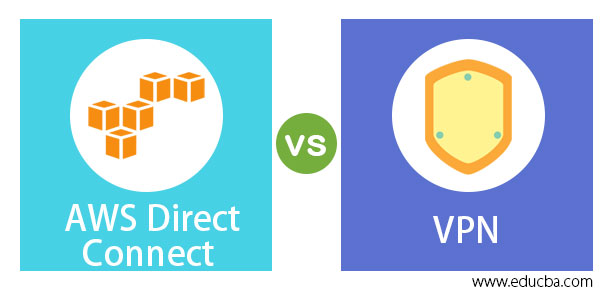 Difference Between AWS Direct Connect vs VPN
A cloud service solution to make the connection between on-premise services with AWS cloud services is called AWS Direct Connect. This is a dedicated network solution provided by the cloud so that connection can be created between any one of the network locations and the network. In Virtual Private Network, a private network is extended to a public network so that users can send and receive data from shared or known networks similar to receiving data from their own private network. The server is chosen by the user from the VPN and hence data is transmitted from VPN and not from the computer.
Head to Head Comparisons Between AWS Direct Connect vs VPN (Infographics)
Below are the top comparisons between AWS Direct Connect and VPN:

Key Differences Between AWS Direct Connect vs VPN
Let us discuss some of the major key differences:
Two-port connections are needed in AWS Direct Connect to Virtual Private Cloud whereas only one VPN connection is needed to VPC in AWS managed VPN.
The performance of VPN is measured till 4GB and less when compared with Direct Connect. The performance of Direct Connect starts from 1GB and extends upto 40GB based on the link aggregation group connection.
Based on the connectivity, there can be only two VPN tunnels in VPN based cloud. While in Direct Connect, the entire AWS region is covered with the connection.
The cost of a VPN is very less when compared with AWS Direct Connect. Also, there is an option of VPN per connection hour pricing which is not available with Direct Connect.
The encrypted connection in Direct Connect is created between the user's router and AWS Direct Connect's router. In VPN, the connection is between the user's network to the VPN network.
Security concerns are more in VPN as the network is connected to a public network. Direct Connect offers more security and is preferred by business that requires more security to their work.
Access to all the AWS regions is provided in Direct Connect so that VPC and other Amazon services can be utilized well. In VPN, access is not provided to the regions and the performance is not always predictable.
A business that is starting with AWS can use VPN as it is easy to set up and the installation is completed sooner than Direct Connect. While the established businesses that require more security and need access to other Amazon services can use Direct Connect. Installation needs the presence of experienced personnel and setup is not as easy as a VPN.
Network performance is poor in VPN while it seems way better than VPN in Amazon Direct Connect.
The connection in Direct Connect is through an ethernet fiber optic cable while the connection in VPN is through an encrypted connection.
Comparison Table of AWS Direct Connect vs VPN
Let's look at the top comparisons between AWS Direct Connect and VPN:
| | |
| --- | --- |
| AWS Direct Connect | VPN |
| Customers can easily access the AWS environment as the connection is done through a fiber-optic network. | AWS environment is not easily accessible in a VPN as it is an encrypted connection. |
| Private connectivity from the global network to any data centers or any AWS region can be made as it is more secure and trusted in the business. | Private connectivity is not made and the data transferred is shared through public or shared networks and hence the data shared is not trusted in the business. |
| Cost is more for AWS Direct Connect through the performance cannot be compared with VPN. | VPN offers low-cost connectivity with the network and AWS but the performance is not at par with AWS Direct Connect. |
| Bandwidth throughput is more as the performance and efficiency are more in Direct Connect. | Bandwidth throughput is less as well as the efficiency and performance of the network in the VPN. |
| The network is not fluctuating and provides a consistent experience throughout the network connection and while transferring data. | As the network is connected with the shared and public networks, the network is fluctuating always and the data transfer while network fluctuation is not easy. |
| It does not depend on the internet and network as fiber optic cable connects the on-premise service with AWS services. | VPN depends on the internet and network and fluctuation on the network means the data cannot be transferred properly. No cable is used to connect the services of on-premise and network. |
| One or many dedicated network connections can be made in the AWS Direct Connect network and cloud services can be utilized to the maximum effect. | Dedicated network connections are limited in the VPN. All the Amazon services cannot be utilized as the connection is not secure and within the network. |
| Link aggregation groups can be used in Direct Connect to connect various connections into one and to manage the connection effectively. | Link aggregation group is not used in VPN and multiple connections cannot be made into the network. Hence the connections are not managed effectively. |
| Different routing options are not provided as the routing is not a major concern in the Direct Connect. | Dynamic and static routing options are provided so that flexible routing configurations can be made available to the network and to the user. |
| Direct Connect availability is not in question as it does not use public networks or internet connection at all. So that it is not necessary to provide different data centers in different locations. | The availability of a VPN connection is improved by making available two physically located separate data centers so that the VPN connection is not interrupted. |
| Based on port speed, port hour fees are calculated in AWS Direct to Connect apart from per GB data transfer. Direct Connect is expensive as it offers a secure business. | Cost is calculated as per VPN Connection hour and per GB data transfer. Cost is less in VPN and it can be used as an initiative to start AWS Direct Connect usage. This is easy to use and install. Port hour fees are not taken into account in the VPN as there are no ports used in VPN. |
Conclusion
AWS Direct Connect can be combined with AWS VPN and used so that both the advantages can be linked, limits can be mitigated with the usage of another service. Reduced network costs, increased efficiency, and improved security are the advantages of using the hybrid connect with VPN. Business prefers Direct Connect and VPN for seamless service.
Recommended Articles
This is a guide to AWS Direct Connect vs VPN. Here we discuss the key differences with infographics and comparison tables. You can also go through our other related articles to learn more –