ATM
First invented in Britain, Automated Teller Machine, or ATM, can be seen in most cities and towns across the globe.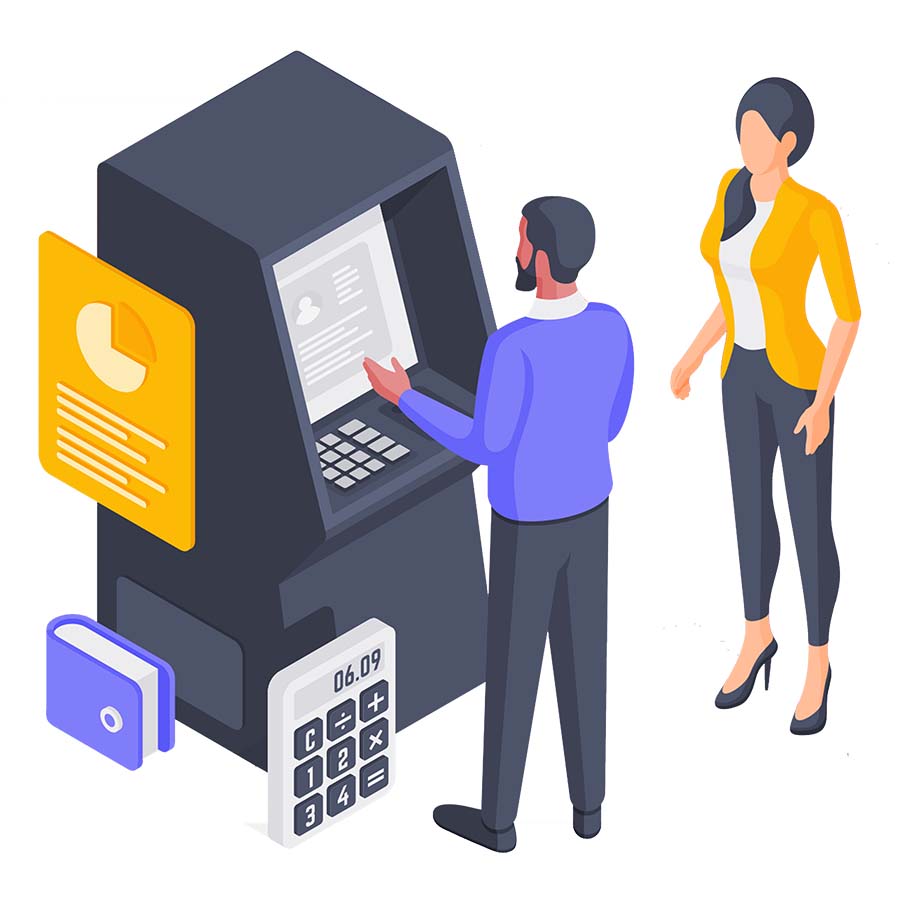 Reasons Behind the Popularity of ATM
Ease of Access
ATMs have become popular as they allow people to access their bank accounts and withdraw cash without visiting a bank or talking to a teller. It also allows users to remove small amounts of money compared to banks, though this varies from ATM to ATM. ATMs are thus convenient and fast.
Available at All Times of the Day or 24/7 on All Days of the Week
An ATM can conduct transactions at any hour, every day of the year. It is the choice for people who wants to use ATMs to perform transactions outside regular banking hours.
ATMs are the go-to choice for those living in rural areas, working odd hours, or for busy folks who cannot visit the bank during regular hours. It also makes ATMs the emergency machine that one can use.
Multiple Services
One can do multiple things using an ATM, such as withdraw cash. Deposit checks, transfer funds between accounts, check the balance of one's various accounts, pay one's bills, and sometimes purchase stamps or tickets. Some ATMs can even dispense foreign currency, making them a boon for travelers.
Drawbacks
Despite being extremely convenient, ATMs have drawbacks. Some of the problems faced when using an ATM are-
Can Run Out of Cash
Especially on holidays and weekends, when banks are closed, there is an increased footfall at ATMs, making it easier for them to run out of cash and inconvenience people.
The Risk of Card Skimming
The process of attaching a device to an ATM to read data from the magnetic strip of a credit or debit card is known as card skimming. ATMs are not easy to detect. It can result in identity theft or financial fraud. That's why some people make guarded against using ATMs.
Only Specific Currency Notes Might be Allowed
Only specific currency notes are available in certain ATMs, making transactions difficult. For example, if an ATM only carries 100rs and 500rs notes, it is impossible to withdraw Rs. 150.
Fee Charged on Transactions
Certain banks charge a fee for ATM usage, especially if your card is from a different bank. This fee can add up over time and becomes an inconvenience to a lot of people.
However, despite these potential hurdles and others, like many ATMs are in the non-working phase due to poor maintenance, ATMs remain a popular option for the public globally, especially in India, because of their ease of usage. With technological advancements, ATMs will advance and bring more services to customers. Mobile ATMs may become widespread, and people won't have to wait in queues to use them. Also, it can implement additional security measures. However, knowing the potential risks associated with using an ATM is essential. One must take precautions to protect against fraud or identity theft. One must never share their ATM pin with people or hand off their ATM card to strangers, as despite being convenient, ATMs remain open to robbery and long queues for tedious transactions.
As technology progresses, digital money might replace ATMs very soon, which is easier to use and can process payment with one click from the comfort of one's room. However, until digitalization becomes widespread, ATMs will remain the means of convenience in today's India.