Updated August 28, 2023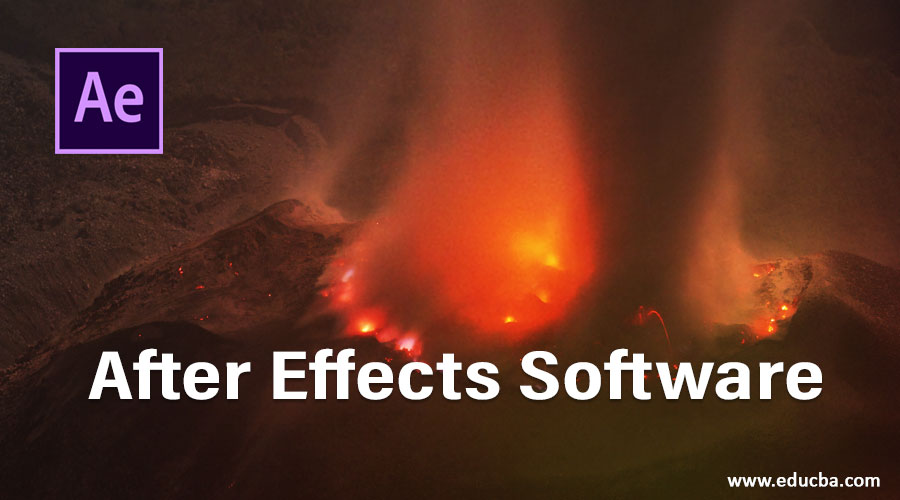 What is Adobe After Effects Software?
Adobe After Effects Software is also one of the software which is developed by Adobe Systems and is a part of the Creative Cloud desktop app family. It is generally used for motion graphics, animation of any object, video editing, and other visual effect-related work. This software was initially released in January 1993, and its original developer was 'Company of Science and Art', but Adobe Inc later took it over. This software is written in C++ computer language, and the latest release of this software is Adobe After Effects CC 2019, which was launched in December 2018. You can have this software on Windows 10 and its later versions and Mac OS and its later versions.
Why do we Use After Effects?
After having introduced Adobe After Effect software, one question that will come to your mind is 'Why do we use After Effects software?' This will be no big deal for you after this article. Just stay with this article from start to end and get answers to your questions one by one:
The answer to this question is quite simple. Let us see this term for your better understanding of this software. As its name indicates, After Effects…it means something that can be used for adding effect in any project or used for manipulating any project. After Effects is a software of visual effects, so we use this software to enhance the quality of our project or use it to manipulate our graphics designing work. So it is generally popular between Filmmakers for editing shots of any footage, Video editors for editing video footage, adjusting colorization, and many other things. You can also use this software to do these types of graphics work and use it to represent your digital media work with a high level of accuracy.
What is Different in Adobe After Effect Software?
There are many exciting features of Adobe After Effect, which makes it different from others.
Their features are as follows:
This software allows you to get real and genuine results from its visual graphics effect. It offers you a lot of tools that make your graphics designing ideas true in a very helpful manner.
You can use a different type of expression in this software: Masking for giving visual effect, Shaping for adjusting any object in your project, and many others.
This software also offers you to set Camera and get a studio effect in your graphics. In-Camera it has some features that are VR Converter and VR Comp Editor.
You can have Motion Graphics Templates in this software. You can use them or get an idea for your project work from these templates.
It has a very user-friendly interface so that you can easily get familiar with the environment of this software. In its user interface, everything is well arranged so that you can access them in the working area without any problem. For example, it has a Tool panel at the top of the working area so that you can easily check them out during your working and use them quickly; at the right side, you have some editing options that are Effect & Presets, 3D channels, Expression Controls, Color Correction, Audio, Blur & shape and many other options, which gives you the freedom to apply them with your own idea in your project and make something new with the help of them.
What can we do in Adobe After Effect Software?
We can do a lot of things with this software.
Animating a Logo in Adobe After Effect Software: The first one is you can animate your Logo in this software. While animating your logo, this software offers you some properties of your logo, which you can animate. These properties are Shape, Size, Rotation, Anchor point, Opacity, and some others. These are the basic property that offers by After Effects for animating logos. You can also add some other properties to give an effect to the logo and then animate them.
Animating a Text in Adobe After Effect Software: The next thing you can do in this software is to animate or give visual effect to any text for making any advertisement or footage with it. You can add light effects in your text and also animate its property. Adding background with your text is also an easy task for this software.
Removing Background of any Video Footage in Adobe After Effect Software: The third one is you can remove background from any video footage and add a new background to it without harming the actual quality of that video footage. While removing background, you can also add any audio and video effect to that footage to make that video footage more effective.
These examples give you an idea about which type of editing & designing you can do in After Effect software. You can do many other graphics designing in this software you want to do to apply your own idea of graphics designing. You will get knowledge of the range of working of this software once you start working with this software.
Conclusion – After Effects Software
Handling this software after some practices will become an easy task for you. Once you get command on the handling of this software, you can easily make a nice project with your own idea on this software and will add a plus point in your carrier.
Recommended Articles
This is a guide to After Effects Software. Here we discuss what is after effects software, why do we use it, and what can be done in after effects. You can also go through our other related articles to learn more –