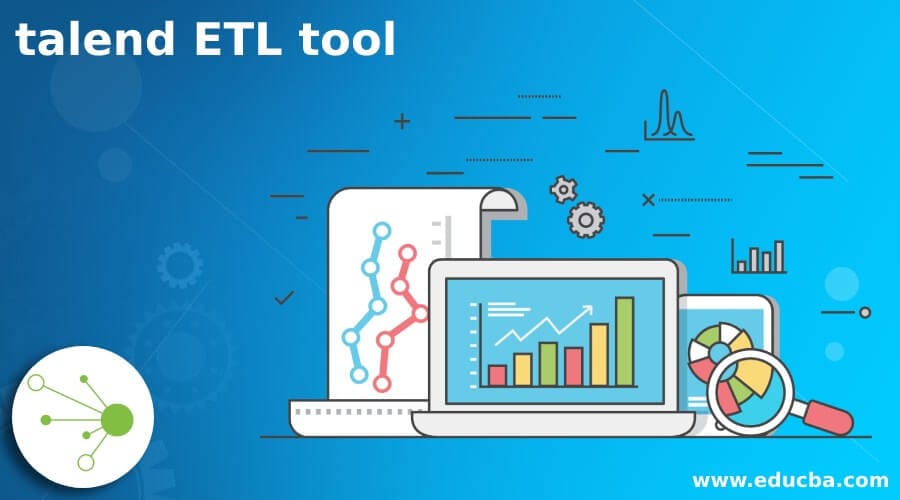 Introduction to talend ETL tool
Here ETL stands for extract transform and load; this helps the business to gather the data. It plays an important role in data integration strategies. With the help of ETL, we can easily load the data from the different locations and load them into a single centralized location. Also, it helps us to handle the different types of data together. ETL follows a process that includes collecting data from the different sources, refining this data collected; in the end, it delivers the data to the different warehouses. With the help of this, we can easily migrate our data to different destinations, sources, and tools. In short, ETL helps and plays an important role in business intelligence to collect the data. In this talend ETL tool article, we will see how it works in detail for better understanding with more clarity by the article ends for the beginners.
All talend ETL tool
As we already know what ETL is, in general, it helps us extract and transform the data and load it to a single centralized location that the business intelligence can use. In this section, we will discuss the all different types of ETL tools we have in place which can be used for the data integration; let's take a look at each of them in detail for better understanding; let's get started to see below;
FlyData: This is also one of the data integration platforms based on the cloud. With the help of this, we can replicate the data from the various sources and load them inside the Snowflake, Amazon Redshift, and S3. Also, this tool is considered fastest among all and most frequently used, with reliability and speed. This product differentiates the time it will take to set up the data replication also differentiates the speed by which it will load the data. Because of this reliability and speed, it is recommended by most of the companies for which reliability and speed matter while doing the data integration. Also, they have strong customer support.
Talend ETL Tool: As we already discussed, ETL is a data integration strategy that helps us to collect data, as the name suggests, to extract, transform and load data which means it performs the following operations, which as briefly described below for better understanding see;
extract: This step tries to extract the important information from the different sources or destinations. This may include different types of handles. So by this, we can easily handle different data types together.
Transform: as the name suggests, the second helps us to transform the data, which includes migration of data to different destinations, tools, etc.
load: as the name suggests here; we can say the last step for ETL, which helps us load the data to the centralized location to use.
These steps are a very short description of ETL and what are the major components involved in it.  As we have seen, it is an open-source data integration solution to the problem. Also, it is compatible with both data sources on the on-premises as well as in the cloud, which makes it the better choice for data integration from the different sources. Also, we opt for the paid version of Talend ETL; it will give us more features that will help in the management, monitoring, productivity, and data governance.
Xplenty: This is also one of the solutions for data integration and a good ETL tool to go with; it is also a cloud-based tool. That helps us to gather data from multiple sources. It helps us with a simple visual interface. That helps us in building our pipelines that can be between a large number of destinations and sources. If we talk about the usage, then more than 100 popular SaaS-based applications are using Xplenty, in short, packaged using Xplenty, which includes Amazon Redshift, Facebook, MongoDB, Salesforce, MySQL, QuickBooks, Slack, and many more are there. It offers us high security, scalability with great customer support in case of any issue. By the use of this, we can easily encrypt and decrypt the data field we have; this is also one more advantage of Xplenty.
Oracle Data Integrator tool: This tool is part of the oracle data management ecosystem; it is a comprehensive data integration solution. This can be sued by the current users of the oracle application. It is often termed as ODI, and it supports both cloud-based on-premises applications. It supports ELT.
Informatica PowerCenter: This is also one of the most widely used ETL tools, and it is a very rich data integration tool we have. It provides us good compatibility and high performance with the different data sources from which we want to integrate the data; also, it supports both types of databases that are non-SQL and SQL. It also has good customer support, in case of any issue. One of the negative sides of this tool has high prices, with deep learning about it, so small organizations need a high technical developer.
Fivetran: This tool is also one of the cloud-based solutions we have for data integration. With the support for Azure, Redshift, Snowflake, and BigQuery data warehouses. If we talk about the benefits of this tool, it has very good support for the rich array of data sources. Also, it can add our custom integration without much hustle. It is also very easy to use and has a simplicity which makes it a good choice for data integration as a tool.
Pentaho: It is also an open-source platform offered by the Hitachi Vantara and can be considered for data integration and analytics. It has two versions commercial and community. Community one is the free own and commercial we have to purchase. It also offered a user-friendly interface to us, which helps beginners to start with building robust pipelines. But it has a few drawbacks, like very limited templates.
Recommended Articles
This is a guide to the talend ETL tool. Here we discuss how it works in detail for better understanding with more clarity. You may also have a look at the following articles to learn more –