New Year '20 Offer TAKE THIS BUNDLE
XML Training (5 Courses, 6+ Projects)
5 Online Courses
6 Hands-n Projects
40+ Hours
Verifiable Certificate of Completion
Lifetime Access
Project on XML - Style Sheets with CSS and XSL
Project on XML - Document Object Model
Project on XML - XSLT Files and Execution
Offer ends in:
TAKE THIS BUNDLE
What you get
Online Classes
Technical Support
Mobile App Access
Case Studies
Online XML Training Course
This XML Training Certification includes  5 comprehensive XML courses, 6 Projects with 40+ hours of video tutorials and Lifetime Access. You will also get verifiable certificates (unique certification number and your unique URL) when you complete each of the 5 courses, 6 Projects.
This XML training is a package of six online courses and several chapters under each course on XML and its related features and functionalities of the XML web technology. All the courses in the XML training along with the course completion certification and lifetime access will be given with this XML training. It also contains many other modules that contain XML related concepts, features, specifications such as XML standards, attributes and its role and responsibility in the web application development or any front-end application development. This XML training content has a list of courses and chapters with the comprehensive list of its content and description in a detailed manner in the form of videos and hands-on training.
Industry Growth Trend
The rapid application development market size is expected to grow from USD 7.8 billion in 2018 to USD 46.2 billion by 2023, at a Compound Annual Growth Rate (CAGR) of 42.9% during the forecast period.
[Source - MarketsandMarkets]
Average Salary
Average Salary
$72,155 per year
The average salary for a Web Developer is $72,155 per year in the United States.
[Source - Indeed]
About XML Training
| Courses | | No. of Hours |
| --- | --- | --- |
| Introduction to XML | | 3h 11m |
| Project on XML - Style Sheets with CSS and XSL | | 3h 36m |
| Project on XML - Document Object Model | | 2h 42m |
| Project on XML - Schemas | | 2h 22m |
| Project on XML - XSLT Files and Execution | | 5h 15m |
| Project on XML - XSLT and SVG Project | | 5h 15m |
| Project on XML - Web Service Parsing XML API | | 2h 38m |
| Web Development with XML | | 7h 59m |
| XML DTD Training | | 1h 17m |
| XML XSD | | 50m |
| XML and Java | | 7h 38m |
---
| | |
| --- | --- |
| Course Name | Online XML Training Bundle |
| Deal | You get access to all 5 courses, 6 Projects bundle. You do not need to purchase each course separately. |
| Hours | 40+ Video Hours |
| Core Coverage |  Learn what XML is as well as gain a comprehensive understanding of XML and how to use it. |
| Course Validity | Lifetime Access |
| Eligibility | Anyone who is serious about learning XML and wants to make a career in Web development |
| Pre-Requisites | Basic knowledge about software and their terms |
| What do you get? | Certificate of Completion for each of the 5 courses, 6 Projects |
| Certification Type | Course Completion Certificates |
| Verifiable Certificates? | Yes, you get verifiable certificates for each course with a unique link. These link can be included in your Resume/Linkedin profile to showcase your enhanced skills |
| Type of Training | Video Course – Self Paced Learning |
| System Requirement | 1 GB RAM or higher |
| Other Requirement | Speaker / Headphone |
Online XML Training Curriculum
---
To give the best and greater learning experience to the all the learners of EduCBA users and subscribers, the course called as XML training has been designed as mentioned in below table.
| | | |
| --- | --- | --- |
| Serial No. | Course Name | Course Description |
| 1 | XML training – Web development with XML | This XML certification contains several concepts mentioned in course curriculum such as Introduction to XML, Applications of XML, XML format and structure, elements, attributes, tags, well-formedness, schemas and validation, simple type, pattern constraints, restrictions on a series of values, reference group, view raw XML in browser, view XML with XSLT, CSS, HTML,  View XML, XML parser, DOM parser and theory, SAX parsers, XSLT, Stax, Stax parser, cursor API, XML event reader iterator, reader cursor API,  JAXB and its annotation, Xlink and its different parts, XPath and XPointer. |
| 2 | XML and Java application training | In this chapter, the topics covered are Introduction to XML and Java, understanding body tags, basics of java and j2ee for XML, core java, OOPS, abstraction and polymorphism, overloading and overriding, J2EE glimpse, MVC, Servlets, middleware, XML and SOAP, DTDs, basics of web development for XML, client-server model, internet protocols, website creation, HTML, web page designing, iFrame, CSS, understanding box model, AJAX, jQuery, source view, basics of java scripting, XML in detail and summary, XML application. |
| 3 | Comprehensive training on XML hands-on | In this XML certification module, the concepts included are Introduction to the XML and its architecture, benefits of XML and information sharing, single application usage, uses of XML chemical markup language, comments and processing information, classification of character tags between tags, XML DTD and Namespaces, Stylesheets, displaying XML documents using CSS and XML, Document Object Model, Async property, XML DOM, limitations of DTD, XML Schema vocabulary, element schema, group element, kinds of validity and several schema examples. |
| 4 | XSD (XML Schema Definition) Beginners Training | In this module, the concepts are Introduction to XSD, validate XML file against XSD, XSD data types, XSL C example, and conclusion. |
XML Training – Certificate of Completion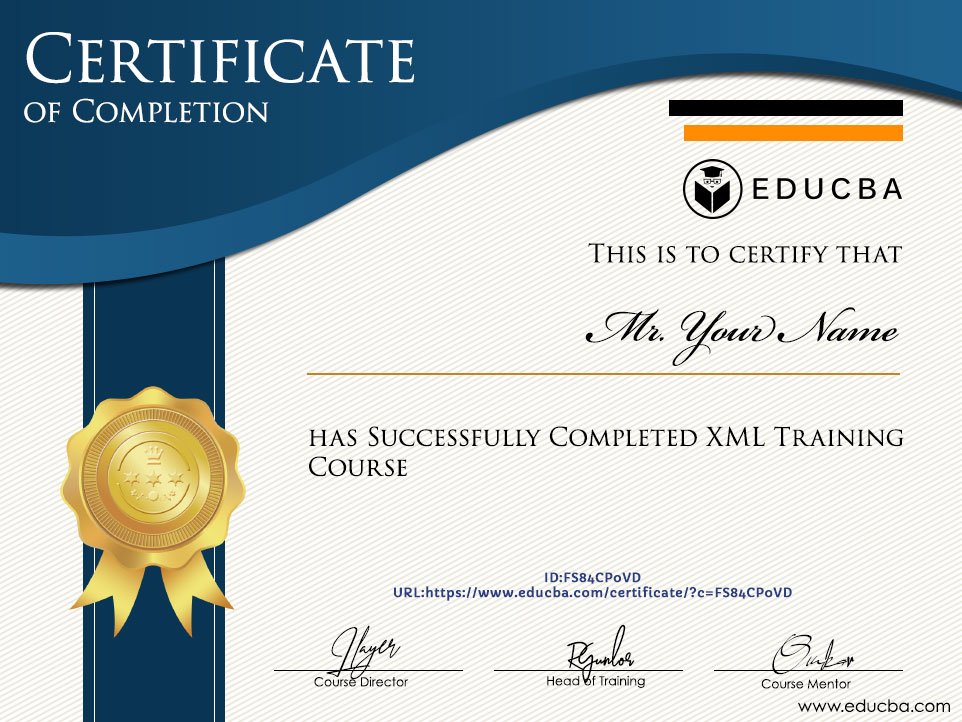 What is XML?
XML is called as Extensible Markup Language which is a markup language and defines standards to describe and transform the data across the different web applications. It also contains a set of rules and encoded docs which is human and machine-readable. It was developed by World Wide Web Consortium. It is the extended form of SGML (Standard Generalized Markup Language). It was initially started in the year 1996. It has XML Schema related standards. It comes under data serialization domain. XML has several components called as Docs, Declarations, Tags, Comments, Attributes, Elements, Entities, Encoding rules, Validations, Schemas, Tree Structures, Databases, Namespaces, Parsers, Editors, Viewers, Processors in the form of XML tools. XML mainly simplifies the development of HTML documents of complex and large websites.  XML helps in exchanging the information between different systems or across several other networks or distributed systems.
The XML has some syntax rules called XML Declaration, Tags and Elements, Root element, Nesting of an element, XML attributes, Declaration Rules etc. XML has basic and advanced XML features. There are also XML tools that interpret the XML documents.
What tangible skills will I learn from this XML Training?
The set of skills which can be acquired upon completion of this training course are XML, XML DTDs, Android Web service, Parsing XML API, Web Development, Java, XSD and XML Schema Definition.
XML training has many excellent courses and chapters which are covered in this curriculum that are very useful in obtaining the knowledge of several types of web standards related techniques and several other Java-related skills and also related to the web.
There are also some other skills which can be added upon completion of this XML training course are such as XML concepts, Web concepts, partial HTML knowledge and Java-related skills etc.
The XML training course also has a set of tangible skills which are XML markup attributes, DTDs, Schemas and several types of encoded rules.
This XML training course is very useful for the prospective Web Development computing engineers, Software engineers, Software Developers, in the process of development and maintenance of web development of several applications to provide data related operation on web platform across different networks or systems efficiently by handling a large number of users.
Pre-requisites
Willingness to pursue career as Web Developer or XML Programmer or Web Designer: The XML training course has a set of prerequisites which are required to proceed with the course contents such as XML basic knowledge, or advanced Web concepts and basics of a web application or HTML is also recommended to easily learn the concepts of XML. This XML certification is easy to learn if one has intermediate or basic knowledge on web-related standards or web application development or core concepts knowledge, and also any hands-on experience is an added advantage in the XML training in order to complete this XML training course.
Knowledge in XML or Web: Any relevant experience or basic knowledge in the areas of Web concepts such as HTML, CSS or JavaScript or XML basic concepts etc. in maintaining the web applications or its development will be of greater benefits to further learn the contents of this XML certification course in an easier manner.
Target Audience
Students of Engineering in Computers: Any learner who is a student of engineering in computer science or computers in degree and has strong knowledge in the Web standards or concepts, XML basics or SXD or XML Schema etc., then this XML training course is an added advantage to their career or profession or academics and also to obtain much knowledge in the XML training concepts using web development techniques and its relative web standards.  This XML training course has also been designed in order to advance in their profession of the learner as a Data Analyst or XML Developer or XML Programmer professional.
UNIX Engineer or VMWare engineer: This XML training course learners will be able to learn number of skills from the contents of this XML training which will further enhance in getting the career advanced as a Data Analyst, XML Programmer, Software Engineer, XML Developer, Web Designer, System Engineer, Team Leader, HTML Programmer, Software Developer, Talend Architect, Consultant, Technical Lead, System Analyst etc. This XML certification can be opted with no other single thought because of its excellent career opportunities in the current IT market. This training is best recommended for any prospective XML programmer.
Bachelors or Masters of Computers in Engineering/Science: Any Bachelor or Master in Computers Science degree or Engineering can choose this XML training course to secure an XML Engineer or Data Analyst job in any XML or Web-related or System Developer roles in the larger organizations.
XML Course FAQ's- General Questions
---
Why should I choose this XML certification course?
Any XML Engineer or Web Development Engineer or System Engineer working on the Web development or XML documents and who are eagerly willing to master and learn the XML related concepts and techniques should directly choose this XML training course.
I don't have a background in computer science or web development technologies or technical engineering, can this Cyber Security course still be considered a good option?
YES, this course can still be considered as an option without any knowledge of computer concepts as this does not have any pre-requisite. Anyone who is willing to learn and is interested in the Web concepts or XML concepts can choose this training directly without any other basic training. The concepts in XML training can be easily learned without any knowledge but awareness of HTML or CSS or XHTML is highly advantaged.
Would this course add value to my profession?
Yes. this course would definitely add value to the learners' profile including the verifiable certifications.
Is this a quick-fix to clear interview or do I still need to practice continuously while learning this XML training Course?
Yes, this is can be a quick-fix without any previous knowledge or experience in computers or web or its relative system developer roles. This XML training needs to spend a minimum of 40+ hours to complete.
Sample Preview
---
Career Benefits
There are several career benefits upon learning this XML certification and course curriculum which are mentioned as below:
This XML training course is a package of all the complete courses for the Web XML basic concepts and advanced concepts within deep knowledge in the XML topics including hands-on video courses for any XML Programmer or XML Developer.
Any System Engineer or Software Engineer or Software Developer or Technical Architect can opt for this XML training in order to master the Web or XML concepts and also to elevate their profession to the next level.
There are also several other benefits in the career upon choosing this XML training such as the course completion certificate which can be part of your profile as a verifiable qualification as a learner thus improving the career opportunities further.
Testimonials
---
XML Certification Course
This XML certification is the best recommended training because of its course contents having videos, hands on training and high-quality content along with standard specifications from the original technological specifications and easier way of explanation which will make the learner to proceed with learning in a fast pace.
NIKITA JAISWAL
Good training experience
This XML training course is highly recommended for any Web or XML programmer that contains hands-on training videos that would enhance the learners experience and confidence at a high level which would also give further opportunities for the learners in an easier way.
TED