Learn from Home Offer TAKE THIS BUNDLE
XenServer Training Program (1 Courses)
This Online Citrix XenServer Training includes 1 Courses with 4+ hours of video tutorials and Lifetime access.

You get to learn about Citrix XenServer and how to manage Virtual Machines using it. We understand how to download, install and setup Xen Server, what tools we can use to manage virtual machines and other details.
Offer ends in:
TAKE THIS BUNDLE
* One Time Payment & Get Lifetime Access
What you get in this XenServer Training Program?
Online Classes
Technical Support
Mobile App Access
Case Studies
About XenServer Certification Course
| Course | | No. of Hours |
| --- | --- | --- |
| Citrix XenServer | | 4h 4m |
---
| | |
| --- | --- |
| Course Name | Online Citrix XenServer Certification Course |
| Deal | You get access to all the videos for the Lifetime |
| Hours | 4+ Video Hours |
| Core Coverage | Learn about Citrix XenServer and how to manage Virtual Machines using it |
| Course Validity | Lifetime Access |
| Eligibility | Anyone who is serious about learning Citrix XenServer to manage Virtual Machines |
| Pre-Requisites | Basic knowledge about server virtualization would be preferable |
| What do you get? | Certificate of Completion for each of the course |
| Certification Type | Course Completion Certificates |
| Verifiable Certificates? | Yes, you get verifiable certificates for each course with a unique link. These link can be included in your Resume/Linkedin profile to showcase your enhanced skills |
| Type of Training | Video Course – Self Paced Learning |
| Software Required | None |
| System Requirement | 1 GB RAM or higher |
| Other Requirement | Speaker / Headphone |
XenServer Certification Curriculum
---
In this section, each module of the Citrix XenServer Course is explained.
| | | | |
| --- | --- | --- | --- |
| Sr.No. | Course Name | No of Hours | Course Description |
| 1 | Citrix XenServer | 4 | In this XenServer Certification module, you will be learning about the introduction of Citrix XenServer followed by the advanced level as well. At the beginning of the course, you will get to know about the Jargons of Citrix XenServer that we will be using throughout the course. This is going to be a four hours long video tutorial where you will get an insight into how the virtualization of the VM takes place and how the resources are shared to make efficient use of it. You will also learn how Citrix is used to connect to the remote servers that could be located anywhere around the globe. This module consists of several topics that are followed by an example. One topic may contain several examples where you will be supposed to do things on your own to get the real insight into how Citrix works. You will get a chance to set up things in the same way the system administrators do. |
---
XenServer Training – Certificate of Completion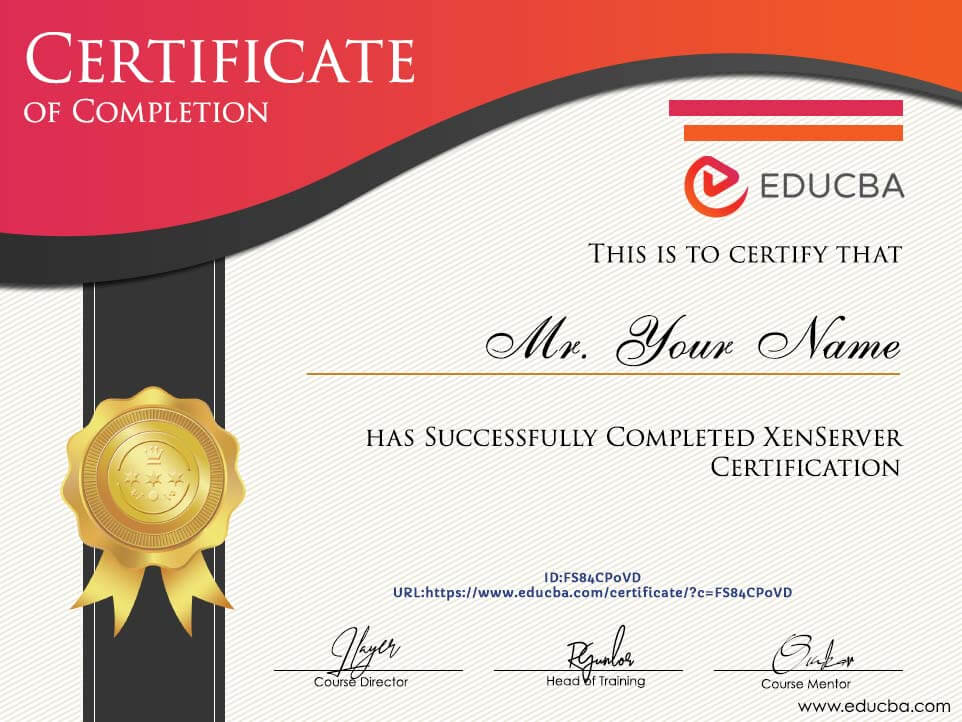 ---
What is Citrix XenServer?
Citrix XenServer may be defined as the platform that can be used to virtualize the servers or VMs. It is the technology that allows us to access remote servers that are located anywhere globally. Citrix XenServer facilitates resource sharing by distributing the memory, CPU, and storage to different servers. The main motive behind the implementation of this technology is to make the use of limited available resources efficiently. It helps businesses in reducing the cost of business operations by minimizing the number of resources to operate the business.
To get a clear view of the concept of Citrix XenServer, let us proceed with an example. Suppose an organization that is having its roots in the USA wants to outsource some work to a company located in India. The organizations don't want to set their servers in India due to meet the government standard compliance, but they also want folks from India to access their server to perform the business operations. In this case, they will deploy Citrix XenServer that will let peers from India access their servers located in the USA. The interesting thing is, the organization can define how the hardware has to be distributed to the Indian organization who is working for the US-based business as a partner.

Industry Growth Trend
The Application virtualization market size is expected to grow from USD 2.2 billion in 2018 to USD 4.4 billion by 2023, at a Compound Annual Growth Rate (CAGR) of 14.0% during the forecast period.The growing need for providing solutions for lengthy application installation process with improved security and simplifying the management of overall application cycle are the major growth factors for the market.
[Source - MarketsandMarkets]
Average Salary
Average Salary
$102,544 per year
The average salary for a Virtualization Engineer is $102,544 per year in the United States.
[Source - Indeed]
Which skill you will learn in this Course?
In this XenServer Certification, you will learn each and every single thing about Citrix XenServer. The course has been designed to offer you the real taste of working with Citrix XenServer. Anyone from the beginner to the professional level can leverage this course to enhance their understanding of virtualizations. The course will take you through the introduction at the beginning and the complexity level will increase as time passes. By the end of the course, you will go through an example that will make it crystal clear for you how Citrix can be implemented for the real work environment.
This Citrix XenServer Certification will make you grab the skill that the system administrator has to posses while working with virtualizing the server or VM. In this tutorial, you will be learning how to implement Citrix so that one can access the server remotely. You will get the real exposure to how the hardware can be distributed to make it available for the VM. The examples in this course will make you ample proficient to work with Citrix XenServer so that you can be job-ready right after the completion of this XenServer training. You will be covering most of the topics that fall under Citrix XenServer.
This tutorial is intended to make you comfortable with working on Citrix. All the topics here are followed by an example and the important part is, you will be actually working on the examples making yourself more comfortable minute by minute. The trainer will show you how things work. In this Citrix XenServer Certification, the maximum time has been devoted to solving examples rather than a theoretical explanation of the topics. The secondary purpose of this XenServer training is to enhance your skills and let you add some extra skills in your e existing skillset so that you can stand out of the crowd.
Pre-requisites
Before starting to learn Citrix, you will be required to have a fundamental knowledge of a few things that we will be discussing in this paragraph. You will need to have a basic understanding of system administration. The one who designs a solution on how the remote system will be connecting to the physical server must define the way to make it happen actually. If you know the set of rules that can be applied in the VM to limit the remote user's access, it will be very easy for you to learn Citrix XenServer. The more you have familiarity with this, the more you are likely to understand the working of Citrix XenServer in a very short span of time.
You should know things about hardware as it is the most important thing while working with virtualization. Being a professional who is supposed to work in Citrix XenServer should know how to distribute the hardware among various users so that they can have access to the limited resources. You should have a basic idea about the hardware elements like CPU, memory and so on. If you have an idea about these, that will give you an edge and if you don't, the course will introduce those topics. It is highly recommended that before beginning this Citrix XenServer Training, you should go through these topics so that you can make your learning that easy.
In addition to the knowledge of hardware and system administration, you will be supposed to have an understanding of computer fundamentals. Though it is a very common thing to have an idea about the basic functioning of the computers, the course expects this from you as you will be working with computers only. Mainly, you will be supposed to have an understanding of the windows system as Citrix works to get the remote access of the window machines. You can go through the basics even on the internet. On the other hand, we have explained all those prerequisites in this XenServer training.
Target Audience
The best audience for this Citrix XenServer Certification can be the professionals who are working as the system administrator. They will learn how to manage the resources for remote access. This course will be helping to learn extra things like how the hardware has to be distributed among several users. The dynamic resource allocation is what they will be mastering in this XenServer training. If they are already working as a system administrator, they will get the extra edge of getting the things done remotely. They will be bringing some extra skills in them making them more valuable.

Though it is not for the students who are beginners still we have developed the course in a manner so that even they can learn Citrix through this Citrix XenServer Certification. The students who are in the last year of their college can be the best audience for this course. They will begin grabbing the things that are going to be useful for them in the future. It will give their career a good kick start and they will become ready to crack the interviews based on Citrix. Additionally, they will also learn several new things about network fundamentals, hardware and so on, making them cognizant about this technology.

The educators who are willing to expand the area of their serving can learn Citrix. It will help them to train other students who are willing to learn Citrix XenServer as this is the emerging technology and most of the IT companies are using this to profit their business in a particular manner. The most important part is, the course will help them if they want to jump from the education domain to the production environment. It will make them job-ready and they will be able to implement the learning right after the completion of this Citrix XenServer Certification.
XenServer Certification – FAQs
---
Why should I learn Citrix XenServer?
In the contemporary approach, every large business is performing virtualizations of the server to make the efficient use of the available resources. One should learn Citrix XenServer because it gives them an understanding of how virtualization can be implemented in the real work environment. Learning this technology will make them more valuable as the use of Citrix is growing day by day. Additionally, one will learn all the skills that are required by the system administrators, giving you an understanding of the system in all aspects.
How long it may take to learn Citrix XenServer?
Depending upon your familiarity with the operating system, it may vary. If you have prior experience of working as a system administrators, you can learn this curse in a very short time while if you are new to these things, you will take around two to three months to master this technology. Also, the main thing that facilitates your learning is how curious you are about this. If you actually want to learn this, you can complete the course within your specified time. The number of hours you devote to learning Citrix XenServer also impacts your learning time.
Is it easy to learn Citrix XenServer?
Any technology can either be tough or easy to learn but the answer totally depends on the individual. Folks who are tech geeks find it very easy to learn new technologies while the one who is learning things just for the sake of learning may find it a bit tough. So if you want to make this XenServer training easy for you, just be sure that you should learn it by the motive to implementing it rather than just learning so that you can clear the interview or can write the theory paper on it. You will find it easy to learn due to the efficient design of the course, what all you need is the desire to learn this.
Career Benefits
This Citrix XenServer Certification has been developed very carefully by considering the fact that it has to be perfect for the beginner as well as the professionals. Anyone going through this course will transform themselves into professional if they were a beginner and will convert them into Citrix cognizant if they are already a professional. The examples included in this course will make you job-ready by offering you real work exposure. You will be learning everything from understanding the need to Citrix to the level from which you will be able to implement this in the real environment.
All of the IT giants these days are going with Citrix in order to enhance the efficiency of their available resources. There are lots of opportunities currently existing for this technology and be sure that the opportunities are going to grow day after day. Folks who have completed this XenServer training will be able to crack the interviews for the open positions in this technology. The professionals with good hands-on experience in this technology can get a job very easily and learning more about it will help them to raise their value among the crowd. Also, the package offered by the companies to the professionals working in Citrix is pretty high as there are very few folks currently working in this technology.
Course Reviews
---
Highly recommended
Course was a solid introduction to the subject and is worth exploring for anyone new to the subject. I would personally suggest using this to start springboarding an interest into a career, or to explore a subject your unfamiliar with before diving in to much deeper. A few things are skipped to remain an intro course but overall it does a good job in this.
Linked
Cameron Hutchinson
Highly recommended
This is a very complete explanation of XenServer. It covers many topics about Server including how to create a database up to stored procedures and triggers to help maintain database integrity. There are many examples that you can use and follow as the course proceeds.
Jeff Swiney
Good opportunity
XenServer Certification is a brilliant course. I work as a database developer and I was looking for a book, but instead, I found this course. The course is very comprehensive. As usual, it is very well presented by a real professional. It includes lots of practical examples and labs.
Greg Hackney