New Year '20 Offer TAKE THIS BUNDLE
WordPress Training (3 Courses, 4+ Projects)
3 Online Courses
4 Hands-on Project
27+ Hours
Verifiable Certificate of Completion
Lifetime Access
WordPress Basics and Application Development
WordPress - Beginners to Beyond
Comprehensive WordPress Training
Project on WordPress - Creating a Plugin for Movies Directory
Project on WordPress - Creating a Construction Website
Offer ends in:
TAKE THIS BUNDLE
What you get
Online Classes
Technical Support
Mobile App Access
Case Studies
Online WordPress Training Course
This WordPress Training Certification includes 3 comprehensive Online WordPress Courses, 4 Projects with 27+ hours of video tutorials and Lifetime Access. The course will help you gain a complete understanding of using WordPress features. You will learn WordPress installation, WordPress Semantics, Posts, pages, Blogging, WordPress Administration, Design & Layout and various other advanced functions.
In the contemporary period, almost all of the things could be done over the internet through web applications. In the traditional way, any activity over the internet was not given preference due to a lack of people's trust in it. But as the days passed, people started trusting the internet and as an outcome, today almost all of the things, from buying vegetables to find a good college,  could be done online. By analyzing the weight-age of the internet, we are also able to understand the importance of web applications as they are the only component that makes internet users in the actual sense. In this Online WordPress Course, we will be learning about an amazing framework that lets us design the web application in a matter of hours just by using the pre-existing templates. Here we will be learning about WordPress.
Industry Growth Trend
The rapid application development market size is expected to grow from USD 7.8 billion in 2018 to USD 46.2 billion by 2023, at a Compound Annual Growth Rate (CAGR) of 42.9% during the forecast period.
[Source - MarketsandMarkets]
Average Salary
Average Salary
$71,948 per year
The average salary for a Web Developer is $71,948 per year in the United States. Salary estimates are based on 3,732 salaries. The typical tenure for a Web Developer is less than 1 year.
[Source - Indeed]
About WordPress Course
| Courses | | No. of Hours |
| --- | --- | --- |
| WordPress Basics and Application Development | | 4h 4m |
| WordPress - Beginners to Beyond | | 2h 31m |
| Online Wordpress Course- Comprehensive Wordpress Training | | 14h 37m |
| Project on WordPress - Creating a Plugin for Movies Directory | | 2h 28m |
| Project on WordPress - Creating a Construction Website | | 3h 29m |
| Project on WordPress - Creating E-Commerce Website | | 2h 37m |
| Project - Speeding up a WordPress Website | | 1h 09m |
---
| | |
| --- | --- |
| Course Name | Online WordPress Training Course |
| Deal | You get access to all 3 courses, 4 Projects bundle. You do not need to purchase each course separately. |
| Hours | 27+ Video Hours |
| Core Coverage | WordPress installation, WordPress Semantics, Posts, pages, Blogging, WordPress Administration, Design & Layout and various other advanced functions. |
| Course Validity | Lifetime Access |
| Eligibility | Anyone who is serious about learning content management and wants to make a career in this Field |
| Pre-Requisites | Basic knowledge about content management and basic coding would be preferable |
| What do you get? | Certificate of Completion for each of the 3 courses, 4 Projects |
| Certification Type | Course Completion Certificates |
| Verifiable Certificates? | Yes, you get verifiable certificates for each course with a unique link. These link can be included in your Resume/LinkedIn profile to showcase your enhanced skills |
| Type of Training | Video Course – Self Paced Learning |
| Software Required | None |
| System Requirement | 1 GB RAM or higher |
| Other Requirement | Speaker / Headphone |
WordPress Course Curriculum
---
| | | |
| --- | --- | --- |
| Sr No. | Course Name | Course Description |
| 1 | WordPress Basics and Application Development | In this section of the Online WordPress Training Course, you will be learning about the basic introduction of WordPress that is very essential to jump to the intermediate or advanced modules of WordPress. All the jargon related to WordPress will be explained in the beginning of this section so that you can find it easy to learn everything about WordPress. In this section, there will be several examples that will make your basic concept clear and will make you get the real exposure of working with WordPress. You will learn the actual application development part using WordPress. It will be a four hours long tutorial where the second half will be full of real-life examples and you will actually be working on web application development. |
| 2 | WordPress – Beginners to Beyond | In the second module of this Online WordPress Course, you will get to know about WordPress in various ways. From how WordPress could be used from the beginner level to the advanced level is exactly what you will be learning here. Similar to the first section, this section is also supported by some excellent examples that are described by the educator to make you feel very comfortable to learn WordPress. This is going to be around two hours and thirty minutes course where the maximum of the time has been devoted to exploring the advanced aspects of WordPress. This unit will end up with an amazing example that will be covering all of the modules that you have been walked through in the previous section. To make the learning easy for you, the educator has explained the example by splitting that on modules. |
| 3 | Comprehensive WordPress Training | This will be the third or the last module of WordPress training certification before this module you will be made ample confident about using or working with WordPress and in this module, you will work to amplify your confidence towards WordPress. This will be an almost fifteen hours video where most of the time has been dedicated to explaining each and every single point about WordPress. All the topic that has been selected for this section are explained very well to brush up you learning from the last two units and to help you develop a strong foundation in WordPress. After completing this WordPress Course section, you will be capable of working with WordPress in order to design and develop enterprise web applications. This video contains lots of examples and every example will be covering different modules and will be helping to conclude every single term that falls under the domain of WordPress. |
WordPress Course – Certificate of Completion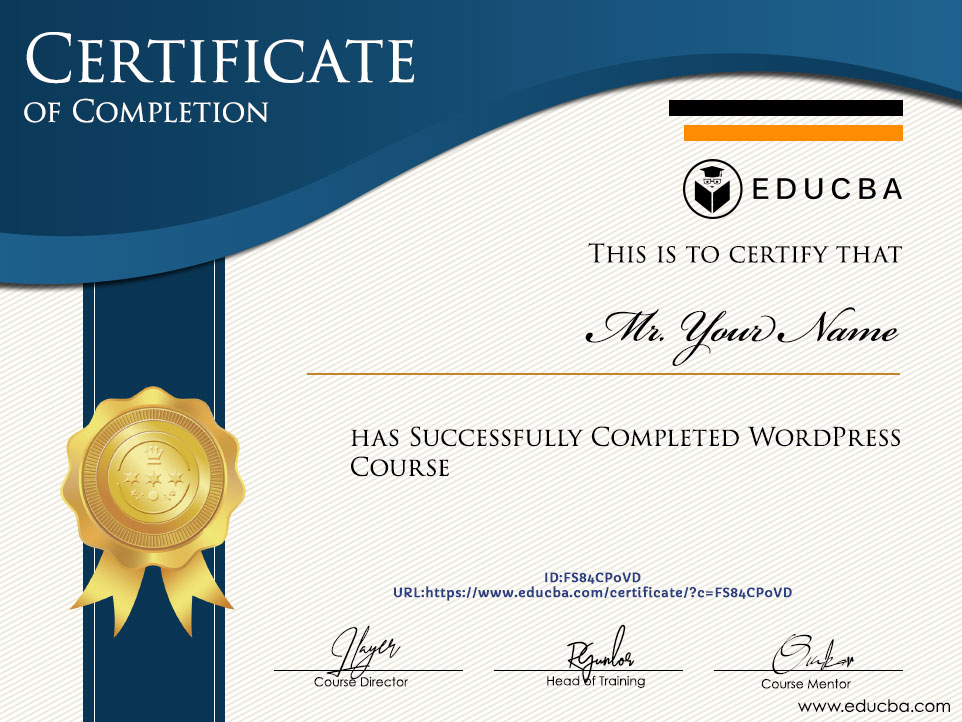 What is WordPress?
WordPress may be defined as the web development framework that lets us design and develops the web application by making use of pre-defined templates. It helps to build the web-based platform in a matter of hours as it has various inbuilt components that can be simply selected in order to use. The web application developed in WordPress is comprised of several plugins that provide functionality to the application. There are various templates out in the market that can be simply chosen to give the overall view to the web application. The very interesting thing about WordPress is, it is an open-source platform but some of the themes or plugins are paid based on how their developers want them to be used by the customers.
WordPress can also be considered as the open-source web application development platform that makes web development very easy by providing free templates or themes. How the outlook of the web application will totally depend on which template has been chosen. Though it is possible to change the structure and the color of the theme it is something that can be done in order to develop the customized web application. It is very easy to use and its interesting feature makes it a very famous tool among the developers. It is interesting to know that one can also design the WordPress based web application using the online as well as an offline platform.
Which tangible skills will you learn in this Course?
This Online WordPress Course has been designed and developed very carefully to meet the requirements of students, professionals or anyone who want to learn WordPress in order to actually implement it. In this course, you will learn all the aspects of WordPress. Starting from the simple explanation about WordPress to the creation of actual web application, everything has been covered very sincerely. The examples used in this WordPress training has been selected wisely to deliver you much in less time. The efficient example solved in this tutorial will give you real exposure to how things actually work so that you could be made job-ready after finishing this course.
This WordPress Certification Course will also walk you through real-life examples of how WordPress could be leveraged in order to solve the actual or real life-based problems. The course will train you on all the points that fall under the shed of WordPress. In the mid of the WordPress training, you will start feeling confident about using this framework and by the end, you will be cognizant about WordPress and will be able to design or develop the web application on your own.
Pre-requisites
In order to learn WordPress, there are some of the basic things that you should be knowing. The first one is web development. You should know how the web application is developed by writing the codes manually. It will make things very easy for you while you will be learning the advanced modules of WordPress. The second technology is, you should know which plugin can be used in which place. Knowing this will help you in developing an efficient web application that will be all set to solve the real-life problem. The understanding of the fundamental of the internet will also be helpful while learning WordPress. In this WordPress Training, we have tried to give you an overview of all the technologies that can be prerequisites for learning WordPress.
Target Audience
The target audience for this Online WordPress Course could be the students, professionals or anyone who is actually willing to learn web application development using WordPress. If we talk about students, they will be learning how to develop a web application that solves a real-life problem. Completing this WordPress Training will get them an edge when it comes to getting selected for the job or being selected for internships.
The professionals who are already working in the domain of web development and want to expand their learning by getting hands-on experience in WordPress are the best audience for this Online WordPress Course. They will be learning everything about web development using WordPress and will be making things easier for them. They will also be getting some good technical skills which will help them stand out from the crowd. The educators who are already training students on web development can also opt for this WordPress Certification to expand the domain of their training. Not just training, but they will also be getting a good chance to jump into production.
FAQ's
---
How long it will take to learn WordPress from this WordPress training certification?
Based on your understanding and familiarity with web development, it depends on how long it may take to learn WordPress for you. For folks who are already working in this domain can consider the learning period of a month while folks who are new to the domain of web development may take around two months to get a deep insight of WordPress.
Why should I learn WordPress?
Learning WordPress will make you capable of designing and developing web applications in a matter of a few hours. You will be getting extra skills that will keep you a level up when compared with the web developers who have hands-on experience only on manual web development.
Sample Preview
---
Career Benefits
This WordPress Course Training has been developed very carefully and sincerely to meet the expectation of the audience. The importance of this WordPress Certification may vary folks to folks but eventually, it is going to be beneficial for everyone who wants to learn WordPress. There are various benefits of this WordPress Certification and the important one is, it will push you a step ahead of the developers who do only the manual web application development. Rather than reading to find out how the course could be beneficial to you, you can opt for it in order to enjoy the juice of this Online WordPress Course. After completing this course, you will be able to develop the web application on your own and definitely get some lucrative opportunities for your
Reviews
---
WordPress for Beginners
Great tutorials, I am not a computer person but with these videos I was able to download word press and start using it without any issues. Word Press has been something I have wanted to learn for some time now but was always discouraged by other videos because of how long they were. 6.5 hours worth of videos but this was easy to sit down and finish in one day.
Linked
Taylor Burley
Worpdress Tutorial
I recommend educba online site.They provide a exceptional courses and are highly professional. I have learned from educba and we get unlimited access to the courses with detail information. WordPress powers more than 24% of the web — a figure that rises every day. Everything from simple websites, to blogs, to complex portals and enterprise websites, and even applications, are built with WordPress. And all this particular things are taught by eduCBA.
Alexander Kozhukhovsky
WordPress for Beginners
The course is a good topic for learning. It will be more interesting if more diagram are used to elaborate steps in a class. It would be great if a live project is used to teach audience. It will be great if more materials are used as reference to increase audience interest. Thank you for courses provided.
Linked
GAN HONG KENG
WordPress Course
This WordPress certification course, in my opinion, is a very good and complete introductory course. I have learned all basic about WordPress, how to install WordPress, and how to interact with the WordPress environment, how to set up all option, and it gives me a great understanding of how a blog works. I have enjoyed the WordPress course and now I feel comfortable to start creating blogs for my customers. At the same time, it is well divided by section where you can review any topic if you have any question. Thank you.
Linked
Gustavo Quintini
EduCBA Training
I liked their trainings, worth taking it. I took course on Understanding WordPress Administration as a refresher more-so rather than an catch all admin guide. The course gives a reasonably detailed overview of the UI and options for a user new to basic administration of WordPress. Overall it is a useful refresher on the basic administration of an existing WordPress site.
Linked
Karol Moran