Learn from Home Offer TAKE THIS BUNDLE
WINDOWS 10 Course Bundle - 8 Courses in 1
This Windows 10 Training includes 8 courses with 27+ hours of video tutorials and Lifetime access. You will also get verifiable certificates (unique certification number and your unique URL) when you complete each of the 8 courses. This training is for you to learn effective and innovative app development concepts on the latest version of Windows OS.
TAKE THIS BUNDLE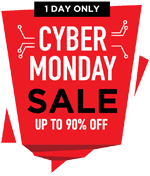 * One Time Payment & Get Lifetime Access
What you get in this WINDOWS 10 Course Bundle - 8 Courses in 1?
27+ Hours
8 Courses
Course Completion Certificates
Lifetime Access
Self-paced Courses
Technical Support
Mobile App Access
Case Studies
About Windows 10 Training
---
Course Name
Online Windows 10 Training Bundle
Deal
You get access to all 8 courses, Projects bundle. You do not need to purchase each course separately.
Hours
27+ Video Hours
Core Coverage
Getting Started with Windows 10, Advanced Concepts, Adaptive Triggers, and Data Binding, Simple Sound App, Simple Weather App, Simple Music Match Game App, Simple Content Explorer App
Course Validity
Lifetime Access
Eligibility
Anyone serious about learning Windows 10
Pre-Requisites
Basic knowledge of using Windows 10
What do you get?
Certificate of Completion for each of the 8 courses, Projects
Certification Type
Course Completion Certificates
Verifiable Certificates?
Yes, you get verifiable certificates for each 8course, Projects with a unique link. These link can be included in your resume/Linkedin profile to showcase your enhanced app development skills
Type of Training
Video Course – Self Paced Learning
Software Required
 You can download the software from the official website
System Requirement for Windows 10

Processor: 1 gigahertz (GHz) or faster processor or SoC.
RAM: 1 gigabyte (GB) for 32-bit or 2 GB for 64-bit.
Hard disk space: 16 GB for 32-bit OS 20 GB for 64-bit OS.
Graphics card: DirectX 9 or later with WDDM 1.0 driver.
Display: 800×600.

Other Requirement
Speaker / Headphone
Online Windows 10 Training Curriculum
---
Let's have a look at the Windows 10 Course in detail below:

MODULE 1: Windows 10 Essentials Training

| Courses | No. of Hours | Certificates | Details |
| --- | --- | --- | --- |
| Windows 10 | 9h 1m | ✔ | |
| Windows 10 Apps - Beginners | 3h 35m | ✔ | |
| Windows 10 Apps - Intermediate | 4h 15m | ✔ | |
| Windows 10 Apps - Advanced | 3h 23m | ✔ | |

MODULE 2: Learning from Practicals

| Courses | No. of Hours | Certificates | Details |
| --- | --- | --- | --- |
| Project on Windows 10 Apps - Simple Sound App | 1h 57m | ✔ | |
| Project on Windows 10 Apps - Simple Weather App | 18m | ✔ | |
| Project on Windows 10 Apps - Simple Music Match Game App | 2h 15m | ✔ | |
| Project on Windows 10 Apps - Simple Content Explorer App | 3h 26m | ✔ | |
Certificate of Completion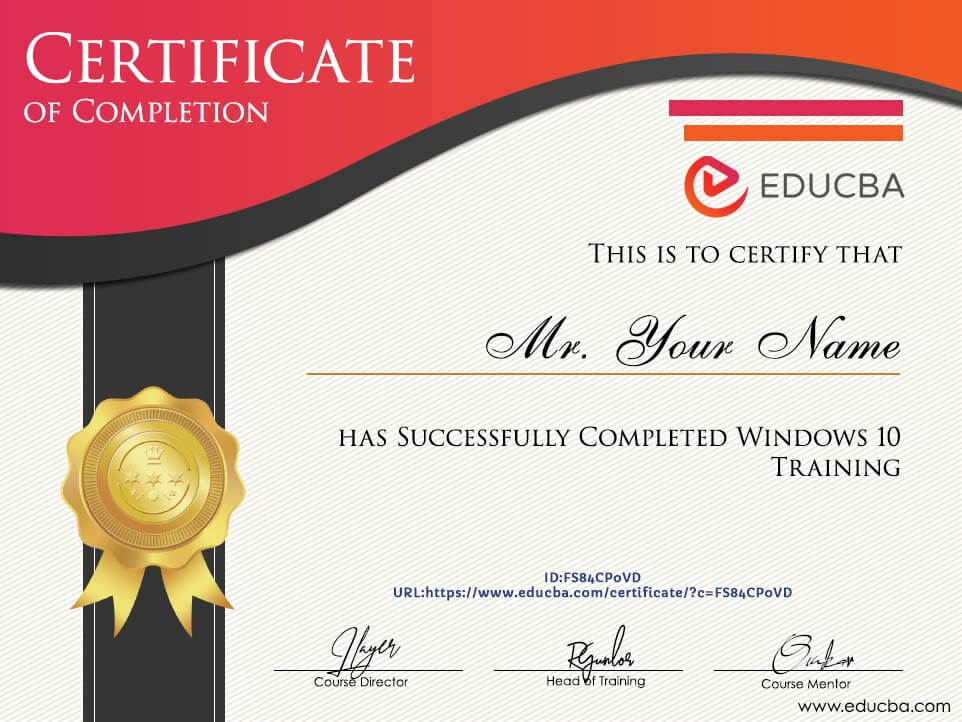 ---
What is Windows 10?
A successor to Windows 8.1, Windows 10 is a series of personal computer operating systems developed by Microsoft as a part of Windows NT Family of Operating Systems. Windows 10 was released on July 15, 2015. It's one of the most amazing features is the support for Universal apps. These Universal apps can be designed to run across multiple Microsoft product families with nearly the same code including Personal Computer, Tablets, Smartphones, Surface Hub, Xbox One & Mixed Reality. Microsoft Store serves as a unified storefront for apps, video content, and eBooks on Windows 10. Win32 console windows can also be resized now, without any restrictions.
The Universal Windows Platform (UWP) is secure as they mention which device resources and data they access. The platform can work on a common API on all devices that run on Windows 10. UWP is enabled to be installed and uninstalled without the risk of the machine. UWP is designed in such a way that, it uses the device-specific capabilities and adapt the User Interface to various device screen sizes, resolutions, and DPI. It can be used and programmable in C#, C++, Visual Basic, and JavaScript. The UI uses XAML, HTML or DirectX. It also uses tiles, push notifications and activities that interact with Windows Timeline and hence are engaging in nature.

Industry Growth Trend
The rapid application development market size is expected to grow from USD 7.8 billion in 2018 to USD 46.2 billion by 2023, at a Compound Annual Growth Rate (CAGR) of 42.9% during the forecast period.
[Source - MarketsandMarkets]
Average Salary
Average Salary
$72,155 per year
The average salary for a Web Developer is $72,155 per year in the United States.
[Source - Indeed]
Which skills you will learn in this Windows 10 Training?
This Windows 10 training deals with the fundamentals of Application development for Windows 10. This training is important to provide an introduction from a developer's perspective. It is both important and crucial to know how exactly modern apps for Windows 10 work and how they are managed by the system. This program focuses on various applications & features of Windows 10 for developing apps with UWP. It helps the student in mastering the basics of the same. This training equally emphasizes on using the gained knowledge by creating methods and introducing several features and techniques of UWP. By learning these techniques, the learner can improve their skills at a major level.
This Windows 10 training would increase the knowledge of learners on the fundamentals of the program and help them to learn the software with great ease. From Beginners to intermediate students, anyone can take up this course who is interested in learning app development concepts on the latest version of Windows OS.
Students will go through a step by step process to deliver and publish a great app on the Windows desktop that works equally well on mobile platforms as well. With this training, the students will be able to master skills on Windows 10, Adaptive Triggers, Data Binding, Simple Sound App, Simple Weather app, and others.
Requirements / Pre-requisites
Basic knowledge about computers is a must. The computer should have at least 4GB of RAM and a running Windows 10 OS.
Visual Studio 2015 RC or above is also needed before starting this training.
A passion for creating and developing apps with lots of ideas and imagination is a much-needed pre-requisite before starting this Windows 10 training. There should be a desire and dedication to study the software through this course, then only the results would be positive
Before starting, Windows 10 training the user needs to have a basic idea of app development. Since the training is based on workable knowledge teamed with various examples and techniques, the student needs to have a prior understanding of the minor basic needs of it.
Target Audience
This Windows 10 Training targets huge audiences who are wanting to get starting with Windows 10.
This Windows 10 training is not limited to any audience. A beginner or an intermediate both can use this training.
The Windows 10 course is aimed at the audiences who are dedicated to learn and grasp the skills in no time
If the learner desire to develop for Windows 10, then they can go for this training.
Windows 10 Training FAQ's- General Questions
---
Will this Windows 10 training help me to grow my career?
Yes. It is a career based training, aimed to teach different techniques of App development and it will help you to create different apps using various scripts and commands with Windows 10 UWP. If you take up this course you will not only learn the software but also obtain command over the various methods and processes of developing apps which in turn will automatically open many career opportunities.
How much time will it take to learn app development through this Windows 10 training?
The difficulty level of this training varies from Beginner-Intermediate. This is one of the easiest and exhaustive courses on Windows 10. It all depends upon your grasping power and your desire to learn the software, rest you can learn it very quickly.
I used to work on Windows 8. Is the User Interface the same or changed in Windows 10? How will this Windows 10 training benefit me?
Windows 10 is the successor to Windows 8.1 and it is loaded with modified features and commands. The program has hugely been updated with two separate modes of UI. One is for the keyboard and mouse users and others for "Tablet" users. This training starts with the introduction to Windows 10 and teaches you the fundamentals of the same.
Sample Preview
---
Career Benefits
Human Imagination cannot be limited nor it can be judged. In this Windows 10 Training, we all will learn various skills that will not only help us to shape our future but will also open many doors to many various career paths. It all depends on the learners' capability and his passion for learning this course, rest all will fall into place.
Windows 10 training is a career aimed at training that significantly believes by powering the skills and providing the learner to grasp many various procedures of learning App development through this course. This training aims to give the students a solid awareness of many of the commands and fundamentals in Windows 10 and to start developing their own polished and professional Apps.
Having command over the Basics of Windows 10 is the most important factor one should have, to master this software. Thankfully, the workflow and interface are so friendly and suitable that it will not take much time for anyone who is a beginner to this software. Utilizing the tools is the second part, but making the most of the tools requires a great endeavor from the learner's end.
This Windows 10 Course, opens many possibilities for the students and professionals to choose from various career options. From Beginners to experienced students, anyone can take up this course who is interested in learning the development of apps with Windows 10. Learners can go for jobs like Data Analyst, Windows 10 App Developer, Software Programmer, Application Developer, Web Developer, PHP Developer, System Engineer.
Windows 10 Training Reviews
---
Good very good course overall
This course was a very good introduction to Windows 10 and UWP. It gives you a good overview of Windows 10 and a great UWP development foundation. Much is covered and includes sections on the basics, XAML introduction, controls (i.e. TextBox, TextBlock, etc.) Control Layouts, Multimedia, Web API consumption and much more. For the price, it was hard to beat its value.
Linked
Scott Beasley
Good Starting Point
A good introduction to the ecosystem of Windows 10 and the evolution that the Windows operating system has followed in recent years. Also, some theoretical foundations on UWP are explained and the first contact is made with the development of UWP in Visual Studio. I thought it was a good course and a good starting point.
Linked
Álvaro Domínguez López
Windows 10 training review
Windows 10 training is interesting and structured. I liked the practical lectures and the demonstrations in the training. Thank you.
Monil Jain
Very in-depth learning
I enjoy the training as the lectures are taught in a very interesting way. The information about UWP is delivered concisely and clearly. The examples given in the lectures explain what to use when in a project, it is very helpful to use them.
Rakha Purbawisesa
Good!
The lecture material was well complemented by in-depth yet not overly confusing topics. The content has fueled my interest in the area of development.
Kritika Shah