Learn from Home Offer TAKE THIS BUNDLE
VMWARE Course Bundle - 5 Courses in 1
This VMware Training includes 5 Courses with 27+ hours of video tutorials and Lifetime access. You get to learn VMware virtualization and its concepts, vSphere, how to download and deploy VMware vCenter and administer vSphere infrastructure.
TAKE THIS BUNDLE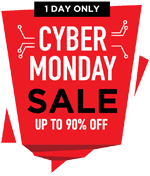 * One Time Payment & Get Lifetime Access
What you get in this VMWARE Course Bundle - 5 Courses in 1?
27+ Hours
5 Courses
Course Completion Certificates
Lifetime Access
Self-paced Courses
Technical Support
Mobile App Access
Case Studies
About VMWARE Course Bundle
---
| | |
| --- | --- |
| | |
| Courses | You get access to all 5 courses, Projects bundle. You do not need to purchase each course separately. |
| Hours | 27+ Video Hours |
| Core Coverage | Learn VMware virtualization and its concepts, vSphere, how to download and deploy VMware vCenter and administer vSphere infrastructure |
| Course Validity | Lifetime Access |
| Eligibility | Anyone serious about learning VMware and wants to make a career in this Field |
| Pre-Requisites | Basic knowledge about virtualization would be preferable |
| What do you get? | Certificate of Completion for each of the 5 courses, Projects |
| Certification Type | Course Completion Certificates |
| Verifiable Certificates? | Yes, you get verifiable certificates for each course with a unique link. These link can be included in your resume/Linkedin profile to showcase your enhanced skills |
| Type of Training | Video Course – Self Paced Learning |
VMWARE Course Bundle Curriculum
---
In this section, each module of the VMware Certification Course is explained.

Goals
With the advent of an idea of sharing resources for getting the best specification computing resource along with keeping the costs down, this training on VMWare aims at creating the path for professionals so that they have all tools and theory available for creating and managing virtual machines.
Objectives
VMware brings in the major market share in the arena of virtualization, and that is 13.9% according to Datanyze. The objectives of each course in the bundle have their niche objectives to fulfill but overall, this course will enable you to understand aspects of virtualization and cloud computing from the side of VMWare. In this course we would take you through a ride to make you have a complete understanding of VMWare vSphere and VMWare ESXi. Not only theoretical concepts, but we also have ample projects to take you through an in-depth understanding of the concepts learned. All these bits and pieces bind together to be a successful course in our portfolio!
Course Highlights
Our courses are meant for all those who are just starting to get comfortable on VMWare or even who want to upskill themselves. We try to cater to type our learning audience and that's the reason our courses are recommended as the one for beginners and beyond. Some of the course highlights for VMWare are:
In the first course let us give ourselves some time to let VMWare sink into our learning blood. For this we will start from scratch, as an overview of VMWare vCenter. Next, we would look at how to configure ESXi and then also learn about installation, the configuration of the VMWare vCenter. Next, we have tutorials on the handling of files like files in the web client, managing access and permissions of files in a directory.
In the same tutorial we would also learn about how to configure master and slave machines, standard switching, network load balancing, how distributed switches work, what DV switches are, and have a short talk on impact analysis on DV switch. Lastly, we would also learn about vCenter and ESXi upgrades as well!
In the next course we would deep dive into VMWare vCenter. The main aspects we would cover in this course include more details about vCenter and vCenter server, how to perform administration settings on vCenter server, web client in vCenter, and finally how we set up SSO settings in vCenter.
In the next course, we take a deep dive into the perspective of the virtual machine on VMWare. In this we start with the installation of Win7 in a VMWare workstation. Once we have installed windows, we would learn about installation and various intricacies associated with the installation of a virtual machine on ESXi server. Once all the installation procedures are complete, we would put on the required network setting for the virtual machine to work and also learn about managing network settings. In the same tutorial we would touch upon concepts of conversion of physical machines to virtual machines.
In the final theoretical course, we would learn about vSphere virtualization. Concepts on servers, storage fundamentals, the latest ESXi installation are some of the in-depth concepts we would carry ahead in this course. Finally, this will complete the 360o view of VMWare and then jump onto the project discussed below!
Project Highlights
As we promised that we will not let you wander in a forest of theoretical concepts and would surely provide you with ample project exposure to make sure you can use the theories learned in real-life problems of the professional world. In this bundle we have one hand on the project, which deals with all the concepts learned and teaches us how we can integrate them to bring out something beautiful. Some snapshots of our project are:
Before we jump onto the project, we have all teachings on installation, administration, management of VMWare as a part of hands-on experience, as we would go through actual installation in our online classes and expect our learners to follow the procedure to have the required settings.
As mentioned, the project is all about the integration of theoretical concepts, and we would provide a vCenter cluster which has all the required securities and has a high availability standard. This project will let you bridge the voids in theory about storage, networking, and system administration.
---
VMware Training  – Certificate of Completion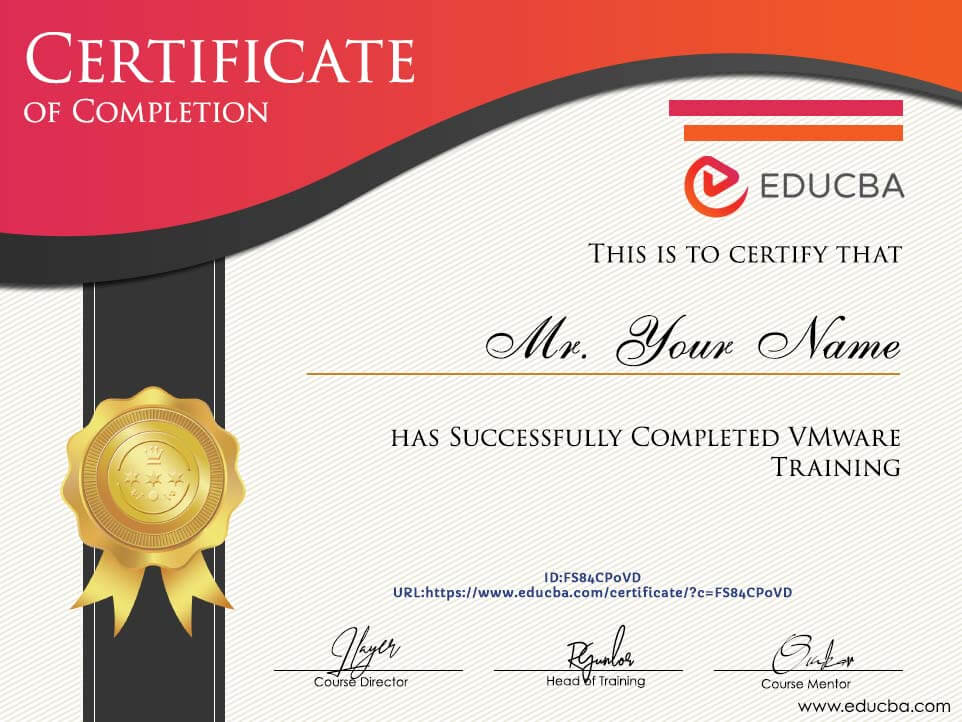 ---
What is VMware?
VMware is a virtualization concept that is based on virtualizing or containerizing different types of operating systems in the form of cloud computing for easy access to resources. It was developed by VMware Inc. software company which provides cloud computing and platform level virtualization services for desktops and servers. The virtualized services can be anything of applications or servers or storage or networks. There are a lot of benefits of using Virtualization are such as operational costs reduction, very minimum or negligible downtime, more efficiency, productivity, responsivity, etc. The main properties of Virtualization are isolation, encapsulation, partitioning, hardware independence, etc. In VMware, the virtualization concepts are of two types called Server Virtualization or Network Virtualization. Virtualization mainly isolates the physical hardware from the user work environment. The Virtual Machines have thin layers of isolation called hypervisor which makes the different virtual machines to be run on a single host.
The Server Virtualization is responsible for running multiple operating systems on a single server with high efficiency that increases the application performance and high availability of the server. The virtualization can also be related to desktops where the virtualized desktops can be shared with the remote locations easily and instantly.

Industry Growth Trend
The Application virtualization market size is expected to grow from USD 2.2 billion in 2018 to USD 4.4 billion by 2023, at a Compound Annual Growth Rate (CAGR) of 14.0% during the forecast period.
[Source - MarketsandMarkets]
Average Salary
Average Salary
$101,966 per year
The average salary for a Virtualization Engineer is $101,966 per year in the United States. Salary estimates are based on 500 salaries. The typical tenure for a Virtualization Engineer is less than 1 year.
[Source - Indeed]
Which tangible skills you will learn in this Course?
---
The set of skills which can be obtained from this VMware Training are such as VMware, Virtualization, vCenter, vSphere, Virtual Machines, Hypervisor, ESXi, VM Creation, vCenter Installation, Files in the Web client, ESXi host, Alarms, vSphere HA and Cluster, Master-Slave Configuration, etc.
The several other skills from this course are such as VMotion, Snapshots, EVC, Standard Switch, Network Load Balancing, Distributed Switches, Standard to DV Switch Migration, etc.
The other skills which can be obtained on completion of this Online VMware Course are such as Impact Analysis of DV Switch, Clone Template, app Linux Basic Command, Installing Win7 in VM Ware workstation, VM Ware Player, VM Ware Converter Standalone, VM Ware Shared Machine, and VM Ware Machine Snapshot.
The course also contains a set of tangible skills such as network and desktop virtualization, hypervisor, vSphere, vCenter, memory allocations, resource sharing, etc.
This VMware Training contains skills that are required for VMware developers or Server Admins to administrate the servers and applications based on the resource allocations and configurations.
Pre-requisites
Basic knowledge on VMware administration: The course has few prerequisites such as it requires basic knowledge on server administration or VMware or Virtualization concepts or technologies to run the shared resources or virtualized networks across the data centers.
Knowledge in any ESXi server or vCenter Server: A basic knowledge on the usage of VMware technologies like VMware servers, vSphere or vCenter servers, hypervisor concepts is an added advantage to easily learn the VMware concepts. This VMware Training gives more benefits in terms of Virtualization for any Server Admin or VMware Admin.
Target Audience
Students or Professionals with VMware Administration experience: Any student or working professional with VMware administration experience or any system administration or server administration experience can choose this course. It is highly recommended to have basic knowledge of the virtualization technologies or hypervisor or server or network virtualization techniques. Anyone interested in learning or working on VMware or vCenter or vSphere servers are the target audience for this course.
System Administrators or System Engineers or command line working experience: All the System Administrators, or Systems Engineers or Server Admins are the target audience for this VMware course. Anyone with a relative server or VMware admin skills can choose this course. Any professional is eligible to opt for this Online VMware course with roles such as System Admins, Network Admin, Data Analyst, Virtualization Consultant, VMware System Administrator, Systems Engineer, Technical Support Engineer, Windows System Administrator, Citrix Administrator, Technical Specialist, Linux Administrator, etc.
VMware Course – FAQ's
---
Is this VMware Training recommended for anyone having basic computer knowledge or does it need any specialization?
Yes, this can be chosen by any fresher or student or an experienced professional with basic knowledge on VMware or any exposure to Virtualization concepts and different Hyper-v techniques on several shared servers or networks.
Is VMware server or computing technology beneficial for existing Windows users?
YES, this VMware cloud computing technology very useful with several benefits such as enhanced performance, easy creation of users, and desktop resources for remote locations or increased scalability for the existing applications or users.
Does this VMware Training add benefits to the learner's profession?
Yes. this VMware course adds a lot of benefits to the learner's profession such as offline and online video content and verifiable certificates with lifetime access to the subscribed course contents.
Is this VMware Certification Course recommended for the System Admin or Server Admin or Network Admin?
Yes, this course is well recommended to all the types of Computer System or Server Administrators along with Network admins where the advanced virtualization techniques can be learned from this course. The Online VMware course needs a minimum of 27+ hours to complete the course contents learning.
Sample Preview
---
Career Benefits
The career benefits of this VMware Training are described as below:

The VMware Course contains virtualization techniques on server and desktop variants and Hyper-v features which is an added career benefit to the subscribers of this course.
Any Systems Admin or Network Admin or Server Admin or Hyper-v Admin can choose this VMware Training which will add a lot of benefits to the learners such as advanced virtualization techniques, installation, configuration, and maintenance of shared resources and managed remote content on a single host for the multiple resources.
The other career benefits of this VMware Training are such as – it explains the complete details about the latest VMware server technologies and its multiple technological and architectural features involved in the form of hands-on videos.
The advantages of choosing this course are such as any professional or student can easily grasp the concepts of this course and can grab excellent opportunities based on VMware skill set.
 Course Review
---
Working with VMware Solutions
Straight forward intro into how to setup VMware. I feel that I can now properly install, configure the VMware software. Once launched I am capable of launching a Virtual machine instance, backing that instance up and cloning that instance. In addition to all of that I was taught how to create a shared drive between all of the virtual machines and the host server. Overall nice experience of knowing how to set up VMware.
Raymond Holton
Nice Experience
Thanks for the insight on Vmware Visualization. Wonderful tutorials.
Linked
George Kwofie
VMware Virtualization
Very basic, but well prepared, tutorial/guide for anybody interested in "playing" with VMware products. For more advanced users, there is too much already known information, Also, there is a need to point out, that the main subject of this course is VMware Workstation and not the VMware ESXi. To summarize, the instructor has understandable pronunciation, the course has good and logical structure, but covers only basics.
Marko Zbirka