New Year '20 Offer TAKE THIS BUNDLE
VBScript Training (3 Courses, 3+ Projects)
3 Online Courses
3 Hands-on Project
20+ Hours
Verifiable Certificate of Completion
Lifetime Access
VBScript for QTP Programmers
Project on VBScript and HTML – Online Convertor and Calculator
Project on VBScript - Product Listing Website
Offer ends in:
TAKE THIS BUNDLE
What you get
Online Classes
Technical Support
Mobile App Access
Case Studies
Online VBScript Training Course
This VBScript Training Certification includes 3 comprehensive VBScript Courses, 3 Projects with 20+ hours of video tutorials and Lifetime Access. You get to learn VBScript language and then execute your VBScript programs on the spot.
VBScript language is an active scripting language that was developed by Microsoft and modeled on Visual Basic. It allows the Microsoft Windows-based system administrators to build and generate powerful and efficient tools which specifically used for managing computers along with subroutines, error handling and other programming constructs. It can be used to give users much control over many aspects of the cloud computing environment. VBScript makes use of the component object model which is used to access elements for the environments inside which they are running. For example, the FSO i.e. the FileSystemObject is used to create, update, read and delete files. VBScript is installed by default in all windows based systems after Windows 98 has been launched.
It must have a host environment within which it can be executed. It also consists of Windows Script Host(WSH), Internet Explorer(IE) and other internet information services (IIS). Technologies such as Microsoft Script controller are used to embed VBScript hosting environment. Microsoft Visual Basic scripting language in itself is a general-purpose, light-weighted, robust and active and interactive scripting language that is totally modeled on Visual Basic. It is made as a primary application for many tools such as QTP (Quick Test Professional), a test automation tool. In VBScript certification, you will get to know about the various features of the VBScript programming language.
Industry Growth Trend
The rapid application development market size is expected to grow from USD 7.8 billion in 2018 to USD 46.2 billion by 2023, at a Compound Annual Growth Rate (CAGR) of 42.9% during the forecast period.
[Source - MarketsandMarkets]
Average Salary
Average Salary
$73,990 per year
The average salary for a Programmer is $73,990 per year in the United States.
[Source - Indeed]
About VBScript Training Course
| Courses | | No. of Hours |
| --- | --- | --- |
| VBScript - Microsoft Visual Basic Script Beginners | | 8h 32m |
| VBScript - Microsoft Visual Basic Script Advanced | | 2h 59m |
| VBScript for QTP Programmers | | 5h 12m |
| Project on VBScript and HTML - Online Convertor and Calculator | | 2h 1m |
| Project on VBScript - Product Listing Website | | 2h 44m |
| VBscript Project - Website for Forums and Blogs | | 1h 29m |
---
| | |
| --- | --- |
| Course Name | Online VBScript Certification Training |
| Deal | You get access to all 3 courses, 3 Projects bundle. You do not need to purchase each course separately. |
| Hours | 20+ Video Hours |
| Core Coverage | Learn VBScript language and then execute your VBScript programs on the spot. |
| Course Validity | Lifetime Access |
| Eligibility | Anyone who is serious about learning VBScript and wants to make a career in this Field |
| Pre-Requisites | Basic knowledge about scripting would be preferable |
| What do you get? | Certificate of Completion for each of the 3 courses, 3 Projects |
| Certification Type | Course Completion Certificates |
| Verifiable Certificates? | Yes, you get verifiable certificates for each course with a unique link. These link can be included in your Resume/Linkedin profile to showcase your enhanced skills |
| Type of Training | Video Course – Self Paced Learning |
| Software Required | None |
| System Requirement | 1 GB RAM or higher |
| Other Requirement | Speaker / Headphone |
VBScript Training Curriculum
---
In this section, each module of the VBScript Certification Training is explained.
| | | | |
| --- | --- | --- | --- |
| S No | Course Name | Number of hours | Course Description |
| 1 | VBScript – Microsoft Visual Basic Script Beginners | 8h 39min | This training focuses on teaching various aspects of the VBScript language and then about executing VBScript programs on the spot. VBScript language which is a basic visual scripting edition which is also a general-purpose, light weighted and vigorous scripting language that is modeled on the visual basic we see today and was developed by Microsoft. This course aims to teach you about all the introductory topics and the basics of the visual basic scripting language. It aims to teach you why you should be using this scripting language, how this language can be put into better use, what can be the benefits one would receive once they learn this language, etc.  questions like these. It also talks about the different terminologies and concepts which are common in the world of visual basic language programmers. This will make you aware of all the technical jargon which is yet to come in the course of VBScript training. Apart from all this, this will also make sure that you understand the use of this language by making use of any automation testing tool, primarily QTP ( Quick Test Professional). This can also be helpful in understanding web-based technologies and the project development of websites and web apps. |
| 2 | VBScript – Microsoft Visual Basic Script Advanced |  2h 59min | Apart from the general and the basic visual scripting techniques, this course also aims to make you understand the complex features which are essentially the advanced features such as Procedures, object-oriented VBScript, Dialog Boxes and other advanced topics. The features and topics studied in this VBScript training course form the part of a more complex and an advanced course. These techniques are generally not used with any automation tool or any testing tool but when you are more interested in building web applications or another kind of application that require the use of VBScript language. |
| 3 | HP QTP/UFT VBScript | 5h 12min | QTP or Quick Test Professional training is designed for all the software testing professionals who have a need to understand how testing works and especially how automation techniques are put to use. Being a manual tester or a functional tester is comparatively easy as this doesn't require much of the coding or the programming skillset but when you talk about techniques such as automation testing and tools such as QTP ( Quick Test Professional), it takes a much bigger leap as it also takes into consideration writing test scripts and programming them in order to be able to automate the scenarios and test conditions. QTP is also called as UFT now which is the abbreviated form for Unified Functional Testing. The testing scripts are written in VBScript language and which is targeted in a very good way in this VBScript certification. |
---
VBScript Training – Certificate of Completion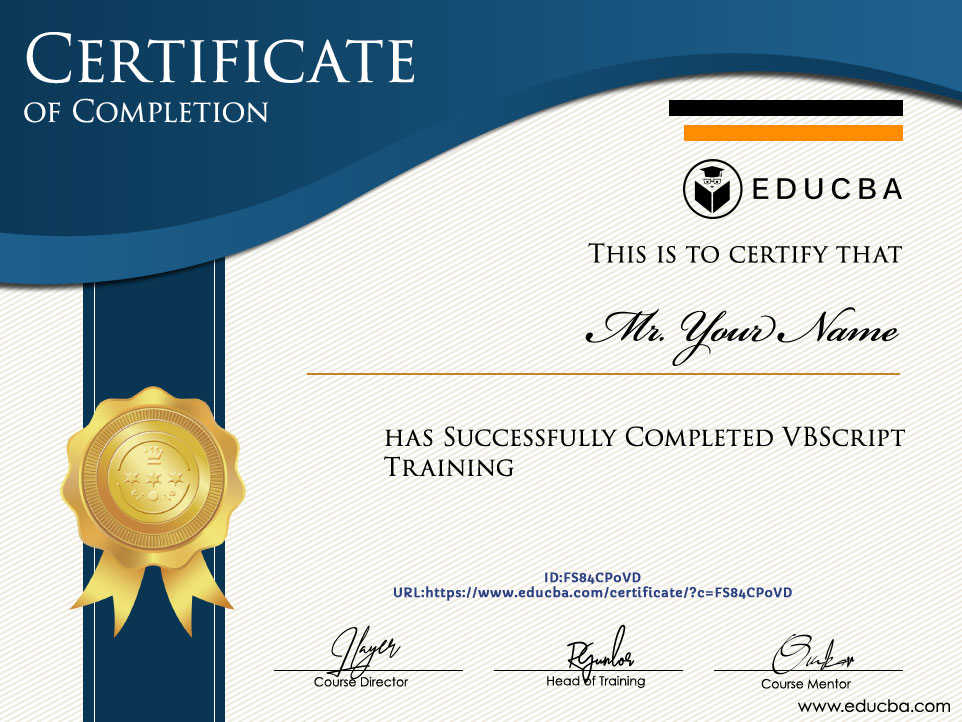 ---
What is VBScript?
---
VBScript is a client-side script like language such as Javascript. VB Script stands for a visual basic script which is, in fact, a lighter version of Microsoft visual basic. The syntax of VBScript is similar to that of the Visual Basic language. This scripting language was developed by Microsoft with the intent of developing dynamic web pages. All in all, if you wish for your web pages to be more lively and active as well as interactive, then you can easily incorporate the use of VBScript language in your code piece. It is a scripting language and therefore it cannot run on its own. It needs a much larger programming language to host it. It can be executed in three environments viz. IIS ( internet information server) which is the Microsoft's own server, the next being WSH ( Windows Scripting host) which is the native hosting environment for Windows operating system, the third being IE ( Internet Explorer)  which is possibly the simplest hosting environment which can be used to run VBScript.
In order to create a simple VBScript you just need to have two basic things. One is the browser, specifically the Internet Explorer and second is the text editor such as the notepad or any other text editor such as Atom, sublime text or notepad ++, etc. You just need to write your piece of code and it can be easily executed without any hassle.
Which tangible skills will you learn in this Course
?
---
The VBScript consists of the scripting programming language which is not the same as those like other object-oriented programming languages or procedural oriented programming languages. It can more or less likely be related to java scripting language and not Java or Python, so the first tangible skill which you will surely learn from the VBScript training course is about how to write a scripting language and how to execute it. Writing scripting languages seems to be an easy task but you really need to have hands-on experience in order to be able to write any such kind of a language as the use of improper tags can make your script unexecutable. The next tangible skill which you will learn from VBScript training certification is related to Automation testing tools and knowledge about QAs and other testing related domain knowledge as this VBScripting is also responsible to explain to you how this can be used efficiently with the different testing automation tools which are readily available in the market today such as QTP/UFT etc.
Pre-requisites
There are no particular pre-requisites of taking the VBScript training course but you should, of course, have a basic understanding of computer theories and about websites, web apps, programming language skills and a brief basic idea about the use of scripting language such as Javascript, etc. You should also have a zeal and enthusiasm and an aim to learn this language. You should also have a windows operating system as this VBScripting language doesn't run on general mediums or modes of operating systems such as Linux or Unix based systems or even MAC OS X. A basic level of programming language knowledge of any language is a must before you want to reach out for the VBScript training course.
Target Audience
The ideal target audience for this VBScript certification course can be anybody who has been in the domain of IT. This doesn't include necessarily developers but also software engineers and software testers as they are the ones who are responsible to make use of this language in their software testing automation tools such as QTP or UFT. Among the leagues of developers, web developers, frontend developers, application developers, software developers, analysts, Web scripting developers, web scripting analysts, etc. forms the part of the audience who should be opting for this course. Apart from these sets of people, entrepreneurs who are creating something of their own, possibly a web site or a web app or any other automation testing tool or any other utility also should be opting for this course. Apart from all these people who should be taking this course are the students who have been either in their college years or doing something out of the box to create something of their own.
FAQ's
---
I belong to an electronics and communication background. I have learning in VLSI and embedded programming but I am new to website development and web app or VBScript language. I am very passionate about computer science technologies and wish to start my career someday in the field of programming. Should I take this course?
A. Yes. You form the ideal audience for this course as you have a programming background. Even if it is not from a computer science background, it doesn't matter much. What actually matters is how willing and interested you are in learning new technology. With the VBScript training course, you will learn all the aspects of scripting language and what all is required to be a software programmer and a developer. Basically, this course can be your ideal kickstart to give you a heads up in entering into the computer science domain and space.
I do not have any interest in programming languages such as Java. I find them hard to understand but I know the basics of this. Should I be taking this course?
We, at eduCBA craft the VBScript certification course in such a way that the person who has been taking the course will understand everything from the very scratch and therefore should not have any problem understanding the basics. As already mentioned in the post also, this is just a scripting language like those of JavaScript and other front end web frameworks and doesn't require the enhanced skillset of any programming language per se. So, if you are not comfortable with Java or Python, it is absolutely okay. Don't worry, go ahead and start taking this course and you will feel the difference.
Sample Preview
---
Career Benefits
This VBScript training is aimed to provide benefits to a huge variety of people such as those like the developers, especially web developers and front end developers. It also benefits all the software testers who are either on their journey towards an automation route or have already moved into automation testing. This also helps everybody who has a basic understanding of the various web-based frameworks. This scripting language helps in advancing your scripting techniques and skillset along with the programmatic skillset and therefore gives a much upper edge to everybody who has been associated with the VBScript training course.
Reviews
---
VBScript Training
Very Comprehensive Online Course. I am inviting my friends to try also this online course at a very affordable price… it is a complete training package… It is a self-paced training… train at your most convenient time and location all you need to do are to purchase the course package and after that, you can start the VBScript certification.
Leo S. Tembrevilla
Good learning experience
The VBScript certification is excellent for beginners, it covers everything you need to be able to build complex programs. The accent is understandable, sometimes the voice goes a bit too high. In this course you can learn even about multithreading winch I found really useful so that your program can use all the resources of a modern computer. There is even a training related to the database connections, so as you can see it covers everything you need to be able to build complex programs as I stated at first.
Man Andrei Catalin