Learn from Home Offer TAKE THIS BUNDLE
UiPATH Course Bundle - 5 Courses in 1
10+ Hours of HD Videos
5 Courses
Verifiable Certificate of Completion
Lifetime Access
TAKE THIS BUNDLE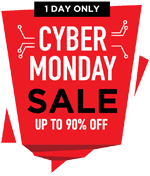 * One Time Payment & Get Lifetime Access
What you get in this UiPATH Course Bundle - 5 Courses in 1?
10+ Hours
5 Courses
Course Completion Certificates
Lifetime Access
Self-paced Courses
Technical Support
Mobile App Access
Case Studies
About UiPath Training in Hyderabad
| | |
| --- | --- |
| Course Name | UiPath Training in Hyderabad |
| Deal | You get access to all videos for the lifetime |
| Hours | 10+ Video Hours |
| Core Coverage | This training will help you learn Robotic Process Automation Technology Insights, basic UI Automation concepts, and skills to build UiPath workflows from scratch. |
| Course Validity | Lifetime Access |
| Eligibility | Anyone who is serious about learning the robotic process automation and wants to make a career in this Field |
| Pre-Requisites | Basic knowledge about RPA would be preferable |
| What do you get? | Certificate of Completion for the course |
| Certification Type | Course Completion Certificates |
| Verifiable Certificates? | Yes, you get verifiable certificates for each5 course, Projects with a unique link. These link can be included in your resume/Linkedin profile to showcase your enhanced skills |
| Type of Training | Video Course – Self Paced Learning |
| Software Required | None |
| System Requirement | 1 GB RAM or higher |
| Other Requirement | Speaker / Headphone |
UiPath Training in Hyderabad Curriculum
---
MODULE 1: UiPATH Essentials Training

| Courses | No. of Hours | Certificates | Details |
| --- | --- | --- | --- |
| UiPath RPA Developer Course - Beginners to Beyond | 2h 23m | ✔ | |
| Project on UiPath RPA - Stock Market Data | 1h 09m | ✔ | |

MODULE 2: Projects based Learning

| Courses | No. of Hours | Certificates | Details |
| --- | --- | --- | --- |
| UiPath RPA Developer Course - Intermediate to Advanced | 4h 08m | ✔ | |
| Project on UiPath RPA | 1h 26m | ✔ | |
| Project on Robotic Process Automation - HR Process Automation | 2h 33m | ✔ | |
UiPath is one of the emerging technology which is being adopted by various organizations gradually. In this certification course, you can browse Ui path courses along with video tutorials and projects. After completing the certification, you will get the verified certificates which you can use in your whole lifetime career. In the beginning part of the UiPath Training in Hyderabad, you will understand the concepts of Robotic Process Automation, basic concepts of Ui path, installation procedure, and practical implementation with different case studies and examples. You will also learn some advanced concepts related to UiPath which will give you an idea about the work that developers do. There will be various examples explaining the concept and the difficulty level will gradually keep on increasing which will help in making your concepts clearer.
Along with the different modules in the certification course, there will be a project which will help you in getting hands-on experience in this technology with the help of an educator. During this whole procedure, you will come across various issues and errors which will help you in figuring out the problems in production and deployment.
UiPath Training – Certificate of Completion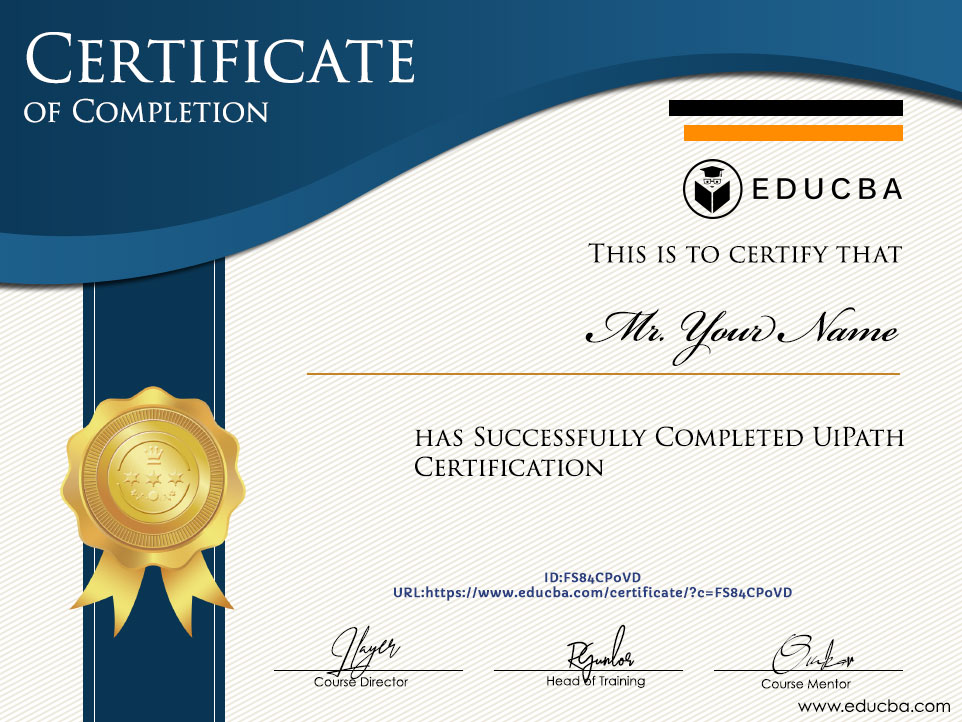 What is UiPath?
UiPath is one of the Robotic Process Automation tools which is meant to reduce manual tasks and process them automatically. UiPath tool is very easy to use and its standard studio version offers a trial period of around 60 days. It has also Community Version which is free to use and has almost the same features as that of Studio Version. There are some features of Ui path tool like:
It is compatible with many desktop and web applications.
It can also be hosted in various cloud environments.
It is considered as one of the reliable automation tools with various security measures in it.
It is great in handling exceptions and debugging errors.
Various components are present in the UiPath tool like Ribbon, Activities Panel. Universal Search bar, Library, and Project Panel.

Industry Growth Trend
The rapid application development market size is expected to grow from USD 7.8 billion in 2018 to USD 46.2 billion by 2023, at a Compound Annual Growth Rate (CAGR) of 42.9% during the forecast period.
[Source - MarketsandMarkets]
Average Salary
Average Salary
$70,798 per year
The average salary for a Web Developer is $70,798 per year in the United States. Salary estimates are based on 3,164 salaries. The typical tenure for a Web Developer is less than 1 year.
[Source - Indeed]
Which Skills will you learn in this Training
?
In this certification course, you will have lifetime access to all the tutorials along with the videos and projects. Different concepts related to Robotic Process Automation, UiPath fundamentals in both basic and advanced levels will be covered. You will be given different examples and use cases depicting different scenarios faced while working with the project. You will also get a chance to work on a project which will help you in understanding the environment and concepts better.
Pre-requisites
There are no such mandatory prerequisites in learning Ui Path Automation. However, familiarity with certain concepts will help you understand the course easily and quickly.
Basic Programming Knowledge and Logical Thinking: Logical Thinking is an important aspect here since we have to automate the manual tasks and build the code. So, working with the programs will be easy for all those who are good at logical thinking.
Basic working experience in Windows: Since the UiPath tool is used in a Windows-based platform so, it's better to have experience in Windows. If not, then it's good to brush up your knowledge in Windows before starting this certification.
Target Audience
This certification course is designed for all who have a keen interest in learning anything related to Robotic Process Automation. Students, graduates who want to learn about the latest technologies in the market can opt for this certification course which will be an added benefit to their resume. Experienced and business professionals who are working in automation and wanted to learn more about automation and increase their skills can take up this UiPath Training in Hyderabad which will be a great add-on to their respective skills. After completing this certification, you will be able to apply your knowledge in different business operations which will solve the problems quickly and efficiently.
UiPath Training in Hyderabad – FAQ's
---
What are the different job profiles in the field of Automation or Robotic Process Automation in the market?
Automation is the new era in the IT market globally. Every organization is switching their work towards automation. Different profiles in the market hire professionals trained in Automation or Robotic Process Automation like Robotic Process Automation Specialist, Automation Specialist, Robotic Process Automation Developer, Application Developer in RPA, Automation in RPA, etc.
How many days will it take to complete this certification Course?
If you don't have any prior experience in Windows or any programming language, then it can take 2-3 months to complete the certification. But, if you already know of the above technologies then you can complete the certification in 2 months.
Can this certification help me in preparing for the interview and apply to organizations?
Yes, with proper knowledge and experience in it you can apply to various organizations. If you want to master this tool, then it is always better to keep on practicing and make yourself comfortable with the software.
Sample Preview
---
Career Benefits
This UiPath Training in Hyderabad covers both basic and advanced concepts with projects that can help you to start a career in Robotic Process Automation. With fundamentals, you will be assigned a project along with various examples that will help you in understanding the concepts better.
Why should you take up the UiPath training in Hyderabad?
Hyderabad is one of the fastest-growing cities in terms of various job opportunities related to finance, HR, or IT. It has various institutes that provide training related to different technologies with placement assistance and support. It has a very well planned IT infrastructure which attracts the number of employees. With the rise in several companies, there are various opportunities in the latest technologies across several job portals.
What is the UiPath market trend in Hyderabad?
According to a recent survey, around 65% of the developers or automation specialists have already switched or started their journey in Robotic Process Automation. This is likely to increase to more than 75% in the upcoming year. Gradually, every organization is switching to RPA and are searching for RPA certified professionals. Some of the top companies in Hyderabad that hire Ui Path professionals are Infosys, Wipro, Capgemini, Tech Mahindra, Accenture, IBM India, etc.
Reviews
---
UiPath RPA training
According to me, this course is really good for beginners. I learned robotic process automation and got great insights into this technology. I liked the course. Thank you educba!
Iván Selvi
Nice learning experience
The course is designed by considering the ease of learner and the given flexibility adds the required comfort in the learning process. The course is quite comprehensive and well explained. All the features of the UiPath RPA Suite are well covered and beautifully explained.
Nikola Atunwa
UiPath RPA certification
A great course or module designed by educba to enhance knowledge in the field of UiPath. Those who are interested in learning about robotic process automation will be very benefited from this course. Great examples are provided so that they could be easily understood.
Cindey Mcbride