TAKE THIS BUNDLE
UiPath Certification (2 Courses, 1+ Projects)
2 Online Courses
1 Hands-on Project
6+ Hours
Verifiable Certificate of Completion
Lifetime Access
UiPath RPA Developer Course-Beginners to Beyond
Project on UiPath - Stock Market Data
UiPath RPA Developer Course - Intermediate
Offer ends in:
TAKE THIS BUNDLE
What you get
Online Classes
Technical Support
Mobile App Access
Case Studies
UiPath RPA Certification Course
This UiPath RPA Training Certification includes 2  comprehensive UiPath courses , 1 Projects with 6+ hours of video tutorials and Lifetime Access. This training will help you learn Robotic Process Automation Technology Insights, basic UI Automation concepts, and skills to build UiPath workflows from scratch.
The business or organization were used to prefer the manpower workforce over getting things done using machinery due to their high cost. But the same organizations these days are preferring to opt for the machines. There are several reasons behind that and one among them must be meeting the business requirements. The business needs effective approaches to run its business operations. And when it comes to meet the effectiveness and efficiency, automation is the first thing that comes into consideration. In every field including product manufacturing industries to information technology, the automation is being highly appreciated. Here in this tutorial, we will be learning technology or software that is used to automate the business processes with the help of the application. We will be learning about UiPath RPA here and below are the details of modules that we will be covering in this UiPath RPA Certification.
Industry Growth Trend
The rapid application development market size is expected to grow from USD 7.8 billion in 2018 to USD 46.2 billion by 2023, at a Compound Annual Growth Rate (CAGR) of 42.9% during the forecast period.
[Source - MarketsandMarkets]
Average Salary
Average Salary
$70,798 per year
The average salary for a Web Developer is $70,798 per year in the United States. Salary estimates are based on 3,164 salaries. The typical tenure for a Web Developer is less than 1 year.
[Source - Indeed]
About Uipath RPA Certification Course
| Courses | | No. of Hours |
| --- | --- | --- |
| UiPath RPA Developer Course - Beginners to Beyond | | 2h 27m |
| Project on UiPath - Stock Market Data | | 1h 08m |
| UiPath RPA Developer Course - Intermediate | | 55m |
| | |
| --- | --- |
| Course Name | Online Uipath RPA Training Certification Course |
| Deal | You get access to all 2 courses bundle. You do not need to purchase each course separately. |
| Hours | 6+ Video Hours |
| Core Coverage | Learn Robotic Process Automation Technology Insights, basic UI Automation concepts, and skills to build UiPath workflows from scratch |
| Course Validity | Lifetime Access |
| Eligibility | Anyone who is serious about learning the robotic process automation and wants to make a career in this Field |
| Pre-Requisites | Basic knowledge about RPA would be preferable |
| What do you get? | Certificate of Completion for each of the 2 courses |
| Certification Type | Course Completion Certificates |
| Verifiable Certificates? | Yes, you get verifiable certificates for each course with a unique link. These link can be included in your resume/Linkedin profile to showcase your enhanced skills |
| Type of Training | Video Course – Self Paced Learning |
| Software Required | None |
| System Requirement | 1 GB RAM or higher |
| Other Requirement | Speaker / Headphone |
Uipath Certification Course Curriculum
---
In this section, each module of the Uipath RPA Certification Course is explained.
| | | | |
| --- | --- | --- | --- |
| Sr. No. | Course Name | No. of Hours | Course Description |
| 1 | UiPath RPA Developer Course-Beginners to Beyond | 2 | In the first unit, we will be starting with the basics of UiPath robotic process automation. The first few minutes educator will take to make you aware of all the concepts of UiPath. Later he will be explaining you almost all of the jargon that falls under this subject so that you can understand all the concepts and examples taught in this UiPath certification course. Once the introduction part is completely over, you will come across the main exercises that are comprised of the theoretical explanations of the concepts and the practical implementation using an example. As this unit is intended to give you beginners to advanced level of learning, you will come across the advanced part right after the half of the video. This unit is comprised of several examples that have been opted very carefully to make you understand how a developer can work using this windows based software. The complexity of the examples will keep on increasing with the time and at last, you will need to solve a complex example that will make all your concepts clear. |
| 2 | Project on UiPath – Stock Market Data | 2 | After understanding all the concepts and completing the examples in the first unit, it turns to do a project so that you can make yourself ample comfortable to use this technology. In this tutorial, we will be developing a project on stock market data. The educator will walk us through the concepts that have to be implemented in this project in order to develop them. While working to design and develop the whole project, you will come across several errors and that way you will learn how to do error handling in UiPath. Before beginning the development you will be required to prepare the proper environment which will give you a taste of how to set up the environment for this software and will also make you realize how it is like working with this technology in the appropriate environment. After completing this unit or finishing this project, you will be job-ready and will be able to work in this technology from scratch up to the advanced level. |
---
UiPath Course – Certificate of Completion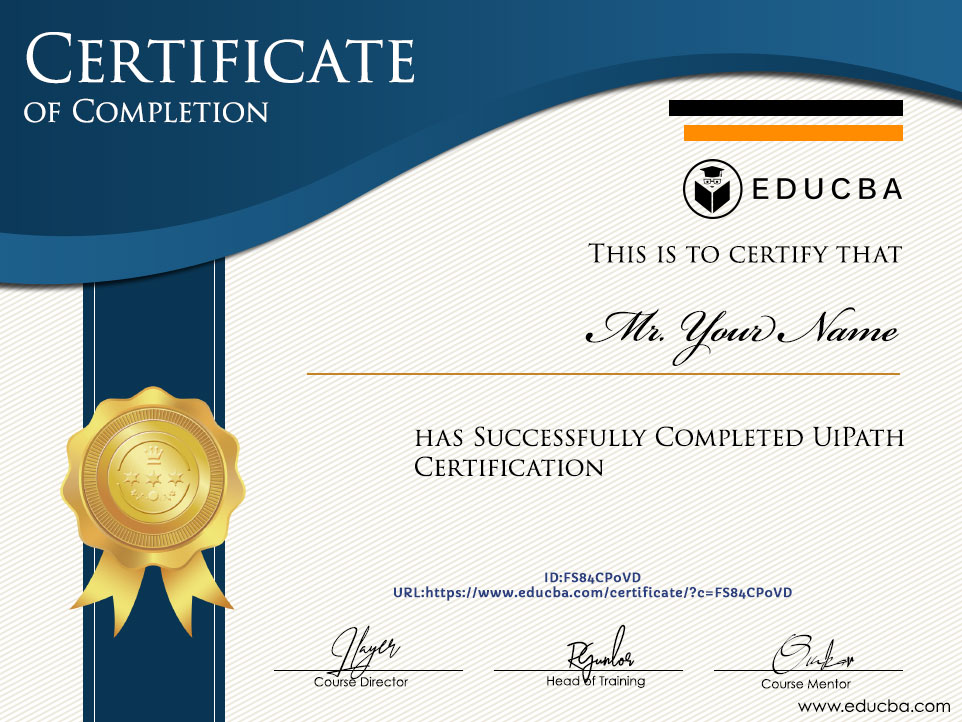 What is UiPath RPA Development?
UiPath Robotic Process Automation may be defined as the windows based software that is used to automate the process in the organization that occurs recursively. This software uses a very little amount of coding to develop a platform that can perform recursive tasks in order to help businesses get rid of repetitive tasks. The main purpose of this application is to automate the manual task that was occurring over and over so that the time devoted to performing that particular task could be saved. Also, the organization opts for this software in order to reduce the workforce that eventually minimizes the operation cost. It may also be considered as an application that is used for implementing the automation by making very minimal use of coding. This software is very easy to use and consists of several predefined functionalities that could be leveraged to resolve business problems.
What skills will you learn in this Course?
In this UiPath certification course, there are lots of things for learning that eventually improves the automation skills of the trannies. One who completes this course will be able to work with this software very efficiently and will also be able to take leverage of all the functionalities that are offered by this software. They will be learning how to understand the requirements of the business for automation and how to design the solution for them. Based on the solution design you will be able to perform the actual implementation of the automation part. They will be learning how to set up the proper environment before this software could be made ready to work with. As the software runs on the Windows platform, they will also learn various things about the window as well. In addition to that, they will learn how to work with any environment that has the predefined functionalities that can be used to develop the final solution. The project included in this UiPath certification will make you cognizant about how to execute the actual requirements in order to develop the solution for business.
Pre-requisites
Similar to the other technologies, there is some prerequisite associated with this technology as well. Before learning this UiPath certification you should be having experience of working with the Windows platform. As this software is Windows-based, you will need to come across various components of Windows while developing the solution. If you are already having good working experience on the window, you will be able to learn this UiPath RPA certification at comparatively less time. But in case if you are new to this technology you are suggested to make your familiar with Windows environment. If it is just about brushing up the overall idea of Windows, we have included the overviews in the tutorial videos.
Target Audience
Anyone who is willing to master this UiPath certification course could be the best audience for this course. The professional who is working in automation and wants to grow their technical skills can be the best audience for this course. They will learn how to develop automated solutions for the business operations that are required to be performed recursively and very often. There are several new and interesting things that they will be learning in this course. After completing this UiPath RPA training certification, they will be able to apply their knowledge to use this software in an efficient manner. The trainer who is already training folks on automation can learn this course in order to expand the domain of their training. They will be learning several new aspects of windows and automating the process using the Windows platform.
FAQ's
---
How long it may take to learn this UiPath Certification course?
Depending upon your familiarity with Windows and programming languages, it varies how long it may take to learn this UiPath training certification. You will be able to finish this course by two or three months if you are new to either of the technologies else you will be completing it before two months. In order to master this software, you will be required to keep on working on it as long as you find yourself comfortable using this which usually takes up to three months. You can also learn new things about Windows and the programming concepts in order to reinforce your understanding of automation and to finish this UiPath certification in a short span of time.
Why should I learn this UiPath training course?
The organization these days are preferring automation over manual tasks. Learning this course will make you master the process of automating business operations. Understanding to work with this software will not just enhance your automation skills but will also help you realize the requirements of the businesses that need automation as solutions. If you are willing to secure a job in any of the IT giants, learning this UiPath certification course will definitely help you as the urge of automation is growing exponentially. If you are working with the software environment that uses the predefined functionalities to automate the process.
Career Benefits
This UiPath RPA training course can be considered as the career-oriented course in some sense as learning this technology will help you in getting a good future in terms of your profession. There are several new things you will learn that will eventually make your automation skills strong. As the organization, these days have huge requirements for the professional who are good at automation or know almost all of the tools used in automation, learning this UiPath Course will help you to secure a good job. Also, the compensation paid to the professional who is having a good idea about UiPath is pretty decent to attack the talents towards it. After completing this course you will become eligible to apply for the position that requires a strong understanding of UiPath. If you are looking for a good and lucrative opportunity in the domain of automation, you can opt for this UiPath RPA training course to grow your skills so that you can be the one among the crowd who gets privilege due to their high understanding of automating processes.
Reviews
---
UiPath RPA training
According to me, this course is really good for beginners. I learned robotic process automation and got great insights into this technology. I really liked the course. Thank you educba!

Iván Selvi
Nice learning experience
The course is designed by taking the ease of learner into consideration and the given flexibility actually adds the required comfort in the learning process. The course is quite comprehensive and well explained. All the features of the UiPath RPA Suite are well covered and beautifully explained.

Nikola Atunwa
UiPath RPA certification
A great course or module designed by educba to enhance knowledge in the field of UiPath. Those who are interested in learning about robotic process automation will be very benefited from this course. Great examples are provided so that it could be easily understandable.

Cindey Mcbride