Learn from Home Offer TAKE THIS BUNDLE
Tricentis Tosca Course (1 Courses, 1+ Projects)
This Online Tricentis Tosca Course includes 1 Course , 1 Projects with 4+ hours of video tutorials and Lifetime access.

You will get to learn software test and test automation using the Tosca tool.
Tricentis Tosca Automation Tool
Project on TOSCA - Faculty Feedback System
Offer ends in:
TAKE THIS BUNDLE
* One Time Payment & Get Lifetime Access
What you get in this Tricentis Tosca Course?
Online Classes
Technical Support
Mobile App Access
Case Studies
About Tricentis Tosca Course
Further details are provided below.
| Course | | No. of Hours |
| --- | --- | --- |
| Tricentis Tosca Automation Tool | | 3h 05m |
| Project on TOSCA - Faculty Feedback System | | 1h 49m |
---
| | |
| --- | --- |
| Course Name | Online Tricentis Tosca Course |
| Deal | You get access to all videos for the lifetime |
| Hours | 4+ Video Hours |
| Core Coverage | Learn software test and test automation using the Tosca tool |
| Course Validity | Lifetime Access |
| Eligibility | Anyone serious about automation testing |
| Pre-Requisites | Basic knowledge about software testing |
| What do you get? | Certificate of Completion for the course |
| Certification Type | Course Completion Certificates |
| Verifiable Certificates? | Yes, you get verifiable certificates for each1 course, 1 Projects with a unique link. These link can be included in your resume/Linkedin profile to showcase your enhanced skills |
| Type of Training | Video Course – Self Paced Learning |
| Software Required | None |
| System Requirement | 1 GB RAM or higher |
| Other Requirement | Speaker / Headphone |
Tricentis Tosca Course Curriculum
---
SR.No
Course Name
Course Description
1
Tricentis Tosca Automation Tool
This is the most comprehensive module in our training where we will cover all the details such as from basic to advanced level concepts. Here we will introduce the introduction topics like what are the Automation testing tools, why testing tools are important?, Why Tosca has such prominence and how can Tosca support 30+ platforms?. In this module, you will become familiar with how the interface Tosca looks like, How to modify basic settings, and where to keep use perspective layouts to match your testing requirements.
Next, you will learn what is test process in Tosca what are the prerequisite that needs to be met to begin the testing and how to gather all the required prerequisites. In this module, you will understand how the basic test process looks like and with sufficient practice, you will be familiar with it.
Next, you will understand how to create the required structure and how to weigh multiple requirements. You will learn regarding putting how to put the required test case design to work and successfully implement them. Here you will also learn how to link the requirements with test case design
Next, you will understand how to use manual test cases and how to implement them using Tosca and how to build a manual test case design?. Next in this course, you will learn about handling modules, what are the modules, how to handle modules and become experts in them. You will learn how to determine the action mode to decide on what needs to be tested, verify the different properties of Tosca. In the last, you will learn about how to integrate testing with Tosca Tricetis with different platforms such as mainframes, Hadoop, web, Microservices, ServiceNow, SalseForce, etc.
2
Project on TOSCA – Faculty Feedback System
In the next course module, we will be having a comprehensive project which is on Faculty feedback system where you will apply all things that you have learned in the previous module like gathering requirement and building test-case design and implementing, etc. You will learn with practicals on how to put everything to execution lists and linking the execution list to the requirement. Once you complete this course you will be having abundant confidence when it comes to Tosca
Tricentis Tosca Course – Certificate of Completion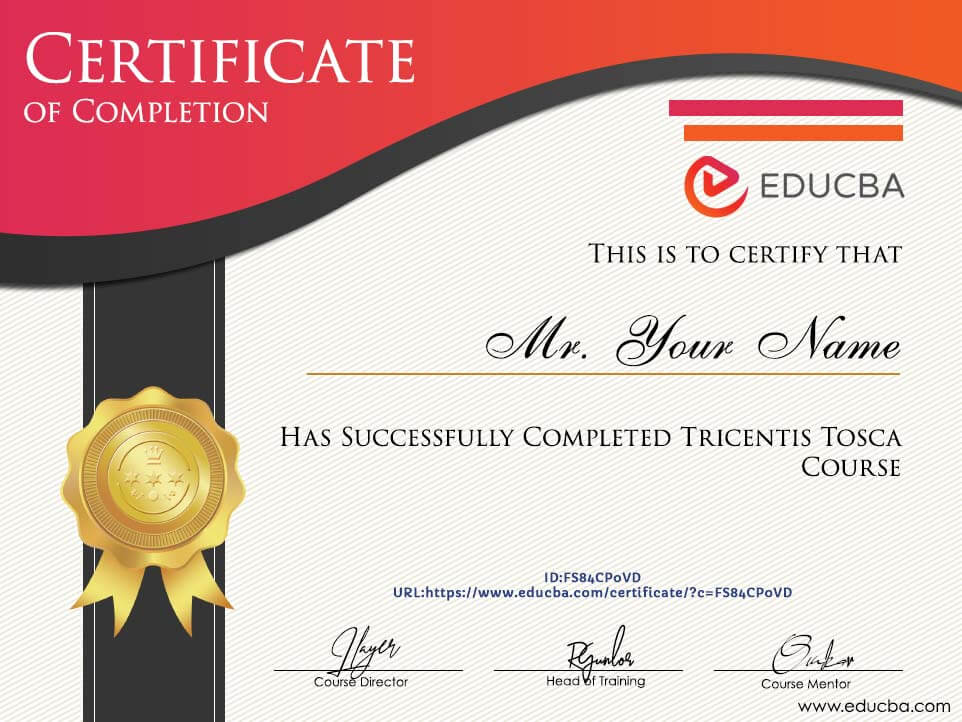 ---
What is Tricentis Tosca?
Tricentis Tosca is an Automation testing tool which is quite popular among testers and organization these days when it comes to software testing management. Software testing tools are quite necessary for defect and test case management and these tools are making testers' lives easier day today. The competitive tools such as QTP, RFT, Selenium are always hot discussion and Tosca has started to make its dominance in this competitive market
Tosca is a Test suite provided by Tricentis and is an agile software test tool to automate end to end test cases and providing comprehensive defect and test management for a software application. Tosca considers the following strategies before providing its results.
Test Script Design
Test Automation Strategy
Test Data Design
Generation of test data
Analytics
The most profitable techniques that make it ahead of its competitors include Model-Based Techniques and Risk-Based Techniques.
This Tosca testing automation tool is meant for both functional and regression test scenarios and automates them without using scripts. This tool includes a GUI based interface, Integrated test management, CLI command-line interface, and API – Application programming interface.
Tosca is a one-stop solution for about 30+ technologies in one approach and most common testing platform includes Web, Sap, RDBMS, Mainframes, Microservices, Mobile base Web, Salesforce, Hadoop and Bigdata, ServiceNow, etc

Which Skills will you learn in this Training
?
Once this Tricentis Tosca course is completed you will confident enough to handle testing scenarios using Tosca and you will able to easily handle any testing requirements that require Tosca Tricentis. If you are fresher, then once this training is completed you will understand how software testing will work and why to require testing tools. You will also be able to run basic testing operations with Tosca Testing Suite. You will come to know how this particular Tosca test suite will work in any testing process and what will be a platform configuration that needs to be changed if we are working on multiple platforms. If you are fresher then you will be able to perform simple testing automation quite easily. If you are already working in IT and have knowledge of how software testing works then you will be gaining much knowledge expertise n Tosca and you will be able to easily complete complex Automation testing processes quite easily. If you are planning to have an aspiring career in Tosca testing then once this training is done and if you have handled all the project prerequisites then certainly you will be performing in the interview if they are complex.
Pre-requisites
The main prerequisite for this Tosca training is having the desire to have an aspiring career in Automation testing tool and Tosca. If the associate is having the willingness to learn then this course is for him. Knowing basic programming and how software testing tool works will be of added advantage and this Tricentis Tosca Course will be quite easy for such associates.
Target Audience
Any associate you are working in a software organization and his role is related to testing then such associates can opt for this course to advance their knowledge and have a competitive resume. Also, any other associate from a different domain like application support or developers who are curious about this testing tool will be the target audience for this course. And if you are fresher and know about the market trend for testing and are planning to have a career in thin then you will also be the target audience for this Tricentis Tosca Course.
Tricentis Tosca Course – FAQ's
---
I am not from the background of a computer. Will I be eligible for this Tricentis Tosca Course?
Yes, even if you are not from the background of a computer you can enroll in this course but have to put some effort into understanding how the software the testing process looks like and how to do it?. If you have the will then definitely you can enroll in the course and course is comprehensive enough for beginner level associates to make him knowledgeable in advance concepts as well.
Will I be awarded a certificate after completing the course?
Yes, you will be awarded a course completion certificate upon completing all the prerequisites of the course and you can highlight this in resume.
I am fresher and I have some basic idea in testing. I want to have a career in testing. Will I be eligible for this Tricentis Tosca Course?
Since you have a basic idea of testing and also you desire to have a career in software testing you will be one of the target audiences for this particular course.
Is this Tricentis Tosca Course having sufficient hands-on requirements?
Yes, this particular course is having different use cases of testing and projects in each module and you will be guided to complete them and have greater exposure to hands-on. By the end of this Tricentis Tosca Course, you will be confident in working with Tosca.
What are the external certifications that are available with Tosca and Will I be able to attend those if I enroll in this Tricentis Tosca Course?
Tricentis which is the founder organization of Tosca provides two basic certifications with Tosca. They are "Automation Specialist 1" and "Automation Specialist 2". after this there are other advanced level certifications that are available and those are concerning the career options you have. Few like "Test Design Specialist", "Automation Engineer Level". Now coming to the second question our training is by the syllabus of Automation specialists so definitely you can enroll this Tricentis Tosca Course and attend certification exam
Sample Preview
---
Career Benefits
There are many advantages of Tosca when compared to its competitors like selenium like the ease of maintenance, ease of adoption, and reusability. Tosca is becoming more and more popular among the organizations and many have adopted it into their requirements. This is has created a huge market for Tosca professionals and this trend is expected to be increasing in coming sighting the advantages provided by Tosca. Hence by taking this Tricentis Tosca Course, you will be adding one strong skill in your resume and you can have a good career ahead with this
Reviews
---
Very helpful things
Coming across this course I have learned a lot of things and many of them were well explained. I will be happy to return to check some of the stuff. Security testing is a very interesting topic that has to be explored more and more because many of the clients now want exactly this. Thank you for the opportunity to learn
Todor Argirov
Very helpful course
Al the things in this course give a great foundation of what a QA has to know and which skills need to be improved to become a good IT specialist. Most of the covered topics are easy to understand and each topic is divided into several small video lessons which the presenter explains very well. Thanks
Todor Velyov
Great course
A useful course that does not take up too much time to complete.  Great video tutorials that are easy to follow. Very helpful for a better knowledge of automation in testing. I would recommend to others looking to advance.
Ross Turner