Learn from Home Offer TAKE THIS BUNDLE
Sybase Training (2 Courses)
This Online Sybase Training includes 2 courses with 16+ hours of video tutorials and Lifetime access.

You get to learn database management using Sybase. Sybase is a kind of tool which is very useful when it comes to handling the abundant data that has been stored in the relational form in the database called the relational database.
Sybase - Intermediate to Advanced
Offer ends in:
TAKE THIS BUNDLE
* One Time Payment & Get Lifetime Access
What you get in this Sybase Training?
Online Classes
Technical Support
Mobile App Access
Case Studies
About Sybase Training Certification
| Course | | No. of Hours |
| --- | --- | --- |
| Sybase - Beginners | | 8h 35m |
| Sybase - Intermediate to Advanced | | 10h 4m |
---
| | |
| --- | --- |
| Course Name | Online Sybase Training Certification Course |
| Deal | You get access to all 2 courses bundle. You do not need to purchase each course separately. |
| Hours | 16+ Video Hours |
| Core Coverage | Learn database management using Sybase |
| Course Validity | Lifetime Access |
| Eligibility | Anyone serious about learning database management using Sybase |
| Pre-Requisites | Basic knowledge about database would be preferable |
| What do you get? | Certificate of Completion for each of the 2 courses |
| Certification Type | Course Completion Certificates |
| Verifiable Certificates? | Yes, you get verifiable certificates for each course with a unique link. These link can be included in your resume/Linkedin profile to showcase your enhanced skills |
| Type of Training | Video Course – Self Paced Learning |
| Software Required | None |
| System Requirement | 1 GB RAM or higher |
| Other Requirement | Speaker / Headphone |
Sybase Training Curriculum
In this section, each module of the Sybase Course is explained.
| | | | |
| --- | --- | --- | --- |
| Sr.No. | Course Name | No Of Hours | Course Description |
| 1 | Sybase – Beginners | 8 | In the first unit, you will start by getting a detailed description of all the topics that you will be covering throughout this Sybase Training Certification. There are some of the jargon that has to be cleared before getting a hand into the main course so that you can find it easy to understand the concepts of the subjects covered here. This unit has been comprised of several examples that are introduced to give you a taste of how it is like working with Sybase. Since it is mainly for the beginners, the unit will be covering up all the basic things and the examples covered here will also be of beginners level. In this almost nine hours video course, the tutor will be showing you how to work with Sybase so that you can get an idea of its environment. This Sybase Training will also may you ample cognizant about the fundamentals of Sybase so that you could become able to understand the functioning or working of this tool. |
| 2 | Sybase – Intermediate to Advanced | 8 | After finishing the first unit that was mainly for beginners, this Sybase Training unit has been introduced to give you an actual idea of how the complex part of Sybase works to solve the organizational problems related to database management. The unit will cover up all the topics that fall under the court of Sybase advanced level. The tutor will be showing you through the video that how it could be leveraged to solve the existing problems. The examples covered here are of advanced level and as time passes the examples will become more and more complex to give you a hands-on working idea of Sybase. How to manage the relational database with abundant data and how to process the data stored in the database are some of the things that you will master in this unit. As it is the last unit, you will be supposed to revise the entire course while going through this section. The last example in this Sybase Training Certification will make you ready to tackle the issues that comes up very often while working with Sybase. |
---
Sybase Training – Certificate Of Completion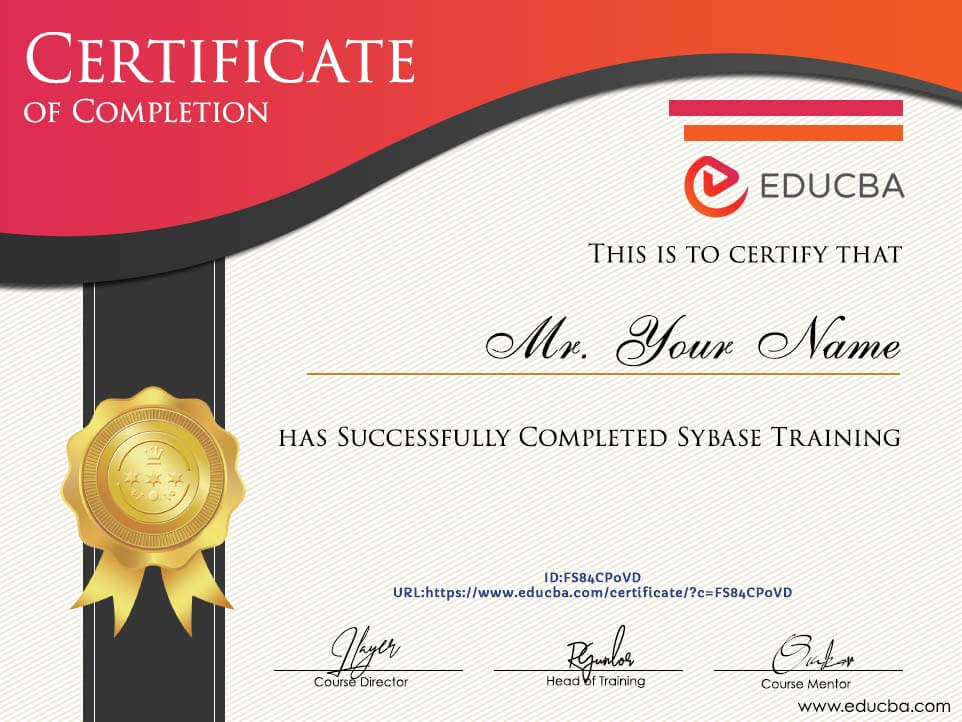 What is Sybase?
Sybase may be defined as the software or the tool that is used to manage the relational database. Sybase is also an organization that develops the application that works to help in managing the databases. It provides a platform that is used to work with abundant data that are stored in the relational database. It is mainly concerned with managing the way the data could be processed in the relational database. There is software that produces huge data on an everyday basis and to work with those data it must need an application that can make working with data very easy so that it could be leveraged as something fruitful.
The Sybase lets the database administrators handle the data and the relational database. It is very useful when it comes to processing the data to transform them into information. As an organization, Sybase was the independent one which was later acquired by SAP. Overall it is the software that supports the application after their development when the data of the application has to be managed as a part of the Business Process. One can also work with the database without the intermediate application but it won't be that easy as it is while working using the application like Sybase.

Industry Growth Trend
The global Infrastructure Solution market and Integration Services is expected to grow from $615.30 billion in 2014 to $1196.93 billion in 2019 at the CAGR of 14.23% from 2014 to 2019.
[Source - MarketsandMarkets]
Average Salary
Average Salary
$84,286 per year
The average salary for a Database Developer is $84,286 per year in the United States. Salary estimates are based on 390 salaries. The typical tenure for a Database Developer is less than 1 year.
[Source - Indeed]
What skills you will learn from this Sybase Course?
 This Sybase Training Certification is going to be very informative for someone who wants to become the relational database administrator. The course has been developed very carefully to deliver the idea of working with a database in the best way. You will learn how to process the data stored in the database, how those data could be stored so that it could be used efficiently, how to manage the database, and so on. After completing this Sybase Training you will be able to work with relational databases and will also be able to implement your knowledge in the working environment. In a nutshell, you will learn all the skills that a database administrator is supposed to possess.
Pre-requisites
To learn this Sybase Training Certification at the earliest, you will be supposed to have the basic idea about some of the common technologies that are used while working with a database. The very first thing that you should know is
a structured query language(SQL)
. To interact with the database, you should know SQL so that you can understand what type of query could be used to work with the data stored in the database. If you have working experience in SQL, it is going to help you to learn Sybase. But in case you are new to SQL, you are suggested to work with it before getting your hand into learning Sybase. In addition to this, you will be supposed to have an idea about other tools as well that are used to work with the database. In this course, we have tried to cover things from scratch so you will find it very easy to start.
Target Audience
For any of the courses, anyone who is willing to learn that technology is always the best audience. Being more specific, this Sybase Training Certification is for the folks who want to master the relational database administrator. The IT professionals who are already working in the database and wants to learn about the tool that can make their work efficient and easy are the best audience for this course. They will learn how to leverage Sybase to manage the relational database. Not just adding extra knowledge to their knowledge base, but it learning this will also lead to their financial growth.
The trainers who are training folks on the database can opt for this Sybase Training Certification to extend the area of their training subjects. Numerous students want to get into database learning and hence the trainer with knowledge of Sybase will be able to help those students. In addition to that, they will also end up with opening the door of production for them which means they will be able to move from training domain to production where they will be leveraging their knowledge to help organizations.
FAQ's
---
 How long it may take to learn Sybase?
The time it may take to learn Sybase depends upon the level of knowledge you have about the prerequisites and the time that you have planned to devote every day to learn it. If you will be giving two to three hours a day, it may take you two months to master Sybase. Also, if you are already working in a database, you will be able to complete this Sybase Training Certification around a month
Why should I learn Sybase?
Sybase provides a simple platform to manage the relational database. One who wants to grow their career as a database administrator can learn Sybase to get their career an edge as an administrator. Also, it makes working with the database very easy as compared to working manually on that. It will not just bring professional growth but will also head you towards financial growth.
Career Benefits
Sybase is one of the most popular software that is used to manage the relational database. It is very useful when it comes to handling the database and performing operations on it. Organizations these days are dependent on the data to make their business decisions and from that, it is clear how important it is to manage the database efficiently. There are various job vacancies for the position of database administrators and having an idea about Sybase will provide you an edge over the other administrators. As discussed in the last section, learning this tool will also help you in growing financially together with ensuring your professional growth. If you want to become a database administrator who knows almost all of the things about the relational database, you can learn Sybase and lure the best opportunities.
Reviews
---
Sybase Certification Training
This module deal with the Sybase database, I already studied this topic at university but following these lessons have been very helpful because they gave me a more practical point of view and made me see how you used them when you have real data. It is fundamental to do it.
Leo Parks
Adequate Tutorials
A complete course for those who want to master Sybase! Even though Sybase has some confusing/hard content to understand, this course can make it quite simple. It's a nice content for people who knows the basics. First time I see an advanced course that offers so much practical application that you can eventually work on it on your own.
Vince Bonetti
Great Sybase Course
I am inviting my friends to try also this online course at a very affordable price… it is a complete training package… It is a self-pace Sybase Training Certification… train at your most convenient time and location all you need to do are to purchase the course package and after that, you can start the course.
Mitch Tembrevilla