$99$29965% Off TAKE THIS BUNDLE
Swift Training
7 Online Courses
33+ Hours
Verifiable Certificate of Completion
Lifetime Access
Swift Programming Tutorial

7h 17m

Programming in Swift 4 for iOS Development

2h 31m

SWIFT Programming Step by Step

6h 11m

Swift 2 – Swift Enhancement in iOS 9

2h 16m

iOS 10 and Swift 3 – An Introduction

3h 03m
Offer ends in:
$99
$29965% Off
TAKE THIS BUNDLE
Skills you will master
Swift Programming
Swift 4
iOS Development
Swift 2
Swift Enhancement
Swift 3
Firebase using Swift
Online Swift Programming Course
This Swift Training Certification includes 7 comprehensive Swift programming courses with 33+ hours of video tutorials and Lifetime Access. You get to learn Swift programming for iOS app development right from scratch to advanced level.
We do have several operating systems and Mac OS is one of them. It is an operating system developed by Apple Inc. and we all know that this generation is just crazy about Apple products. People love to your iPhone due to its out of the box and secure features. Know a very important question arises here is, we do have several programming languages that can run in Window or Android platform but what about apps that we use in MAC OS and iOS?
Well, it's all we are going to learn about in this Swift Training course. We have a high-level programming language called Swift that allows us to develop an application for macOS, iOS and other Apple products. It is very easy to work with and hence very popular among developers. In this unit,  we will learn almost everything about Swift from scratch to the advanced level. The Swift Training is comprised of several videos where every video describes different topics. Below we will go through a bit details of every topic that we will be going throughout this Swift Training.
About Swift Programming Course
---
| | | |
| --- | --- | --- |
| Course Name | | Online Swift Programming Certification Course |
| Deal | | You get access to all 7 courses bundle. You do not need to purchase each course separately. |
| Hours | | 33+ Video Hours |
| Core Coverage | | Learn Swift programming for iOS app development right from scratch to advanced level. |
| Course Validity | | Lifetime Access |
| Eligibility | | Anyone who is serious about learning Swift programming and wants to make a career in this Field |
| Pre-Requisites | | Basic knowledge about programming would be preferable |
| What do you get? | | Certificate of Completion for each of the 7 courses |
| Certification Type | | Course Completion Certificates |
| Verifiable Certificates? | | Yes, you get verifiable certificates for each course with a unique link. These link can be included in your Resume/Linkedin profile to showcase your enhanced  skills |
| Type of Training | | Video Course – Self Paced Learning |
| Software Required | | None |
| System Requirement | | 1 GB RAM or higher |
| Other Requirement | | Speaker / Headphone |
Swift Programming Training Curriculum
---
In this section, each module of the Swift Programming Training Course is explained.
| | | |
| --- | --- | --- |
| Sr. No. | Course Name | Course Description |
| 1 | Swift Programming Tutorial | This  Swift Training module is intended to make you aware of the terms that are being used throughout the course. There are several new words, called Jargon that will be understanding in this section. You will get to know about what Swift programming is all about, how it works, how the code should have to be written, about its compiling and running process, about the environment set up to work with Swift and so on. It's almost seven hours tutorial video that will make you cognizant about the terms and basic functioning of swift. Whatever you will be learning in the further courses, this module will make your fundamental strong for the advance of next units. |
| 2 | Programming in Swift 4 for iOS Development | After you have been made aware of all the basic concepts, you will learn actual Swift coding in this  Swift Training unit. We will be using Swift 4 to develop an iOS-based program. At the beginning of this unit, the educator will make you familiar with the syntax, do and don'ts and things like this. You will learn who the code has to be written so that it could be considered as an efficient way to write the program. There will be several programs for your hands on practice. You will be supposed to write the programs by your own and make sure that it is running correctly to get the desired output. All the programs that you will see here are different in terms of functionality and give you exposure to a different way to write a program. |
| 3 | SWIFT Programming Step by Step | In this  Swift Training module, you will go through step by step process to learn to code in the Swift programming language. In this stepwise processes, you will cover all the topics that come under understanding the syntax until the actual program writing. There are several parts in this Swift Training course that will help you to enhance your skill in the Swift programming language. You will also learn how the programs written using swift are similar to that of the programs that are being written in different languages. It is almost six hours video that will let you be aware of the way the programming has to be done in swift language. |
| 4 | Swift 2 – Swift Enhancement in iOS 9 | This  Swift Training module covers the intermediate or advances part of the Swift programming language. Here you will get an insight into the coding approach that is used to follow the enhancement in iOS 9. The program has to be in accordance with the operating system so that it could work fine with them and how it actually happens, you will learn it in this section. The educator will introduce you to the best way of programming that complies with a different version of the operating system. It will include all the advanced feature that makes the program an efficient and powerful tool to be used in the mobile-based operating system. Every topic here will be followed by an example to give you real exposure to working with Swift. |
| 5 | iOS 10 and Swift 3 – An Introduction | In this  Swift Training section, the programming approach using swift 3 will be described. The details and the extra edges of iOS 10 will be also be described here along with the swift programming. In actual and simple term you will get the insight into working with Swift 3 in combination with iOS 10. There programming approach you will learn here will be a bit more advanced as compared to what you learned in the previous units. All the topics here will be detailed here with an example so that you can understand how one can work with Swift 3. At the end of this  Swift Training, you will go through an example that will comprise of all the topics that you would have gone through so fat. |
| 6 | iOS 10 Firebase using Swift 3 | In this Swift programming course, we will be learning about iOS 10 Firebase in details by using Swift 3. In this almost 10 hours, you will cover up what Firebase is, its importance in iOS 10 and things like this. After the brief about iOS 10 Firebase, you will learn how swift programming language helps or supports iOS 10 Firebase. The tutorial will have several examples to give you a real idea of how it could be worked and to make you using swift for programming in iOS 10. All the topics covered here are considered in the advanced part and hence need your practice and time. The trainer will explain every single part that falls under this topic so that you can get a practical idea of working with this. |
| 7 | In-App Purchase in iOS 10 (using Swift 3) | In this  Swift Training module, we will be covering the topic of In-App Purchase in iOS 10. There will be various different topics to highlight the feature of In-App purchase. There will be an example followed by every detailed topic to give you an insight into how swift 3 could be used for contribution in In-App Purchase in iOS 10. The main instance will be described at the last of this tutorial so that you can have an overall idea about it working. It's almost a three hours long tutorial that will enhance your understanding of swift programming language. |
---
Swift Training – Certificate of Completion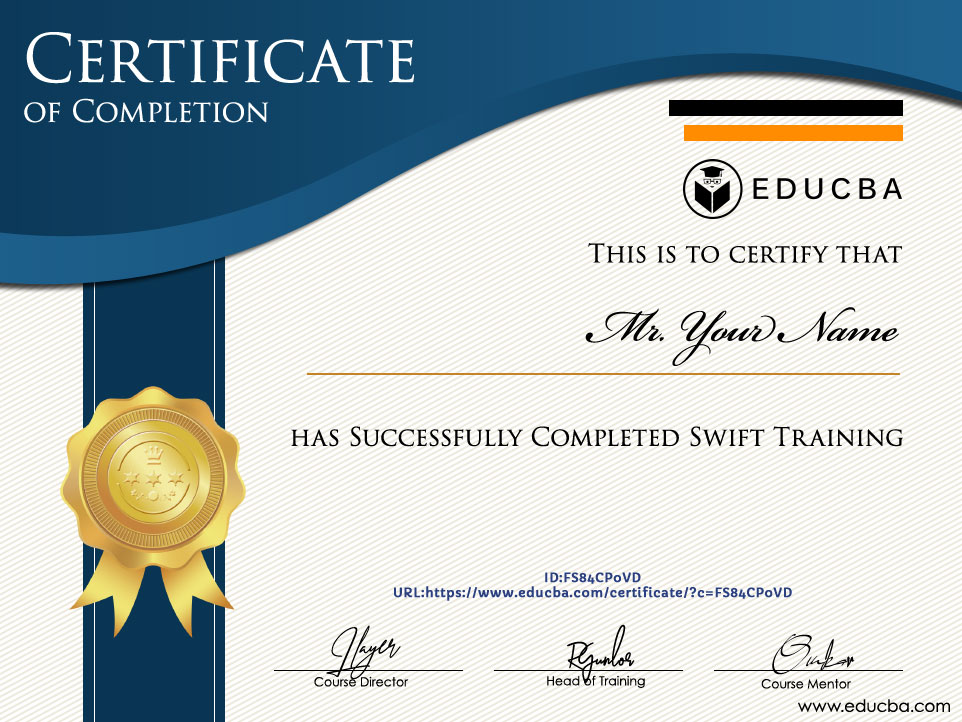 ---
What is Swift Programming Language?
Swift may be defined as a multi-purpose programming language that is used in application development macOS, iOS and other Apple products. It was developed by Apple to offer functionality to its various products like Macbook, iPhone, etc. Being a high-level programming language, it is very easy to work with as the codes are very near to English words. Not just in application development but it can also be used to automate Apple based devices which use macOS as their operating system.
In addition to Apple's operating system, it can also work for Linux. It is very popular among the developers due to it is easy to use the feature that makes working with codes really very easy and efficient. The program written in Swift could be fast to execute and its scalability is very high as well. The application developed this day, which are for iPhones are very advance and by that, we can relate how we can make use of Swift to draft crucial application that can solve complex problems.
This programming language may be a bit different from other programming languages in terms of keywords but the way it works is similar to others. Also, its syntax is very simple to use and it helps to improve the readability of the program. The application developed in Swift could be either very light or very heavy depending on their usage which means it works best for any kind of application. The applications developed using this programming language works very fast that directly improves productivity when used in enterprise level.
Which skill you will learn in this Swift Training? 
Throughout this tutorial, it has been tried to make you cognizant about the Swift programming language. It has covered the topics from basic to advance level that enhances your knowledge like anything. You will learn how swift could be used as a multi-purpose programming language that could be used for several devices based on macOS or iOS. In simple terms, you will be transformed into a Swift developer.
In this Swift Training, every unit covers several vast topics and every topic is followed by an illustration to give you real exposure of working with Swift programming language. The examples try to cover all the topics that you will be taught throughout the units. You will be asked to write the programs on your own that will give you an insight of working with this programming language and enhance your proficiency. Your command in a programming language will be improved which means regardless of the programming language, you will learn the logic that could be implied to different programming languages.
 Swift Training Prerequisites
---
 Swift is considered in advance high-level programming languages and hence need a basic understanding of programming language. You will be supposed to know the C programming language to expedite your swift learning. In all the programming languages, the keywords are usually different but the way it functions are almost the same. So if you have idea or hand on working experience in any of the programming language, it will be very useful to that why you will be supposed to have an idea of programming working.
In addition to experience in a programming language, you will be supposed to have familiarity with macOS and Linux as working with Swift is all about developing macOS or iOS applications. It is not mandatory for you to have an in-depth idea of Apple based operating system but just an overall idea of how it works will be very helpful to you. Linux OS is the other operating system that you can have a basic idea of before you begin learning the Swift programming language.
 Swift Training Target Audience
---
If anyone wants to dive deep in any technology, they are by default the best audience and to be more specific, the programmers, students, and trainers are the target audience for this Swift Training. The programmer who is already working in any programming language and wants to learn swift for any reason can take leverage of this course to begin their learning. They will find it very easy to learn swift due to their prior experience with a programming language.
In other hands, students are the most important target for this Swift Training. They can learn swift to begin their career as a swift developer. Students who are supposed to submit projects can learn and develop an application using swift as it is not a common language used and hence will give them an edge. For internship purpose, one can learn swift due to the high requirement in this technology. The trainers who are already training a student in other programming language and want to get their hands in swift as well can go through this Swift Training.
FAQs
---
Why Should we learn Swift?
In the current time where the popularity of Apple products is increasing day by day, it can be a fantastic opportunity for folks who want to be a swift developer. There are several vacancies in the market of swift developers that one with good experience in swift can fill.
How long it may take to learn this Swift Training?
Depending on your familiarity with a programming language, you can learn swift at the earliest using this Swift programming course. If you are a programming savvy, you may learn it within a month and if you are beginning, you may take around two to three months to be a swift expert.
Career Benefits
---
The domain of programming is always an evergreen field. Learning swift will give you an edge in the programming world and will open various opportunities for you. This Swift training will make you cognizant in swift and will make you ready for the swift based job with immediate effect.
Course Reviews
---
iOS 10 (and Swift 3) Introduction
You'll be introduced to iOS 10 and straight away get into the introduction of what iOS is. From historical; into compatibility; functional use(s) and how to navigate and optimize the iOS. I would recommend this video in the series first. This is a great, quick course for those looking to gain a little knowledge into staff BYOD you might encounter on the job site(s) as well as anyone around others that might be interacting with iOS. It's over 25+ videos and they do cover a lot, Well worth your time and even covers 3rd party apps like, Siri.
Linked
Lee Gill
Swift training experience
eduCBA has helped me a lot and helped me gain knowledge and experience. The videos provided were extremely useful and the assignments further aided in clarifying the concepts and applying concepts practically. I would recommend eduCBA to anyone who is interested in pursuing a career or aid his development further.
Glory
Nice Experience
This course was pretty good and fairly in-depth. It would have benefitted from some sort of quiz/test at the end of each module (or section). I would recommend it for anyone who wants to get a basic grounding in Swift and anyone who wants to see what Swift, as a language, can offer.
Eliot Geller