Cyber Week Offer TAKE THIS BUNDLE
SQL Training Certification (7 Courses, 8+ Projects)
7 Online Courses
8 Hands-on Projects
73+ Hours
Verifiable Certificate of Completion
Lifetime Access
Project on Oracle SQL - Displaying and Aggregating Data
Project on Oracle SQL - Output with iSQL
Project on Oracle SQL - SQL Workshop
Project on Oracle SQL - DML Operations
Offer ends in:
TAKE THIS BUNDLE
What you get
Online Classes
Technical Support
Mobile App Access
Case Studies
Online SQL Certification Course
This SQL Training Certification includes 7 comprehensive SQL database courses, 8 Projects with 73+ hours of video tutorials and Lifetime Access. You get to learn essential and advanced concepts of Oracle SQL, Microsoft SQL  right from scratch, you also understand PL/SQL, SQLite Database, Android SQLite for database testing.
In the initial days when the internet was booming, people were loving the concept of static websites. For people those days, a website was all about some set of digital pages that shows some useful information. But are things the same these days? A big NO! People rarely consider visiting the same website again that shows the same information over and over. In the contemporary era, where websites or web application is all about data, we must need something that can let us work with data, process it, store it and can generate useful information for the users dynamically.
These days people adore dynamic web applications like Amazon, Facebook, eBay and so on, These websites have the tendency to take data from the user, store and process it somewhere in back-end and only give the desired information to the users. In this tutorial, we are going to learn about the important technology that enables us to work with data. Here we will learn about SQL Database, that allows the web application or enterprise application developers to connect the front-end of the application to the back-end where data could be stored in a manner so that it could be fetched quickly and efficiently.
This SQL certification course will teach you all the necessary quality checks required in your company, also at what stage, and how to produce the best out of minimum production cost.
Industry Growth Trend
The rapid application development market size is expected to grow from USD 7.8 billion in 2018 to USD 46.2 billion by 2023, at a Compound Annual Growth Rate (CAGR) of 42.9% during the forecast period.
[Source - MarketsandMarkets]
Average Salary
Average Salary
$53 per hour
The average salary for an Oracle PL SQL Developer is $52.99 per hour in the United States.
[Source - Indeed]
About SQL Training Certification
| Courses | | No. of Hours |
| --- | --- | --- |
| Oracle SQL for Beginners | | 4h 22m |
| Project on Oracle SQL - Displaying and Aggregating Data | | 3h 36m |
| Project on Oracle SQL - Output with iSQL | | 3h 49m |
| Project on Oracle SQL - SQL Workshop | | 3h 51m |
| Project on Oracle SQL - DML Operations | | 3h 48m |
| Oracle PLSQL | | 13h 21m |
| Oracle DATABASE Admin DBA 1 Course | | 9h 45m |
| SQLite Database and Android Apps | | 58m |
| MySQL - SQL and Database Testing | | 7h 27m |
| Android SQLITE Database | | 4h 37m |
| Comprehensive Course on Oracle SQL Concepts and Commands | | 8h 24m |
| Project on Oracle SQL Developer - Creating Database and Tables | | 3h 06m |
| Project on Oracle SQL Developer - Case Study on Various Functions | | 2h 13m |
| Project on PLSQL Developer - Case Study on Various Functions | | 3h 06m |
| Project on PLSQL Developer - Case Study | | 5h 26m |
---
| | |
| --- | --- |
| Course Name | Online SQL Training Certification |
| Deal | You get access to all 7 courses, 8 Projects bundle. You do not need to purchase each course separately. |
| Hours | 73+ Video Hours |
| Core Coverage | Learn essential and advanced concepts of Oracle SQL right from scratch |
| Course Validity | Lifetime Access |
| Eligibility | Anyone who is serious about learning SQL database and wants to make a career in this Field |
| Pre-Requisites | Basic knowledge about database Management would be preferable |
| What do you get? | Certificate of Completion for each of the 7 courses, 8 Projects |
| Certification Type | Course Completion Certificates |
| Verifiable Certificates? | Yes, you get verifiable certificates for each course with a unique link. These link can be included in your Resume/Linkedin profile to showcase your enhanced skills |
| Type of Training | Video Course – Self Paced Learning |
| Software Required | None |
| System Requirement | 1 GB RAM or higher |
| Other Requirement | Speaker / Headphone |
SQL Training Course Curriculum
---
In this section, each module of the SQL Database Course is explained.
| | | | |
| --- | --- | --- | --- |
| Sr.No. | Course Name | No of Hours | Course Description |
| 1 | Oracle SQL Comprehensive Training | 18 | In this SQL certification module, you will learn about the fundamental of the Structured Query Language. There will be various terms related to the back-end or database, you will be going through all these terms before you start actual training on SQL Database. This unit will give you brief about SQL, its requirement in the application, how the front-end can be linked with back-end using SQL and so on. It section has been drafted after keeping beginners in mind. So regardless of your understanding for SQL, you will cover up each and every single module that falls under SQL Database. The important part is, every topic defined here are followed by an example to make your training more precise. |
| 2 | SSIS – SQL Server Integration Services | 5 | In this SQL certification course unit, you will get a brief about Microsoft SQL server service. We will be focusing on the component of the Microsoft SQL server service called SSIS(SQL Server Integration Services). You will learn how this component can be used to solve complex business problems by sharing and downloading appropriate files. Topics covered under this unit are broad data migration, workflow function performance like data extraction, executing SQL statements and so on. After the five hours tutorial, you will be able to look at SQL as a problem solver point of view as you are well aware of how it actually functions in the real scenario. |
| 3 | PLSQL Developer | 13 | This part of the SQL database course will explain the working of PL/SQL You will learn how to integrate the procedural way of the programming language with the SQL. There will be examples in the video that will show how the codes are written, syntax and how SQL commands can be used along with the programming language. The topic we will be covering here are Arrays, string, cursor, records, collections, operators, transactions and so on. In the end, you will see a program that will include the usage of all the topics that you will cover up at the starting of this unit. The example will be based on a real scenario. |
| 4 | Oracle Database Admin DBA 1 Course | 9 | This SQL certification unit comprises of the Database administrator training where you go through the roles and responsibilities of the DB admin. After the brief on their role, you will learn the technical aspects of handling their actual work. Working with Database, defining the type of data, estimating the size of data, ensuring data integrity, data processing, updating and deletion of data are the topics that we will be covering here to get a real exposure of how the database can be administered. |
| 5 | SQL – The Fundamental SQL Bootcamp | 8 | This SQL certification section is concerned with the SQL commands that facilitate the working with data. You will be learning how to write the SQL commands, choosing the right command, the syntax and such topics here. Some of the important commands covered here will be the update, insert, delete, drop, truncate, joints, subqueries and so on. By the end of this section, you will be able to write SQL commands that can let you process the data stored in the database and will also let you feed new data. One will get exposure of how to set the constraints to ensure the integrity of the data. |
| 6 | SQL and Database Testing | 7 | This SQL certification will explain to you several aspects of SQL and Database Testing. You will learn that the transaction of data has to be ensured efficiently to make sure that admin is letting only correct data to enter the database. There will be checks on the SQL command and the Database efficiency to ensure data confidentiality, integrity, and availability. In these seven and half hour video tutorial, you will see how the back-end developers test the SQL and Database together to make sure it is fulfilling the motive for which it has been deployed. |
| 7 | SQLite Database | 1 | Here you will learn about the basics and working of SQLite Database. The topics we will be covering here are database creation, data type, queries like insert, drop, select, attaching the database, different clauses, update query and so on. You will see various examples that will give you a clear idea about working with SQLite Database. Eventually, the unit shows you an actual program which will be based on real problem and the educator will show you how to understand the problem and leverage SQLite DB to solve the complex problem. |
| 8 | Android SQLITE Database | 4 | In this SQL certification module, one will get the insight into working with SQLite DB in combination with android. There will be some usual topics like database update, deletion, and processing that we will we see here. As similar to other parts, it will also consist of several examples followed by every topic and you will learn how to introduce different functionality of the DB. Especially this module will be focused on working with Android only so it might be a little bit new to you so we had made sure to give brief about it before beginning the actual working with Android SQLite Database. |
| 9 | Total No of Hours | 73+ | |
---
SQL Training Course – Certificate of Completion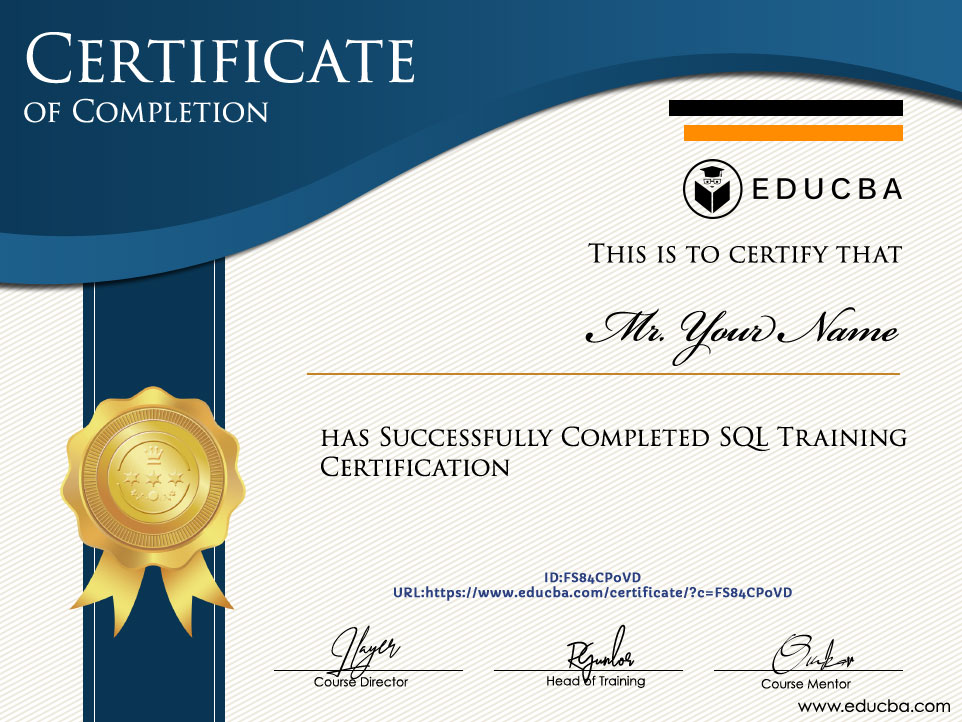 ---
What is SQL Database?
 The SQL Database may be defined as the relations database management system where the data is supposed to be stored in a tabular manner. It is called SQL database as it needs the structured query language to work with the database. The SQL queries are used to interact with the database and to process the data stored in it. In simple terms, every kind of communication with the database has to be done by the mean of SQL.
The SQL database has the tendency to ensure the data integrity along with the strength to keep the data available whenever required. The SQL could be used to set various constraints based on the business requirement to make sure that only the desired data has to enter the database. Based on the hardware capability, the database will be able to store the data. Along with the plain text, one can also save data of various MIME type in the SQL database.
Which skill you will learn in this Course?
 In this SQL certification course, you will learn about working with the back-end. The SQL database administrator course includes topics that will give you exposure to live working with the database. You will learn how to use the structured query language in order to solve complex business problems. Throughout the SQL database course, we will go through several examples that will strengthen your skill in SQL database in various ways.
We will be using PL/SQL here that will help you to a full stack developer who has the idea about how the database and programming language could be integrated together to design the solution. We will also understand the working of the SQLite database in the Android platform so that you can understand how the new operating system works in order to store, update and process the data. Overall, you will be gaining the skill that a database administrator has which is essential to handle the back-end system.
Pre-requisites
To learn SQL database you will need some technical background and the basic understanding of how the application works. The database needs SQL to interact with it, which is similar to a command based system where you have to write SQL commands to perform any task. Although there is not any specific technology that you must know to learn SQL database, you will be supposed to have an idea about computer or storage devices.
Target Audience
The professional who is currently working as an application developer and wanted to be a full stack developer can learn SQL database. As a full stack developer one will be able to develop an application that has to do a lot with the back-end. In the current time, organizations usually look for a full stack developer rather than just simple application developer.
Students who want to grow their career in Database can be the perfect audience for this technology. SQL command is normally used in developing a dynamic application that has database interaction. Students can take leverage of this technology by integrating it with their existing programming skill. Also, it could be best for them to learn about SQL database while they will be looking for an internship or job.
SQL Course – FAQs
---
Why Should I learn SQL Database?
For all of the contemporary application, it is something like mandatory for them to work with database due to huge data processing requirement. Learning SQL Database can help you to understand how the modern application works in back-end and you will be getting exposure to how the database can lead to solving different complex problems.
How it will help in application development?
When it comes to dynamic application development, working with SQL and database is very important. While your SQL database training you will learn the SQL commands that can be used along with the programming language to work with data and in this way it could be very useful while application development.
Sample Preview
---
Career Benefits
As we discussed earlier, this SQL certification course will help you to grow your career as a full stack developer. You will be having an idea about how to work with the back-end, now to monitor things and how to integrate the programming language with the SQL commands in order to develop an efficient application. All the organization these days prefer folks with a better understanding of back-end or database. So you will get an edge after going through this SQL database course.
Reviews
---
The Basic SQL Bootcamp
This is the absolute essential beginners guide to the Structured Query Language. From a basic explanation of SQL's simplest commands clear through data manipulation and grouping, this course is perfect for somebody just starting out with the programming language, or anyone looking for a refresher.
Linked
Joseph Mangini
SQL Beginner Bootcamp
Awesome course for the SQL beginners. The instructor was very knowledgeable and provided a lot of examples to understand all the queries much better. This corse is helping me a lot in my new job. I will strongly recommend this to other aspiring analyst. Looking to forward to start the advance course.
Linked
Ankit Tyagi
Cleared basic concepts
SQL Basics Bootcamp course was more of a review for me and fill in any potential gaps. With that said, it does cover the basics very well in a number of categories. It is difficult for me to say if too much time was taken for the examples. But all in all concepts were explained to the point with good sort of examples. Instructor has an accent but is more than clear enough to be well understood.
Thomas Staab
Better Experience of Learning
I like the course on SQL, it is a good introduction to SQL. The instructor moves at a moderate pace that will not be too quick for new learners. The examples provided help to reinforce the commands being taught and provide a decent real world application of what you will be learning. For anyone looking to start their journey into learning SQL this is a good first step. For those who have already used SQL before, but want to brush up on some basics this course wouldn't be a bad idea.
Linked
Corbin Bridge
Awesome Training
I liked the courses of this site, it can be used by many & can take the advantage of these courses. I took course training on Oracle SQL which was very well explained. The training was very brief yet very perspicuous. I learn the basic SQL commands and discover other useful functions. The examples given in every topic was very useful and easy to understand.
Linked
Julie Ann E. Roque