TAKE THIS BUNDLE
SharePoint Training Certification (6 Courses, 1+ Projects)
6 Online Courses
1 Hands-on Project
15+ Hours
Verifiable Certificate of Completion
Lifetime Access
SharePoint:01 - Installing SharePoint
SharePoint:02 - Lists and Library Apps
SharePoint:03 - Office Applications
SharePoint:04 - Developer Tools
SharePoint:05 - Tasks and Programming Lists
Offer ends in:
TAKE THIS BUNDLE
What you get
Online Classes
Technical Support
Mobile App Access
Case Studies
Online SharePoint Training
This Microsoft SharePoint Training Certification includes  6 comprehensive Microsoft SharePoint Courses , 1 Projects with 15+ hours of video tutorials and Lifetime Access. You get to learn how to install, deploy, manage, support SharePoint.
This SharePoint training course teaches how to create a solution using SharePoint 2013. You will learn the concepts from beginner stage to advanced level.  SharePoint is a central repository where companies can store and share all the data. There are three ways to install SharePoint which includes SharePoint Server, Office 365 and share point foundation. Coming with share foundation is the basic web-based collaboration with security features. Major key features include effective document, controlled business data, reduced resources. Key responsibilities of Share Point Server include searching flexibility, content creation management Using SharePoint lists enables business Connectivity services. Office 365 is to develop rich applications. SharePoint 2013 has the capabilities which comprise of sites templates, social networking capabilities, managing contents in web pages, searching and tagging blogs most importantly business Intelligence supports.
Industry Growth Trend
The rapid application development market size is expected to grow from USD 7.8 billion in 2018 to USD 46.2 billion by 2023, at a Compound Annual Growth Rate (CAGR) of 42.9% during the forecast period.
[Source - MarketsandMarkets]
Average Salary
Average Salary
$73,990 per year
The average salary for a Programmer is $73,990 per year in the United States.
[Source - Indeed]
About Microsoft SharePoint Training
| Courses | | No. of Hours |
| --- | --- | --- |
| SharePoint:01 - Installing SharePoint | | 29m |
| SharePoint:02 - Lists and Library Apps | | 1h 28m |
| SharePoint:03 - Office Applications | | 1h 42m |
| SharePoint:04 - Developer Tools | | 2h 42m |
| SharePoint:05 - Tasks and Programming Lists | | 3h 1m |
| SharePoint:06 - Silverlight | | 3h 27m |
| Project on SilverLight - Creating SilverLight Programs | | 3h 48m |
---
| | |
| --- | --- |
| Course Name | SharePoint Training Certification |
| Deal | You get access to all 6 courses , 1 Projects bundle. You do not need to purchase each course separately. |
| Hours | 15+ Video Hours |
| Core Coverage | Learn how to install, deploy, manage, support Microsoft SharePoint. |
| Course Validity | Lifetime Access |
| Eligibility | Anyone who is serious about learning SharePoint and wants to make a career in this Field |
| Pre-Requisites | Passion to learn and apply |
| What do you get? | Certificate of Completion for each of the 6 courses , 1 Projects |
| Certification Type | Course Completion Certificates |
| Verifiable Certificates? | Yes, you get verifiable certificates for each course with a unique link. These link can be included in your Resume/Linkedin profile to showcase your enhanced skills |
| Type of Training | Video Course – Self Paced Learning |
| Software Required | None |
| System Requirement | 1 GB RAM or higher |
| Other Requirement | Speaker / Headphone |
SharePoint Training Curriculum
---
In this section, each module of the SharePoint Certification Course is explained.
Sr. No.
Course Name
 Course Description
  1
SharePoint: 01 – Installing Share point
You learn how to install office 2013 and new features of SharePoint. It covers all the topics like types of installation procedures, requirements of hardware and software and the required software's to be installed. Also, you will learn the installation of SQL Server 2008, Scripting installation and configuration settings in this SharePoint Training.
  2
SharePoint: 02 – Lists and Library Apps
You will be learning about Lists and library apps working. The topics include managing lists and libraries, creating list solutions, managing site applications according to scenario-defined lists and libraries includes drag and drop functionality, the creation of the custom list, applying security and updating permissions. You will walk through working with list components which includes adding columns, sorting, filter list, template creation, and content type and working with a large set of lists and how to query and retrieve list data. In this module, students will work with out-of-the-box lists and you will be trained to create a list from a data using MS Excel.
3
SharePoint: 03 -Office Applications
This SharePoint Training course will teach how to create applications using SharePoint Office. More Specifically you will learn to edit documents in the office. Learn how to integrate Excel with SharePoint. develop advanced applications in analyzing share point list data in excel and also integrating business data with the office. Next topic covers Introduction to workflows, the creation of workflow default using Web interface and SharePoint designer workflows. How to use workflow in the list and reusable workflows with the real-time project. It teaches how to add web part in the site. This SharePoint training teaches how to manage documents to work progress and document management locations. And working design and implementation with document management feature in share point. And detailed concepts on Version, Content types and content Type hub.
4
SharePoint:04 – Developer Tools
This SharePoint Certification Training teaches how to use the SharePoint application model and introduction to developer tools. You will work through the SharePoint developer landscape and understand how to deploy and execute models. Helps in designing and customizing sites using SharePoint designer. You will learn how to deploy and packaging using share Point. This SharePoint certification course teaches

Introduction to developer tools
how to add Web parts.
Demonstration on the Designer application.
More on Displaying XML File, Displaying SQL Database

5
Sharepoint: 05-Tasks and Programming List
You will learn about how to manage tasks in SharePoint. And explain how to perform programming related tasks. Developer tasks include Creating and working with web part in data view on a SharePoint Page. Managing and adding the web part to the gallery. Creating event receivers with examples and programming after events. basic introduction to event receivers' base class and event handlers.

Creating ASPX Pages and how to run code on web servers.
 In the second module, You will also learn how to
 Create a custom list
Creating XAML file.
Implementing JavaScript
Overview of product user Control using XAML
Run for Each Loop
Creating a string variable
Developing the Client object model
How to Navigate the Programming List
Programmatically write List data
Adding Label Control.
Using Restful Program List

6
SharePoint: 06 – Silver Lights
In this SharePoint Training Certification, you will learn in – depth topic on developing and building a web part.     1.Creation of First SharePoint Application which covers

Customizing Sales Record Visual Web
How to Add Custom List
Designing Coding Parts of Sales Record
Designing visual web Part – working with layouts and creating content Pages.
Learn to develop Creation of New Class
Learn to implement site collection Features.
Implementing with the browser.

Developing First Application Using Business Connectivity Services
---
SharePoint Training – Certificate of Completion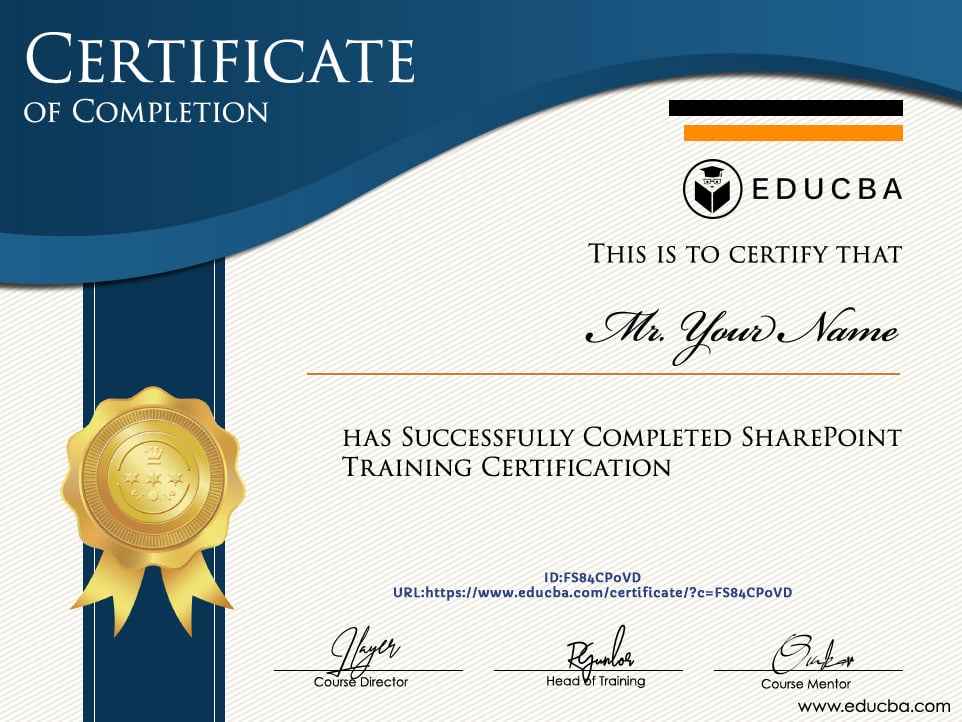 ---
What is Microsoft SharePoint?
Microsoft SharePoint is a Microsoft workflow tool designed to manage documents, procedures, social activities and organized the process. It acts as a general-purpose platform to share information (document, web page, apps) with people as a server-based product. Here, you can share the contents with our partners and allows individuals to create and manage own collaborative Websites. It is developed in the year 2001 and supports diverse enterprises. It is beneficial for both business and individual as well. They help the wide area in business by simplifying administration, managing risk factors, performance and reliability improvisation. Share point helps users to access the data's anywhere. Professionals around the world can meet up and connect with their colleagues. SharePoint is powerful and versatile tools helps in building document management and can handle multiple applications.
Which tangible skills you will learn in this course?
 At the end of this SharePoint training, you will gain how to work with documents workflows. You will learn to create widgets and develop custom background. Ability to understand complex technical concepts. Can learn developer tools, solutions, resources used to design for office platforms to reach the market. It enables you to gain in-depth knowledge on business intelligence, content management, document management and maintaining server applications. After mastering this course, you can develop remote event receiver using SharePoint with the help of Visual Studio 2015. You will get experience in working with intranet communities meanwhile you will get know how to customize the sites as user needs.
Pre-requisites
In general, there is no  prerequisite required to learn SharePoint but to get to know it is required to have knowledge on SQL Server
.Pre-requisite required to learn SharePoint are web development stuffs like XML /XSLT, HTML, CSS, JavaScript, JSON, Typescript, etc.., custom development skills like Web API, C#, Rest API and admin related skills like SQL /database, Power Skill and Active Directory.
Technical skills like Microsoft windows and office.
For SharePoint developer, the skills required are web designing, familiar in programming languages like python, JavaScript generic concept on AJAX, PowerShell and prior knowledge in industry process.
The required skills for SharePoint administrator are basic concepts on networking and security and Microsoft SQL Server Experience.
Prerequisite of the SharePoint Training certification includes, attendees should have experience in ASP.NET, Internet Information Services, and Visual Studio.
Target Audience
SharePoint course can be opted by IT professionals whose aim is to become an industry expert. Should have experience in Windows Servers. Best suited for developers from web development. Students who have good knowledge of MS Office can take up this training. Organization team who are interested in SharePoint projects and attendees interested to add SharePoint skills to their resume are Target Audience for this SharePoint Training Course.
FAQ's
---
What are the job roles designation by SharePoint Certified Professionals?
 Project Manager, Business analyst, administrator, software engineer and developer.
What are the programming languages required to learn SharePoint?
You need to have knowledge in OOPS concepts and .NET framework to learn SharePoint.
How SharePoint Training helps the candidate?
Each candidate is encouraged to learn the skills effectively for better understanding of real-world scenarios.
How Long it takes to complete the SharePoint Training course?
 It takes approximately 13 hours to complete this course.
What is the set-up environment required for SharePoint Training?
SharePoint 2013 environment is set up to navigate pages, sites and libraries. Additional installation of visual studio.
What you gain on SharePoint Certification?
Once completion of this course certification you will become experts in navigating sites, managing records, building web databases and publishing the reports and file handling in the browser.
What are the learning benefits of SharePoint Training?
You could able to create custom sites, develop code for server-side, SharePoint apps creations. After successful completion of this training, you will be issued educba course completion certification.
Sample Preview
---
Career Benefits
Getting hands-on training on Microsoft SharePoint opens the way to new career possibilities. There is high demand for the attendees who is equipped with this share point training. Since it is a Microsoft product it's a good chance to have better pay and career benefits with larger enterprises and organizations as well. SharePoint is growing higher and has better career options in business solutions. Current share point designations include SharePoint Administrator, developer, Business Administrator, Business Analyst, SharePoint Project manager, share point Architect, Share point designer. Many of the organizations use SharePoint for different sectors like manufacturing, health care, Finance and in few government utilities. A lot of requirements in the share point is been wide in the Information Technology Sector, particularly in the USA. You could find job vacancies in education sectors too, most of the documents are large and digitized should be shared remotely between professors from different universities.
Reviews
---
Nice learning Program
I like the courses of this site, thorough guidance on topic which is really useful. I took Informative class on Sharepoint, has a lot of great information. There are a lot of tricks and tips in the class, and it helps you to understand Sharepoint better so that you do not make mistakes setting it up. The configuration is crucial. And all these points are taught appropriately.
Linked
Brian Curnutt
Amazing
This SharePoint course is very informative, top-rated training and the concepts took to the next level. The training methodology benefits a large user of global knowledge. It helps to complete many projects and tools used here is a great resource. Share point is extremely scalable to address multiple service providers in business thereby saving money. It helps to design in practical real-time situations. The SharePoint Training course features include reliable certification with reliable faculties and robust support. All the demo projects are related to the top-level industry.
Tsui Man Kit
Sharepoint Course
I highly recommend this SharePoint certification course to my friends as much of the information details are explained with a demonstration in a detailed manner. Awesome training which gives exposure to real-world scenarios. Demonstrated with live projects which are unique and challenging. Share point helps a lot in the business market to face real-world business challenges and addresses the right business information to make better decisions.
Jorge Rolley