Learn from Home Offer TAKE THIS BUNDLE
SERVICENOW Course Bundle - 2 Courses in 1
This ServiceNow Training includes 2 courses with 26+ hours of video tutorials and Lifetime access.
The primary aim of this course is to help the trainees get practical exposure of working with ServiceNow. Some of the units covered in this course are ServiceNow - Beginner Level and ServiceNow - Intermediate to Advanced Level where all the concepts will be detailed using practical demonstrations.
TAKE THIS BUNDLE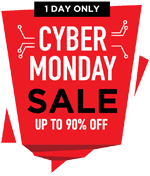 * One Time Payment & Get Lifetime Access
What you get in this SERVICENOW Course Bundle - 2 Courses in 1?
26+ Hours
2 Courses
Course Completion Certificates
Lifetime Access
Self-paced Courses
Technical Support
Mobile App Access
Case Studies
Online ServiceNow Training in Hyderabad
This ServiceNow Training in Hyderabad includes 2 comprehensive ServiceNow Training , Projects with 26+ hours of video tutorials and Lifetime Access.
ServiceNow is a SaaS( Software as a Service) cloud computing tool that provides IT and other service management features such as business management, Operations management, etc. ServiceNow is training in Hyderabad is the complete package of deep knowledge for IT operations and business services. If you are desiring to one the most demanding jobs of ITSM (IT Service Management) or ITIL (IT Infrastructure Library) engineer then our course on ServiceNow will be the aptest destination as it has all the features covered from the beginner to the advanced level audience.

Further details are provided below.
About ServiceNow Training in Hyderabad
---
| | |
| --- | --- |
| Course Name | ServiceNow Training in Hyderabad |
| Deal | You get access to all 2 courses, Projects bundle. You do not need to purchase each course separately. |
| Hours | 26+ Video Hours |
| Core Coverage | Search Engine Optimization (SEO), Search Engine Marketing (SEM), Google Adwords, Google Analytics, Digital Marketing, Display Advertising, Email Marketing, Conversion Rate Optimization (CRO) |
| Course Validity | Lifetime Access |
| Eligibility | Anyone serious about learning SEO and wants to make a career in this Field |
| Pre-Requisites | Basic knowledge about Digital Marketing would be preferable |
| What do you get? | Certificate of Completion for the course |
| Certification Type | Course Completion Certificates |
| Verifiable Certificates? | Yes, you get verifiable certificates for each2 course, Projects with a unique link. These link can be included in your resume/Linkedin profile to showcase your enhanced skills |
| Type of Training | Video Course – Self Paced Learning |
| Software Required | None |
| System Requirement | 1 GB RAM or higher |
| Other Requirement | Speaker / Headphone |
ServiceNow Training in Hyderabad Curriculum
---
The course on ServiceNow is split into parts one for beginner level and others for advanced topics. Both the modules have been comprehensively designed so that associates do not require any further references. In the beginner level module, you will learn about what is ServiceNow and why it is so popular among TISM and ITIL engineers. Also, you will be introduced to topics such as IT service management, Service Management others, what are the basics services offered by ServiceNow, how to use ServiceNow user interface and efficient it is compared to competitors, ServiceNow Banners, Lists, and Forms.
You will be also learning about ServiceNow the studio where you will learn regarding creating tables, adding fields to them, Navigating to the fields, application development according to the business problem, creating updated forms, creating application files, modules, etc. Here only you will also, get to know about scripting using ServiceNow and what are the script editor features that use cases on creating a client script and several other demos on scripting. You will get detailed knowledge on server-side scripting – types of business scripts and what are the rules for these scripting, features of business scripting on the server-side, server-side API, etc. You will also learn about securing the Applications, restricting and creating the user groups, access control lists, scope access, and practical implementation on getting or importing the data. You also, learn about scheduling the scripts and what are the Events and Actions.
Now in the other module which is for intermediate and advanced concepts, you will learn about implementing one of the important features on ServiceNow and that will be notifications. Notifications setting and how to dynamically implement this and how to develop appropriate notification message, evaluating the notifications and their configurations, inbound email etc.you will also learn about notification scripts, application, and system-level properties and how to handles each of them for better optimizations of the service, priority handling, and utilization, etc.
This is the brief of what the training syllabus curriculum for both the beginner and the advanced user looks like and if you enquire you will get to know in detail. After each submodule and module, there will be plenty of use cases and sufficient hands-on so that the associates feel comfortables as the course proceeds and ultimately gains confidence with ServiceNow
ServiceNow Training – Certificate of Completion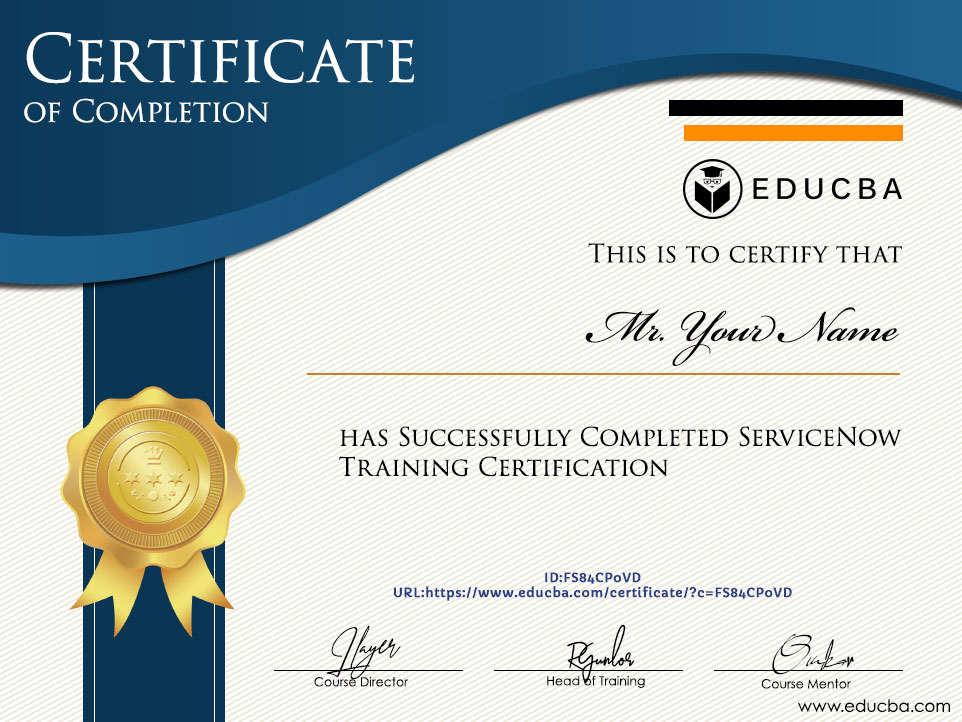 ---
What is ServiceNow?
Service now is an organization that provides service management software as a service introduced in the year 2003. The specializes and has shown ist stronghold on ITSM (IT Services Management), ITBM (IT Business Management), ITOM (IT Operations Management). It identifies the root cause of the service issue and provides self-service to it. It uses cloud services to implements its features overseen as a part of the most comprehensive managed workflow that assists in real-time communications, resource sharing, and collaborations. ServiceNow easily integrates with other tools.
Which Skills will you learn in this Training
?
Once you enroll in this ServiceNow Training in Hyderabad we will provide all the necessary knowledge so that you can gain confidence and comfort by using ServiceNow. Once you complete the course you will be familiar with cloud-based terms and its importance in the services. You will also acquire the skill and knowledge of web ServiceNow, ServiceNow Studio, IT Service Management, IT Business Management, IT Operations Management, etc. You will also acquire the skill of client scripting, Server-side scripting, and application designing using those scripting. You will learn about Notifications and how to dynamically incorporate them, transform scripts, their inbound implementations, Inbound REST Integrations, and many other cloud-based computing services. This training also has a set of good modules on IT services with regards to security and authorizations that can reduce the human effort in multiple ways.
Pre-requisites
The main prerequisite to complete this ServiceNow Training in Hyderabad is the desire to become ITSM, ITIL professional, or ServiceNow Admin. First, you need to know the prominence of these roles and how this is going to benefit you. You can avail brief counseling from our team on this if you don't have any idea regarding the course. If you are familiar with IT terminologies like what are all the services that are required in IT, Business management, and operational management based services then this course will be quiet easier for you. Even if you are not much aware then you need not worry as we will be going to cover these in our introductory module but the willingness to learn is least expected. This ServiceNow Training in Hyderabad is suitable for both freshers and advanced level associates who are aspiring to have good knowledge or aspiring for a better carer change in the filed of ServiceNow.
Target Audience
The main target audience would be an associate who is having some idea on ITSM and ITIL and wants to expand his knowledge horizon with much proficiency. For such associates completing this ServiceNow Training in Hyderabad will be easier and once certification is acquired they can show their skills set with confidence in the market. The other target audience will include fresh pass out graduates or final year students who are pursuing professional technical and non-technical degrees. They need to have an interest in business processes and IT services related field.
ServiceNow Training in Hyderabad – FAQ's
---
Why one needs to choose ServiceNow Training?
Anyone who is working in the filed od cloud-based services and have knowledge of IT services, business, and operational management and also, have the willingness to master in technology in these fields then they need to enroll in this course without much thought.
Will there be any practicals or hands-on with this ServiceNow Training in Hyderabad?
This course is a complete comprehensive one and it has both theoretical and practical included. There are plenty of use cases and hands available after each submodule on which you can practice and gain your confidence.
Will I be awarded a certificate after this ServiceNow Training in Hyderabad completion?
Yes definitely. Once you complete the course with all the required constraints such as completing all the module practical then you will be awarded a certificate for your recognition.
Can I attend an interview as soon as I complete this ServiceNow Training in Hyderabad?
You can start facing the interviews with much confidence as soon as complete the course as this training covers both basics and advanced topics.
I am not from the background of a computer, how can this ServiceNow Training in Hyderabad help in gaining a job in this filed?
Even if you are not from a computer background you need not worry as our curriculum in considering these kinds of profiles and hence we have split the course into beginner and advanced levels. The main prerequisite will be the willingness to make a career in the ITSM and ITIL fields and rest all will be taken care of by us.
Why should you take up the ServiceNow Training in Hyderabad?
Hyderabad is the most popular hub for the organization whether domestic or international to handle its business operations. There is a place HiTech City only dedicated to such kinds of organizations. Since the cluster of organizations in Hyderabad is quite huge the demand will also be accordingly. SO getting trained in ServiceNow training in this city will be the best decision as you will be aware of the market over here. Also, there are very fewer institutes that provide training in ServiceNow and we are the master training providers option in this city. You can enroll for this ServiceNow Training in Hyderabad and add flavor to your resumes.
What is the ServiceNow Training market trend in Hyderabad?
Many organizations whether domestic MNC or Startups or International have operations in Hyderabad and this cluster makes the market trend for ServiceNow quite demanding in this region. As this cluster of organizations is increasing we can expect an exponential increase in the market of ServiceNow professionals. Hence getting trained and becoming professionals in ServiceNow with this training can reap associates' greater career and personal benefits.
Sample Preview
---
Career Benefits
An associate can reap huge career benefits with this ServiceNow training as it is most comprehensive on that is available in the market. Some benefits would be like becoming professional in providing service management and become ITSM or ITIL engineers which are one the highest dependent and demanding jobs in most of the organizations. Any ITSM, TIOM, or ITBM or TIIL or System Admin or Operations Admin can opt for this ServiceNow Training in Hyderabad and can master the knowledge. The ServiceNow certificate that is provided upon meeting all its prerequisites will be added advantage and will increase the associate's chances of the job to a greater extent.
Reviews
---
Intro into ServiceNow
This is a great course to get a foothold into ServiceNow. This covers the basics of Forms and Lists. This course gets you involved with making Tables and various changes (like Add fields). This will provide enough familiarity to be able to have a deeper course into ServiceNow as well as be able to have a technical conversation and know what is being discussed.
It's also a fair bit of information for the video library. So, be patient and take in what you can and review back on new areas. The modules are broken up well.
Lee Gill
Very Fruitful Experience
This ServiceNow training course is one of the best courses ever recommended because of its simplicity and crystal clear explanation in the course contents in the form of videos, hands-on training and standard concepts with specifications and the processes of the IT Services or Business Operations that would easily benefit in any organization to understand by any learner simply.
ADAMS
ServiceNow Course
This ServiceNow certification is the best-recommended one that contains real-time hands-on level videos for the Service Now tool in detail about every step for every operation that would enhance the learner's experience.
FERENC