Learn from Home Offer TAKE THIS BUNDLE
PYTHON Course Bundle - 81 Courses in 1 | 59 Mock Tests
257+ Hours of HD Videos
81 Courses
59 Mock Tests & Quizzes
Verifiable Certificate of Completion
Lifetime Access
TAKE THIS BUNDLE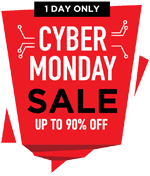 * One Time Payment & Get Lifetime Access
What you get in this PYTHON Course Bundle - 81 Courses in 1 | 59 Mock Tests?
257+ Hours
81 Courses
Mock Tests
Course Completion Certificates
Lifetime Access
Self-paced Courses
Technical Support
Mobile App Access
Case Studies
About Python Training in Gurgaon
| | |
| --- | --- |
| Course Name | Python Training in Gurgaon |
| Deal | You get access to all videos for the lifetime |
| Hours | 257+ Video Hours |
| Core Coverage | Python Fundamentals, Linux System Administration with Python, Cryptography, Django Unchained with Python, Python GUI Programming using Tkinter, Rest API with Flask and Python, Python Pyramid Jupyter-IPython Notebook, Violent Python. |
| Course Validity | Lifetime Access |
| Eligibility | Anyone serious about Python. |
| Pre-Requisites | Knowledge of Basics in Any Programming Language would be useful. |
| What do you get? | Certificate of Completion for the course |
| Certification Type | Course Completion Certificates |
| Verifiable Certificates? | Yes, you get verifiable certificates for each81 course, Projects with a unique link. These link can be included in your resume/Linkedin profile to showcase your enhanced skills |
| Type of Training | Video Course – Self Paced Learning |
| Software Required | None |
| System Requirement | 1 GB RAM or higher |
| Other Requirement | Speaker / Headphone |
Python Training in Gurgaon Curriculum
---
The main objective of this Python Training in Gurgaon is to understand the need for python programming, where it can be useful and what extend. Then the next objective is to understand the features python language, its efficiency, and its importance. After that, there are various modules web development, Networking, artificial intelligence models as well as advanced GUI and database, Mysql information covered to understand the various technologies along with various libraries sci-kit-learn, Keras, TensorFlow, open cv, Scrapy – web scraping, wxPython – toolkit, Pillow – Imaging library, SQLAlchemy – database library, Twisted for networking applications development, Numpy, SciPy, Matplotlib, Pygame, Pyglet, py T,pywin32, PyGTK,0nltk, IPython. And lastly to understand the scope of this Python Training in Gurgaon hands-on projects are included projects that will be covered n the course which describes various applications Python.
Python Training – Certificate of Completion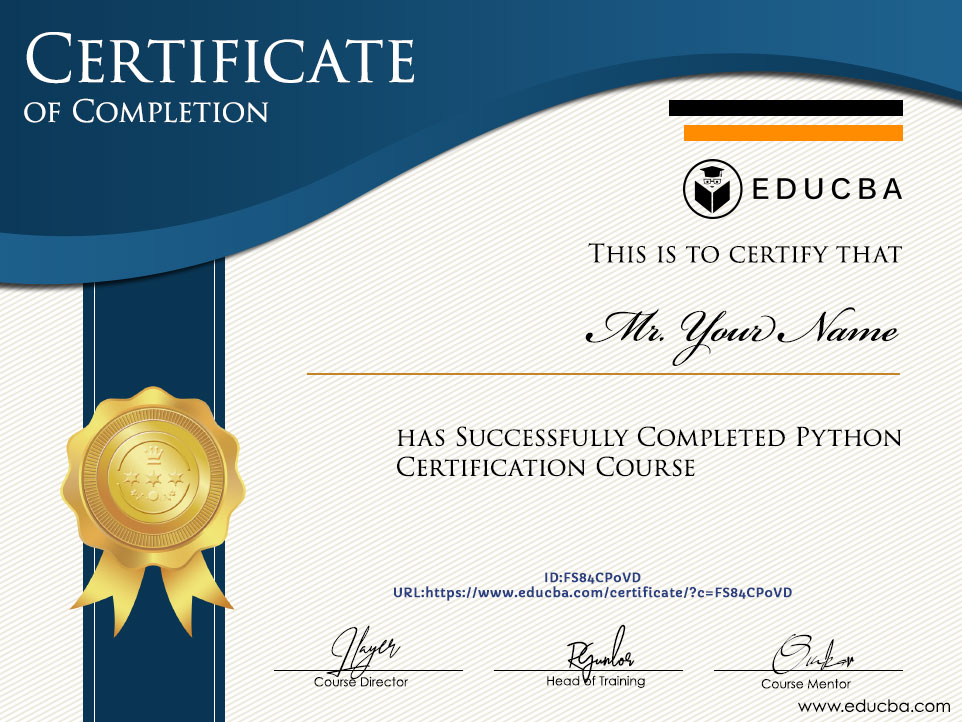 What is Python?
Python is very easy and simple to learn a programming language. It is free and open-source. Python is a high-level language that is why it is similar to the English language. Python uses an interpreter so there is no need for the compiler and each line, code can be debugged so that the programmer will able to understand mistakes and errors simultaneously. Let us assume one example I want to print one statement in java or other languages then I need to write a 3 to 4 line code just to print one word but if we do the same program in python then we need to write only one statement in python platform. Python is portable as well as extensible. All the operating systems support python windows, Linux, etc along with play store. Python is extensible because on python platform we can integrate java as well as dot net components and even if we wish we can integrate C and CPP libraries into python. Therefore python can support cross-language operations.
Python is widely useful for web development because it provides a variety of choices in development it has various frameworks such as Django, flask, pylons,web3py, etc. Python is largely used in small, large, online, and offline projects. it is used to build GUI, graphical user interface, desktop applications, and game development. it has libraries like Tkinter, Jython, Mxpython, and Pygame are used for computer graphics applications.

Industry Growth Trend
The rapid application development market size is expected to grow from USD 7.8 billion in 2018 to USD 46.2 billion by 2023, at a Compound Annual Growth Rate (CAGR) of 42.9% during the forecast period.
[Source - MarketsandMarkets]
Average Salary
Average Salary
$117,822 per year
The average salary for a Python Developer is $117,822 per year in the United States.
[Source - Indeed]
Which Skills will you learn in this Training
?
Along with the basic concepts of python, you will learn different models of python programming. There are various libraries in python depending upon the applications all are covered in this Python Training in Gurgaon. The course is divided into different modules such as basic python programming, database management, Networking, and advanced GUI, testing and packaging programs, Linux system administration, Django with python, MySQL, advanced python for the Internet of Things.
Python is great for validating ideas for established companies, now creating software is not an easy task as it contains many stages design code and test cases .and software testing is undoubtedly a most important task in the software lifecycle. It is also a challenging task to software tester to choose a programming language and python is the best solution for the same, it has many built-in frameworks that cover debugging and time and fastest workflows. All these aspects will be covered in the testing module.
Pre-requisites
You don't need a specific computer or information technology degree for this Python Training in Gurgaon anyone can opt for this course. As we know python is programming language so there is no need for engineering concepts the only prerequisite is your interest in the computer field and logic development.
Target Audience
Anyone willing to work as a software engineer and passionate about the IT industry and development. fresher's who are recently graduated in the field of computer science, computer technology, science, information technology, electronics and telecommunication, electronics, mechanical, etc. , experiences people those who are indifferent domain like teaching or non-technical jobs or support can apply for this Python Training in Gurgaon.
Python Training in Gurgaon – FAQ's
---
Is that compulsory to know c and CPP or java to understand this Python Training in Gurgaon?
No, It is not required .you can directly start to learn python without c, CPP, or java.
Is Computer degree compulsory for python training?
No, a Computer degree is not compulsory for python training. Anyone can apply for the course.
What are the application domains of python in the industry?
Python is most widely used in artificial intelligence, Networking, Database management, Machine learning.
Who is the instructor for this Python Training in Gurgaon?
The instructors for this course are industry professionals, have wide experience in the field of programming. Depending on the domain in curriculum expert trainers will be different.
Are there any Pre-requisites studies for this Python Training in Gurgaon?
No, not at all. To complete this course your interest is important.
Why should you take up the Python Training in Gurgaon?
Nowadays Python is one of the trending languages it has a wide spectrum of domains were several other computer domains involved in it, Gurgaon has each n every computer course trend, therefore, all the aspects of artificial intelligence, networking, testing, and web development covered in one geographical area.
What is the Python market trend in Gurgaon?
Initially, products were developed in all the programming languages, after that Java language takes all the market on development. But now all the software products developed in python only because of Python wide libraries. It provides high extendibility as well as portability. And especially Gurgaon is a hub of all trending technologies therefore python development is popular in Gurgaon.
Sample Preview
---
Career Benefits
Once the candidate finished this Python Training in Gurgaon successfully, he /she can apply for various positions in various domains like python developer, tester, database administrator, network administrator, and many more. Many companies like Google, Facebook, YouTube, Netflix, Amazon, flip kart have requirements for front end and back end python developers. They are willing to take a good candidate with expertise in this domain as they are working on a large database. They offer very handsome packages to the right candidate.
Reviews
---
Good course
The lessons mentioned here were exhaustive and interactive in their way. The largest and most eclectic catalog for online higher education. Verified certificates and specializations provide proof of participation, which can be shared via LinkedIn.
Linked
Rishav Raj
Python Training
The course was good and had all the basic features. It was good to see that all the data structures were considered in the tutorial. It would have been more good if we had oops and files in it. I have been looking for GUI development. But overall the course was good for beginners as it contains the most concerned topic and one can learn easily how to write a program in python.

Amit Singh Sansoya
Python is an easy way
The course was designed nicely anyone can understand easily, each step was specified clearly which made understand course well. After each chapter examples helped a lot to practice & remember the things easily. Strings, Loop methods, and dictionaries of the method described very simply which strengthens the knowledge.
Linked
Arpit Shukla
Best Basic Course For Python
This course is awesome for those who just started the coding journey. Method of teaching is not complex and it's just like learning with a teacher near you. This course not only helps to learn Python but it also helps to develop a good understanding of coding and programming environment. Overall this course is awesome for beginners.
Linked
NIKHIL KUMAR
A great course indeed
The course was aimed to teach everyone about programming. The course was clear and easy to understand and learn. The language is very easy to follow. This course encouraged me to work from my environment. While being able to learn to code in a browser, it is fun and interesting, using my machine and my terminal to execute Python. I feel like a real programmer. It is cool when you just start doing it out on your own after learning. It gives me the motivation to keep going. It did for me anyway. Thus this was a great course.
Linked
ARIVOLI SUNDARAMURTHY