Learn from Home Offer TAKE THIS BUNDLE
PYTHON Course Bundle - 81 Courses in 1 | 59 Mock Tests
257+ Hours of HD Videos
81 Courses
59 Mock Tests & Quizzes
Verifiable Certificate of Completion
Lifetime Access
TAKE THIS BUNDLE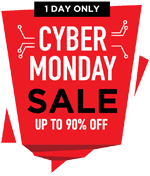 * One Time Payment & Get Lifetime Access
What you get in this PYTHON Course Bundle - 81 Courses in 1 | 59 Mock Tests?
257+ Hours
81 Courses
Mock Tests
Course Completion Certificates
Lifetime Access
Self-paced Courses
Technical Support
Mobile App Access
Case Studies
About Python Training in Delhi
| | |
| --- | --- |
| Course Name | Python Training in Delhi |
| Deal | You get access to all videos for the lifetime |
| Hours | 257+ Video Hours |
| Core Coverage | Python Fundamentals, Linux System Administration with Python, Cryptography, Django Unchained with Python, Python GUI Programming using Tkinter, Rest API with Flask and Python, Python Pyramid Jupyter-IPython Notebook, Violent Python. |
| Course Validity | Lifetime Access |
| Eligibility | Anyone serious about Python. |
| Pre-Requisites | Knowledge of Basics in Any Programming Language would be useful |
| What do you get? | Certificate of Completion for the course |
| Certification Type | Course Completion Certificates |
| Verifiable Certificates? | Yes, you get verifiable certificates for each81 course, Projects with a unique link. These link can be included in your resume/Linkedin profile to showcase your enhanced skills |
| Type of Training | Video Course – Self Paced Learning |
| Software Required | None |
| System Requirement | 1 GB RAM or higher |
| Other Requirement | Speaker / Headphone |
Python Training in Delhi Curriculum
---
The modules of our training here at EDUCBA involves 36 online courses and 12 hands-on projects. The duration of the Python Training in Delhi is 187+ hours and also a veritable certificate is handed out to the people who take up the training. We have provision for lifetime access and technical support. There are proper case studies and mobile app access.
The python training is a package containing several courses that tap on the fundamental, core, and also advanced topics.
One will have a well-versed knowledge of dictionaries, condition loop, abstractions, exceptions, and iterations. Libraries, GUI, Database, and Networking. You will be introduced to VMWare, Package Management, command line, Ipython, OS Soup, handler scripts, running server, Python Calculator, Strings, Lists, Indices, etc
You will also be learning about Linux administration with Python. Interesting topics such as cryptography using Python which includes lessons on parallel computing, high-performance computing, and Ipython magic commands. The projects in python are devised to be in sync with the latest market trends and would help the student develop the required skill to understand Python better. A good understanding of Django will be given to you along with Tkinter, the introduction of Flask, request parsing and arguments, Rest API with Flask and Python.
Python Training – Certificate of Completion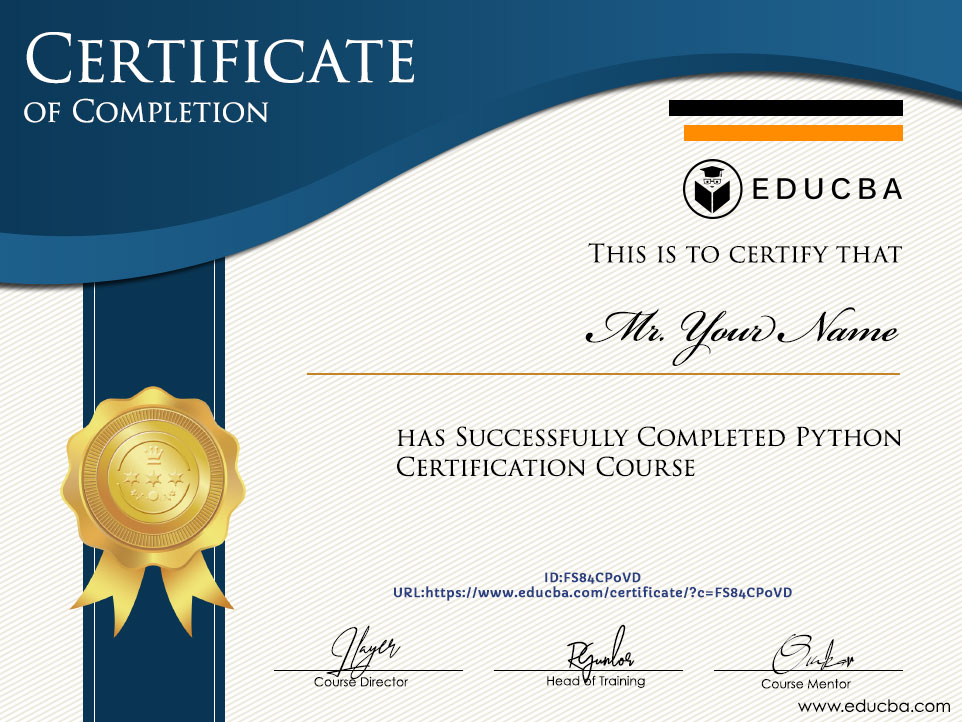 What is Python?
Python is the world's fastest-growing and popular programming language. It is an object-oriented, interpreted, high-level programming language. It is an ideal choice for Rapid Application Development. It is learned not only for software engineers but for mathematicians, data analysts, scientists, accountants, etc. It is a beginner-friendly programming language. It is widely used for automation. Web Apps and Mobile App, Desktop Apps, AI/ML, Data Analysis, Testing, Hacking. Python has gained an edge over another programming language because it can be used to solve complex problems in less time and by using fewer lines of code. It has a very simple yet powerful composition. It is a high-level language, cross-platform and it has a huge community and a large ecosystem. It is multipurpose with a very simple and elegant. Therefore, a lot of recruiters are looking for candidates who are working with this much sorted after programming language. Everyone in the IT industry should be familiar with this amazing programming language.

Industry Growth Trend
The rapid application development market size is expected to grow from USD 7.8 billion in 2018 to USD 46.2 billion by 2023, at a Compound Annual Growth Rate (CAGR) of 42.9% during the forecast period.
[Source - MarketsandMarkets]
Average Salary
Average Salary
$117,822 per year
The average salary for a Python Developer is $117,822 per year in the United States.
[Source - Indeed]
Which Skills will you learn in this Training

?
You will get clarity of the basics of the Python programming language as this Python Training in Delhi is self -paced and you can learn the language at the convenience of your time. A proper comparison of Python2 and Python3 has been made as all the training materials are according to Python3. You will learn important insights about the beginner and the advanced topics that make Python a comprehensive language in itself. You would become efficient at exploring all the possibilities the Python language can do with all the practical examples and modules our training course offers. Linux, Design Patterns, Django, Cryptography, Rest API, Flask, Python, etc, are just a handful of the things you might learn with this Python course.
Pre-requisites
There is no specific requirement to know any programming language before you start with Python, just an interest and the will to learn a new language would do the trick.
However, basic programming concepts like constants, variables, loops, etc can help you understand the programming realm better.
Python has clean codes and syntactically it is very easy to understand and write code. Anyone determined to learn python can just put in the required effort and gain the advantage of learning this much sorted after programming language quickly.
Non-programming people from different domains have taken up this Python Training in Delhi and have found our course to be really helpful.
Target Audience
IT professionals are on a lookout for jobs that deal with the current technology and with jobs that offer higher salaries. The pay scale for individuals skilled in Python is huge and is on the rise.
The target audience for this Python Training in Delhi varies from students who are currently pursuing degrees in their respective colleges to IT professionals who want to switch to a better career path. Someone who wants to pursue a career path as a Python Developer, Research Analyst, Data Analyst, Data Scientist should consider studying Python seriously and should take up serious courses as one offered by us to learn Python.
Python Training in Delhi – FAQ's
---
Does Python Training need a candidate from Computer Science or relative background?
There is no need for a person to be from a computer science background to take up this Python Training in Delhi as this course caters to the need for beginners as well. Our comprehensive course is designed to help newbies as well as people who are aware of the concepts of Python. You will benefit from the course irrespective of your previous knowledge.
Will it help me with my interview preparations for Python-related job roles?
Yes, there is ample training material to provide one with the basic and conceptual insight of Python. All the training, once well revised will help one at cracking Python interviews. This Python Training in Delhi from EDUCBA is proud to receive some great feedback from people who have taken the course previously. The concepts are so well explained that people have not found it difficult to study and understand the course.
Why should you take up the Python training in Delhi?
With the expansion of technology, Delhi did earn for itself the name of the World's top 30 super cities with so much foreign investment boosting back in 2017. Many sectors have benefitted from that such as retail, real estate, hospitability, etc.
Python has a very progressive graph when it comes to booming technologies. And anyone serious to make it in the information technology world should consider getting trained in Python.
What is the Python market trend in Delhi?
There are a large number of opening s for Python Profile according to the jobs portal and there are more openings that are coming up every day. Python is versatile and every company requires a person skilled at this particular programming language. The number of jobs is just going to increase as big companies like Google, Facebook, Amazon, Instagram, Spotify, etc are using Python. Many other companies are also realizing the power of this simple syntactical programming language.
It is the right time for anyone to just jump at the prospect of grabbing such a job opportunity and landing at a great job with a really good salary structure.
Sample Preview
---
Career Benefits
Python is considered the best choice to develop a prototype as it is so convenient to write and read code in python. Hence, pulling off a business prototype software will be done faster and more efficiently with python.
There are several automation tasks and projects which rely on Python. Along with automation data science, big data, and data mining projects. You can jump into the relative zone after taking the training as Python has found utility in all the trending job roles.
With Django, web applications can be built and that open-source framework is powered by Django.
A handsome package is also offered to people who come from this domain.
Reviews
---
Good course
The lessons mentioned here were exhaustive and interactive in their way. The largest and most eclectic catalog for online higher education. Verified certificates and specializations provide proof of participation, which can be shared via LinkedIn.
Linked
Rishav Raj
Python Training
The course was good and had all the basic features. It was good to see that all the data structures were considered in the tutorial. It would have been more good if we had oops and files in it. I have been looking for GUI development. But overall the course was good for beginners as it contains the most concerned topic and one can learn easily how to write a program in python.
Amit Singh Sanya
Python is an easy way
The course was designed nicely anyone can understand easily, each step was specified clearly which made understand course well. After each chapter examples helped a lot to practice & remember the things easily. Strings, Loop methods, and dictionaries of the method described very simply which strengthens the knowledge.
Linked
Arpit Shukla
Best Basic Course For Python
This course is awesome for those who just started the coding journey. Method of teaching is not complex and it's just like learning with a teacher near you. This course not only helps to learn Python but it also helps to develop a good understanding of coding and programming environment. Overall this course is awesome for beginners.
Linked
NIKHIL KUMAR
A great course indeed
The course was aimed to teach everyone about programming. The course was clear and easy to understand and learn. The language is very easy to follow. This course encouraged me to work from my environment. While being able to learn to code in a browser, it is fun and interesting, using my machine and my terminal to execute Python. I feel like a real programmer. It is cool when you just start doing it out on your own after learning. It gives me the motivation to keep going. It did for me anyway. Thus this was a great course.
Linked
ARIVOLI SUNDARAMURTHY