Learn from Home Offer TAKE THIS BUNDLE
Python GUI Course Bundle - 4 Courses in 1 | 3 Mock Tests
This Python GUI Course includes 4 comprehensive Python GUI tutorials with 10+ hours of video tutorials and Lifetime Access and several mock tests for practice. You get to learn about the features of the Python GUI, various GUI interfaces, libraries like Tkinter and such other Python GUI programming concepts.
TAKE THIS BUNDLE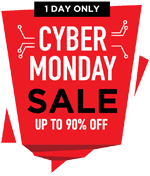 * One Time Payment & Get Lifetime Access
What you get in this Python GUI Course Bundle - 4 Courses in 1 | 3 Mock Tests?
10+ Hours
4 Courses
Mock Tests
Course Completion Certificates
Lifetime Access
Self-paced Courses
Technical Support
Mobile App Access
Case Studies
About Python GUI Course Bundle
---
| | |
| --- | --- |
| | |
| Courses | You get access to all 4 courses, Projects bundle. You do not need to purchase each course separately. |
| Hours | 10+ Video Hours |
| Core Coverage | Learn how to create effective graphical user interfaces (GUIs) with minimal code using Python |
| Course Validity | Lifetime Access |
| Eligibility | Anyone serious about learning Python GUI programming |
| Pre-Requisites | Basic knowledge about Python programming |
| What do you get? | Certificate of Completion for each of the 4 courses, Projects |
| Certification Type | Course Completion Certificates |
| Verifiable Certificates? | Yes, you get verifiable certificates for each course with a unique link. These link can be included in your resume/Linkedin profile to showcase your enhanced skills |
| Type of Training | Video Course – Self Paced Learning |
Python GUI Course Bundle Curriculum
---
MODULE 1: Essentials Training

| Courses | No. of Hours | Certificates | Details |
| --- | --- | --- | --- |
| Python GUI Training | 3h 11m | ✔ | |

MODULE 2: Projects based Learning

| Courses | No. of Hours | Certificates | Details |
| --- | --- | --- | --- |
| Python GUI Case Study - Creating a Windows Application | 2h 21m | ✔ | |
| Python GUI Case Study - Creating a Calculator | 1h 41m | ✔ | |
| Python GUI Programming using Tkinter and Python | 4h 34m | ✔ | |

MODULE 3: Mock Exams & Quizzes

Courses
No. of Hours
Certificates
Details
Test - Python GUI Minor Test 1
Test - Python GUI Minor Test 2
Test - Python GUI Major Test
The comprehensive collection of courses we have in this training program will make you "the" developer in the arena of Python GUI and will build in confidence to improvise more all by yourself even if you are just getting started. Let us look at the modules in detail in the below section:
| | | |
| --- | --- | --- |
| Sr.No. | Course Name | Course description |
| 1 | Python GUI Programming using Tkinter and Python | This course will focus on getting you used to the most widely used library i.e. Tkinter. This library is a powerful object-oriented interface to the Tk GUI toolkit. In this course, you would get to know more about organizing and fitting widgets into the layout, basic transformations, creation of drop-down menu, shapes & graphics, intricacies of building login applications, and many other advanced GUI techniques. |
| 2 | Python GUI Training | This portion will take you through different types of GUI interfaces and help in a detailed explanation of building a button in a GUI. |
| 3 | Project on Python GUI- Creating a Windows Application | In this portion, we would create a windows application wherein we would first learn to set up the mainframe and then build on to that for creating a guest list page and a check-in page. Finally creating page having guest by room numbers and their receipts. |
| 4 | Python GUI Project – Creating a Calculator | This project will take you through all the topics we have learned about in our course and make them apply to build a calculator and leverage the potential of Tkinter. |
Python GUI Course – Certificate of Completion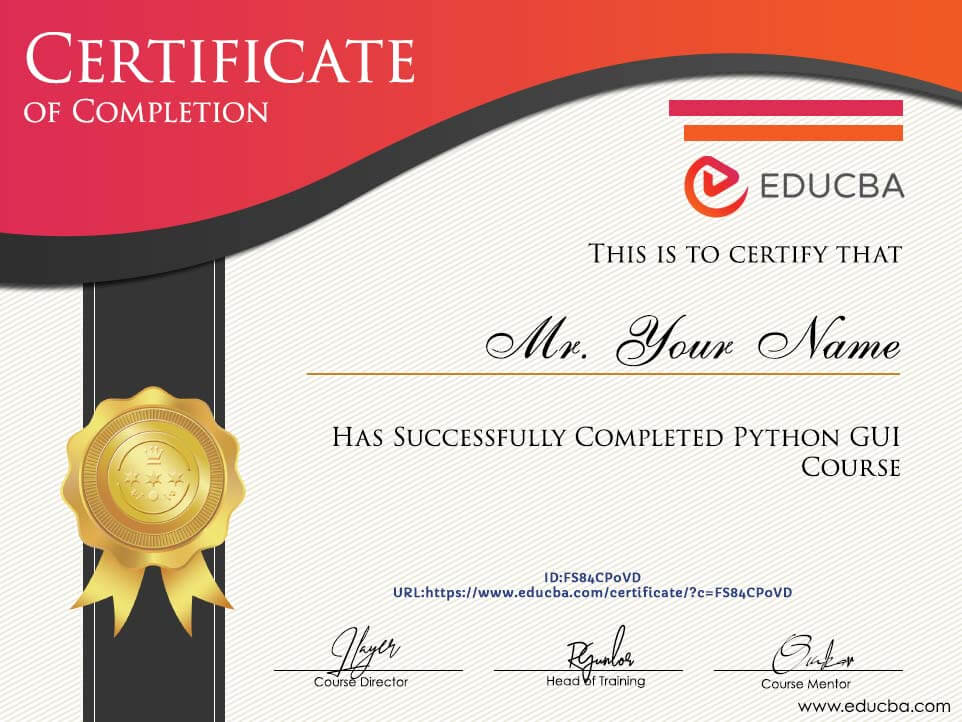 What is the Python GUI?
Python GUI is one of the various toolkits present with Python and this toolkit focusses on developing GUI (Graphical User Interface). Now since python GUI is very specific to Python, let us look at what GUI essentially means, and then we may be able to jump into understanding specifically Python GUI. GUI or in other words, Graphical User Interface is a form of a connection tool through which users would be able to interact with electronic devices. This interaction is through the use of buttons and graphical icons which makes it visually appealing for users to use and the software behind the icons removes the robotic coding required to perform the particular task. The intention of the introduction of GUI is thought to reduce the commands that need to be typed at the command-line interface (CLI) through keyboard and that exactly what task it does!
Now coming to Python GUI, let us say, for example, we would need to run a code in python, a .py file through the command line. We would create a simple GUI which might have a button "Run" and once a user clicks on that the python file which intends to run will automatically get selected and will run. What Python GUI would do essentially is remove the unnecessary coding part of running the python file through CLI. Not only this there are other plausible features Python GUI provides and that's exactly what you would go through in this course.
What skills will you learn in this Course?
During the training and post completion of the training, one would imbibe skills to take on more daring challenges in professional life. This course will also allow you to grasp the business intelligence required to be that handful of developers in Python GUI. This training will also give you a glimpse of the security concerns one faces in the real-world and, also allow you to think about how we can take care of those concerns. This Python GUI Course will also help you in getting the frame of mind to design the visual components and understand the temporal behavior of building the GUI.
Once you complete the course you would b able to appreciate the enhancement of efficiency through the use of GUI, and the ease of use of the logical design of the program underlying in the design. With the completion of the course you would be able to bring in modularity in any GUI application you would build along with enhancing the usability perspective of GUI. This training is not restricted to just the theoretical part, but we enhance the use of theoretical concepts in the playground of real-life projects giving you an upper hand in establishing the relation of the concept and using them in real life. We ensure that no stone will be left unturned to make you the best python GUI developer organizations are looking for. Just choose a unit test framework that your organization would demand, a test runner, an IDE and we assure that you would be good to go in leaping in the professional world.
Pre-requisites
The way we design our course doesn't require any prerequisite to leverage the full potential of the course. We try to build everything from the basics and lay a strong foundation so that the empire of knowledge that would be built on it would be strong enough to resist the inevitable changes. Having said that, below mentioned are a few pointers which will help in grasping things quickly and without much hassle obtain the maximum juice out of this course!
Knowing any scripting language would be an advantage as it will be easier to grasp the code portion of the course.
It is highly recommended for non-coders to have some coding sessions before jumping to Python GUI training.
Knowing python basics will also be an added advantage during the course.
Having the appetite to solve the assignments or projects on your own and also bring out a solution that is out of the box.
Target Audience
The courses we conduct online never restricts the audience we expect to reach to. The only thing we look at is the learner should have the hunger to learn more and we are just the provider of fuel! For any beginner this is the course you would be looking forward to, to understand the nits and bits of every aspect of the code. For example, a person in his university can use this Python GUI Course as the only reference material to the course structure being taught in the university. This course will also enhance readers to apply it in their daily job and bridge the gap required to move to the next big role in career. Also, for people who have been pursuing Python GUI as a career, this course would help you to refresh some topics which are not daily used in the industry but are quite important from Python GUI perspective. Thus, in short, this course is a guiding material for learners who are in a quest to learn more.
FAQ's
Can I access this training from anywhere?
This training can be accessed from anywhere as per your convenience as we have made the training completely online for our learners.
When will I receive my certificate for any training?
Post completion of each of the modules one would be getting verifiable certificates as a part of this training bundle.
How much time would be required to be invested in this training?
Any of our courses from EduCBA, we expect the students to have complete focus and dedication towards the course. It would just take 2 weeks to complete this training give one goes at a very slow pace of 4-5 hours per week.
Sample Preview
---
Career Benefits
Once our learners complete the course, they can expect to be placed at the top few personas in this lucrative job market in today's world. This Python GUI Course will empower you with the required skill sets to take on the real-life challenges in Python GUI development. We strive to lay our foundations right so that one can easily build their empire of GUI on this strong foundation. We start from scratch and make you go to the zenith of advanced development as far as Python GUI is concerned. Be prepared to get trained for the worst so that anything which comes next in your path will be super smooth to sail on. The projects we would go through in this course will enable you to take up challenges in the professional world without much hesitation. In conclusion, you must be known of the fact that the average salary of Python developer in today's market is $117K per year and GUI development is a must skill for these developers.
Reviews
---
Good!
Very good and very useful for a beginner! I learned a lot.
Very useful and I recommend to those who are interested in Python programming and its world. I've been using Python for some time, but I've also learned something new about this course.
Ferenc Csonka
Python Fundamentals
Great course for beginners. It goes through basic staff in python which will enlighten you on python. There were practical examples used throughout the course which helps a lot in understanding python basics. The course is also useful in laying out a better foundation in understanding python. Awesome course indeed.
Ngonidzashe Knight Furusa
Very Extensive
An all-around course on Python teaches you the full possibilities of what you can do with the language. I wouldn't recommend it to people starting to code but is an advantage for the ones who want to learn Python, for whatever application it has, and in this case, there are a lot of applications. Personal fav.
Linked
Tiago Gamboa Cravo dos Santos Lucas