Learn from Home Offer TAKE THIS BUNDLE
PYMONGO Course Bundle - 2 Courses in 1
This Pymongo Training includes 2 courses with 3+ hours of video tutorials and Lifetime Access. This course on PyMongo is to educate you on one of the key distribution from Python which encompasses the integration of Python along with one of the Database modules, i.e. MongoDB.
TAKE THIS BUNDLE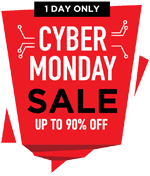 * One Time Payment & Get Lifetime Access
What you get in this PYMONGO Course Bundle - 2 Courses in 1?
3+ Hours
2 Courses
Course Completion Certificates
Lifetime Access
Self-paced Courses
Technical Support
Mobile App Access
Case Studies
About PYMONGO Course Bundle
---
| | |
| --- | --- |
| | |
| Courses | You get access to all 2 courses, Projects bundle. You do not need to purchase each course separately. |
| Hours | 3+ Video Hours |
| Core Coverage | The main aim of this course is to provide a wide understanding of how to integrate MongoDB with Python |
| Course Validity | Lifetime Access |
| Eligibility | Anyone serious about learning PyMongo |
| Pre-Requisites | Basic knowledge about Python and database concepts |
| What do you get? | Certificate of Completion for each of the 2 courses, Projects |
| Certification Type | Course Completion Certificates |
| Verifiable Certificates? | Yes, you get verifiable certificates for each course with a unique link. These link can be included in your resume/Linkedin profile to showcase your enhanced skills |
| Type of Training | Video Course – Self Paced Learning |
PYMONGO Course Bundle Curriculum
---
Goals
This PyMongo training aims to develop skills in you so that a niche skill of programming in PyMongo can be dealt with ease so that you can be that bridge between the current industry ask and available skillset in the market.
Objectives
With 3 different courses in this bundle, each course has something to offer in its cuisine, but on an overall 3-course menu of PyMongo training, we would get you insights on every technical aspect of PyMongo, starting from downloading, to theoretical use case and have the dessert by looking at practical use cases of PyMongo. This course's objective is to make you the best "PyMongo" developer organizations have been longing to hire and reward.
Course Highlights
The course in PyMongo meets all the requirements of the organizations' ask in terms of skillset. We keep updating ourselves as well as the course content concerning the ask of the industry to make sure that we remain the best every time. Some of the high-level course highlights for PyMongo are:
In the very first course, we would get ourselves comfortable with the Python program. This PyMongo Training starts from teaching the way of installation, to teach about variables and data types in Python. We would also look at concepts on functions and their use. One important use case of this course is to learn about returning multiple values from a single function.
In continuation of the above tutorials, we also learn about strings, loops, lists, packages, modules, dictionaries, decorators, and many more such intricate concepts so that grasping concepts of PyMongo will be a cakewalk.
The next thing we would be going through is learning advanced techniques in Python, which are essentially required for IoT or data analysis. We would be going through some interesting concepts through the project, about which we would talk about later. NumPy and NumPy Arrays are some key concepts you should watch out for!
Project Highlights
As we mention for any of our concepts, that we would handhold you till we make you comfortable with a practical application of the concepts learned. Here we would look at some interesting projects we would go through as a part of this course:
In the second course itself, while learning some interesting and cool technologies in PyMongo we would use some interesting App building to get a complete sense of the concepts. This project is about building a Chatbot app. In this app, we would learn about how does this chatbot works, how messages are created and sent, uses of a database for some complex functionalities.
The second project is a total conglomeration of concepts learned in the 2 courses in theory. This project is about building a project which would essentially aggregate customer data of a Bank. This project will make you understand all the required essentials of building such a big project. It will first take you through the elements required for project creation. From there we move to mongo collection and file uploads. Then we look into how segmenting works in collections and finally learn more about different ways of aggregating data.
PyMongo Training- Certificate of Completion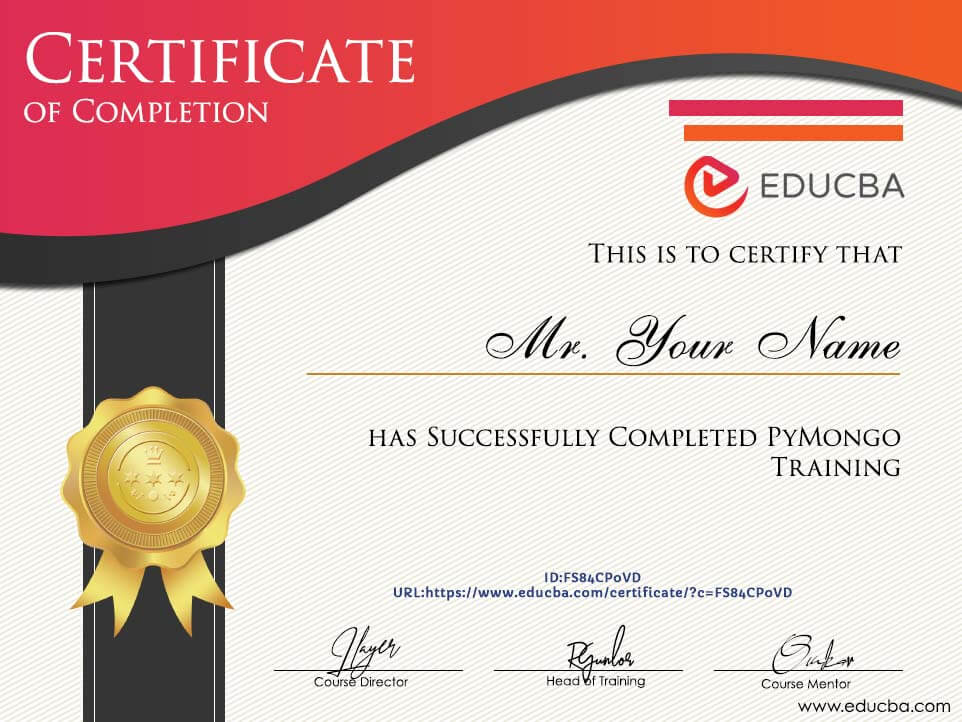 What is PyMongo?
As the word, PyMongo suggests that it is built up of 2 different words and that is Python and Mongo DB. This module helps developers to seamlessly integrate Python and Mongo DB. Now let us take some time to do a deep dive into individually understanding Python and MongoDB. To start, Python is a high-level general programming language, which was aimed to be used as a programing language for nearly all use cases and has the potential to enhance the code readability, due to its usage of extensive whitespaces. The approach of object-oriented and super language constructions makes it the go-to programming language for any type of use cases ranging from data analytics to API development and many such more.
Now coming to what Mongo is. Mongo is a database program that was built with the intent of it being cross-platform. Hence you would see a lot of programming language which has the integration functionality with Mongo DB. This program is classified as a NoSQL, essentially meaning a non-relational database. Now a question might strike, that if it is non-relational, then how elements are represented in Mongo. For this, the answer is that mongo Db uses Json like structures with a schema.
Finally, now that we know what individually Mongo DB and Python essentially are, it will be interesting and a thrilling experience to learn more about the integration between these two.
What skills will you learn in this Course?
Constant efforts are been put in so that our learners can access top-notch resources from top-notch faculties at just a click of a mouse. We always handhold our learners till they learn about intricate concepts and empower themselves to tackle any nut, even if it's the toughest nut to crack. This confidence is the foremost skill that we would learn as a part of this course. Needless to say, post completion of the course you would be filled with extensive PyMongo knowledge you would be making yourself eligible for higher monetary pay through the skills you would showcase in your organization.
We would not only go through detailed programming techniques but also teach you efficient coding techniques which are vastly used and accepted in the genre of software development. This course will also build you up with skills that will make you develop newer methodologies in the PyMongo tool and its use cases. Lastly, some skills are by and far applicable for any of our courses in a common platform that would also apply in this course.
Pre-requisites
We don't read aloud the word "prerequisite" in our courses, as we start everything from scratch and try to reach the advanced level within the same bundle. But yes, some prerequisites are good to have if you want to have an easier grasp of the concepts taught and they are:
Understanding database concepts is a plus point.
Understanding of programming language such as Python
Target Audience
The courses are built in such a way at EduCBA that we focus our audience to a wide audience who wants to increase their depth of knowledge. For people who have their courses in universities, this PyMongo Training would act as the only reference material they would want to refer to. This training is a sufficient tool to help you ace your course in PyMongo. For people who wants to scale themselves up in their career can use this training to build a bridge on the gap currently existing. This also acts as a refresher for anyone who has been working in this area for quite a long time and would want to go through some latest and some forgotten about concepts.
FAQ's- General Questions
---
What's next after this course?
This course will open gates for many other specializations one would want to explore. This includes IoT, Data Analytics, Data Science and many such more areas to explore.
How will this PyMongo Training help me advance my career?
This course has all the elements required to be called an all-in-one batch to upgrade your skills in PyMongo. This will surely advance your career by imbibing in you, the skills to carry out tasks that include PyMongo with ease.
How much time would be required to be invested in this PyMongo Training?
This course would demand dedication of 4-5 hours of learning time plus some extra hours on thinking out of the box for some different solution strategy might take you 4-5 weeks to complete this course.
Sample Preview
---
Career Benefits
We have already mentioned how this course will help our learners to advance their careers not only in terms of monetary raise in your current role but also help you gain a better insight on an organization working by giving you the confidence to take up more responsibilities. Post this course, who knows you might be individually contributing so efficiently that the organization may allow you to lead a team of developers in a different area of expertise! And who knows that if an idea crashes with you during the course or maybe utilizing the methodology, you may start your own business or startup on the same! Last but not the least, this is the course you were looking for a long time to develop your skills in PyMongo.
Reviews
---
Helpful Courses!
I am glad I chose this method of learning this material. This feedback is my journey with educba site and its course. Very detailed and in-depth information, each topic was explained properly by the tutor. I liked the course a lot. The videos and slides were great and I'm sure the knowledge which I have got through this course is going to help me over the rest of my career.
Linked
Shaurya Bhagat
MongoDB basic
A very nice course, short and full of information, gives enough information for anybody who wants to start working with MongoDB. The pronunciation of the lecturer is very good and there is no problem understanding him. The fusion of theory and examples at the same time is very fresh and it is helping to learn things fast.
Marko Žbirka
Very Nice Course
The course covered all basics to the advanced level of Mongo DB, It describes briefly about each topic of the course including examples of each command, Also each command has been explained in detail. The course is highly recommended to others and I must say, the Instructor is very knowledgeable.
Syed Obaid Ullah Hussain
NoSQL – MongoDB Developer course
A good start to understanding how to use MongoDB. The course briefly explains the difference between NoSQL, SQL, and CQL. The course also explains how MongoDB handles big data, disaster recovery, and how to test for performance. There is also a section on Cassandra including data modeling and how to administer the database. There is also a good explanation for how MongoDB handles replication and sharing within the database.
Linked
Jeff Hackney
Comprehensive MongoDB Training
This programming has great importance corporate arena …its usage is growing at rapid pace .educba has taught this program tremendously .from very scratch they started and very height, to the benchmark of working corporate level they have taken us all together. I must appreciate the endeavor they are putting in the creation of such useful videos. Keep us updating with recent technology software change ..thanks educba
Ashutosh Kumar