TAKE THIS BUNDLE
PrestaShop Training (2 Courses)
2 Online Courses
13+ Hours
Verifiable Certificate of Completion
Lifetime Access
Create E-Commerce Store with Prestashop
Offer ends in:
TAKE THIS BUNDLE
What you get
Online Classes
Technical Support
Mobile App Access
Case Studies
Online PrestaShop Training Certification
This Prestashop Training Certification includes  2 comprehensive Prestashop courses with 13+ hours of video tutorials and Lifetime Access. You get to gain a comprehensive understanding of creating and managing an E-Commerce Store using Prestashop. The tutorials will help you learn about the requirements and tools to create a database, Installing and Working on Prestashop, Adding Product and Product Categories, Products' Association and customization, A Look Inside The Catalogue, Managing your Customers II, Understanding the Preference, Understanding the Advanced Parameters, Administer the Back Office, Theme templates, Making The Native Modules Work and Merchant Tutorials.
Thanks to the rise of e-commerce, it is never easy to start your online business. Business in itself is very challenging as we have to take care of several factors with an eye of maximizing profit. A daunting online business store setup needs to have a complete understanding and one that makes money is remarkably difficult. We in this course have considered all the ups and down for any person. So if you are planning to start an online e-commerce business we believe you too have similar thoughts in mind. But don't worry this article will change everything and act as a bridge in starting your first online e-commerce store with ease.
Let us explore what opportunities and challenges do the PrestaShop technology holds for is users.
Industry Growth Trend
The rapid application development market size is expected to grow from USD 7.8 billion in 2018 to USD 46.2 billion by 2023, at a Compound Annual Growth Rate (CAGR) of 42.9% during the forecast period.
[Source - MarketsandMarkets]
Average Salary
Average Salary
$71,948 per year
The average salary for a Web Developer is $71,948 per year in the United States. Salary estimates are based on 3,732 salaries. The typical tenure for a Web Developer is less than 1 year.
[Source - Indeed]
About Prestashop Training Course
| Courses | | No. of Hours |
| --- | --- | --- |
| Prestashop - Beginners | | 1h 1m |
| Create E-Commerce Store with Prestashop Comprehensive Course | | 12h |
---
| | |
| --- | --- |
| Course Name | Online Prestashop Training Certification |
| Deal | You get access to all 2 courses bundle. You do not need to purchase each course separately. |
| Hours | 13+ Video Hours |
| Core Coverage | Gain a comprehensive understanding of creating and managing an E-Commerce store using PrestaShop |
| Course Validity | Lifetime Access |
| Eligibility | Anyone who is serious about learning Prestashop and wants to build an e-commerce store. |
| Pre-Requisites | Basic knowledge about database and programming languages would be preferable |
| What do you get? | Certificate of Completion for each of the 2 courses |
| Certification Type | Course Completion Certificates |
| Verifiable Certificates? | Yes, you get verifiable certificates for each course with a unique link. These link can be included in your Resume/Linkedin profile to showcase your enhanced skills |
| Type of Training | Video Course – Self Paced Learning |
| Software Required | None |
| System Requirement | 1 GB RAM or higher |
| Other Requirement | Speaker / Headphone |
---
PrestaShop Training Curriculum
---
In this section, each module of the Prestashop Training Certification is explained.
Sr. No.
Course Name
No. of Hours
Course Description
1
PrestaShop Beginner
1
This PrestaShop Certification Course will cover everything from scratch. The course is sub-divided into 3 categories namely :

Introduction: The intro covers the intention behind the course, what benefits the candidates will receive and all relevant outlines related to course. Also to cover every Why related to PrestaShop.
Installation & Download: This section of the course deals with more technical issues related to PrestaShop. We in this segment will teach and guide the candidates on the followings :
How to Download and Unzip the PrestaShop file.
How to move ahead in proper installing
Uploading relevant files

Proper a complete setup process coverage

How to set Php
How to make use of Auto-installer
Administration and Module: Once the installation and downloading happen, the next big thing to cover is the application Administration. This is what we will take care of in this segment. We will cover the below listed –
CLI (Command Line Interface) related issues.
Onboarding facilities
How to administer the store for better visibility. There are some best practices to do so which will be covered in this section.
Data query
Theme Setup

2

Create an E-Commerce Store with PrestaShop Comprehensive Course

12
The PrestaShop training course aims to provide detailed and complete information regarding the PrestaShop application. With this, you will know every 'if and but' related to running your business management using PrestaShop.

Introduction for PrestaShop covers all the quick list of requirements and how to address them, additional tools requirements, and ways to create a Database for your online business.

Installation and working part of the course caters around the installation, online

configuration, interface overview, Dashboard setup, and basics to cover for starting your shop, language settings as per region.
Adding Product and categories including category creation, editing, global buttons setup, and product information data filling.
Price settings for selling products, price management and price prioritizing.
Product customization with relevant image files, cost prices, manual approach, related attachments, and warehouse management.
A look into the catalog deals basically with catalog creation and management in detail. We will cover features, values, manufacturers, suppliers, image mapping, tagging, attachments, order management, order creation, status documentation, shipping details tracking and 2 parts covering the catalog management.
Statuses discussion with 3 tutorial sessions.
Customer management in detail
Ways and process to create Price Rules and Vouchers. A set of 4 sessions covering end-to-end discussion.
Manage Shipping information with a video segment divided into 4 sections for better understanding
Local Setting understanding with 6 tutorial lectures.
Making the native modules work with
3 details video series.
Understanding the preferences with a set of half a dozen tutorial lectures with detail demonstration of IP address.
Advance session to cover all the advance actions needed to set up PrestaShop setup. A total of 5 video lectures to cover all the aspect of advance action.
Back office administering is again very crucial, we have created a series of 3 lectures to cover all the back office related queries and customization.
Native module covering theme template selection, a discussion covering AJAX, Jquery, and JSON. We in this session will also discuss the best practices for developers and users. A session for SEO tips with 3 series of video lectures on Sample Price rules. Merchant Tutorials covers the business-merchant side. A series of 3 video lectures to discuss the best practices and related actions under the category.

3

Total No of Hours
13+ Hours
PrestaShop Training – Certificate of Completion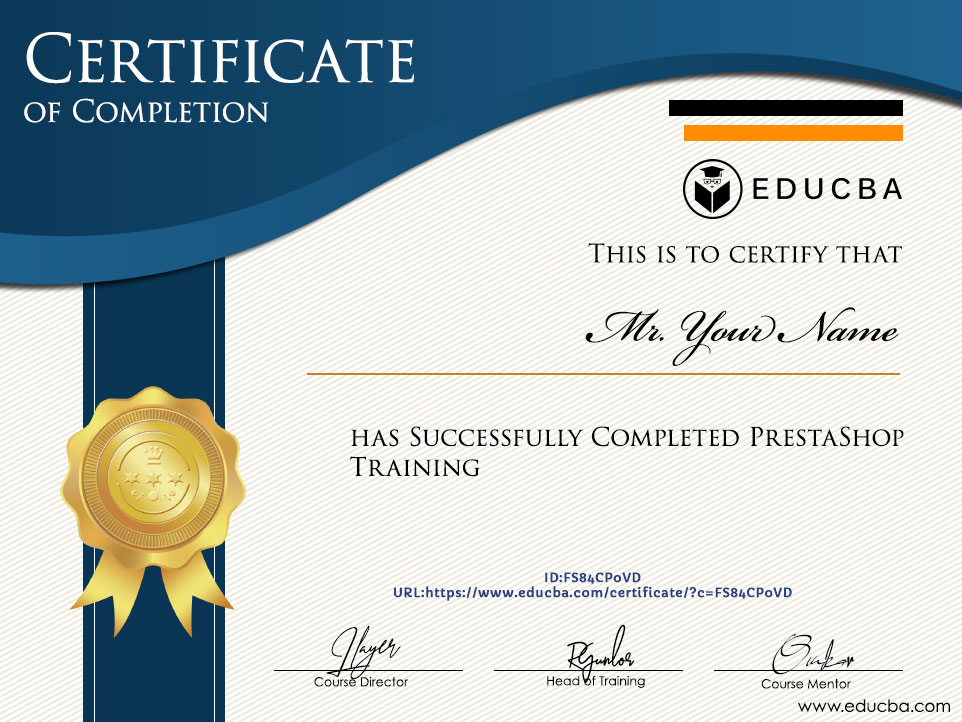 What is PrestaShop?
PrestaShop holds its belonging to Paris, France in the year 2007. It's General Public Licence software meant for small and mid-sized businesses. Being a free/open source solution and empowering more than 120,000 online stores worldwide with features like payment integrations such as PayPal, Google Checkout, and Payments Pro via API, Authorize.net and Skrill. It supports more than 41 languages, tracking facility, customer visibility, affiliate statistics and around 275+ features responsible for its worldwide growing demand. Knowing the current market demand we have crafted an online course for candidates (freshers and experienced) looking to make their career in Data Analytics, Developer, Business Analyst, Data Scientist, Trainers, and several other high paid positions.
Which tangible skills you will learn in this  Course?
The PrestaShop certification course is very informative as it covers a very in-depth understanding of some widely used skills. Let us see what a candidate should aim at learning:
PrestaShop in itself a very huge topic, it has user, admin, merchant side builds into it. There is a product section which is also very complex. Apart from this the billing, purchase order, store, language settings makes the application huge with great complexity.
Data Analysis and Management: Since very business generates a huge amount of data so we in this course will make the candidates understand how to implement effective data analysis techniques, ways to filter data and techniques and best practices related to data management.
Theme Setup: Since the online store business is complex so will be selecting and applying the theme. We will cover the theme related issues in details with multiple scenarios covering.
Product Management: A complete management cycle discussion with the product life cycle, product categories, shipping management, price management, and merchant side management. A detailed exposure for management folks who are planning to get into the management side. The discussion and understanding will be sufficient for a capstone project.
Pre-requisites
There is not any advance requirement for the candidates to prepare before they plan to take the PrestaShop certification course. A candidate with no experience will be equally benefitted as the experienced one. Basic computer knowledge is sufficient to have. Candidate should know how to operate the internet and work using the internet. A basic understanding of
with no technicality is required. Candidates with this basic necessity will be good enough to grasp and hold the teachings and understanding.
Target Audience
The list is really very long if you think of the probable audience. Let us see the probable beneficiaries of the PrestaShop training certification:
Web Agencies
Freelancers
Freshers who want to make their career in e-commerce using PrestaShop.
Any professionals
The store owner who is currently running a store business online. Individuals who want to single headedly run the business.
Freshers Developers/Experienced Developers
Online trainers and institutes
Management guys
FAQ's
---
Why should I take the PrestaShop certification course?
This PrestaShop training is equally important for the working and business professionals, with the PrestaShop course you will be clear in management and development techniques also you can set your own business store with complete ease.
How effective is the PrestaShop training certification to set up a new store alone?
Our PrestaShop course aims to provide entire details to its candidates, we have categorized the course in different modules focusing on varying complexities level. The entire PrestaShop tutorials are divided into initial setup section; management section, designing, and development section, and customization section. A complete and detailed discussion on the mentioned topics.
How can I benefit as a freelancer?
Freelancers are one of our core target areas, with our course so far hundreds of freelancers have benefited in the number of ways. After our course as a freelancer, you can work as a store accumulator jobs, store documentation and setup works, developer work.
Sample Preview
---
Career Benefits
As we have already said the PrestaShop training course is equally important to working and business professionals. A candidate can easily make their career in e-commerce or self-organize and manage online business start-up with our PrestaShop certification course. Apart from this, you will get a complete understanding of how things work from scratch to process ends, what techniques to apply in varying scenarios, what and how actions to take in different scenarios, you will be able to eliminate any delinquency if any after taking our PrestaShop training. As a whole a complete money value program for freshers an experience guys in any industry.
Reviews
---
PrestaShop Tutorials
This is a great insight into PrestaShop with a specific goal in mine. One of the most difficult challenges while learning anything in a development scope is the subject matter. These PrestaShop tutorials are great for the focus upon the PrestaShop and take you through all the proper creation steps. This PrestaShop training certification is small enough to educate or reiterate knowledge as well as long enough to get you thinking about, how you can do it differently.
Isabelle Carisi
Interesting and Practical
I recommend learningPrestaShop training certification if you're interested in managing an online business. Walking you through terminologies and types, it explains them in a very detailed manner to beginners. What makes this course shine, are video tutorials and visual examples. This makes it completely clear to the student.
Marcus Jones
Good – PrestaShop Course
The PrestaShop certification courses were quite informative. The uploaded videos were very clear and easy to understand as they are practically showing how the code has to be implemented and put practically. The sound system for the videos is really clear and crisp. Each and every feature and functions are explained in detail.
Davide Ong