New Year '20 Offer TAKE THIS BUNDLE
PL SQL Training (4 Courses, 2+ Projects)
4 Online Courses
2 Hands-on Projects
17+ Hours
Verifiable Certificate of Completion
Lifetime Access
PL/SQL:01 - The Fundamentals
PL/SQL:02 - Procedures and Functions
PL/SQL:04 - Database Triggers
Project on PLSQL Developer – Case Study on Various Functions
Offer ends in:
TAKE THIS BUNDLE
What you get
Online Classes
Technical Support
Mobile App Access
Case Studies
Online PL SQL Training Course
This Online PL SQL Certification Training includes 4 comprehensive PL SQL Courses, 2 Projects with 17+ hours of video tutorials and Lifetime Access. You get to learn how to utilize the procedural language extension for SQL in the Oracle relational database.
The need for relational databases arose with the advent of a huge amount of data pouring in a day in day out by the organizations. Every data need a place to get stored and relational databases found a way to make that happen. They have been very popular due to normality and ACID properties which include Atomicity, Consistency, Isolation, and Durability. The easy access to these databases has made working with the data a lot simpler. The most common among all of them is an Oracle RDBMS, Relational Database Management System which is a multi-model database developed and marketed by the giant, Oracle.
This database is commonly used to run the OLTP(online transaction processing) and OLAP (Online Application programming ) and other EDW (Enterprise data warehousing) kind of transactions. The language which is used to query these databases is Structured Query Language which is popularly abbreviated as SQL. This is just a query language that is used to perform the basic operations and functions on the database but does not provide any coding functionality or capability. Then comes PL was known as Programming Language which provides codes to SQL.
We shall delve deeper into the details of this field and PL SQL training course offerings in the below section.
Industry Growth Trend
The rapid application development market size is expected to grow from USD 7.8 billion in 2018 to USD 46.2 billion by 2023, at a Compound Annual Growth Rate (CAGR) of 42.9% during the forecast period.
[Source - MarketsandMarkets]
Average Salary
Average Salary
$53 per hour
The average salary for an Oracle PL SQL Developer is $52.99 per hour in the United States.
[Source - Indeed]
About PL SQL Training Course
| Courses | | No. of Hours |
| --- | --- | --- |
| Oracle PLSQL for Beginners | | 3h 28m |
| Oracle PLSQL - Procedures and Functions | | 3h 2m |
| Oracle PLSQL - Subprograms | | 3h 58m |
| Oracle PLSQL - Database Triggers | | 3h 14m |
| Project on PLSQL Developer - Case Study on Various Functions | | 3h 06m |
| Project on PLSQL Developer - Case Study | | 5h 26m |
---
| | |
| --- | --- |
| Course Name | PL SQL Training Course |
| Deal | You get access to all 4 courses, 2 Projects bundle. You do not need to purchase each course separately. |
| Hours | 17+ Video Hours |
| Core Coverage | Learn how to utilize the procedural language extension for SQL in the Oracle relational database. |
| Course Validity | Lifetime Access |
| Eligibility | Anyone who is serious about learning relational database and wants to make a career in this Field |
| Pre-Requisites | Basic knowledge about Machine Learning would be preferable |
| What do you get? | Certificate of Completion for each of the 4 courses, 2 Projects |
| Certification Type | Course Completion Certificates |
| Verifiable Certificates? | Yes, you get verifiable certificates for each course with a unique link. These link can be included in your Resume/Linkedin profile to showcase your enhanced data analytics skills |
| Type of Training | Video Course – Self Paced Learning |
| Software Required | None |
| System Requirement | 1 GB RAM or higher |
| Other Requirement | Speaker / Headphone |
PL SQL Training Curriculum
---
In this section, each module of the PL SQL Training Course is explained.
| | | | |
| --- | --- | --- | --- |
| Sr. No. | Course Name | No of Hours | Course Description |
| 1 | PL/SQL:01 – The Fundamentals | 3 | This PL SQL course online aims to provide a basic overview of what PL/SQL actually is by making them understand the benefits of this powerful language. You will be provided with the knowledge of creating powerful PL/SQL blocks of application code which can be shared by multiple reports, forms, stored procedures, functions, and various data management applications. You will be given an overview of how to develop, execute the code written in PL/SQL. The code can include executing functions, packages, procedures, triggers, trapping exceptions, declaring identifiers, subroutines, etc. Some of the Oracle-supplied packages are also introduced in this PL SQL training as it also talks about Oracle Database fundamentals. The tool used to develop these cases is Oracle SQL developer. |
| 2 | PL/SQL:02 – Procedures and Functions | 3 | You can expect to learn the use and implementation of explicit cursors, handling exceptions, Creating functions and procedures. All of these will be practiced by making use of the Oracle SQL developer tool.  All the programming constructs that are not native to SQL will be taught in this tutorial as PL SQL is an extension to SQL which is used in Oracle and therefore it teaches you the basics of the programming language in PL/SQL. PL/SQL is an imperative 3GL programming language that was specifically designed to enhance the capabilities of SQL language thereby supporting the same datatypes and specific syntax. This is a server-side programming language that is saved on Oracle Database and runs within the Oracle executables. It inherits some features such as robustness, portability, and security of Oracle Database. |
| 3 | PL/SQL:03 – Subprograms | 4 | Apart from the pl/SQL blocks, procedures, statements, this PL SQL training course targets to talk about the subroutines. PL/SQL makes use of procedural language features such as loops, iterations, and conditions. It also allows the declaration of variables and constants, functions and procedures, variables and types, cursors and triggers, etc. The PL/SQL collections make the use of Array. Now the features related to the object orientation are also present in the Oracle Database. Any of the Oracle database related programming interfaces can be reused by creating packages, functions, procedures, etc. PL/SQL also works analogously with several other embedded procedural languages which are typically associated with other relational databases. For instance, MS SQL Server has Transact-SQL and Sybase ASE, PostGre SQL has PL/pgSQL and IBM DB2 includes SQL procedural language which confirms the PSM ISO standard. |
| 4 | PL/SQL:04 – Database Triggers | 3 | Participants in this PL SQL training course will learn to develop, manage and execute PL/SQL stored the program which is typical, functions and procedures, packages and triggers, etc. Triggers are basically the external piece of code which forms a core essential component of the PL/SQL programming language. With the help of its trigger mechanism any condition which is satisfied when the trigger code falls under its condition, the event can be triggered corresponding to that particular condition. |
| 5 | Total No of Hours | 17+ Hours | |
---
PL SQL Training – Certificate of Completion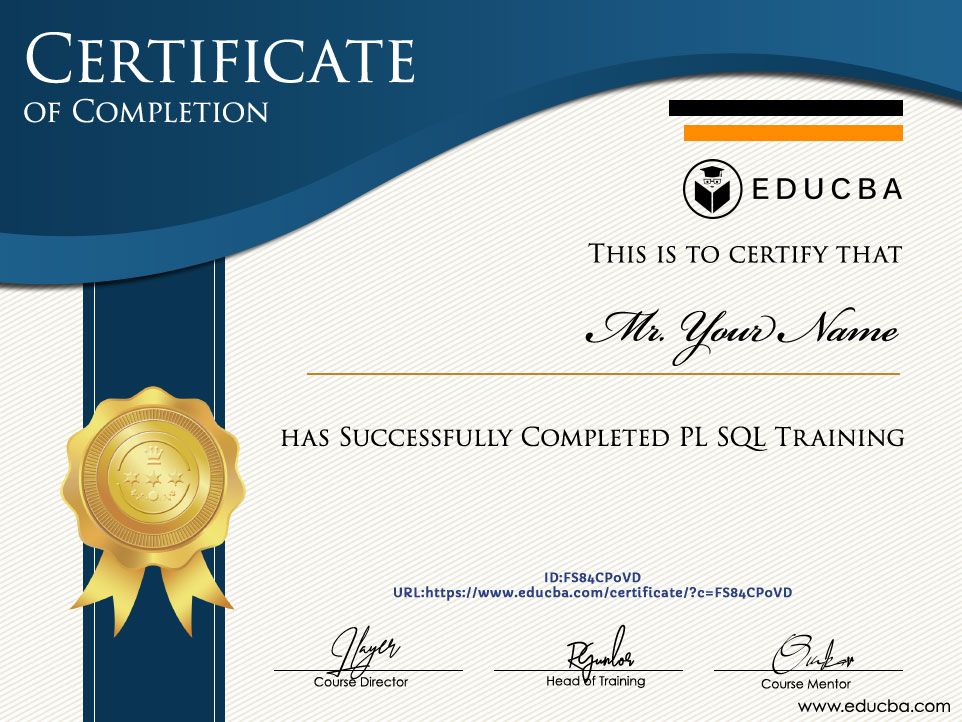 ---
What is PLSQL Programming?
PL/SQL is Oracle Corporation's extension of for handling SQL queries and the Oracle relational databases.  The PL/SQL is somewhat similar to the SQL query language with the difference being that it provides Programming Language constructs that are generally not present inside the Structured Query Language. This is done as it provides loops, conditions, variables, constants, functions and procedures, triggers and cursors, etc.  All this was introduced because of the drawbacks of the SQL language such as lack of conditional and iterative statements. Therefore this procedural language was used to handle the programming aspects which also provides the functionality of decision making.
Program units are the source codes of PL/SQL which are compiled, developed and finally executed on the Oracle database. The basic unit of a PL/SQL statement is a block which is a combination of statements and declarations. It can be defined by keywords such as DECLARE, BEGIN, EXCEPTION, and END. The keywords work in dividing the block into declarative, executable as well as the exception-handling part. However, the declaration section provided is optional and may only be used to define and instantiate constants and variables.
Which tangible skills you will learn in this course?
If you choose to opt for the PL/SQL course online the first and foremost skill you will learn will be related to database and a query language which is actually a mandate if you plan to start your career in the IT space or are actually working as some professional already. The structured query language is the basic query language that is used to fetch, manipulate and work on the data extracted and managed by a database. The other skillset which you will learn in this PL SQL training will be related to the programming constructs as the Procedural language provided will make use of the conditional as well as the iterative statements along with several other triggers and cursors which will enhance your skillset.
Pre-requisites
Once you are interested in taking the PL SQL Programming training course there are a set of pre-requisites of which you should make a note before hopping in.

 The first and foremost prerequisite is to have a familiarity with the backend system especially the role and the functioning of the databases which are being used inside the organization. Gone are those days when only the relational databases were used for storing the data. Today there are several other kinds of databases present in the market such as NoSQL databases like MongoDB, Cassandra, etc.
The next prerequisite is familiarity for programming languages. This is important as the Procedural language will make use of many such features which requires a background of programming
The next prerequisite is to have customer-centric thinking as this will be beneficial to the end customer.
Target Audience
The target audience for PL/SQL training course would be anybody who has the zeal to learn and is looking to either make a career shift into the PL/SQL technology or is looking to enhance their skill set. The audience can also include professionals, professors, students, etc. Among the professionals working in the IT industry or in any software firm below is the list of the roles who will be the ideal target audience for the PL/SQL course online:
Developer (Forms, backend, database, application, portal)
Database Engineer
Data Engineer
Database Administrators
System analysts
Business Analyst
Product Owner
Technical Consultant
PL/SQL developer
Testers
FAQs
---
Is it tough for somebody who does not have a coding background to learn the PL/SQL programming training?
Not exactly. It is not necessary for you to have a coding background to learn the PL/SQL programming course online but only that you should be familiar with programming constructs. You should not be proficient in writing code snippets is agreeable but not able to understand the coding constructs can pose a problem for you.
Do I need to keep practicing or just one time learning of PL/SQL training course is enough?
We would recommend you to keep practicing as this PL SQL training is not something which is only conceptual or theoretical based but it also relates to everything related to a programming language that needs a regular revision and a working hands-on.
Career Benefits
This course provides you everything you need to know as a developer, the backend development and
also the coding paradigms so any company which deals with data, (essentially every company today) will
look to hire candidates who have a knowledge of PL/SQL. RDBMS are still the backbone of most of the
organizations and therefore SQL is the way to go for.