Learn from Home Offer TAKE THIS BUNDLE
Parallax Training (1 Courses, 1+ Projects)
This Online Parallax Web Development Training includes 1 Course , 1 Projects with 3+ hours of video tutorials and Lifetime access.

You will get to learn about web design for modern websites and build one such website from scratch.
Project on Business Consultancy Website
Project on iOS - Parallax
Offer ends in:
TAKE THIS BUNDLE
* One Time Payment & Get Lifetime Access
What you get in this Parallax Training?
Online Classes
Technical Support
Mobile App Access
Case Studies
About Parallax Training
Further details are provided below.
| Course | | No. of Hours |
| --- | --- | --- |
| Project on Business Consultancy Website using Parallax Web Development | | 2h 2m |
| Project on iOS - Parallax | | 2h 26m |
---
| | |
| --- | --- |
| Course Name | Online Parallax Training |
| Deal | You get access to all videos for the lifetime |
| Hours | 3+ Video Hours |
| Core Coverage | Learn about web design for modern websites and build one such website from scratch. |
| Course Validity | Lifetime Access |
| Eligibility | Anyone serious about learning web development |
| Pre-Requisites | Basic knowledge about JavaScript, HTML, and CSS |
| What do you get? | Certificate of Completion for the course |
| Certification Type | Course Completion Certificates |
| Verifiable Certificates? | Yes, you get verifiable certificates for each1 course, 1 Projects with a unique link. These link can be included in your resume/Linkedin profile to showcase your enhanced skills |
| Type of Training | Video Course – Self Paced Learning |
| Software Required | None |
| System Requirement | 1 GB RAM or higher |
| Other Requirement | Speaker / Headphone |
Parallax Training Curriculum
---
The course has been devised by industry experts who are well versed in the field. The content of the course has been collected to cater to the needs of a newbie, intermediate, and advanced person in this domain. Following this course religiously will help you to gain a good edge over this particular skill and will let you understand and use this skill better in your design. Thus, after completing this Parallax Training you will be able to create responsive and attractive designs for your website and gain a good customer crowd for your organizations' website.
Serial No
Course
Duration
Description
1
Project on Business Consultancy Website using Parallax Web Development
1 hr 52 m
You will be learning to design a responsive and interactive website. You will be taught to understand and work with the parallax scrolling and its use on the website. You will understand the working of the parallax and how the imaging and background effects are used. The need for parallax scrolling will be explained in detail. The header, menu, service, parallax-portfolio, etc. There are 11 videos in this module and this calls for an audience having intermediate knowledge of the subject matter and the skills required in using parallax.
2
Project on iOS-Parallax
2h 27m
In this module, you will learn how to create and use the parallax effect for your iOS app in iOS10. This section deals with Source Control (Commit, Checkout, Push, Pull, etc) concepts. You will be well informed by auto layouts, multi-line for the label, segment control, reading from a list file, and about UI Web View. The objective of this module revolves around the idea of creating a parallax effect in iOS in windows 10. Your knowledge will be enhanced a lot on iOS and you will be learning a great deal of Swift programming.
Section 2 emphasizes UI Designing using a storyboard. In Segment Control and Reading from the list file you will see the value changed in segment, detail study on segment control, reading content from Plist. You will also have a better understanding of the Parallax effect for container image using the New Logic. The sixth unit on UI Web View teaches the use of web view, custom loading indicator, present modal view controller, etc. This module contains 14 videos.
Parallax Training – Certificate of Completion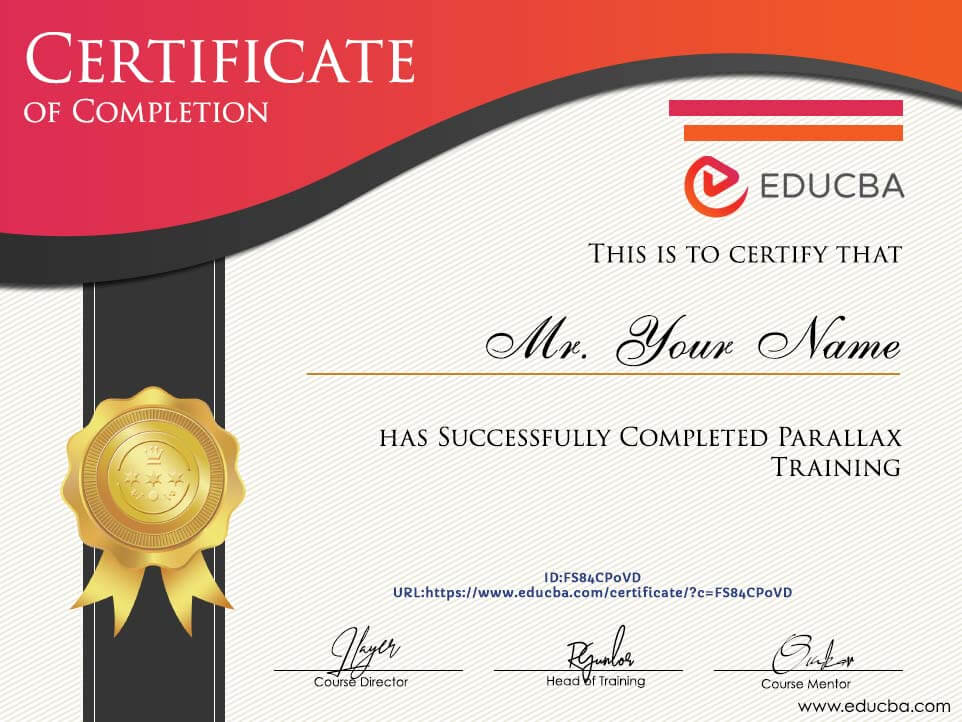 ---
What is Parallax?
If one has been involved in front-end development then they might have heard the term 'parallax scrolling'. Parallax occurs when two objects move across a screen at different rates to imply a certain depth and a certain perceptive. It is a special scrolling technique used in web design where the images in the background move a bit slower than the images in the foreground. This helps in creating an illusion of depth on a two-dimensional site and it creates a 3D effect as viewers scroll down. A parallax website is quite interactive and there is a huge level of engagement that comes from the viewer's end. It aids in product presentation and makes it visually appealing and stands out from the crowd. It keeps the goal of the website intact by highlighting the key features that need to be displayed with extra pomp under the eyes of the visitor who is visiting the website.

Which Skills will you learn in this Training

?
There are a couple of skills that you will be learning when learning about parallax scrolling and its associated features. Hands-on practical web application, sliders, using parallax. You will also come across examples where real-life scenarios of creating web applications will be explained in detail. Also, you will learn about the timeline websites by making use of the virtual background in parallax development.
As a web designer or a web developer using parallax, you will be well equipped in HTML, CSS, and jQuery, etc. skills. Implementing parallax scrolling for a desktop version, the same framework can be used for mobile screen development. Therefore, you will be well versed in reusing the code. You will learn to create an attractive and interactive website against a static website. You get hands-on on how to create a seamless user experience UI.
Pre-requisites
There are very basic requirements for learning parallax. Here are some of them mentioned.
You will need to know HTML, CSS, JavaScript, and jQuery. All these frontend skills are needed in developing the frontend of the website. Along with the above mentioned, you will also need to have good knowledge over the basics of Swift and iOS SDK. A proper understanding of using XCode IDE and a strong programming skill would be appreciated.
Even if someone is not skilled in the above mentioned, he/she can catch with some basic tutorials and catch on the skills.
Target Audience
There are very basic requirements for learning parallax. Here are some of them mentioned.
You will need to know HTML, CSS, JavaScript, and jQuery. All these frontend skills are needed in developing the frontend of the website. Along with the above mentioned, you will also need to have good knowledge over the basics of Swift and iOS SDK. A proper understanding of using XCode IDE and a strong programming skill would be appreciated.
Even if someone is not skilled in the above mentioned, he/she can catch with some basic tutorials and catch on the skills.
Parallax Training – FAQ's
---
Is this course on Parallax for working professionals or do we have to attend the course from a specified location?
This Parallax Training is an online course, and it is self-paced. Any working professional can take up this course from anywhere and proceed with its own pace. The instructors are well experienced and have put up the content of the course in such an efficient manner that no one will have any issue understanding it. Also, there is support from the EDUCBA team for any technical support which is present 24×7, therefore in case of any difficulty, a group of people will always be there to support you.
Are there certificates given on completing the course?
Yes, a verifiable certificate will be awarded on the successful completion of the course. The certificate can be issued on completing nearly 70% of the course successfully. This certificate has a unique ID and it will help you to make your resume look stronger and give a better edge than other candidates present at the interview premise.
Is there any specific pre-requisite for enrolling in this Parallax Training?
The requirements are very basic and any individual who is keen to learn about interactive web designs can take this Parallax Training up, it will not be much difficult for someone willing to put in efforts in this department.
Career Benefits
Using a parallax design in your website directs visitors to call to action and builds up a certain level of curiosity and encouragement. Parallax designers are skilled at making engaging and enticing designs for visitors with animation. As a web developer, your website will encourage a longer page visit time owing to the highlights call to actions. The use of parallax emphasizes professionalism and shows a higher level of creativity in your company/organization. Thus, parallax is the new trend that website designers are developing and it is a good skill to keep in your technology stack. With such a large number of companies and organizations opening up, it is mandatory to create the customers with an effective, interactive, and attractive user interface. This is where skills like parallax design come into the picture. Job portals have a large number of openings for people skilled at frontend skills and there is good pay involved too. Frontend developers should take up a course as such from our portal to enhance their skills and land in their dream job.
Reviews
---
Informative Site
I liked the way the course is organized. It was simple and easy to understand. Well planned and organized course content. The course is informative and the duration is just right. Suitable for beginners and those who wish to build their responsive website but don"t know where to begin. It would be good to have a short quiz at the end to test for the learner"s understanding. Looking forward to doing more courses on this platform.
Anto Perosha