New Year '20 Offer TAKE THIS BUNDLE
Mule ESB Tutorial (1 Courses)
1 Online Courses
4+ Hours
Verifiable Certificate of Completion
Lifetime Access
MuleSoft - Mule ESB Training
Offer ends in:
TAKE THIS BUNDLE
What you get
Online Classes
Technical Support
Mobile App Access
Case Studies
Online Mule ESB Tutorial
This Mule ESB Training Certification includes 1 comprehensive Mule ESB tutorial with 4+ hours of video tutorials and Lifetime Access. Through this course you get hands-on experience using Anytime Platform to build API and integrations within Mule ESB.
Mule is a lightweight integration framework and an ESB (Enterprise Service bus) which is provided by MuleSoft. Though the platform is Java-based it is capable of brokering interactions among other platforms such as .NET and sockets or web services. Mule ESB related architecture is scalable and is also a distributed object broker which is capable of handling interactions across legacy systems, transports, protocols and other in house applications.
The design and development tools that are used for supporting this includes Anypoint studio which is an eclipse based GUI development environment used to design, test and running other Mule flows. It consists of two editors for development such as XML editor and Visual editor. The other tools include Anypoint Enterprise Security which is a suite of security features particularly used for secure accesses and transactions done on the Mule applications. Another tool used in this regard is the one Healthcare toolkit which provides the access and capability to process HL7 based standard messages primarily used in all healthcare organizations. Another tool that is used for development and designing purposes is the use of a set of Eclipse plug-ins that are used for deploying, developing and managing Mule based projects.
When it comes to the management supporting tools for Mule ESB Certification, the one that tops it includes the mule management console which is a user interface used to provide run-time management facility for the deployment of mule registry and repositories upon clusters. Another feature integrated with Mule is the cloud solution which is a cloud-based integration platform used to integrate with other apps and establishing a connection within themselves, devices and data with integration connectors as in the one which is responsible to connect with Twitter, platform as a service (PaaS)
Industry Growth Trend
The rapid application development market size is expected to grow from USD 7.8 billion in 2018 to USD 46.2 billion by 2023, at a Compound Annual Growth Rate (CAGR) of 42.9% during the forecast period.
[Source - MarketsandMarkets]
Average Salary
Average Salary
$102,205 per year
The average salary for a Java Developer is $102,205 per year in the United States.
[Source - Indeed]
About Mule ESB Tutorial
| Courses | | No. of Hours |
| --- | --- | --- |
| MuleSoft - Mule ESB Training | | 4h 39m |
---
| | |
| --- | --- |
| Course Name | Online Mule ESB Tutorial |
| Deal | You get access to all the videos tutorials for the lifetime |
| Hours | 4+ Video Hours |
| Core Coverage | You get hands-on experience using Anytime Platform to build API and integrations. |
| Course Validity | Lifetime Access |
| Eligibility | Anyone who is serious about learning Mule ESB and its application |
| Pre-Requisites | Basic knowledge about Java would be preferable |
| What do you get? | Certificate of Completion for the course |
| Certification Type | Course Completion Certificates |
| Verifiable Certificates? | Yes, you get verifiable certificates for each course with a unique link. These link can be included in your Resume/Linkedin profile to showcase your enhanced skills |
| Type of Training | Video Course – Self Paced Learning |
| Software Required | None |
| System Requirement | 1 GB RAM or higher |
| Other Requirement | Speaker / Headphone |
Mule ESB Tutorial Curriculum
---
In this section, each module of the Mule ESB Certification Course is explained.
| | | |
| --- | --- | --- |
| Course Name | No. of Hours | Course Description |
| MuleSoft – Mule ESB Training | 4 | Mule is a runtime engine of the Anypoint platform which is a lightweight Java enterprise-based service bus and an integration platform that is used to connect developers together and to connect to applications together easily and quickly thereby enabling them to exchange the data. This training is meant for somebody who is interested to get some hands-on experience by making use of some Anypoint Platform which can be used to build platforms and APIs. The training talks about all the essential topics in which one should know if he is interested to work on MuleSoft ESB. This training includes an introduction to Mule, Introduction to Anypoint platform and studio and how to create a basic mule app. This Mule ESB tutorial also teaches you about how to give a description for various connectors and the one related to Mule runtime. It also targets basic mule concepts such as the ones related to filters, messages, expressions, etc. |
---
Mule ESB Tutorial – Certificate of Completion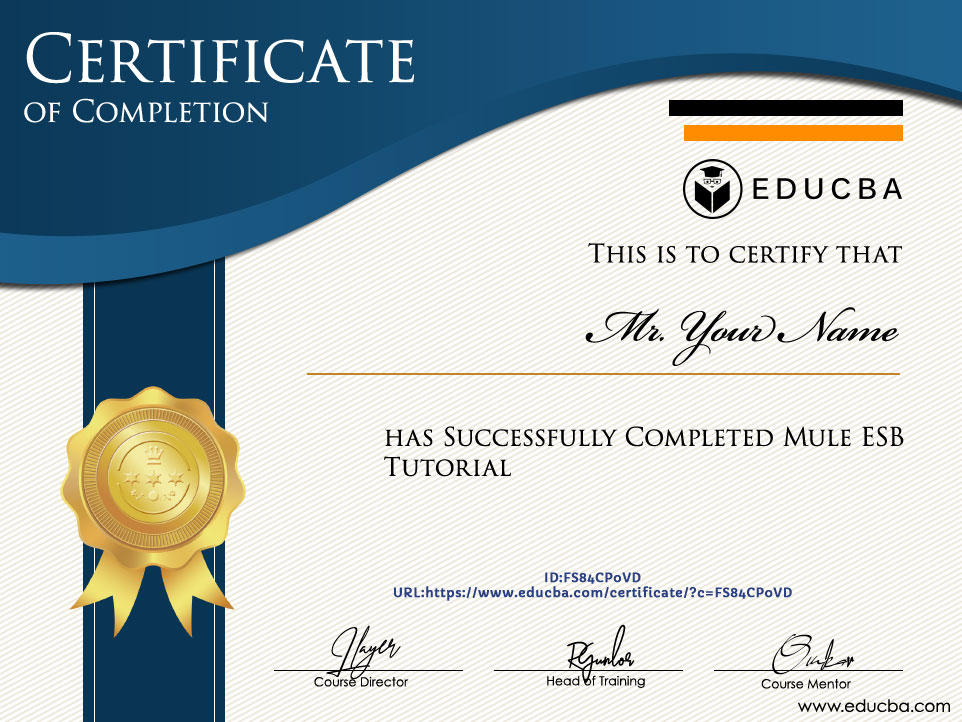 ---
What is Mule ESB?
Mule is a runtime engine based on the Anypoint platform which is a lightweight Java-based enterprise service bus (ESB) and integration hub platform which allows developers to connect all the developers of an entire community to connect applications together easily and quickly, thereby enabling them to be able to exchange data. It is used to enable the easy integration of existing systems, irrespective of the different technologies it is using and is being used by the applications which include JMS, JDBC, Web services, HTTP and more. The main advantages of these ESBs are that they can be deployed anywhere, can orchestrate and integrate events in real-time or in any batch kind of an environment. It also has universal connectivity.  One of the other key advantages of an ESB is that it makes sure that different applications can be allowed to establish communication between each other by acting as a transit system that is used to carry data between applications within the enterprise or across the internet.
Mule has powerful capabilities that include features like service creation and hosting which is used to host reusable services, by making use of ESB as a lightweight container. Other capabilities included are service mediation which involves shield services from the message protocols and formats and separates business logic from messaging. It is also used to enable location-independent service calls and other features such as message routing which is used to filter, route, aggregate, and re-sequence all the messages which are based on content and rules. Other features include data transformation which involves data exchange across varying transport protocols and formats.
Which tangible skills you will learn in this Course?
---
The Mule ESB will be responsible to provide a huge range of development-related skillsets as it consists of the components also required by the infrastructure team resources such as Enterprise service buses which are being replaced by many newer technologies today. This includes skillset related to java programming development in order to communicate with the enterprise buses and other integration platform related modules.  This language is also used as a medium to develop and connect with the huge number of APIs being consumed by that particular application and also to integrate among other components within itself.  The other skillset enhanced also includes mule related concepts such as the ones related to filters, messages, expressions, etc. This Mule ESB Certification will also enhance your skill set related to the various connectors being used along with mule. It will also provide additional features related to the Anypoint studio and Platform.
Pre-requisites
Every tool or a language has some pre-defined set of pre-requisites which are a must in order to start learning that tool. Without completing these pre-requisites, it becomes very difficult to pursue the course. The pre-requisites for Mule ESB Tutorial includes knowing Java language or any other object-oriented programming language. The other pre-requisites which are necessary for this Mule ESB Tutorial to begin is the basic knowledge of XML, JSON, HTML, REST, JDBC, SOAP, etc. are also required. The person willing to opt for this Mule ESB Certification should be passionate and interested enough to be able to continue with the course and be able to practice regularly going forward.
Target Audience
The primary audience which forms the target of Mule ESB Tutorial is the
, software engineers, Web architects, web developers, backend developers, consultants, analysts, web app designers, API developers, API tester, manual tester, automation tester, functional tester. Apart from the professional's people who can get benefitted from this Mule ESB Tutorial include entrepreneurs who are willing to start something of their own and students who are working on some kind of college assignment or project and need to build something of their own. This can be beneficial for anybody who comes to learn the course with the right mindset and with a level of perseverance.
Mule ESB Tutorial – FAQ's
---
I belong to an electronics and communication background. I have learning in VLSI and embedded programming but I am new to ESBs or any other object-oriented programming language. Should I be taking this course?
The course crafted at EDUCBA takes into consideration all the people pouring in from various backgrounds and still be able to cope up with the course material. You do not have any experience or background related to computer programming, so this can be quite challenging but not impossible as you still do have a good experience of VLSI and embedded programming. This course is meant to benefit everybody who has some level of interest in Mule ESB training and most importantly has a purpose behind it. So, in a nutshell, go for this Mule ESB Training.
Do I need to keep practicing the contents being taught in this Mule ESB Tutorial or is it a one-off thing?
The course contents are designed in such a way it consists of a perfectly mixed blend of theoretical concepts and programming part. The former can be considered to be a one-off thing as it is just about building the fundamentals and the theory of the Mule ESB Tutorial whereas the latter targets the programming part which is therefore recommended to be practiced at regular intervals so as to not lose touch of it. Apart from this, Java development or for any other object-oriented language in this matter consists of frequent releases which come along with different patches and features. Lack of practice and discontinuity with the course can make you outdated which you would definitely not want, provided you are targeting something related to information technology.
Sample Preview
---
Career Benefits
The career benefits of the training are huge as this consists of development work, along with other tasks such as API and IT related. Vast knowledge about the backend systems is also required therefore working as a backend developer or a software developer or a software engineer can be among the most common approaches for somebody who is looking to make their way in this Mule ESB training.
Reviews
---
Great Chapter
It was a wonderful course, it teaches how to manage Mule ESB and also its application perfectly. Very detailed and amazing.
Geroge Prado
Recommended
The way of explaining is extremely good with sufficient examples which makes the learning more interesting. If you really want to learn and to feel great experience of learning you must enroll to educba it paves the way of your learning journey. My experience of learning was really joyful. Highly recommended Mule ESB Training Certification.
Leo Remels
Amazing
I am so glad I did the Mule ESB Tutorial. As usual, eduCBA.com did not disappoint me. Although I did this before from an expensive vendor, I needed a refresher for a job interview and I got a better course than the expensive one! I think eduCBA.com courses are the best value for money!
Bart McFarland