New Year '20 Offer TAKE THIS BUNDLE
MongoDB Training Program (4 Courses, 2+ Projects)
4 Online Courses
2 Hands-on Projects
22+ Hours
Verifiable Certificate of Completion
Lifetime Access
Introduction to MongoDB Courses For Beginners
NoSQL Course Training- MongoDB Developer
Project - Movie App on Node JS and MongoDB
Offer ends in:
TAKE THIS BUNDLE
What you get
Online Classes
Technical Support
Mobile App Access
Case Studies
Online MongoDB Certification Course
This MongoDB Training Certification includes 4 comprehensive MongoDB Courses, 2 Projects with 22+ hours of video tutorials and Lifetime Access. You get to learn NoSQL data model, managing database through MongoDB, data modeling, Cassandra administration, web development using Node JS and Mongo DB from scratch to advanced level.
In the current period, regardless of where the data has been produced, it's significant in number and too much complex. In enterprises, the crucial user's data is required to be processed to make a business decision. If we talk about the Internet, social media produces millions and millions of data every day. Have you ever thought how those data have been processed to transform them into useful information? Well, if that yes, you will get your answer here and if that's no, let's think about it now. It's very interesting!
In this MongoDB Certification course, we are going to learn about the technology that makes it very easy for the system owners or administrators to handle huge sum of data. In the traditional way, we were using MySQL to store and process data but now NoSQL has taken over due to its simplicity to work with complex data. Here we will be learning the very important classification of NoSQL, called MongoDB. Below is the quick brief of the topics that we will be learning through this course.
Industry Growth Trend
The hadoop big data analytics market is projected to grow from USD 6.71 Billion in 2016 to USD 40.69 Billion by 2021, at a CAGR of 43.4% between 2016 and 2021.
[Source - MarketsandMarkets]
Average Salary
Average Salary
$93,452 per year
The average salary for a Database Administrator is $93,452 per year in the United States.
[Source - Indeed]
About MongoDB Certification Course
| Courses | | No. of Hours |
| --- | --- | --- |
| NoSQL Fundamentals | | 2h 04m |
| MongoDB | | 3h 36m |
| Introduction to MongoDB Courses For Beginners | | 1h 1m |
| NoSQL Course Training- MongoDB Developer | | 4h 46m |
| Project - Movie App on Node JS and MongoDB | | 8h 53m |
| Project on Golang and MongoDB - Creating Rest API | | 1h 57m |
---
| | |
| --- | --- |
| Course Name | Online MongoDB Training Certification |
| Deal | You get access to all 4 courses, 2 Projects bundle. You do not need to purchase each course separately. |
| Hours | 22+ Video Hours |
| Core Coverage | NoSQL data model, managing database through MongoDB, data modeling, Cassandra administration from scratch to advanced level |
| Course Validity | Lifetime Access |
| Eligibility | Anyone who is serious about learning Database Management and wants to make a career in this Field |
| Pre-Requisites | Basic knowledge about Database Management would be preferable |
| What do you get? | Certificate of Completion for each of the 4 courses, 2 Projects |
| Certification Type | Course Completion Certificates |
| Verifiable Certificates? | Yes, you get verifiable certificates for each course with a unique link. These link can be included in your Resume/Linkedin profile to showcase your enhanced skills |
| Type of Training | Video Course – Self Paced Learning |
| Software Required | None |
| System Requirement | 1 GB RAM or higher |
| Other Requirement | Speaker / Headphone |
MongoDB Certification Curriculum
---
In this section, each module of the MongoDB Training Course is explained.
| | | | |
| --- | --- | --- | --- |
| Serial Number | Course Name | Time Required | Course Description |
| 1 | NoSQL Fundamentals | 2h 04m | In this MongoDB Certification module, you will be learning about the new approach of handling large data called NoSQL. The unit will start with an explanation of the database and its working. It will give you a closer view of the plus point of NoSQL over the traditional way of processing data. There will be some of the new terms that are frequently used in NoSQL, those jargons will be explained to you which will help you in the advanced lessons. All the topics will be covered up with the help of examples that illustrate the actual working of NoSQL. In this two hour-long video, the educator will show you how things are implemented step by step so that you can learn the topics in an easy way. |
| 2 | MongoDB | 3h 36m | This MongoDB Certification unit has been developed to introduce you to the fundamental of MongoDB. You will be learning how MongoDB works, what are MongoDB advantages over MySQL, how it makes data handling easy and so on. We will be focusing on several types of documents that hold the unstructured data that are further used for processing using MongoDB. In this unit, we have included illustrations with every topic to give exposure to how it actually works. Some of the examples at the end of the MongoDB Certification course are quite complex so that you can get the insight of working with data that are not easy to handle. By the end of this unit, you will be able to understand the problem that could be solved using MongoDB and you will also be able to draft a solution for those problems. |
| 3 | Introduction to MongoDB Courses For Beginners | 1h 14m | This MongoDB Certification course especially focuses on practical examples rather than the theory part. All the examples are chosen appropriately for the folks who are new to MongoDB. It will show you the workflow and approach that are used to implement MongoDB. The jargon that one had studied in the last unit will be used herein the examples. Some of the examples are just to give you insight into how it works, while some are drafted to resolve the real-life problem that usually resolved in the enterprises to create value for the clients. In the mid of this tutorial, there will be some quick explanation on multiple examples and by the end, you will be all set to jump into the court where you will be working with complex examples. |
| 4 | NoSQL Course Training- MongoDB Developer | 4h 46m | This MongoDB training module is actually a boot camp on NoSQL which will bring you the awesome skill to work in MongoDB. In this module, the mainly focused part is MongoDB and you will be trained on it so the same way a MongoDB developer gets the training. It is almost five hours long video tutorial where an educator will be explaining to you everything about MongoDB that is required by a developer who works in this technology. It contains submodules and each of them will be explained in an efficient way to give you real exposure to working with NoSQL. You will be learning the statement writing, document types that store the unstructured data and topics like this in this module. |
| 5 | Web Development using Node JS and MongoDB | 8h 53m | In this MongoDB Certification unit, you will learn about the actual requirement of MongoDB in the real world. You will be developing an application through this unit that actually solves the real-life problem. The important part of this unit is, you will be working on different technologies to develop the web application. In addition to working with MongoDB, you will also need to work with Node JS. The educator will give you an idea about working with Node JS. Though it won't be deep detailing in Node JS, you will get ample knowledge of that also. By the end of this section, you will be a MongoDB developer who has an idea about working with Node JS as well that results in making the professional a multi-technology savvy. |
---
MongoDB Course – Certificate of Completion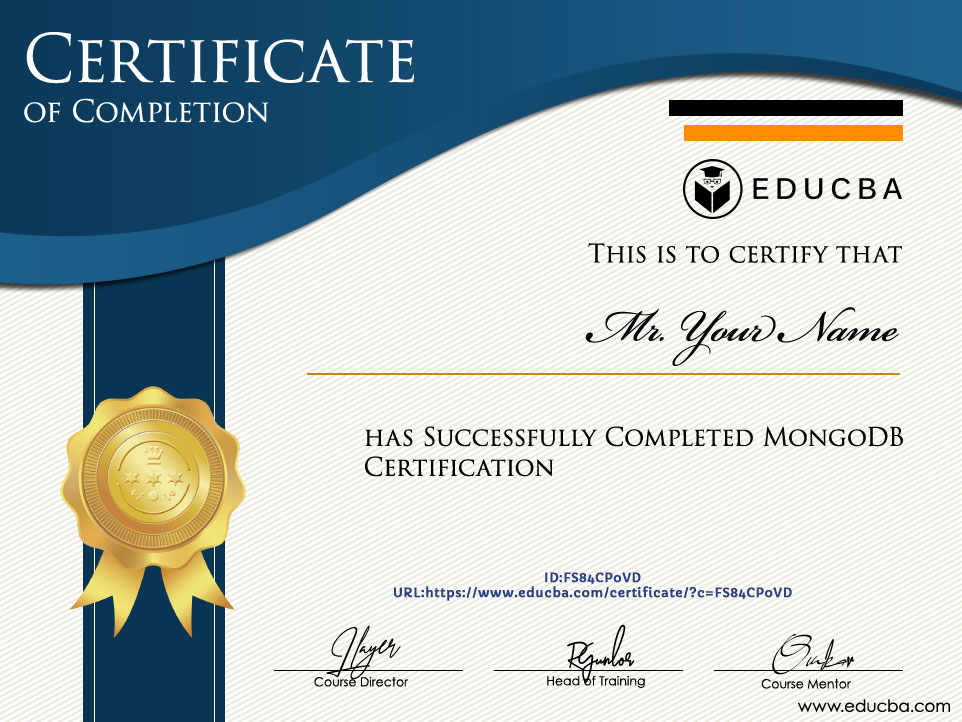 ---
What is MongoDB?
MongoDB can be defined as the database management system that is capable to process significant unstructured data exist in various MIME type. MongoDB has taken over the traditional approach of working with data which was introduced by MySQL. MongoDB is a classification of NoSQL that is considered very fast while working with lots of data. In the modern web applications, NoSQL has been preferred over MySQL. It has several advantages over another mode to process data.
MongoDB could also be explained as the management system that comprises the database and SQL that allows one to interact with the database. It is very important to know that the main reason for introducing MongoDB is due to the requirement of efficient data handling. It works with data that are not kept in tabular form. It is very efficient in nature and helps large organizations to work with the huge data that they generate on an everyday basis. It is developed by MongoDB Inc. It is considered fast as compared to MySQL as it processes the queries in a different manner.
Which tangible skills will you learn in this MongoDB Certification?
In this tutorial, you will be transformed into a MongoDB developer who has all the hands-on skills of working with the large sum of significant data. It is important to know that rather than merely making you familiar with the concepts of MongoDB, this course enrolls you to actually work with it so that you can get real work exposure and can be job-ready right after on finishes this MongoDB Certification. There are several examples included in every section of this entire tutorial to make you aware of how things working in various cases.
You will be learning how to introduce MongoDB in real usage to solve the complex business problems where data can be a savior. Working with MongoDB, which is a classification of NoSQL is all about working with significant, complex and significant data that is treated as the raw material to produce useful information. You will be able to participate in web application development where you will be responsible for handling things in the backend. You will learn several aspects of MongoDB throughout the course.
Though it may sound pretty same with MySQL due to the common function there is a huge difference in both of them and you will realize it at the end of the MongoDB Certification course. In all the sections, the educators had made sure to explain each and everything very sharply so that the learner can understand or grab things at the earliest to save them a lot of time for self-practice. Overall, you will be a complete package as a web developer, who knows how to work with the backend as well.
Pre-requisites
To learn NoSQL you should need some basic understanding of backend. You should be aware of the terms like database, data processing and how things work in behind when a query runs in the system to get some specific output. It might be okay if you don't have much idea about these terminologies, but you have to make sure that you should go through all these before beginning to learn MongoDB.

You will be supposed to know structured query language which is the basic language to work with the backend in order to fetch the desired data. Though it has a huge difference in the way NoSQL process the query as compared to MySQL, by the end there must be some query running in behind. So you must have good knowledge of SQL so that you can understand the process going on in the back of the backend.
Target Audience
We generally consider the best target audience to them who are really curious to learn new techniques to get the edge in their professional career. But if it comes to talking about the target audience, we suggest a specific type of professional and student who should take leverage of MongoDB by learning and implementing it.

The IT professionals who have experience in working with MySQL and want to switch to NoSQL due to its increasing demand can be the best target audience for this MongoDB Certification course. They will learn the skills which will make them ample ability to work in the web development team who are using NoSQL in their backend. This MongoDB Certification also explains Node JS in the last module, so going through that will also make one good with working on web development.

The students who are yet to decide the technology on which they want to grow their careers but are sure about working in backend technology can be the target audience for this MongoDB Certification. They can strengthen their skill in MongoDB which will help them in Web development. Companies these days prefer to select the students for their job role in web development who has knowledge of working with NoSQL backend.
MongoDB Course – FAQ's
---
Why should one learn MongoDB?
As we already discussed in the previous sections that the applications these days have to be capable to handle or work with abundant unstructured data, most of the databases are migrating from MySQL to NoSQL which ensures huge opportunity in near future. It is the new technology over the traditional one and hence the most preferred one as well.
How long I will take to learn this MongoDB Certification Course?
If you are very new to the backend technology than you might take two to three months to learn this while if you are an IT professionals having hands-on experience in MySQL or SQL, you will be able to learn it by one month. It totally depends on you and your tendency to learn but anyhow taking the average of one and a half months, you will be able to understand the concepts and can begin working on it.
Sample Preview
---
Career Benefits
If we take about MongoDB, be informed that most of the organization is option it or preferring it over the traditional database management system. Though there are already a lot of requirements of MongoDB developers in the market, the count of vacancies will grow in the upcoming near future. Not only the enterprises but the government is also running some of their projects that demand people with MongoDB skills.

The very good part about this MongoDB Training Certification is, you are not merely learning the MongoDB. You will also get to know about Node JS which is frequently used in web development to run JavaScript code in server side and we all know one thing, that is, the much we know, the much we will be attracting large organization towards ourselves. This MongoDB Certification training will give your career an edge if you are already working in the backend or can give you a fantastic kick start if you are looking to become a MongoDB developer. Last but not least, you will also be opening the door of opportunity for yourself for the topmost IT companies who expect anything from a professional but definitely a MongoDB cognizant.
Course Reviews
---
Helpful Courses!
I am glad I chose this method of learning this material. This feedback is my journey with educba site and its course.Very detailed and in depth information, each topic was explained properly by the tutor. I liked the course a lot. The videos and slides were great and I'm sure the knowledge which I have got through this course is going to help me over the rest of my career.
Linked
Shaurya Bhagat
MongoDB basic
Very nice course, short and full of information, gives enough information for anybody who wants to start working with MongoDB. Pronunciation of the lecturer is very good and there is absolutely no problem to understand him. Fusion of theory and examples at the same time is very fresh and it is helping to learn things fast.
Marko Žbirka
Very Nice Course
The course covered all basics to advanced level of Mongo DB, It describes briefly about each topic of the course including example of each commands, Also each command has been explained in detail. The course is highly recommended to others and I must say, Instructor is very knowledgeable.
Syed Obaid Ullah Hussani
NoSQL – MongoDB Developer course
A good start to understanding how to use MongoDB. The course briefly explains the difference between NoSQL, SQL and CQL. The course also explains how MongoDB handles big data, disaster recovery and how to test for performance. There is also a section on Cassandra including data modeling and how to administer the database. There is also a good explanation for how MongoDB handles replication and sharing within the database.
Linked
Jeff Hackney
Comprehensive MongoDB Training
This programming has great importance corporate arena …its usage is growing at rapid pace .educba has taught this program tremendously .from very scratch they started and very height, to the benchmark of working corporate level they have taken us altogether. I must appreciate the endevour they are putting in creation of such useful videos. Keep us updating with recent technology software change ..thanks educba
Ashutosh Kumar