$99$29965% Off TAKE THIS BUNDLE
Mean Stack Course
7 Online Courses
27+ Hours
Verifiable Certificate of Completion
Lifetime Access
MEAN Stack Development

2h 18m

NoSQL Fundamentals

2h 04m

Web Development using Node JS and MongoDB

8h 53m
Offer ends in:
$99
$29965% Off
TAKE THIS BUNDLE
Skills you will master
NoSQL
MongoDB
Web Development
Node JS
Triple and Graph Store
Hybrid NoSQL Databases
Choosing ACID or BASE
Semantics
Versioning Data
CAP Theroem
ACID BASE
Data Model
CRUD
Inserting Queries
Search Queries
Sorting Queries
Limiting Queriers
Updating Queries
Deleting Queries
NoSQL Data Model
Online Mean Stack Course
This Mean Stack Training Certification includes 7  comprehensive Mean Stack Courses with 27+ hours of video tutorials and Lifetime Access. You get to learn a complete full-stack application development toolkit i.e. MongoDB, Express.js, AngularJS, NodeJS, NOSQL
When your intention is to build an application from scratch with consistency and standardized output you should opt for a relatively new stack i.e. MEAN.
MEAN stands for MongoDB, Express.js, AngularJS, and NodeJS. MEAN is all in one approach perfectly suited for cloud-ready applications. Below follows some crucial concerns of choosing MEAN over others (like LAMP and Ruby on Rails)
Scalable application optimized for cloud deployment
Single language approach across entire application development
Deployment with built-in web-server
Huge data management requirement with MongoDB flexibility
So, MEAN being the latest trend in the market for JavaScript developers. It has the potential to handle client and server code writings in JavaScript with open source flexibility. It is very easy to learn with huge career growth opportunities.
About Mean Stack Certification Course
---
| | | |
| --- | --- | --- |
| Course Name | | Online Mean Stack Certification Course |
| Deal | | You get access to all 7 courses bundle. You do not need to purchase each course separately. |
| Hours | | 27+ Video Hours |
| Core Coverage | | Learn how to build web applications using the MEAN stack. |
| Course Validity | | Lifetime Access |
| Eligibility | | Anyone who is serious about learning web development and wants to make a career in this Field |
| Pre-Requisites | | Basic knowledge about programming and web development would be preferable |
| What do you get? | | Certificate of Completion for each of the 7 courses |
| Certification Type | | Course Completion Certificates |
| Verifiable Certificates? | | Yes, you get verifiable certificates for each course with a unique link. These link can be included in your Resume/Linkedin profile to showcase your enhanced skills |
| Type of Training | | Video Course – Self Paced Learning |
| Software Required | | None |
| System Requirement | | 1 GB RAM or higher |
| Other Requirement | | Speaker / Headphone |
Mean Stack Course Curriculum
---
In this section, each module of the Mean Stack Certification Course is explained.
| | | | |
| --- | --- | --- | --- |
| Sr. No. | Course Name | No. of Hours | Course Description |
| 1 | MEAN Stack Development | 2 | This Mean Stack Course module is intended to provide the candidates with a detailed understanding covering the introduction, installation, Javascript, HTML, and CSS. Node.JS scripting and MongoDB basic to advance learning curve. |
| 2 | NoSQL Fundamental | 2 | These Mean Stack Course Videos are intended to provide the candidates with a detailed understanding covering the introduction, Database designing terminology, NoSQL understanding from scratch with common scenarios |
| 3 | MongoDB | 3 | Here this module provides a detailed understanding of MongoDB with introduction part, Array, lock & unlock features, creating & restoring backup features explanation. |
| 4 | Web Development using NodeJS and MongoDB | 9 | This Mean Stack Course module will provide introduction and installation understanding. Movie implementation from scratch, data editing, and deletion mechanism. The tutorials also focus on the image upload, data edit, data validation, front view, add-edit menu and count review topics in detail. |
| 5 | ExpressJS | 4 | Here we learn the Express JS introduction & setup process. Role of routers and URL building, express JS templating, static files understanding, video lecture for cookie parser, authentication and REST parser in detail. |
| 6 | AngularJS | 3 | In this Mean Stack training module, we cover introduction, basic to advance learning with Angular JS, fundamental building curve, a detail discussion regarding the application architecture and debugging understanding. |
| 7 | NodeJS | 4 | We will learn Node.JS framework, concepts behind its working, event loops, callbacks, buffers, streams, and filesystem are the key highlights of the course. |
---
Mean Stack Course – Certificate of Completion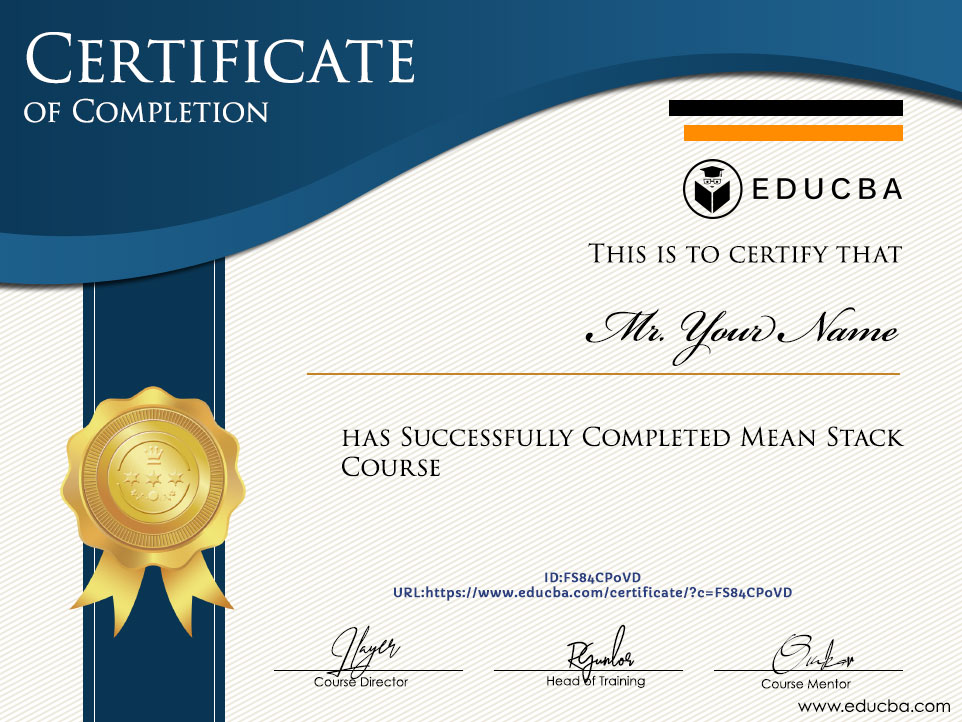 ---
What is Mean Stack?
MEAN is a free and open source resource well suited for building dynamic websites and web applications. MEAN technology assembles these JavaScript technologies altogether for the development of web application.  The combination of MEAN helps in developing a more modern and robust web application and it also allows using the same code in the server and client side. MEAN reduces the development cost and time for the organization.
What tangible skills you will learn in this Course?
With our MEAN stack course, we can assure our candidates to gain an astonishing command on several skills. From languages (server, client-side) to scripting and from databases to data modeling techniques and the list continues. There are several inter-related skills built into the highlighted one. Below we have listed them in details –
NoSQL and NoSQL Data Model
Mongo DB
MEAN stack development
Web development
Node JS, Express JS, and Angular JS
Semantics understanding
CRUD
Queries(search, sort, updating, Deleting, limiting)
Data and buffer models
Application deployment
Streams (piping and chaining)
REPL
HTTP server creation
Frameworks
Prerequisites
---
Before you begin the course we have listed out some crucial things for our candidates to consider. These are intended to boost the candidates before they take the course.
Basic understanding of computer and internet
Basic understanding of software
A passion from within and interest in learning new technologies
A desire to learn to code
Passion to learn insurance and new terminologies
Basic understanding of RESTful API's, HTML, JSON formats, JavaScript, and CSS
If you are a graduate from legal, medical and management background
Willingness to learn new technologies
Someone who is looking to make their career in the IT industry
Target Audience
---
The MEAN stack course series is applicable to a wide range of peoples. Let us see how and what professional can look up to the course.
Freshers: Freshers and degree students comprise one of the most crucial segments who can look at the MEAN stack course. If you are a degree student this Mean Stack Training Certification can benefit you in a number of ways, you will get a complete understanding of MEAN and JavaScript work. This knowledge is very vital for degree students in their semester and also we would say to invest in your career well in advance. This technology is one of the hot buzzes in the IT industry and the earlier you invest the better result you can consider. Freshers who have cleared their degree course and now planning t make their career in the IT industry are also a prime segment for our course. A concrete foundation is very necessary to build a professional career. We have designed this Mean Stack Training Certification keeping parameters in mind that will be helpful in easy understanding and relatable teachings.
Experienced: if you belong to the category of experienced professional, then the course is all you need to advance your career. Either you want to advance in MEAN or someone who is looking to change and make their career in MEAN development. This Mean Stack Training Certification is perfectly suited for you guys. The course has several skills brought together into one complete package with instructors having huge industry experience.
Mean Stack Course – FAQ's
---
Why MEAN Stack?
As we have said the MEAN technology is widely used and has a huge demand in the IT industry. Also, the MEAN course has several related technologies associated which are going to very helpful for candidates interested. You will get a set of four integrated courses along with MEAN – i.e. MongoDB, ExpressJS, AngularJS, and Node.JS altogether for JavaScript application.
Do I need to be a programmer to take this MEAN course?
No. We have designed this Mean Stack Training Certification keeping freshers and degree students in mind. Thanks to highly qualified instructors, you do not need to be a programmer but you must be someone who loves and enjoys programming as though the MEAN course has lots of programming work.
But I am an experienced programmer; will this Mean Stack Training be too simple or basic for me?
If you are an experienced programmer, GREAT! The foundation course will empower your basics or fundamentals with a delightful journey. But the training session has an advanced section also built into it. The advance session deal into more complex development considering different scenarios like databases, languages, API's and so on. The good thing after the training session is the experienced guys will get a more dynamic look and approach to the topic discussed.
What value addition does a candidate receive apart from training?
The list is big enough, and we feel great pride as we are providing a most sought after course at a very affordable price. After you enroll for the MEAN stack course you will be entitled to have the following benefits –
A certification on Completion
Lifetime access to the course and resources
A price that is unmatched in across industry
Highly qualified industry experts
Online accessibility
Career Benefits
---
As a registered user to our MEAN stack course, the candidates get several benefits you will be eligible to apply for a wide variety of jobs and roles across the IT industry. Let's see them in brief –
Data Analyst
JS developer
JavaScript UI developer
JS developer
Software developer
Web Designer
Front end developer
MSBI developer
Consultants
Team Lead
SQL server data administrator
Database architect
Java Developer
Apart from the various job roles, the candidates will be entitled to get a great salary. Let's see them –
The average MEAN stack developer salary is from $90,148 per year.