New Year '20 Offer TAKE THIS BUNDLE
Maven Training (4 Courses, 6+ Projects)
4 Online Courses
6 Hands-on Project
26+ Hours
Verifiable Certificate of Completion
Lifetime Access
Java Build Tools - MAVEN and ANT
TestNG with Apache Ant and Maven
Project on SpringBoot - Appointment Management System
Offer ends in:
TAKE THIS BUNDLE
What you get
Online Classes
Technical Support
Mobile App Access
Case Studies
Online Maven Training Course
This Online Maven Training Certification includes 4 comprehensive Maven Courses, 6 Projects with 26+ hours of video tutorials and Lifetime Access. You get to learn automated Java build tools such as XML, ANT, MAVEN from scratch.
In the conventional way of application development, the entire code was required to be written manually by the developers. Writing the code for any application from scratch leads to consuming much time and eventually delays the deployment. Due to this, it was required to bring any tool in use that can help in the quick development of by providing the platform for automatic development of software. And here is exactly the point where Maven comes in.
There are several tools or software out in the market that helps in the development of application and Maven is one among them. It is the kind of tool that makes the task easy for the developer and also helps the project to get completed within the specified time. It is the tool that has overcome the drawback of the traditional approach of application development.
Industry Growth Trend
The rapid application development market size is expected to grow from USD 7.8 billion in 2018 to USD 46.2 billion by 2023, at a Compound Annual Growth Rate (CAGR) of 42.9% during the forecast period.
[Source - MarketsandMarkets]
Average Salary
Average Salary
$99,512 per year
The average salary for a Software Test Engineer is $99,512 per year in the United States. Salary estimates are based on 2,847 salaries. The typical tenure for a Software Test Engineer is 1-3 years.
[Source - Indeed]
About Maven Certification Course
| Courses | | No. of Hours |
| --- | --- | --- |
| Java Build Tools - MAVEN and ANT | | 7h 13m |
| Selenium:03 - TestNG with Apache Ant and Maven | | 1h 7m |
| Maven | | 1h 49m |
| Project on Maven | | 1h 25m |
| Project on Maven - Call Web Apps | | 2h 35m |
| Project on SpringBoot - Appointment Management System | | 2h 13m |
| Project on Jenkins - Employee Management System | | 1h 54m |
| Java New Version Features (Java 8, 9 and 12) | | 3h 05m |
| Java Project - Student Management System | | 2h 21m |
| Project on Java and Hibernate - Employee Management System | | 2h 38m |
---
| | |
| --- | --- |
| Course Name | Online Maven Certification Course |
| Deal | You get access to all 4 courses, 6 Projects bundle. You do not need to purchase each course separately. |
| Hours | 26+ Video Hours |
| Core Coverage | You get to learn automated Java build tools such as XML, ANT, MAVEN. |
| Course Validity | Lifetime Access |
| Eligibility | Anyone who is serious about learning Java Build Tools |
| Pre-Requisites | Basic knowledge about Java would be preferable |
| What do you get? | Certificate of Completion for each of the 4 courses, 6 Projects |
| Certification Type | Course Completion Certificates |
| Verifiable Certificates? | Yes, you get verifiable certificates for each course with a unique link. These link can be included in your resume/Linkedin profile to showcase your enhanced skills |
| Type of Training | Video Course – Self Paced Learning |
| Software Required | None |
| System Requirement | 1 GB RAM or higher |
| Other Requirement | Speaker / Headphone |
---
Maven Training Curriculum
---
In this section, each module of the Maven Certification Course is explained.
| | | | |
| --- | --- | --- | --- |
| Sr.No. | Course Name  | No. of Hours | Description |
| 1 | Java Build Tools – MAVEN and ANT | 7 | In the first unit of this Maven training course, you will be getting the introduction of everything that falls under the list of Maven or concerned to it anyway. You will get to know what Java build tools is and how the reason for the existence of Maven and Ant. In the first hour of this course, the educator will explain you details about the jargons that are used in Maven so that you will be able to understand the concepts that urge the jargon to demonstrate the accurate meaning. This unit has been supported with several examples that have been selected carefully to give you hands-on experience on Maven and Ant. The complexity of the examples will be increasing with time and eventually, there will be the main example that will solve almost all of the common doubts related to this. |
| 2 | TestNG with Apache Ant and Maven | 1 | After the first Maven training, you will start diving deep into Maven. In this section, you will be trained on TestNG with Apache Ant and Maven. There will be some of the new concepts that you might be listening for the first time so that lesson will begin with a quick brief on those concepts. You will be learning how to use the Apache Ant and Maven by the help of live examples. As this unit needs a lot of hands-on practice, you will be supposed to practice this along with the educator. Similar to the first unit, there will be some examples that are kept to make things clear to you and to make you feel how you have to work with it in the real work environment. It is very important to understand this unit is less about the theory and much about checking how Maven could be leveraged in the production environment to solve the development problems. |
| 3 | Maven | 2 | This is going to be the last Maven training certification and after the completion of this unit, you will be able to work with Maven even in the production environment. It is going to be an approx two hours video where the entire focus has been given to solving the real-time problems in an efficient way. In order to get hands-on experience, it is very important to see how it could be actually used rather than just mastering the theoretical part and it is what we have kept in mind before developing this section. All the examples in this unit have been selected very carefully so that it could cover the entire topics that fall under the reach of Maven. Right after completing this section, you will be able to use this tool in application development. |
Maven Training – Certificate of Completion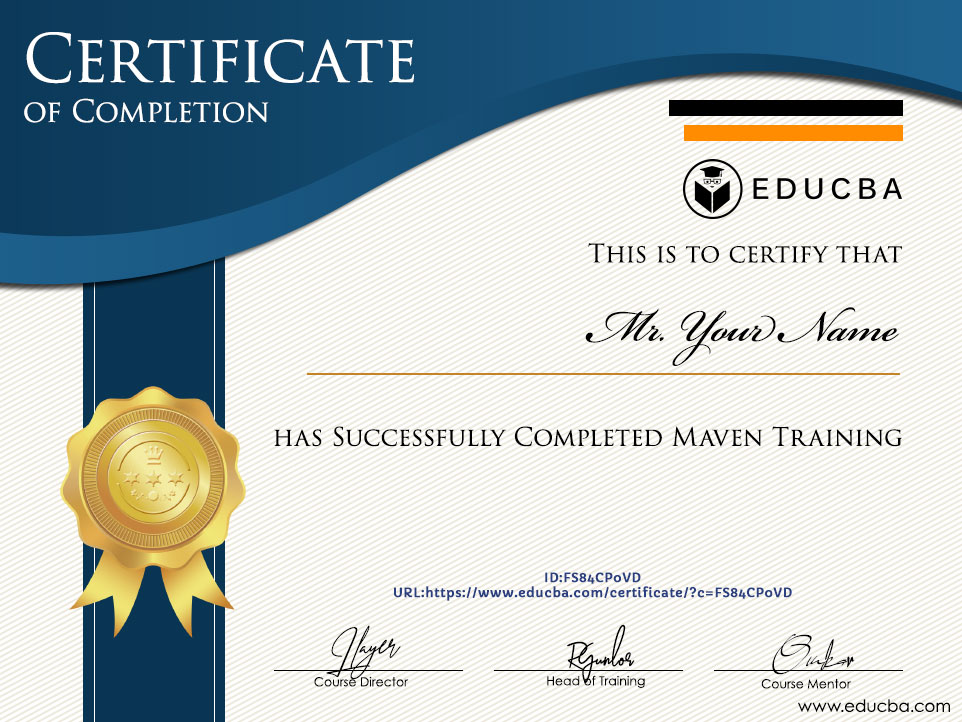 What is Maven?
Maven may be defined as a tool that is used to automate the development of any Java-based application or software. It is the reason that replaced the traditional approach of programming that was time-consuming with the modern approach that leads to the rapid development of the application. It is comprised of several libraries that are fetched from the repository online. The libraries have several pre-build functionalities that can be leveraged in the automation of the development. It is very simple to use and can be learned quickly. The developers find it very convenient to work with Maven as it lets them save huge time that they can devote to develop logic while developing the complex application.
It may also be defined as one of the tools that are used to work with Java codes in order to make the application development rapid and efficient. The libraries can be updated online and can be used further with ease to bring more and more functionality to the application. It is also important to understand that as it works with Java only, it won't be used to develop an application that is developed using another program. It leads to the saving of time and that is the primary reason for its existence.
What skills will you learn from this course?
The main purpose of this Maven certification to train you on how to work with Maven in order to make the development phase easy for the developers. One who opts this Maven training course will get very close exposure to how the automation techniques could be used in the quick development of the application. You will learn how to code and how to use the predefined methods and statements in order to develop the application. You will be getting exposure to how to actually work with Marven so that you can be job reach right after the completion of this Maven training course. In addition to these, you will also learn several new things about the manual code writing. So in a nutshell, you will learn almost everything about software development.
Pre-requisites
In order to learn more, there are some of the things that you should be aware of. As Marven is all about using the automation to develop the Java-based application, you will be supposed to have a basic idea about Java. It is something like mandatory to know the working of Java and all its fundamental so that you can find it easy to work with libraries and all. Though it will need to require for you to write lots of code manually, you should be aware of Java fundamentals. In addition to Java, you should know how the tool works in order to fetch the newly built libraries from the repository so that you can feel comfortable while working with it. To make things easy for you, we have given ample brief about the prerequisite before beginning the actual course.
Target Audience
Anyone who is willing to learn Maven can be the audience for this Maven training course. Mainly this has been designed and developed by taking care of the needs of students and professionals. For the folks who are working in Java development
since years will find it very informative and will be able to use it after completing the Maven training. The students who are willing to get in-depth application development are the best audience for this Maven training certification as they will be learning things that can enhance their development skills.
FAQ's
---
How long it may take to learn from this Maven training certification?
In order to learn Maven, the standard time that you will be required to devote can vary from two to three month depending upon your familiarity with Java coding. If you are a Java developer, you will find it easy to learn and may learn this in the matter of a month. Folks who are new to the programming world or doesn't have that much experience in Java may take up to three months to learn this.
How it makes work easy?
Maven has been introducing to automate the application development so that time could be saved and the product could be delivered the specified date. There are libraries in Maven that is comprised of several predefined codes which can be leveraged in order to develop the Java-based application is almost no time. If we talk about developers, the find it very easy to work with Maven and also save a lot of their time.
Sample Preview
---
Career Benefits
In the continuously changing market, the technology has to change with the same speed in order to meet the requirements of the business. These days the application is usually required to be developed in a matter of weeks or maximum a month in order to fulfill the need of the business and their customers. If one will try to use the traditional way of programming to develop the application, they will not be able to comply with the dynamic market. So it is clear how deadly there is a need for Maven in software development. There are already several open positions in the current job market that wants professionals who are capable of using tools like maven to rapid application development. So anyone who is good in maven definitely has great career option at this time and in future also they will keep on growing at the same pace.
Reviews
---
Best Experience
It was a good tutorial on Java Build tools. It was in easy to understand presentation format with coding examples for each section of the materials. I was able to understand the lectures because the contents are mostly technical terms and basic English words. I recommend if you are a beginner in programming.
Dacio White
Maven Training is great
This Maven course is a big help in helping understand the concepts that at first seem to large to grasp. Because these lectures are so carefully prepared, the lectures make large pieces into small bites. I highly recommend this class to any student desiring to understand Java Build tools.
C.F. Romero
Completed Maven Certification
Content of this Maven training course is very useful to me. I learned lot's of things by watching this video. fundamental is so easily explained. all concept of Java build tools got cleared.
Shubham Naik