New Year '20 Offer TAKE THIS BUNDLE
Magento Training (2 Courses, 1+ Projects)
2 Online Courses
1 Hands-on Project
7+ Hours
Verifiable Certificate of Completion
Lifetime Access
Magento Framework Tutorials
Magento Framework - Development Perspective
Project on Magento - Online E-Commerce Store
Offer ends in:
TAKE THIS BUNDLE
What you get
Online Classes
Technical Support
Mobile App Access
Case Studies
Magento Certification Course
This Online Magento Training Certification includes 2 comprehensive Magento Framework courses, 1 Projects with 7+ hours of video tutorials and Lifetime Access. You get to learn how to install, configure and manage a successful online store with the most popular shopping cart on the Internet – Magento. In our tutorial videos, you will get the idea on how to add and configure your products, set up shipment and delivery methods, manage coupon codes and other promotions, install Magento themes and much more.
Industry Growth Trend
The rapid application development market size is expected to grow from USD 7.8 billion in 2018 to USD 46.2 billion by 2023, at a Compound Annual Growth Rate (CAGR) of 42.9% during the forecast period.
[Source - MarketsandMarkets]
Average Salary
Average Salary
$98,567 per year
The average salary for a Magento Developer is $98,567 per year in the United States.
[Source - Indeed]
About Magento Framework Certification Course
| Courses | | No. of Hours |
| --- | --- | --- |
| Magento Framework Tutorials | | 2h 05m |
| Magento Framework - Development Perspective | | 3h 02m |
| Project on Magento - Online E-Commerce Store | | 1h 51m |
---
| | |
| --- | --- |
| Course Name | Magento Framework Certification Course |
| Deal | You get access to all 2 courses, 1 Projects bundle. You do not need to purchase each course separately. |
| Hours | 7+ Video Hours |
| Core Coverage | How to install, configure and manage a successful online store with the most popular shopping cart on the Internet – Magento |
| Course Validity | Lifetime Access |
| Eligibility | Anyone who is serious about learning Magento framework |
| Pre-Requisites | Basic knowledge about web development would be preferable |
| What do you get? | Certificate of Completion for each of the 2 courses, 1 Projects |
| Certification Type | Course Completion Certificates |
| Verifiable Certificates? | Yes, you get verifiable certificates for each course with a unique link. These link can be included in your Resume/Linkedin profile to showcase your enhanced skills |
| Type of Training | Video Course – Self Paced Learning |
| Software Required | None |
| System Requirement | 1 GB RAM or higher |
| Other Requirement | Speaker / Headphone |
Magento Course Curriculum
---
In this section, each module of the Magento Framework Certification Course is explained.
Sr  No

Course Name

 Course Description

1

Magento Framework tutorials

1.Introduction to Magento framework 

Learning objectives includes fundamentals of the framework, how to create factory classes and how to implement in custom development.

2. Installation of Magento

You will learn how to install step-by-step procedures. Magento community involves Magento downloader wizards with the initial set up process, welcome window, validation, Connect Manager, Deployment, and configuration.

3. Getting started

This Magento course online  module describes key concepts on

-Architecture Style of Magento which describes Models, views, layouts, Templates, and features of extensions.

-A panel of Magento Products

To add new products by selecting catalog, manage, adding products and modifying options in the product type.

-Changing and Set Up of Languages

By installing language pack referring to Magento admin dashboard by selecting system-configurations.

4. Set up

This topics frames how to

-Create Contact page

You will learn how to enable contact page through navigation menu-System->Configurations.

-Configuring the category

By creating a category by completing basic information and category content. You can create as many sub-categories as needed.

-Understanding Product

Shows how to perform by choosing a particular product in the category.

-Inventory Set Up

Learn how to make Default stock items of the products determines this setup. Having options like max items in the cart, managing stocks, Quantity

Increments, configuring e-mails and shipping.

-Configuring Tax Clause, broad tax config

Setting the default tax class for every product.

5.Payment Plans in Magento

In this Magento course online you will learn how to configure set up payment options for Magento.

– This topic explains how to do Payment plans Set Up by login and enabling settings selecting Payment actions.

–  Exclusive access through payment gateways (credit/debit card by pay flow link and pro)

–  Get to know about Configuration of Currency by currency set Up and expanding currency options.

-Setting up Check Out Options

This topic helps to learn how to configure check out options for one-page checkouts.

–  Online Payment options like Google Checkout in Magento by selecting googles API.

–  Shows creating live Store in Magento (Root, Name, category).

–  This chapter covers Order Processing which involves orders and Life Cycle, creating managing orders and setting up e-mail's orders.

6.Customer Configure

These topics walkthrough

-Setting up Customers by recording customers' registrations.

-Configuring Google Analytics for tracking and conversions. Administrators monitors deep traffic flows.

-Social sites with Magento like YouTube videos and Facebook settings In Magento.

-Configuring Translation and Theme throughs CSV files and installation of themes through Magento Connect.

– learning to change Page Title and URL in your website going through general settings.

Next covers Magento Site Optimization which involves:

-Profiling in Magento

-Database Performance

-Creating URL and involving Magento caching.

-Searching and Optimization

2
Magento Framework – development Perspective
1.Introduction to Magento Framework

You will explore detail concepts on Magento framework developments and module implementations.

2.Layouts

You will learn how to use Layouts overviews and layout file locations. Going through various sub-topics to create how to do

Code the URI using HTTP

-Context-based URI Model

How to organize code into modules in typical PHP MVC applications.

-Magento Helpers and Layouts

It demonstrates how to use the layout in XML schemas and helper folders containing files.

-Observers and class Overrides

Learning objectives includes Magento architecture with basic functions such as overriding classes and using observers

3.Magento Configuration

Learn to create the class configuration and module configuration

-Creating a Module Config

– Cause of Magento Config

Creating default values and adding to the codes.

-Implementing the Controller Portion

You will learn about the implementation of view controllers and model which describes:

– creating custom   Layouts and Templates

– creating Layouts and blocks.

4.Basic Models

You will get to know about models that help in business logic.

-Creating a Basic Model with resources.

-Magento and Models

Learning about URI modeling, resource models, entity Attribute value models.

Training on Updating a Model

Get to know about Magento Setup resource

– In addition, it provides how-to Setup and Update Scripts

– concepts on different Kinds of Models
---
Magento Course – Certificate of Completion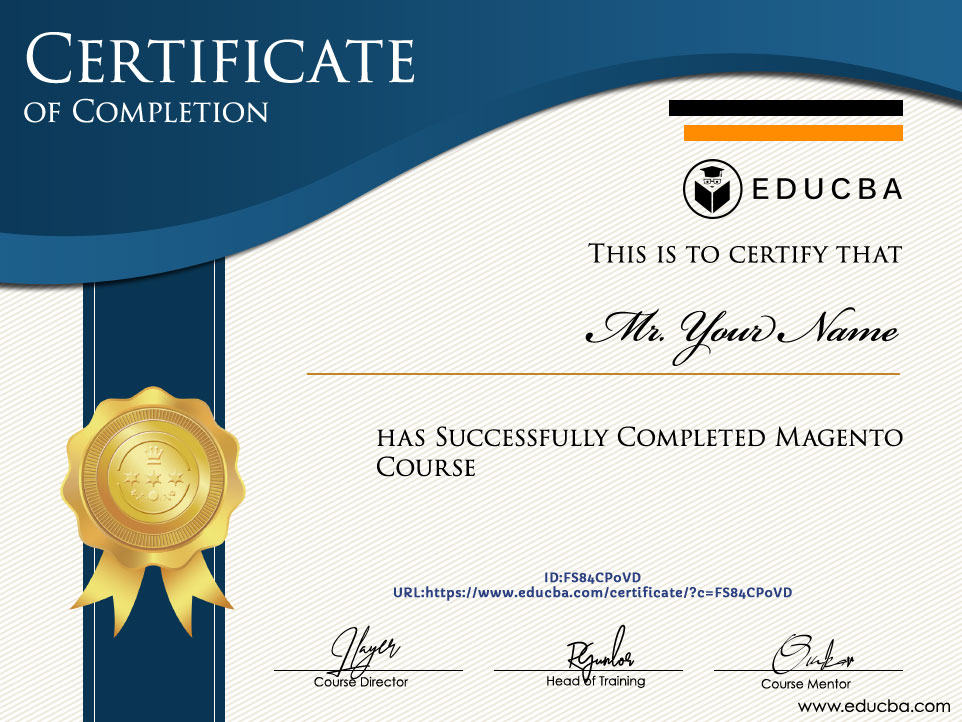 ---
What is Magento Framework?
E-commerce development is booming in the past few decades, users around the world are involved in accessing their business online. Due to this, there was a need for a website creation platform to beat the competitors and attract more customers. Choosing the right e-commerce platform development is necessary. Magento is a shopping cart software launched in 2008 and purchased by eBay company headquartered in California. Magento an open-source e-commerce platform built on PHP framework useful for Online marketing helps in adding integrations manually whenever needed. Due to its flexible nature, they are most popular among small to large businesses. It helps in creating user-friendly secured websites and allows users to update website adding functionality by installing plug-ins automatically. It is possible to develop virtual stores with various features such as payments, shopping carts, site maps, order tracking, inventory control, home page. They are often built with unique features because they are constantly being developed. magneto is designed in an effective way that allows merchants to customize as per their business needs. As this framework is open source it is downloaded free on the net free of cost. Magento has easy installation, scalable, provides more than fifty payment gateways across the world.
Magento has helped to create thousands of websites and this framework has been growing high over a few years. It comes with two editions Magento handles all the e-com websites to run in the single user-friendly dashboard and with attractive themes. The advantage of using Magento when compared with other e-commerce platform is, they have a high-performance online store, in-built searching tools for page rating, cost-effective. Magento comes with two editions they are Magento Community Edition, Magento Enterprise Edition.              
Which tangible skills you will learn in this course?
You will learn how to create a table in databases, understanding customization techniques.
Students will gain knowledge in writing Scripts.
You have skill responsibilities to design, develop, test applications done in a programming language.
You will be able to configure and do the set-up for enterprise e-commerce software and servers.
Attendees are able to do simple business logic with Magento API with services. Payment Gateway design pattern in Magento, Magento customization, Magento Theme integration.
You will gain knowledge of developing themes and managing the website. You will get to know fundamental concepts like request flow, Magento databases and installation working procedures to create e-commerce websites.
From this Magento training, you will learn about Magento cores, module creations working with real-time projects, deriving new modules in Magento to improve business Insights.
Pre-requisites
Skills needed are solid fundamentals on core PHP and basic knowledge on MYSQL, database, and JavaScript.
It is not mandatory to have experience in the Magento framework.
New developers to this platform can avail of this Magento course online to progress in their career growth.
The technologies like CSS, HTML, jQuery, XML, Apache, Zend framework and working with Linux and Unix Operating System are the pre-requisite needed to work in front end developers.
Working with technologies like Object-oriented programming for classes, e-commerce applications, familiarity in MVC design and understanding quite a knowledge on cloud platforms and Amazon Web Services.
Target Audience
Candidates who are interested in web development in e-commerce can take Magento training. Developers, E-commerce specialists, Magento FreeLancer, front-end developer, marketing manager who is in need of vast knowledge of Magento, web application developer, Enterprise System designer are the target audience. Other than that, students who are interested in e-commerce website development, IT professionals to become Magento experts, e-commerce project managers, e-commerce sales managers with experience in the marketing field are easy to avail of this Magento course online.
FAQs
---
What is the learning objective of the Magento course?
This Magento course online offers for both beginners and advanced attendees. It allows you to analyze, design the Magento website based on their user requirements. you will be able to understand e-commerce sites and future trends.
What is the scope of Magento developer on taking this training?
Developers periodically have sky-high growth and have improvements in business at the same time there are larger organizations providing Magento services in IT sectors. They get a pay nearly around 80INR with differ in their experience.
How this certification is valuable in the outside world?
 This Magento course certification validates the skills with the Magento Platform and values among the community. To gain a new client's certification is significantly important.
How many hours required to complete the Magento training course?
Our Magento course requires a duration of about six hours to complete this certification.
What is the job role you will be suitable for after completing this Magento course online?
The job roles include Magento architects, Magento developer, Magento front-end developer.
Do you need any Pre-requisite to learn Magento training?
Understanding web development scripts like HTML, CSS, and PHP helps in easy development and should have knowledge of MYSQL and JavaScript.
It is required to know Magento in taking assistance to learn Magento 2 development in the future?
Yes, Magento is a Beginner version of those who work in M1 and M2 concern or developer can learn advanced concepts of Magento e-development.
Sample Preview
---
Career Benefits
Magento is a huge demand course on the market and it is helpful in developing the Commercial portal. Magento training which is used to build E-commerce sites gives an array of career options for technical professionals In the IT industry.
Magento certification is beneficial when it comes to hiring decisions as a magneto developer in the Magento development company.
Most of the industry experts value this certification to a distinct edge. You could find a great impact on e-commerce solutions.
Magento developer has a huge opportunity around the world to develop custom modules into ERP, finance and marketing systems.
Your careers would jump to skies by taking this certification to build world-class architecture and frameworks.
Many organizations required experienced Magento developer to provide timely guidance on workflow process. This career is worthwhile when it meets the quality standards for the economy, society, and market.
Course Reviews
---
Magento Course
Taking up this Magento Course you are recognized as a professional. As this platform has versatile scope in e-commerce domain being certified is always great. You can have more development and experience knowledge of Magento principles to work with websites.t helps to strengthen the work trust from the clients. The learning curve in Magento training is scalable and enjoyable for the attendees to understand.
Sheldon Mogenson
Good training!
I would recommend this Magento course online to everyone to gain a better understanding of how Magento works for customization and its features. It creates job opportunities for individuals who wish to contribute their career in socio-economic development. This Magento training benefits you with higher quality and good instructors and you have the potential to promote business and creating e-Commerce websites.
Micheal Brown