Learn from Home Offer TAKE THIS BUNDLE
LINUX Course Bundle - 19 Courses in 1 | 3 Mock Tests
144+ Hours of HD Videos
19 Courses
3 Mock Tests & Quizzes
Verifiable Certificate of Completion
Lifetime Access
TAKE THIS BUNDLE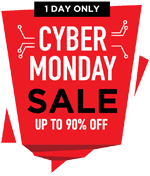 * One Time Payment & Get Lifetime Access
What you get in this LINUX Course Bundle - 19 Courses in 1 | 3 Mock Tests?
144+ Hours
19 Courses
Mock Tests
Course Completion Certificates
Lifetime Access
Self-paced Courses
Technical Support
Mobile App Access
Case Studies
About Linux Training in Noida
---
| | |
| --- | --- |
| Course Name | Linux Training in Noida |
| Deal | You get access to all videos for the lifetime |
| Hours | 144+ Video Hours |
| Core Coverage | A comprehensive guide to learning Linux System Administration with Python, App Development with Linux, Linux Mint, Linux ZFS, Linux Bash, Red Hat Linux, cPanel, Kali Linux |
| Course Validity | Lifetime Access |
| Eligibility | Anyone serious about Linux |
| Pre-Requisites | Basic knowledge about app development would be preferable |
| What do you get? | Certificate of Completion for the course |
| Certification Type | Course Completion Certificates |
| Verifiable Certificates? | Yes, you get verifiable certificates for each19 course, Projects with a unique link. These link can be included in your resume/Linkedin profile to showcase your enhanced skills |
| Type of Training | Video Course – Self Paced Learning |
| Software Required | None |
| System Requirement | Red Hat Enterprise Linux 4 or 5, Minimum 1 GB RAM |
| Other Requirement | Speaker / Headphone |
Linux Training in Noida Curriculum
---
The Linux training Certification Course from EDUCBA is a very comprehensive course that gives you 16 online courses with 3+ projects to make your foothold on the subject matter strong. The duration of the course material is 160+ hours and in the end, you get a verifiable certificate of completion. You get lifetime access to the Linux Training in Noida and also the technical support and case studies from our end.
The packages of the Linux course includes the fundamental concepts of Linux pretty well. As the module is created by industry experts and the curriculum is devised by keeping in mind the beginners of this domain, it is an easy-paced course.
You will be taught on Linux System Administration and Python. Overall knowledge of App Development with Linux will be provided. The subject matter, such as C on Linux, Linux Mint, Linux ZFS training will be explained in detail.
Linux Bash Scripting Training, Fundamentals of OpenSUSE Linux, OS Fundamentals, Red Hat Linux 9 tutorials, cPanel, Kali Linux, CentOS from beginners' level to advanced level, etc.
You will also be made to do several projects on the same and therefore practical knowledge will also flow alongside the theoretical gain.
Linux Training – Certificate of Completion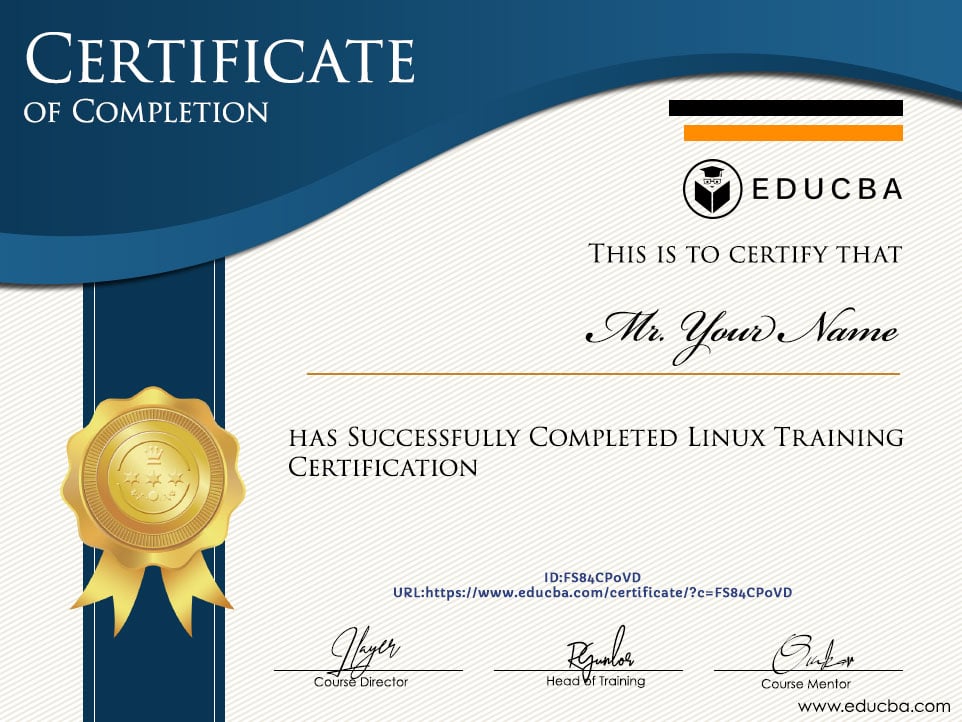 What is Linux?
Linux is Unix like, the best-known open-source operating system which has been developed by the community. Linux is based on the Linux kernel. It is used for computers, servers, mobile devices, mainframes, embedded devices. It is supported on every, major computer platform.
Which includes x86, SPARC, ARM and it makes it one of the widely supported operating systems in the world.

Industry Growth Trend
The rapid application development market size is expected to grow from USD 7.8 billion in 2018 to USD 46.2 billion by 2023, at a Compound Annual Growth Rate (CAGR) of 42.9% during the forecast period.
[Source - MarketsandMarkets]
Average Salary
Average Salary
$72,155 per year
The average salary for a Web Developer is $72,155 per year in the United States.
[Source - Indeed]
Linux operates on a wider range of hardware and has an advantage over another operating system.
Which Skills will you learn in this Training
?
In this Linux Training in Noida, you will learn about the Introduction to Linux, Installation of VMWare, Ipython, Documentation and Reporting, OS Soup, Linux Command-Line, and Pragmatic examples. You will also learn the app development with Linux, the OpenSUSE file system hierarchy, and the structure of the directory.
You will learn ethical hacking, SQL Injection, Metasploit, etc.
You will be introduced to Bash writing and debugging GNU Stream editor, catching signals, etc.
Linux ZFS training which is inclusive of Linux Uses and Bash Variables.
You will learn about securing Linux Mint and even the advanced administration techniques required for the Linux Training.
Pre-requisites to Linux Training
There is no prerequisite for learning Linux. All that is needed is basic computer knowledge and access to a computer. It can be easily learned by anyone who wishes to move forward in their career dealing with Linux. As Linux is something that people are not much familiar with, it is different from Windows. Therefore, a window user may find it slightly difficult at the beginning when trying to adjust to a Linux environment. The more experience one has around the computer and the functionality around the computer, the easier it will be for that person to learn Linux and go forward with the Linux administration training.
Target Audience for this Linux Training
It is a good career option; hence it is great for students who are currently pursuing their engineering and even the ones who are pursuing their masters. The ones who wish to make a good career as a System Developers or UNIX programmer, this training program from EDUCBA would be an ideal career choice. People from other technical domains can also consider this Linux Training in Noida for a good switch and move ahead in their careers. Linux Training in Noida opens up many opportunities. It is the best option if someone wishes to work under high security, high stability, open-source, customizable, and flexible operating system.
Linux Training in Noida – FAQ's
---
How useful is learning Linux?
The advantage which Linux has over the most popular operating system is that it can work on a wide range of hardware compared to others. The worldwide growth of Linux is more than another operating system and it is growing at a good rate.
How hard is Linux to learn?
Linux is not hard; it just takes time as it is different. As one begins to invest time in Linux, operating, and working on it will become easy and comfortable as well.
How long will it take to learn Linux?
All of Linux cannot be learned all at once. It works as a process, as there is a huge community. Therefore, developers are contributing and it is consistently growing. For learning Linux, you need to simplify the process. Our training content is custom made for beginners; it is going to help you understand the operating system first then move on with learning Linux to keep a better grasp on the matter.
Why should you take up the Linux training in Noida?
Noida has so many IT companies present and it is estimated that many more companies are opening up. With the versatility that Linux comes with, there will be many companies that will need Linux administrators. It is a great opportunity to learn and establish your career as a Linux administrator with our certification course at EDUCBA. It will prove out to be a very wise decision for your career as there this a skill which is needed in the market and definitely by many major companies.
What is the Linux market trend in Noida?
There are nearly 1000+ job vacancies for Linux profiles in the Noida area. This can be verified by opening any job portals. Every company has realized the power of Linux and Linux Administrators are huge in demand right now.
It is the right time to get trained and keep operational knowledge of Linux in one's resume. With so many job options available it is important to get trained in technology with so much requirement. Noida has a reputation for the growing market in the Information technology industry and it will have more companies joining up in no time.
Sample Preview of this Linux Training
---
Career Benefits of this Linux Training
If you are a hard-core programmer then Linux is the best platform for you as there will be so much to learn. You will have full access to the code as it is free, and it makes it remarkably stand different from another operating system. Licensing freedom is granted to you. You can modify the software and even have it republished. Also, a single copy of the distribution can help you install the operating system on various machines. The Linux has a huge community and many dedicated web sites, so one can never remain stuck at any issue and help will come somehow.
Reviews
---
Tremendous Information
Very Useful information. I learned commands I was not aware of in Linux. The videos were very helpful in showing me what is required to get the Linux working properly including all security features that should be implemented. A great Linux training indeed. Thank you!
Linked
Gabriel Cuebas
Recommendable
The instructor seems very knowledgeable. This Linux training is very informative and easy to follow. It is a highly recommended course for system admin and security engineers. It would be also nice if this course has provided a PDF file of all the codes discussed in this course.
Linked
John Lim
Linux training
This course is a great resource for entry-level and intermediate Information Security professionals. It is easy to follow and provides the fundamentals to pursue many different paths in Information Security. For entry-level InfoSec professionals I would recommend taking some sort of networking refresher before this Linux training.
Linked
Alex Ewin
Great Course
Excellent tool, and great information to get started. Well explained. For beginners and also for current users that need a refresh. I highly recommended this Linux training. The great thing is you have lifetime access, you can gather so much information and share it with friends, students, and colleagues. You will not be dissapointed.
Linked
Li Garcia
Good!
Very good and very useful for a beginner! I learned a lot.
Very useful and I recommend to those who are interested in Python programming and its world. I've been using Python for some time, but I've also learned something new about this Linux training
Ferenc Csonka