Learn from Home Offer TAKE THIS BUNDLE
LINUX Course Bundle - 19 Courses in 1 | 3 Mock Tests
144+ Hours of HD Videos
19 Courses
3 Mock Tests & Quizzes
Verifiable Certificate of Completion
Lifetime Access
TAKE THIS BUNDLE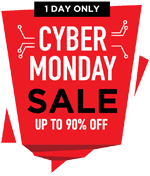 * One Time Payment & Get Lifetime Access
What you get in this LINUX Course Bundle - 19 Courses in 1 | 3 Mock Tests?
144+ Hours
19 Courses
Mock Tests
Course Completion Certificates
Lifetime Access
Self-paced Courses
Technical Support
Mobile App Access
Case Studies
About Linux Training in Hyderabad
| | |
| --- | --- |
| Course Name | Linux Training in Hyderabad |
| Deal | You get access to all videos for the lifetime |
| Hours | 144+ Video Hours |
| Core Coverage | A comprehensive guide to learning Linux System Administration with Python, App Development with Linux, Linux Mint, Linux ZFS, Linux Bash, Red Hat Linux, cPanel, Kali Linux |
| Course Validity | Lifetime Access |
| Eligibility | Anyone serious about Linux |
| Pre-Requisites | Basic knowledge about app development would be preferable |
| What do you get? | Certificate of Completion for the course |
| Certification Type | Course Completion Certificates |
| Verifiable Certificates? | Yes, you get verifiable certificates for each19 course, Projects with a unique link. These link can be included in your resume/Linkedin profile to showcase your enhanced skills |
| Type of Training | Video Course – Self Paced Learning |
| Software Required | None |
| System Requirement | Red Hat Enterprise Linux 4 or 5, Minimum 1 GB RAM |
| Other Requirement | Speaker / Headphone |
Linux Training in Hyderabad Curriculum
---
Linux is an important technical stack to have in an accomplished list of software developers or anyone looking to move in the career of software development. Below are the objectives which course from EduCBA aims to accomplish:
How one can leverage the power of open-source OS in software development.
Get to know the power of Linux Red Hat Enterprise Linux 4 or 5.
Get hands-on experience on knowing system administration with Python
I have real-time experience in app development in Linux.
Learn on use cases of Scripting and its power in Linux.
Get technical depth on penetration testing aspects using Kali Linux.
In this Linux Training in Hyderabad, we would start with basics in Linux wherein we would look into system administration on Linux using Python. Next, we would jump onto a project which includes app development with Linux. After the completion of the project on App development on Linux, we would take a ride on C in Linux and Linux Mint. Linux Mint is a community-driven GNU/Linux desktop distribution. Once we are comfortable with the above topics, we would look into ZFS on Linux, which is the file system, and then Bash scripting in Linux.
Now post all the training mentioned above we would look into openSUSE and Red Hat Linux 9 tutorials. These are very specific distributions that are widely used in the current software industry. On the primary flagship part of this training is the cPanel where we would start with basics, transforming ourselves to tackle even the advanced level problem statements. In our training courses, there are ample projects to get used to taking on the challenges of the real world.
Linux Training – Certificate of Completion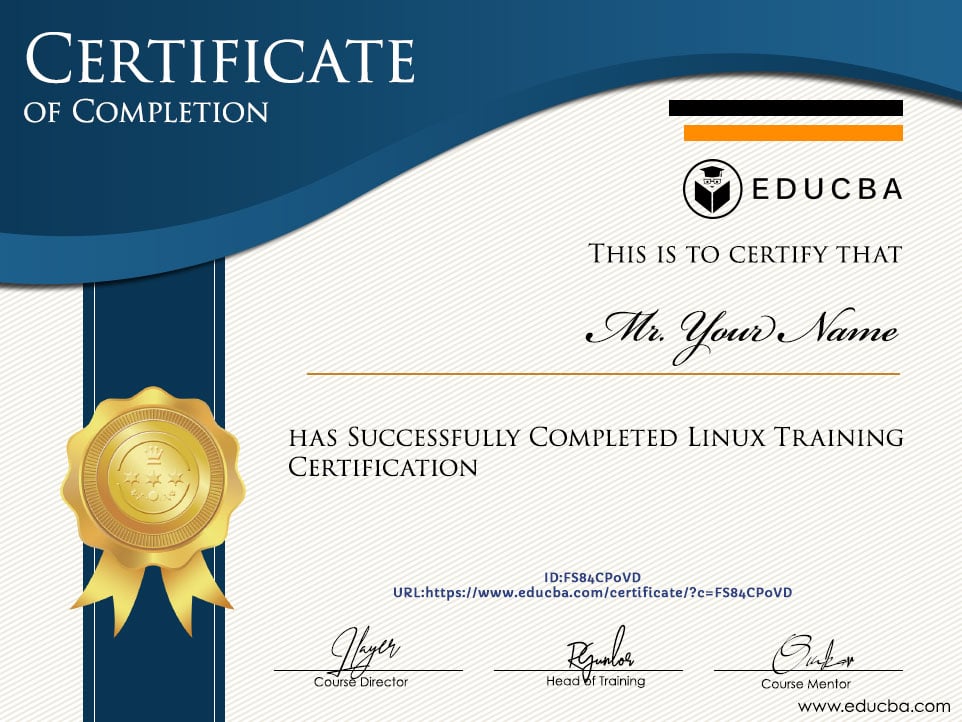 What is Linux?
As we discussed earlier that Linux is the most used open-source OS. It acts as a background process that sits underneath all other software and mainly does the job of relaying requests from other software to hardware and ultimately makes them run on Linux. It is very similar to other ora like Windows, or macOS since Linux also brings in a graphical interface and also a platform where other software can be built. But there is a subtle but very important difference between Linux and other OS's mainly because Linux is open source and is free to view, edit for the general public. Also, Linux brings in a huge degree of customization into the picture and makes it easily adaptable to the person using it.
Also, an interesting fact is that between one to two-thirds of webpages on the Internet has its code running on a Linux server. Organizations prefer to use Linux because it is more secure and also brings in a lot of support from the community and commercial support from companies like Red Hat, SUSE. Also, we didn't discuss who the owner of Linux is. Since it is an open-source OS, formally there is no owner but the person who coined this term Linux is Linus Torvalds.

Industry Growth Trend
The rapid application development market size is expected to grow from USD 7.8 billion in 2018 to USD 46.2 billion by 2023, at a Compound Annual Growth Rate (CAGR) of 42.9% during the forecast period.
[Source - MarketsandMarkets]
Average Salary
Average Salary
$72,155 per year
The average salary for a Web Developer is $72,155 per year in the United States.
[Source - Indeed]
Which Skills will you learn in this Training
?
In this Linux Training in Hyderabad, we would go through a ride taking on every aspect of Linux programming. This training has to offer a wide variety of technical expertise in different domains like Python, Linux, SUSE, Mint, Bash programming, Shell scripting, Penetration testing, cPanel, etc. This course will provide hands-on experience on real-time projects and give exposure to wide challenges on would face each day during the job and also guide you to figure out a way to get out of the maze. Post completion of the training one would be an expert in utilizing the experience from the training to take on the challenging jobs every day.
During this Linux Training in Hyderabad, one would also get wide exposure to memory and security management which is very critical about the wide hackers around right now. This course would also try to accomplish the architecture of advanced OS features and their concepts and also try getting into the hands-on running capability of windows in Linux/Unix. All in all, this course will provide a 360o view of what Linux programming is and when and where and how to use it!
Pre-requisites
In our pieces of training from EduCBA, we bring to you the best materials from the best tutors in a subject. Just a mouse click and you have an immense knowledge center to get in the form of our courses. Though we try to cover from basics in this Linux Training in Hyderabad, having some knowledge on different aspects listed below would help you grasp the material smoothly and finally make you the most sought-after Linux developer. One very important prerequisite is to have a knack towards learning and getting into deep to understand the background of a particular working principle.
If one has basic system-level programming exposure, it will be easier for them to grasp the elements at an advanced level smoothly. Though not mandatory, the beginners can dedicate some more extra time to the contents to make them reach to a higher level.
Having some preliminary concept of C or C++ will make understanding of Linux programming easier and get into advanced features understanding faster.
One should have the knack to learn and think out of the box in the projects to get a holistic knowledge of Linux and its components. This thinking would help in real-time projects.
Target Audience
Our courses in EduCBA never restricts the audience except for the fact that the learners should be open to learn new things and go out of the way sometimes to learn and increase their knowledge domain more and more. This Linux Training in Hyderabad can be treated as reference material for someone who is studying in the computer science domain and has Linux programming as a part of their curriculum. Having a reference material of this quality will eventually enhance the learning speed during their course and get them to excel in their exams and projects. This training will also allow people in software engineering in jobs to get into higher roles as it covers advanced topics which makes them ready to take up the next challenging role. Last but not least this training material will also act as a refresher for people working in the Linux domain for long and looking to refresh a few terminologies for themselves.
Linux Training in Hyderabad – FAQ's
---
Why should you take up the Linux Training in Hyderabad
Next after the Silicon Valley of India, Bangalore, Hyderabad is turning out to be the next place where organizations are betting to invest for people. This training will make you the best Linux programmer and the organization is looking for offering them the top-notch jobs with challenging projects. All materials required for taking up the challenging projects are covered in this Linux Training in Hyderabad.
What is the Linux market trend in Hyderabad?
Hyderabad has abundant jobs currently in the market with over 658 vacant jobs still lying vacant and organizations are looking for those to-notch trained Linux professionals to fill up these. With our training material, we try to bridge the gaps between current industry needs and current skill sets a candidate possesses and get you ever ready for these roles.
How much time would be required to be invested in this Linux Training in Hyderabad?
This course requires utter dedication throughout the week with more than 15 hours per week and having an aim to complete within 10-11 weeks. Also, readers are more than welcome to get in touch with us in case one needs a deeper understanding of concepts.
Sample Preview
---
Career Benefits
With the all-in-one package of Linux training from EduCBA, one can't expect anything more to get a deeper understanding of the technology. During the course, we would have ample projects to get your hands on with various real-time situations to think about. Along with this, we offer other courses which will not only make you master in Linux but other fabulous things like promotion to your next level in career. This Linux Training in Hyderabad will provide you a verifiable certification to flaunt your skills and show off your skillset during the interviews and your curriculum vitae. All you need is Linux training from EduCBA!
Reviews
---
Tremendous Information
Very Useful information. I learned commands I was not aware of in Linux. The videos were very helpful in showing me what is required to get the Linux working properly including all security features that should be implemented. A great Linux training indeed. Thank you!
Linked
Gabriel Cuebas
Recommendable
The instructor seems very knowledgeable. This Linux training is very informative and easy to follow. It is a highly recommended course for system admin and security engineers. It would be also nice if this course has provided a PDF file of all the codes discussed in this course.
Linked
John Lim
Linux training
This course is a great resource for entry-level and intermediate Information Security professionals. It is easy to follow and provides the fundamentals to pursue many different paths in Information Security. For entry-level InfoSec professionals I would recommend taking some sort of networking refresher before this Linux training.
Linked
Alex Ewin
Great Course
Excellent tool, and great information to get started. Well explained. For beginners and also for current users that need a refresh. I highly recommended this Linux training. The great thing is you have lifetime access, you can gather so much information and share it with friends, students, and colleagues. You will not be dissapointed.
Linked
Li Garcia
Good!
Very good and very useful for a beginner! I learned a lot.
Very useful and I recommend to those who are interested in Python programming and its world. I've been using Python for some time, but I've also learned something new about this Linux training
Ferenc Csonka