Learn from Home Offer TAKE THIS BUNDLE
LINUX Course Bundle - 19 Courses in 1 | 3 Mock Tests
144+ Hours of HD Videos
19 Courses
3 Mock Tests & Quizzes
Verifiable Certificate of Completion
Lifetime Access
TAKE THIS BUNDLE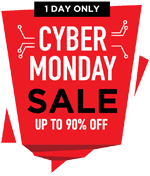 * One Time Payment & Get Lifetime Access
What you get in this LINUX Course Bundle - 19 Courses in 1 | 3 Mock Tests?
144+ Hours
19 Courses
Mock Tests
Course Completion Certificates
Lifetime Access
Self-paced Courses
Technical Support
Mobile App Access
Case Studies
About Linux Training in Chandigarh
| | |
| --- | --- |
| Course Name | Linux Training in Chandigarh |
| Deal | You get access to all videos for the lifetime |
| Hours | 144+ Video Hours |
| Core Coverage | A comprehensive guide to learning Linux System Administration with Python, App Development with Linux, Linux Mint, Linux ZFS, Linux Bash, Red Hat Linux, cPanel, Kali Linux |
| Course Validity | Lifetime Access |
| Eligibility | Anyone serious about Linux |
| Pre-Requisites | Basic knowledge about app development would be preferable |
| What do you get? | Certificate of Completion for the course |
| Certification Type | Course Completion Certificates |
| Verifiable Certificates? | Yes, you get verifiable certificates for each19 course, Projects with a unique link. These link can be included in your resume/Linkedin profile to showcase your enhanced skills |
| Type of Training | Video Course – Self Paced Learning |
| Software Required | None |
| System Requirement | Red Hat Enterprise Linux 4 or 5, Minimum 1 GB RAM |
| Other Requirement | Speaker / Headphone |
Linux Training in Chandigarh Curriculum
---
This Linux training will help students to gain a better understanding of how to Implement data structures from scratch, to Improve problem-solving skills and become a stronger Linux developer and other widespread knowledge of important concepts in UNIX operating system by learning UNIX programs as well as running scripts on UNIX operating systems using Bash or shell Scripting.
In this Linux training, there are various modules which are designed to achieve expertise in Linux are as follows
Linux System Administration with Python
In this Linux training module, you will learn the complete Introduction of Linux, how to install VMware as well as Linux Mint, Ipython, how to use Command Line interface in Linux with some programs, how to use Documentation and text tools. Along with this module also focuses on how to use Data, networking, Reporting, how to manage packages.
Project on App Development with Linux
This Linux training module will cover the Introduction of various Linux Operating systems. Also, it will focus on how to use the OpenSUSE file system along with its hierarchy of OpenSUSE and what is the directory structure.
Learning Security with LINUX
In this Linux Training in Chandigarh module, you will learn the introduction to ethical hacking, how to install and configure DNS. This training will also focus on important concepts in network security concepts such as Denial of Service Attack, DDOS, DNS spoofing, Metasploit, SQL Injection, Password cracking, wireless hacking, basic concepts in Cryptography.
In this Linux training module, you will understand the overview of Linux Mint, Introduction and basic concepts in Bash, hardware information, how to use drivers and software manager, how to write and debug scripts and get accurate results, how to use GNU Stream editor, along with this you will also learn how to catch signals, Regular Expressions in Linux Mint, Interactive scripts, etc.
Linux ZFS stands for Zettabyte File System. So this Linux training module will focus on an overview of Linux ZFS, how to use this file system for storing huge amounts of data. Along with this, you will also understand the basic concepts of bash Scripting. Its uses and Bash Variables.
Installing Linux Distribution
In this Linux Training in Chandigarh module, you will understand the introduction of Linux distributions, Their history, and evolution, features, and components. You will also learn how to install red hat and fedora core, how to manage users and grant permissions for file access, advanced administration techniques, how to use Terminal and command-line interface, How to use storage for storing and managing media files, how to secure Linux distributions, etc.
Opensuse LINUX OS FUNDAMENTALS and Using C ON Linux
This Linux training module covers in-depth knowledge of OpenSUSE, basics of GCC compiler, and how to use it. It will also focus on how to use C on Linux, various functions variables, conditions as well as different types of data types, loops, and arguments available in C.
This Linux training module will cover the overview of Unix Introduction, how to access Files and Directories in Unix, expressions, processes, loop control available in Unix, directory management. This module also focuses on how to use Command-line interface in UNIX, some commands in Unix, basics of Networking, decision making, Shell substitution, permissions environment, Quoting mechanism, etc.
In This Module, you will work on the project in Red Hat Linux where you will get hands-on experience and gain a better knowledge of Linux.
Comprehensive Training on UNIX and Linux OS Fundamentals
In this Linux training module, you will get in-depth knowledge of Linux and UNIX operating systems where you will learn system monitoring tools, Systemctl Commands, web servers, what is Linux shell, how to use it and commands.
After completing the project on Red hat Linux you will learn this advanced Red hat Linux tutorial where you will learn pool commands, how to take snapshots and their management, how to rename and replicate files and folders, how to do ZFS mirror, how to replace the disk.
In this module, you will understand the basics of CPanel, how to use the CPanel dashboard, how to manage users, how to register the domain, and perform web hosting.
In this module, you will understand the CPanel concepts such as how to manage web disk, PHP My Admin, Directory Privacy, and disk usage, how to use Email. how to backup and restore files, how to work with simple Zone Editor, etc.
Cpanel Advanced Tutorials
In this advanced CPanel tutorial, you will understand the remaining important features of CPanel, how to Track DNS, how to use IP blocker, how to secure applications and folders with Password, and ensure Security.
Kali Linux Penetration Testing
In this Linux training module we shall understand network security concepts from the core to advance, what is GNOME, how to change default appearance, how to change date and time, how to manage users and groups, ensuring security with Kali Linux commands, GREP commands subscription manager, etc.
Linux Training – Certificate of Completion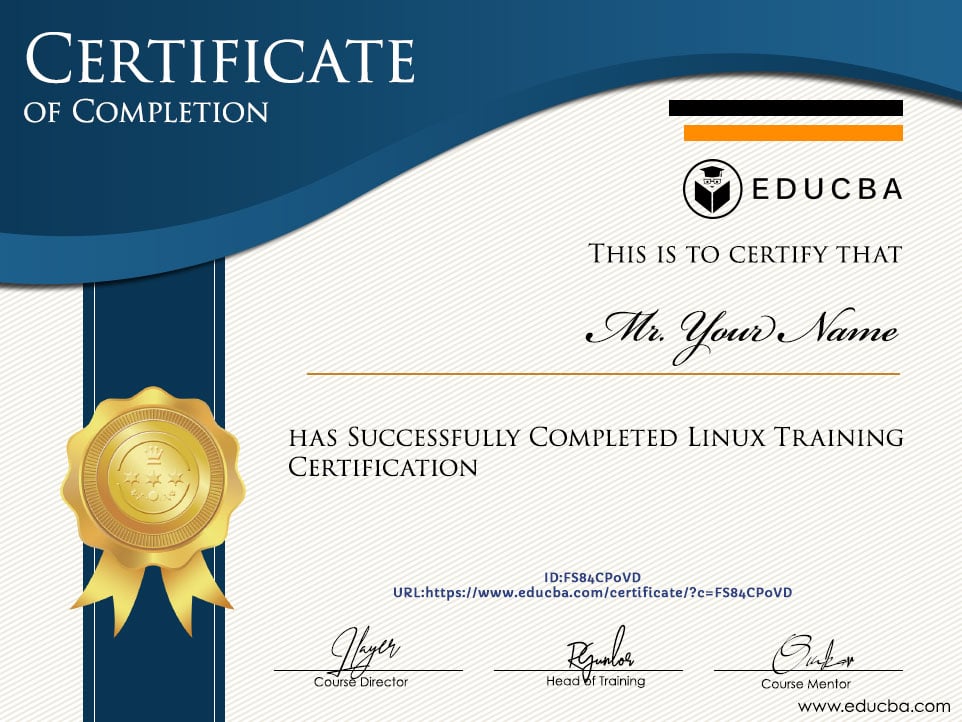 What is Linux?
Linux is an open-source and widely used operating system. Shell, Kernel, and Programs are the important components of Linux. Various commands are used to maintain functionalities like Shells, Files, Directories, file contents, scripts, etc.
The main features of Linux are security, Graphical User Interface, multi-tasking, portability multi-user capability, etc. Linux provides so many Distributions like Red Hat, Ubuntu, Fedora, Debian, etc

Industry Growth Trend
The rapid application development market size is expected to grow from USD 7.8 billion in 2018 to USD 46.2 billion by 2023, at a Compound Annual Growth Rate (CAGR) of 42.9% during the forecast period.
[Source - MarketsandMarkets]
Average Salary
Average Salary
$72,155 per year
The average salary for a Web Developer is $72,155 per year in the United States.
[Source - Indeed]
Which Skills will you learn in this Training
?
Linux training has many modules where each course which helps acquire knowledge of various types of Linux distributions as well as its components. In this training, you will be learning Linux from basic to advance levels. Along with this Linux Training in Chandigarh, you will also master the skills such as Application development with Linux, Linux Mint, Linux command-line interface and bash commands, Red Hat Linux, Linux System Administration using python, CPanel, Linux ZFS, network security with Kali Linux, etc.
Pre-requisites
There are not lots of must-have prerequisites. You need to have a basic understanding of basic concepts in computers such as accessing the internet, fundamentals of operating Systems, handling files and manage databases, and strong analytical skills, etc. Also, prior knowledge of the configuration of OS will be beneficial for Linux training. Software requirements are Redhat Linux enterprise version 5 or 4, VMware.
Target Audience
Engineering students whose stream is computer science or bachelors' degree in computers and have an interest and basic knowledge in the Linux app development along with any web programming language, then this Linux Training course will be surely beneficial for Web Development engineers, C developer, Python Developer, Front End Developer for building interactive and useful web or mobile apps. Linux Training in Chandigarh is designed to enhance the career of the candidate as app developers, freelancers who want to start their career as Linux developer, penetration tester, etc.
Linux Training in Chandigarh – FAQ's
---
Would this Linux training certification help me in my career advancement?
This Linux Training in Chandigarh is consists of the best Linux app development training as well as important Linux distributions which are highly demanding nowadays. Hence doing Linux certification will help in your IT Career.
Can I learn Linux without prior knowledge of Networking?
No, You have to know the basics of networking. However, it is included in this Linux Training in Chandigarh.
Why should you take up the Linux training in Chandigarh?
The Educba experts are employed for this Linux training course. Educba institute is very highly ranked in Chandigarh and great for anyone who wants the best institute to learn Linux.
What is the Linux market trend in Chandigarh?
If you want to build a remarkable career in the Linux development in Chandigarh it is suggested by surveys that you can opt for a career in Linux. The IT industry is realizing that developers and programmers want to use Linux and each successive update of the Linux development is lacking. So be ready for your dream job in the Linux field by taking this comprehensive course of Linux with Educba.
Sample Preview
---
Career Benefits
In this Linux Training in Chandigarh, you will learn from basics of Linux and other various resources which will help you to deal with how to develop and deliver various web application using Linux distributions as well as it will help you to crack your interview of the dream job profile of Linux app developer, penetration tester in the Company.
Reviews
---
Tremendous Information
Very Useful information. I learned commands I was not aware of in Linux. The videos were very helpful in showing me what is required to get the Linux working properly including all security features that should be implemented. A great Linux training indeed. Thank you!
Linked
Gabriel Cuebas
Recommendable
The instructor seems very knowledgeable. This Linux training is very informative and easy to follow. It is a highly recommended course for system admin and security engineers. It would be also nice if this course has provided a PDF file of all the codes discussed in this course.
Linked
John Lim
Linux training
This course is a great resource for entry-level and intermediate Information Security professionals. It is easy to follow and provides the fundamentals to pursue many different paths in Information Security. For entry-level InfoSec professionals I would recommend taking some sort of networking refresher before this Linux training.
Linked
Alex Ewin
Great Course
Excellent tool, and great information to get started. Well explained. For beginners and also for current users that need a refresh. I highly recommended this Linux training. The great thing is you have lifetime access, you can gather so much information and share it with friends, students, and colleagues. You will not be disappointed.
Linked
Li Garcia
Good!
Very good and very useful for a beginner! I learned a lot.
Very useful and I recommend to those who are interested in Python programming and its world. I've been using Python for some time, but I've also learned something new about this Linux training
Ferenc Csonka