Learn from Home Offer TAKE THIS BUNDLE
Jupyter Notebook Course Bundle - 2 Courses in 1
This Jupyter Notebook Certification includes 2 courses with 14+ hours of video tutorials and Lifetime access. You get to learn what IPython or Jupyter Notebook is and how will we use it, we look at what things can it be used for say cloud computing, parallel computing or deploying graphs and much more.
TAKE THIS BUNDLE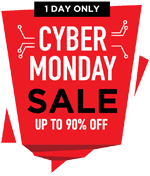 * One Time Payment & Get Lifetime Access
What you get in this Jupyter Notebook Course Bundle - 2 Courses in 1?
14+ Hours
2 Courses
Course Completion Certificates
Lifetime Access
Self-paced Courses
Technical Support
Mobile App Access
Case Studies
About Jupyter Notebook Course Bundle
---
| | |
| --- | --- |
| | |
| Courses | You get access to all 2 courses, Projects bundle. You do not need to purchase each course separately. |
| Hours | 14+ Video Hours |
| Core Coverage | You get to learn what IPython or Jupyter Notebook is and how will we use it, we look at what things can it be used for say cloud computing, parallel computing or deploying graphs and much more. |
| Course Validity | Lifetime Access |
| Eligibility | Anyone serious about learning IPython /Jupyter Notebook Course and wants to make a career in the web development field |
| Pre-Requisites | Basic knowledge about programming and web development would be preferable |
| What do you get? | Certificate of Completion for each of the 2 courses, Projects |
| Certification Type | Course Completion Certificates |
| Verifiable Certificates? | Yes, you get verifiable certificates for each course with a unique link. These link can be included in your resume/Linkedin profile to showcase your enhanced skills |
| Type of Training | Video Course – Self Paced Learning |
---
Jupyter Notebook Course Bundle Curriculum
---
In this section, each module of the iPython and Jupyter Notebook Course is explained.
| | | | |
| --- | --- | --- | --- |
| Sr No | Course Name  | No. of Hours |  Course Description |
| 1 | Jupyter-IPython Notebook Training – Beginners | 6 | The first IPython/Jupyter Notebook Course is going to be a six hours continuous tutorial that has been introduced to help you in getting started with Jupyter-iPython. At the beginning, of the course, you will get a brief introduction to IPython and Jupyter. We have tried to cover every topic with some real-life or actual scenarios to make you understand things much better. After the introduction part, you will be learning about the requirement and implementation of Jupyter and iPython. Later on, we have included some best examples to show you how things work. The video will make you aware of the Jupyter environment so that you can understand things when the educator will show you how to work on this tool. We have captured the screen and shown things practically just to ensure that you are getting an in-depth idea about the tool as you will be supposed to be familiar with this tool by the end of this unit. |
| 2 | Jupyter-IPython Notebook Training – Advanced | 5 | In the last unit, we have covered all the parts from a beginner's point of view and since we will be aware of the fundamentals of iPython and Jupyter, we will be focusing much on bringing functionalities using this tool. In this module, we have focused on examples that are moreover real-life examples. The educator will help you to set up the environment required for this tool and will show you how to use the tool for some specific purposes. The examples will be simple and complex as well to give you a taste of all the possibilities that could be achieved by this tool. In this eight hours video, the first half has been devoted to making you aware of the complex part of this tool while the next part is full of examples so that you can get hands-on experience. By the end of this Jupyter Notebook Course, we will be solving the main program that will include all the topics that we would have covered throughout both the units. |
---
Jupyter Notebook Course – Certificate of Completion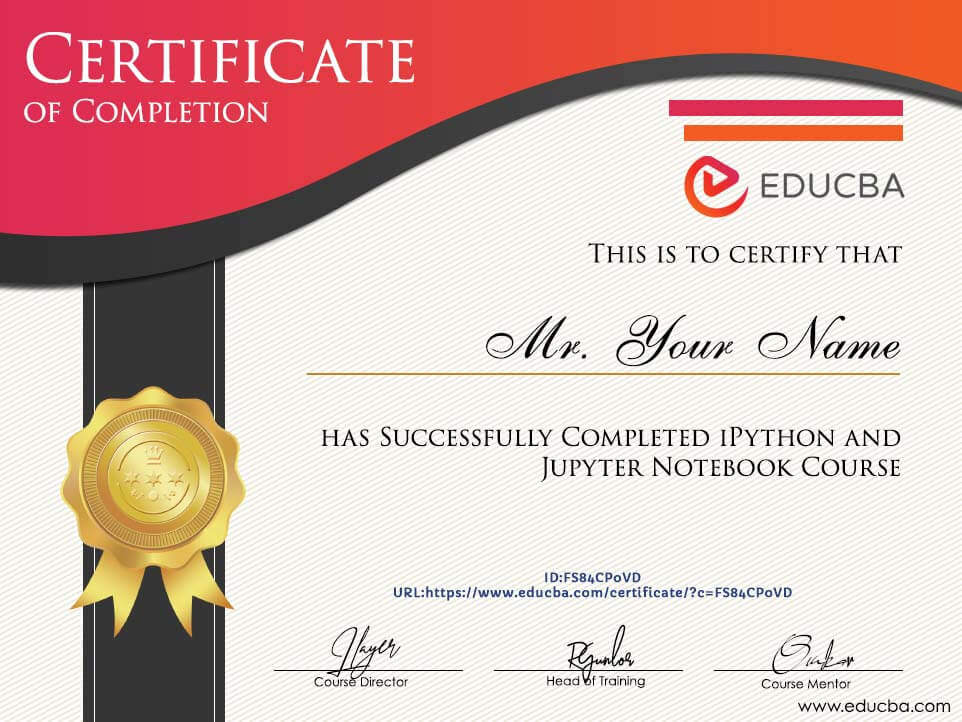 What are IPython and Jupyter?
IPython and Jupyter collectively can be defined as the development environment that facilitates the efficient development of the application. The iPython is an interactive shell that lets the different languages interact with it and make the programming a bit easier and convenient. The Jupyter environment provides the best way to perform highly complex computations, can be used for graphical representation of data, and much more. It is mainly used in the development environment to develop an enterprise application. It also provides pre-defined functionalities that can help the program to be developed in a very short period. Though it reduces the load of too much manual coding, it is a bit complex to use but its outcome is very fruitful and it also helps the development team to save a lot of time. In the currently implemented framework called agile which demands the completion of work in very less time, it can be proved very much useful.

Industry Growth Trend
The rapid application development market size is expected to grow from USD 7.8 billion in 2018 to USD 46.2 billion by 2023, at a Compound Annual Growth Rate (CAGR) of 42.9% during the forecast period.
[Source - MarketsandMarkets]
Average Salary
Average Salary
$117,155 per year
The average salary for a Python Developer is $117,155 per year in the United States. Salary estimates are based on 1,802 salaries. The typical tenure for a Python Developer is less than 1 year.
[Source - Indeed]
What skills will you learn in this course?
In this IPython/Jupyter Notebook Course, we have tried to cover all the topics that fall under Jupyter and iPython. Which means that it welcomes all kinds of an audience to enhance their skills. After finishing this course, you will be able to use the Jupyter environment very efficiently. You will be able to contribute to the development and will learn how to develop a program in less time. You will be learning how to use python or how to bring python in use when it comes to developing the complex application that demands high computing power or needs some complex functionality to be added to it. As the iPython has been developed by the Python programming language, you will also get an efficient exposure to python. You will be able to solve the real-life problems that need an application for a solution. One will also learn how to deploy this tool in the real work environment so that it could be leveraged to solve problems in the organization.
Pre-requisites
There are some of the technologies that you should be aware of to learn this Jupyter Notebook Course in the best way. As there is an immense use of python required while working with this tool, you will be supposed to have an idea about the python fundamentals. If you have hands-on experience in python, you will find it very easy to learn this. But in case if you are new to python, it is recommended that you should go through python before jumping to this IPython course. The next important thing is, you should be flexible to learn different tools. It usually happens that once we make ourselves comfortable using one tool, we find it tough to switch to the next. You should be able to be flexible in this can and have to be ready to explore this tool in-depth as every function of this tool has been introduced to help in some way. There are two important things that you should be aware of so that you can find it easy to learn this Jupyter Notebook Course.
Target Audience
This Jupyter Notebook course mainly focuses on working professionals, students, and trainers. There are several IT professional who is either looking to change their stream or to learn deep in their stream. This Jupyter Notebook Course suits them perfectly. The folks who are already working in Python and want to learn about this tool so that they can sever their organization well, can opt for this course. The students who are having studies at an advanced level and need something to deliver can choose this Jupyter Notebook Course to improve their development approach. It will not only enhance their skills but will also keep them on highlight when it comes to the list of best developers. The trainer can also choose this Jupyter Notebook Course to enlarge the domain of their training. It will help them attract more trannies who are looking to get trained in this tool.
FAQs
---
Why should one opt for this Jupyter Notebook Course?
For anyone who wants to learn iPython and Jupyter, this Jupyter Notebook Course has lots of learning. In this tutorial, we have tried to cover all the topics that come under this tool. From the introduction to the implementation part, every module has been explained efficiently with the help of examples to give you hands-on experience in this development environment. Also, as the course has been developed by keeping the students and professionals in mind, it will meet the requirement of all kinds of audiences.
How long it may take to learn this?
Depending upon your familiarity with python and your flexibility to learn a new tool, the time may vary. Normally it takes around two months to master this tool but you have to devote a large number of hours every day. Also, if one can give 3-4 hours daily to learn this, they may end up finishing it by a month and will be able to start implementation right after finishing the course. If one wants to learn how to deploy this tool in the actual work environment and also want to learn integration, in that case, they may need to put extra effort to learn more. So in a nutshell, the more time you devote, the more proficient you will be.
Sample Preview
---
Career Benefits
In the current approach of application development, time is the factor that matters a lot. The organization these days cannot afford to delay the implementation to keep the business operations keep on flowing smoothly. In such an era, learning Jupyter and iPython can be very rewarding. Several organizations are already looking at professionals who had worked in this tool and such demand is going to keep on increasing every day. By opting for this Jupyter Notebook Course, one can help themselves to ensure a better and lucrative career. They will get opportunities from the best companies that need professionals who can fasten the development approach in their organization. If you want to learn Jupyter and iPython, you should opt for it at the earliest as the early you will begin, the early you will get the reward.
Reviews
---
Amazing learning
The IPython/Jupyter Notebook course covers a wide range of topics across the Ipython and Jupyter Notebook. There are both basic and advanced topics for most of these programs. The teachers are well-spoken and know their stuff. I would use EDU CBA again in the future for more learning!
Clinton Gruber
Very Practical
Good course instruction. Covered all of the basics and instruction is very thorough and well organized. The instructor was clear and very knowledgeable. Learned new things about Jupyter Notebook that will make me use it more often. I liked how the instructor explained how everything from scratch and took it to the advanced level gradually.
David Brenes
Good Course
This is a very good IPython course to learn and understand Jupyter Notebook. I learned about the program from scratch as I had never used it before that much and was able to make some very interesting collaboration database on my company. I believe the instructor gives really clear instructions on all the videos and it's great because I can learn at my own pace and I don't need to get out of the home to learn.
Sigrid Kampen