New Year '20 Offer TAKE THIS BUNDLE
Jenkins Training (4 Courses, 2+ Projects)
4 Online Courses
2 Hands-on Projects
16+ Hours
Verifiable Certificate of Completion
Lifetime Access
Jenkins Training - The Fundamentals
Advanced Jenkins Training
Project on Jenkins - End to End Deployment Project
Java Build Tools - MAVEN and ANT
Offer ends in:
TAKE THIS BUNDLE
What you get
Online Classes
Technical Support
Mobile App Access
Case Studies
Online Jenkins Training
This Jenkins Training Certification includes 4 comprehensive Jenkins Course, 2 Projects with 16+ hours of video tutorials and Lifetime Access. You get to learn how to get started with Jenkins and Maven configurations to help build and test software projects effectively. We understand how to manage Jenkins, notification, and reporting in Jenkins.
As an industry, we are at a point of eternal debate about what constitutes any kind of technical evolution versus a full-grown business trend. This situation is not a new thing for the IT industry and we have collectively seen this before with e-commerce, mobile advancements, social media, and several others. Initially, they all were just considered as technology slideshows but later they all went on to become a crucial technical strategy for businesses to get going.
JENKINS – is the latest addition to this debate. First lets us have a brief understanding of this game-changing technology in the market. Why and how JENKINS plays a crucial role. JENKINS is an automation tool for continuous integration. It applies a build for every change that is made in the source code repository. The working team is constantly been notified regarding the builds and test results. It is written in JAVA.
With Jenkins, the development process has accelerated to a good number of reasons from build, documentation, test, packages, stay, and deployment.
Industry Growth Trend
The rapid application development market size is expected to grow from USD 7.8 billion in 2018 to USD 46.2 billion by 2023, at a Compound Annual Growth Rate (CAGR) of 42.9% during the forecast period.
[Source - MarketsandMarkets]
Average Salary
Average Salary
$102,205 per year
The average salary for a Java Developer is $102,205 per year in the United States.
[Source - Indeed]
About Jenkins Training Course
| Courses | | No. of Hours |
| --- | --- | --- |
| Jenkins Training - The Fundamentals | | 2h 6m |
| Advanced Jenkins Training | | 55m |
| Project on Jenkins - End to End Deployment Project | | 2h 36m |
| Project on Jenkins - Employee Management System | | 1h 54m |
| Java Build Tools - MAVEN and ANT | | 7h 13m |
| Maven | | 1h 49m |
---
| | |
| --- | --- |
| Course Name | Online Jenkins Certification Training |
| Deal | You get access to all 4 courses, 2 Projects bundle. You do not need to purchase each course separately. |
| Hours | 16+ Video Hours |
| Core Coverage | Get started with Jenkins and Maven configurations to help build and test software projects effectively. We understand how to manage Jenkins, notification, and reporting in Jenkins. |
| Course Validity | Lifetime Access |
| Eligibility | Anyone who is serious about learning Jenkins and wants to make a career in this Field |
| Pre-Requisites | Basic knowledge about software testing would be preferable |
| What do you get? | Certificate of Completion for each of the 4 courses, 2 Projects |
| Certification Type | Course Completion Certificates |
| Verifiable Certificates? | Yes, you get verifiable certificates for each course with a unique link. These link can be included in your Resume/Linkedin profile to showcase your enhanced skills |
| Type of Training | Video Course – Self Paced Learning |
| Software Required | None |
| System Requirement | 1 GB RAM or higher |
| Other Requirement | Speaker / Headphone |
Jenkins Training Curriculum
---
In this section, each module of the Jenkins Certification Training is explained.
Serial No.
Course Name
No. of Hours
Course Description
1
Jenkins Training – The Fundamentals
2 hr. 6 min
You will get to learn the following in this Jenkins training certification –

What is Jenkins
Jenkins configuration with global tool configuration steps
How to manage Jenkins with relevant system properties
How to set up Jenkins Maven on your system
Jenkins Maven project using Eclipse
Lectures for Jenkins maven build (also cover post-build actions)
Build a history of Jenkins

2
Advanced Jenkins Training
55 mins
You will get to learn the following –

Video lectures for Advance Jenkins (intro).
How to create a BAT file
How to rum ANT build
Jenkins Reports
HTML and XML report generation
Jenkins Email notification

3
Java Build Tools – MAVEN and ANT
7 hrs. 13 min
You will get to learn the following –

Introduction to JAVA build tools with examples
ANT discussion regarding the build tool
Targets attribute discussion
Details overview about components covering the followings –

Intro for XML and JAVA, JAVA web series in detail discussion, core JAVA 1 and 2, abstract class, J2EE concepts, Application server, Web server and application server details, role of Servlet, remote interface concepts, JSP scenarios, XML background information, how XML work with Soap test, DTS, pre-requisites for REST and SOAP, introduction to web designing, Client and Server details, principle of a good web design, how to create a website from scratch, Hypertext discussion, CSS role and importance in web designing, AJAX discussion, how to use XMLHttp request, Javascript basics, a complete training for XML usability, text editors, XML parsers

4
Maven
1 hr. 49 min
You will get to learn the following from Jenkins Certification –

Introduction to MAVEN
MAVEN installation setup
POM and repository discussion
Project creation using MAVEN from scratch
MAVEN build life cycle discussion
MAVEN life cycle

Dependencies and project documentation techniques
---
Jenkins Training – Certificate of Completion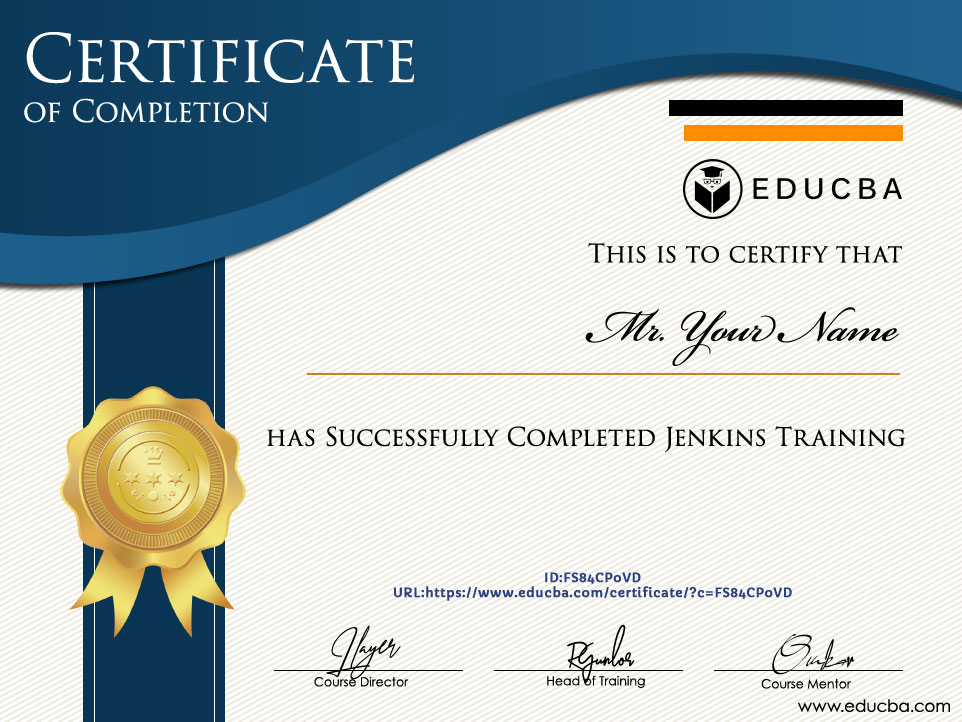 ---
What is Jenkins?
Let us first understand what Continuous integration (CI) is. CI is a development practice that every developer practices. In JENKINS CI the developers are needed to made to commit the necessary changes in the source code which are stored in the shared repository. These commits are later built, this practice allows the teams to detect the problem if any well in advance. Also, this CI helps the developers in other functions like deploying the latest builds onto the test servers, updated information to the team regarding the test results. This development practice helps them identify the bugs in the code and the concerned developers just need to check that particular commit which contains the bugs and not the entire build. This significantly reduces their time and increases there production rate.
JENKINS is all about continuous Integration development practice for the benefit of developers and the project.
Which tangible skills will you learn in this Course
?
---
A candidate after successful completion of the course will be in a better position to understand several terms associated with JENKINS n detail. They will be able to solve complex scenarios with ease and surely contribute to their project fullest. Well we have listed the skills in brief which follows next
Jenkins
JAVA build Models
MAVEN
ANT
Configuration of Jenkins and Maven
Eclipse
Build management
Handling Bat files
HTML and XML in-depth understanding
Email Notification
Pre-requisites
The Jenkins course does not have any specific demand from the candidates but we have carefully collected some and listed below –
Basic understanding of SDLC
An urge to learn
Prior understanding of JAVA EE will be an add-on
Target Audience
The target audience for this Jenkins training certification is huge and we believe all of them will be equally benefitted from this course which is high in demand. Let's have a look at who the target audiences are –
Software Testers
Software Developers
Any IT professionals
Mobile and Web developers
Freshers and Degree students
FAQ's
---
Is it mandatory to cover the entire Jenkins course?
Yes, as we have structured in such a manner that you cannot afford to skip any. To have a complete understanding of the terms you have to go through the entire Jenkins training course and also they are all interrelated.
I am a Tester and I want to move to the development field, should this Jenkins course be helpful for me?
Yes, of course, these are not specific to any stream. A tester will be equally benefitted from the course the way a developer will be. The course contains development from scratch so any tester or any other IT professional who is willing to make a move in the development is welcome.
Give me some idea of the Jenkins training course?
The training is designed for keeping professionals and fresher in mind. They can easily access the course via recorded video at their convenience at any time.
Career Benefits
With the successful completion of the Jenkins training course, you will be eligible to apply for vast streams of jobs. Let's have a look at them –
Data Analyst
DevOps Engineer
Software Developer
System Engineer
JAVA fresher
Application developer
Automation test engineer
JAVA consultants
JAVA Architects
JAVA Big Data engineer
Solution Architect
Android Developers
Reviews
---
Advanced Jenkins Course
Short and sweet and really good lady inst. I liked the email part of the course where you can configure to send build emails. These courses are nice to all and show much promise. I'd recommend that more be given and that complete courses be provided on this topic. Congrats to all and hope we can see more in the future
John Andrade
Good One!
This is very useful and helpful. I learned a lot and I can't wait to continue my pursuit in gaining more experience in the computer science and programming departments.
Grant Eric
Excellent
The Jenkins training course is an introduction to Jenkins concepts. The course is well organized and the coding examples help to understand the abstract concepts very well. thanks
John Andrade