Learn from Home Offer TAKE THIS BUNDLE
JBOSS Certification Course Bundle - 3 Courses in 1
This JBoss Certification Course includes 3 courses with 4+ hours of video tutorials and Lifetime access. You will get to learn all the key features of JBoss and how to configure, deploy, and administer the applications to JBoss Enterprise Application Platform from scratch.
TAKE THIS BUNDLE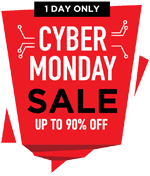 * One Time Payment & Get Lifetime Access
What you get in this JBOSS Certification Course Bundle - 3 Courses in 1?
4+ Hours
3 Courses
Course Completion Certificates
Lifetime Access
Self-paced Courses
Technical Support
Mobile App Access
Case Studies
About JBOSS Certification Course Bundle
---
Courses
You get access to all videos for the lifetime
Hours
4+ Video Hours
Core Coverage
Key features of JBoss and how to configure, deploy and administer the applications to JBoss Enterprise Application

 Platform from scratch.

Course Validity
Lifetime Access
Eligibility
Anyone interested to learn network administration, system administration, and Java application development
Pre-Requisites
Basic knowledge about Java and Linux application
What do you get?
Certificate of Completion for the course
Certification Type
Course Completion Certificates
Verifiable Certificates?
Yes, you get verifiable certificates for each3 course, Projects with a unique link. These link can be included in your resume/Linkedin profile to showcase your enhanced skills
Type of Training
Video Course – Self Paced Learning
JBOSS Certification Course Bundle Curriculum
---
JBOSS Certification is one of the important certifications for the professionals who have worked on the integration part or want to learn more about it. This JBoss certification course consists of the modules along with video tutorials. After completing the certification, you will get verified certificates which you can access and use it for lifetimes. This certification course comes in beginner, intermediate and advanced levels. Each module has its video tutorials that you have to complete.
JBoss Training – Certificate of Completion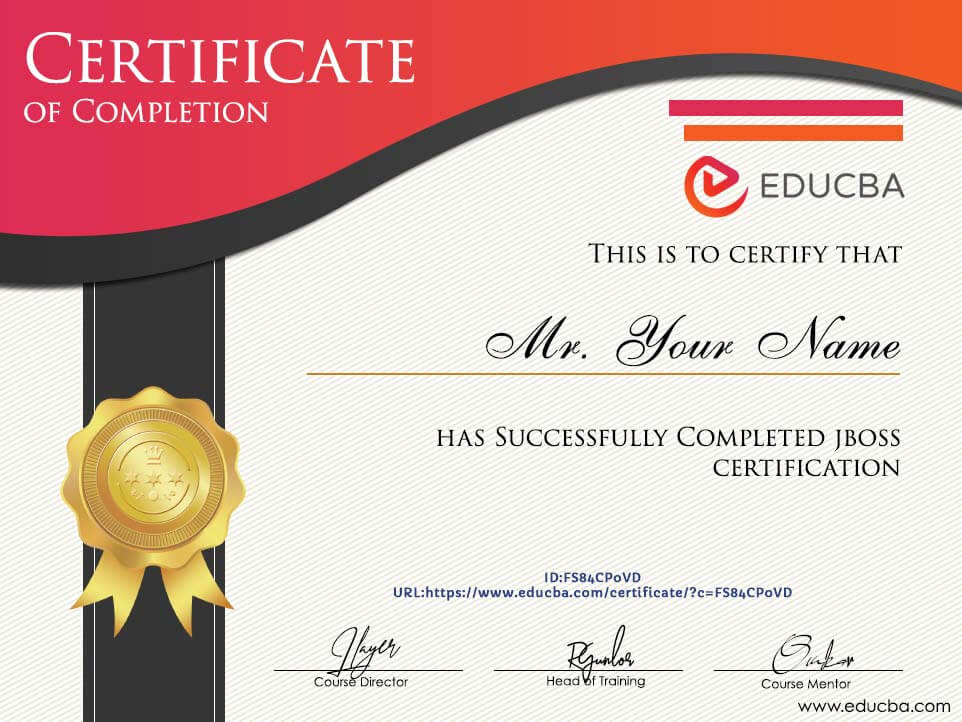 What is JBOSS?
JBOSS is an open-source platform which mainly targets the middleware services, which is known as JBoss Enterprise Middleware Suite. It is free to use and was taken over by Red Hat in the year 2006. It is portable with various applications that are required for development and deployment. The application server constitutes various extensions and modules. Each extension has various subsystems that serve various purposes. Each server can be used with only one profile. There are many JBOSS products like Drools, Jbpm, OKD, JBOSS Fuse, Teiid, Thorntail, etc. The tools that are used for working on JBOSS products are mainly JBoss Developer Studio and JBoss Forge.

Which Skills will you learn in this Training

?
In this JBoss certification course, you will have lifetime access to all the courses along with the video tutorials and the modules. Different concepts and fundamentals are included in the three modules covering all the concepts in beginner, intermediate and advanced levels. You will learn about the fundamentals, installation procedure, and understanding JBOSS enterprise application. You will also learn about different strategies followed while deploying the applications and configuration of Oracle Driver EAP, logging, and security.
Pre-requisites
There are no such required prerequisites in learning JBOSS. However, familiarity with certain terminologies and fundamentals will help you understand the course easily and quickly.
Basic Knowledge in Command Prompt and Networking: Since it is not a mandatory prerequisite to know the commands used in command prompt but having some basic knowledge in all the commands that are required in some basic functioning can help you to understand the concepts quickly.
Basic Knowledge in Java: Java is one of the most important programming languages that are essential for all JBOSS professionals. Although the certification comprises all the fundamentals in the beginning part of the module it is advisable to have some knowledge in syntax and use of various functions in Java.
Target Audience for this JBoss Training
This certification course is designed for all those who want to begin a career in JBOSS. Experienced professionals who have worked on the integration part or Java professionals can take up this certification course which will enhance their skills and can increase their expertise in the respective area. Students who have recently graduated or those who want to increase the visibility of the resume among others can take up this certification course which will help them in getting a great internship or job offer from various organizations. Educators who conduct online training classes for professionals or students can also take up this certification course to increase their knowledge.
JBOSS Training – FAQ's
---
What are the job profiles that I can apply after completing this certification course?
The number of job opportunities in the Java-based field has never decreased and the job opportunities have been increasing drastically in the field of JBOSS in various job boards. Many organizations are hunting for JBOSS Certified Professionals in multiple profiles like Software Developer JBOSS, Web Administrator, JBOSS Administrator, Java Enterprise Edition Professional, JBOSS Consultant, Data Analyst, WebLogic Portal Administrator, etc.
Can I enroll for this certification without having prior knowledge in JBOSS?
Yes, you can enroll for this JBoss Course even if you do not have prior experience or knowledge in any programming language since all the fundamentals that are required in JBOSS will be covered in the beginning part of the course.
Is there any time frame to complete this certification course?
No, there is no defined time frame to complete or apply for this certification. This certification program is flexible and you can complete the modules and the video tutorials according to your flexibility.
Sample Preview
---
Career Benefits
This certification course covers all the concepts in the beginner, intermediate and advanced levels. You will also learn about the various deployment strategies requires in JBOSS which is very beneficial as it will help you in cracking the interviews if there are any questions regarding the deployment in production. JBOSS market trend from the past has been increasing exponentially over the past few years. Every organization is always in the hunt of the professionals in the technologies which are in the market right now and JBOSS is one of the technologies which is always in the market and you will find various job opportunities in various locations across many startups and organizations. Some of the top companies that hire JBOSS Certified professionals are Wipro, Infosys, Cognizant, Accenture, Capgemini, Tech Mahindra, IBM, Tata Consultancy Services, etc.
Reviews
---
JBoss Training
It was a basic course for JAVA in easy to understand presentation format with coding examples for each section of the materials. The speaker had some heavy foreign accents but I was able to understand them because the contents are mostly technical terms and basic English words. I recommend if you are a beginner in programming.
Chun Yang
Amazing Training
This course is a big help in helping understand the concepts that at first seem to large to grasp. Because these lectures are so carefully prepared, the lectures make large pieces into small bites. It also makes information from other sources, including school-related classwork easier, because it reinforces the learning from a different perspective with viable video examples to support the lectures. I highly recommend this class to any student desiring to understand Java.
C. F. White
Good Training
If you've used C# or any other object-oriented language, I recommend moving to a more advanced tutorial but this is a very good tutorial to teach beginners. It teaches the very basics of programming to how Java started to conditional statements and how Java's garbage collection works. Good course for beginners
Dacio Romero
JBoss Basics
A good and well-taught introduction to Javascript with detailed explanations and with support of well-explained slides and code along and easy to follow examples. As a student learning the basics, I feel that I will have an easier transition to more advanced topics that can be discussed in javascript. I can now write my scripts which will be meaningful for simple web applications. I recommend this course to those who are new to javascript and want to know all the other overlooked topics that as a developer will be expected to know.
Linked
Tafadzwa Makuyana