Learn from Home Offer TAKE THIS BUNDLE
JAVA Course Bundle - 78 Courses in 1 | 15 Mock Tests
304+ Hours of HD Videos
78 Courses
15 Mock Tests & Quizzes
Verifiable Certificate of Completion
Lifetime Access
TAKE THIS BUNDLE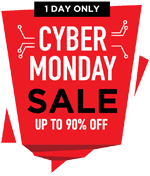 * One Time Payment & Get Lifetime Access
What you get in this JAVA Course Bundle - 78 Courses in 1 | 15 Mock Tests?
304+ Hours
78 Courses
Mock Tests
Course Completion Certificates
Lifetime Access
Self-paced Courses
Technical Support
Mobile App Access
Case Studies
About Java Training in Mumbai
| | |
| --- | --- |
| Course Name | Java Training in Mumbai |
| Deal | You get access to all videos for the lifetime |
| Hours | 304+ Video Hours |
| Core Coverage | Java, Struts2, Java Spring, Spring Boot, Design patterns in Java, JDC, JSON, Java Build Tools, Java Hibernate, Ajax, Java EE/J2EE. |
| Course Validity | Lifetime Access |
| Eligibility | Anyone serious about learning Java and wants to make a career in this field |
| Pre-Requisites | Knowledge of Basics in Any Programming Language would be useful. |
| What do you get? | Certificate of Completion for the course |
| Certification Type | Course Completion Certificates |
| Verifiable Certificates? | Yes, you get verifiable certificates for each78 course, Projects with a unique link. These link can be included in your resume/Linkedin profile to showcase your enhanced skills |
| Type of Training | Video Course – Self Paced Learning |
| Software Required | None |
| System Requirement | 1 GB RAM or higher |
| Other Requirement | Speaker / Headphone |
Java Training in Mumbai Curriculum
---
The main objectives of this training are to provide overall and Hands-on knowledge in Java Programming. The course covers topics such as Struts2, Java Spring, Spring Boot, Design patterns in Java, JDC, JSON, Java Build Tools, Java Hibernate, Java EE/J2EE, and much other real-time projects. IDEs such as IntelliJ IDEA and Eclipse are covered in the course it provides a development environment for developing Java and Java EE applications So, the main objective of the course is to make the individuals gain practical skills in Java Programming.
In an ever-increasing demand for Java skilled individuals, this Java Training in Mumbai would prepare you with skills that are in high demand.
What will you learn in this Java Course?
This course consists of over 274+ hours of hands-on training material with video tutorials on the Java module. Since this Java Training in Mumbai also provides 26 real-time hands-on projects it will provide a deeper understanding of the concepts and application of the learned technique would become easy.
The course provides over 200+ hours of Java Programming module and over 12 hours of a complete tutorial of Java-based web frameworks like Java Hibernate, Java JUnit, Java TestNG, Struts2, etc. Over 18 hours of Java Web Services training, over 16 hours of Data Structures and Algorithms in Java, etc. The course also covers over 12+ hours of Java OOPs Concepts, Core Java Programming & Java Database Connectivity Advanced Concepts. The course also covers over 75+ hours on hands-on Project experience in Java Programming modules. All this comes with life-time access to the user.
Java Training – Certificate of Completion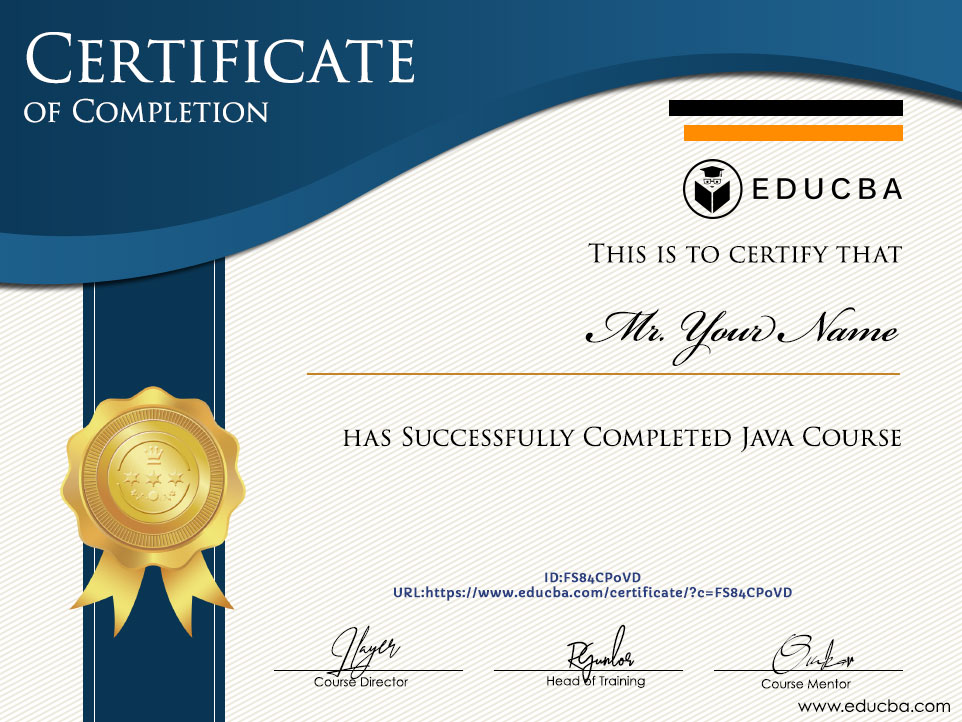 What is Java?
Java has been widely used in the extensive and high-level programming language in recent times. Java is an Object-Oriented programming language that allows it to segment or divides a huge set of the problem into smaller segments with the creation of objects. So that the code is effective to use multiple times and maintain and design it according to our needs.
Java is used to create a web application and graphical user interface applications. There is a runtime platform known as JRE which allows us to run Java applications as byte codes by using an execution platform known as Java Virtual Machine. This JVM can be used to un the written code on any platform. Java is a strong language that allows running an application that has written on any platform. This robust quality of Java allows it to create large scale and sophisticated applications. Another important quality of Java programming language is secured for running or developing an application and it is significantly faster than other programming languages.

Industry Growth Trend
The rapid application development market size is expected to grow from USD 7.8 billion in 2018 to USD 46.2 billion by 2023, at a Compound Annual Growth Rate (CAGR) of 42.9% during the forecast period.
[Source - MarketsandMarkets]
Average Salary
Average Salary
$102,205 per year
The average salary for a Java Developer is $102,205 per year in the United States.
[Source - Indeed]
Which Skills will you learn in this Training
?
The Java course provides deeper knowledge on the fundamentals and also the advanced techniques of Java Programming language and its varied uses in the field of IT, Web Services and Analytics, etc. On successful completion of this Java Training in Mumbai, you will be fully equipped with all the necessary skills to get a more challenging role or a new job with an increased paycheck.
The course provides knowledge on Java Abstract Toolkit, swing, EJB that are used to develop GUI based applications.
The course provides knowledge on web services such as REST (Representational State Transfer) & SOAP (Simple Object Access Protocol). It provides the skill set to work with integrating the Java application & Database to develop and manage an application using JDBC (Java Database Connectivity API).
The course provides extensive knowledge on Ant & Maven which are tools that are used in a project building and Execution. It also provides knowledge and working experience on Java & JavaEE based application development IDEs such as IntelliJ, IDEA, Eclipse, etc.
JUnit & TestNG which is a primary testing framework that is used in Java applications are also covered in the course
Pre-requisites
Since this Java Training in Mumbai covers concepts from fundamental concepts of Java to a more advanced level of Programming in Java there is a very little prerequisite required. All you have to do is to keep practicing the concepts and hands-on workout and passion to learn will give the skills that are required. Any degree in computer background or any technical or engineering discipline is highly recommended. Prerequisites are basic knowledge on Programmings like shell scripting or any other basic programming languages that will provide you an edge. An added advantage if you already knew the basic data types of Java and conditional and loop statements.
For students, if you have basic knowledge in Java Programming it is an added advantage and it is not mandatory.
Target Audience
Whatever course it may be the target audience is the people who are passionate to learn and excel. People from an educational background of Engineering, Computer Science, and other technology backgrounds are the primary audiences. For Engineering and CS Students, this course will be very useful if they wanted to pursue a career in software development or Java developer.
Working people, as well as fresh Job seekers this Java Training in Mumbai, could guide you to a successful career in the technology domain that uses Java Programming.
For the Engineering Graduates and working professionals in other technology-related fields, who possess only theoretical knowledge on Advance concepts, this course is a must since it offers practical and hands-on training and project knowledge for them to excel in this career.
Java Training in Mumbai – FAQ's
---
Why should you take up the Java training in Mumbai?
Java is one of the faster-growing programming languages in the field of IT. Mumbai has a lot of IT and Computer Program training centers and institution which focuses on Web services and on-demand Application development. There is a large growth in the job market for Java trained personals in Mumbai. The course provides a fundamental to advance level of knowledge on Java Programming with varied uses cases and integrated with different technologies and all these modules are covered in this Java Training in Mumbai and at a much affordable price for lifetime access.
Mumbai is a global city in the technology sector due to the growing establishments of IT, Cloud, Web services, and AI-related industries and there is a large number of training centers that are available in Mumbai which shows the Job market demand. It is a central place of demand for Java skilled personnel's there is much demand ranging from small-scale to large-scale IT industry, So, it's the right time and Mumbai is the right place to take up the Java course.
What is the java market trend in Mumbai?
The market for Java trained personals in Mumbai is exponentially growing. Java is the environment-friendly and compatibility which allows it to be independent of any Platforms is a major advantage of Java. It is the reason why it is used from the mobile platform (Android) to the middleware platform (Hadoop).
This Java Training in Mumbai covers all the topics from Programming to knowledge on Compile, Debug, exception handling to Database platforms, and Web application development techniques. The whole module that is provided is based on recent trends and growing job opportunities in the IT world that uses Java. Since the module provided, allows Hands-on training and live project experiences, upon completion of the course you will attain the complete Java Programming skill set which would lead you to an excellent career.
Sample Preview
---
Career Benefits
This program is designed by industry leaders in a clear and structured manner which has got 38 Online course modules, 247+ hours of hands-on learning, and 26 projects and lifetime access. After completing the full course and you will be awarded a verifiable certificate.
Important Benefits are, you will learn a fast-growing and much-demanded programming language Java in the Information Technology domain.
The average annual salary of a Java Developer is 5.5lakhs and a maximum of 15lakhs per annum in India. The average annual salary of Java developer is $69,722 to a maximum of $10000 in the US. Since Java is a widely used language for software application and web services the market is rapidly growing and there is a huge demand for trained and skilled personals in Java.
Reviews
---
Excellent !!
Excellent – Excellent – Excellent. I Just had to send you a message to say how much I love your site. I use it all the time, it is always clear and concise. eduCBA has been awesome for me in terms of learning new functions, refreshing myself on old functions I may have forgotten how to use, and I love how you break down how something works into multiple steps.
Tushar S Chandra
Java programming
It was an amazing experience. There were quite enough examples to make the topic understand properly. I liked the way of teaching. It has short videos for all the topics with their programs. The theory part is also covered in these videos. In the video, programming is done in eclipse which is beneficial as it helps the programming easy. It was a complete package of java program learning.
Linked
Deep Shikha
Comprehensive Java Training
Very good content and easy to understand with hands-on sessions. Theory and practice go hand in hand and hence it is easy for us to visualize what is being explained and easy to relate to what we know already. And the real benefit of learning via online classes is – Get trained at your own pace and your convenience!!
Linked
Shiyas Cholamukhath
Nice Course !!!
The course is quite good. It allows you to learn both conceptual and practical parts with ease with a certificate. But the explanation part could be made more better and efficient as sometimes while going through the course it becomes boring. It could be made interesting by adding a quiz in between subsequent lectures.
Shivansh Shukla
Helped Me For Campus Placement
Hello, this introduction to java course has helped in preparing for the campus placement in our college, I am currently in the final year of B.tech ECE course at Birla Institute Bhimtaal, Xpanxion is visiting our campus soon and apart from the good academic score, it was mandatory to have the basic knowledge for sitting in campus placement text, your course has provided me essential knowledge of basics of Java, I am very thankful to you.
Linked
HIMANSHU PANTOLA
Java EE/J2EE – Java Servlets
The course content is good enough for any beginner to understand and the examples provided were supporting too. The application also provides you an option to select the speed of the session which helps you to skim fast through certain chapters if you have some idea on those already. All the source codes used for the demo are complete in the form of working which keeps us interested in learning as we see things working! An overall good place to learn.
Linked
Shiyas Cholamukhath