New Year '20 Offer TAKE THIS BUNDLE
GitHub Training (2 Courses, 2+ Projects)
2 Online Courses
2 Hands-on Project
5+ Hours
Verifiable Certificate of Completion
Lifetime Access
Version Control System - GIT Training
Git and Github for Developers
Project on Github - Version Controlling
Offer ends in:
TAKE THIS BUNDLE
What you get
Online Classes
Technical Support
Mobile App Access
Case Studies
Online GitHub Training Course
This GitHub Training Certification includes 2 comprehensive GitHub Courses, 2 Projects with 5+ Video Hours tutorials and Lifetime Access. You get to learn how to get started with Git, understand the version control tools, Git operations, and life cycle in detail.
Industry Growth Trend
The rapid application development market size is expected to grow from USD 7.8 billion in 2018 to USD 46.2 billion by 2023, at a Compound Annual Growth Rate (CAGR) of 42.9% during the forecast period.
[Source - MarketsandMarkets]
Average Salary
Average Salary
$72,155 per year
The average salary for a Web Developer is $72,155 per year in the United States.
[Source - Indeed]
About GitHub Training Course
| Courses | | No. of Hours |
| --- | --- | --- |
| Version Control System - GIT Training | | 36m |
| Git and Github for Developers | | 1h 9m |
| Project on Git | | 26m |
| Project on Github - Version Controlling Using GIT | | 1h 07m |
---
Course Name
Online Git

Hub

 Training Course

Deal
You get access to all 2 courses, 2 Projects bundle. You do not need to purchase each course separately.
Hours
5+ Video Hours
Core Coverage
Learn how to get started with Git, understand the version control tools, Git operations, and life cycle in detail.
Course Validity
Lifetime Access
Eligibility
Anyone who is serious about learning GitHub Version Control
Pre-Requisites
Basic knowledge about Project Management would be preferable
What do you get?
Certificate of Completion for each of the 2 courses, 2 Projects
Certification Type
Course Completion Certificates
Verifiable Certificates?
Yes, you get verifiable certificates for each course with a unique link. These link can be included in your Resume/Linkedin profile to showcase your enhanced skills
Type of Training
Video Course – Self Paced Learning
Software Required
None
System Requirement
1 GB RAM or higher
Other Requirement
Speaker / Headphone
GitHub Training Curriculum
---
In this section, each module of the GitHub Training Course is explained.
Sr. No.
Course Name
 Course Description
1
 

Version Control System – GIT Training

This GitHub Training will include the following:

1. Introduction to version control Systems Shows how to use popular version control software and changing the source codes. It starts with fundamental concepts like branch commits. integrating version control in the Integrated development environment.

Terminology and types of VCS

advantages and disadvantages of categories.

Life Cycle and GIT

 Understanding the SVN git Life Cycle is discussed in this chapter which covers repository, check-outs, updates, changes, resolve conflicts.
Learning how to use Subversion and Demo of SVN working repository.
Get to know the deep start of Working of Git by setting project folders, copying repositories to the local system.

You will learn how to use a pull request and practice on remote repositories.

2
Git and Github for developers
In this GitHub Training course, you will learn the following stuff like

1. Content and Introduction

You will learn basic Introduction to git,
Features of Git and terminologies and types used.

2.Installation

Installation of Git on Windows, Linux /Mac and set up by creating Git hub account, Git configuration.

3.Getting started

This course covers Getting Started with Git with concepts like

Mainstreams of Branching strategies and Git Flow.
Basic concepts of Git
Restructure in Git

4.Creating an Online Repository

Learn how to use GitHub to collaborate

Creating online repositories and working with remote repositories and understanding them by creating a new public repository.
Performing Git Operations like create,
delete, checkouts.
the module covers Merging Branching
strategies, switching between them, two way and three-way merging operations.

Git Hub

In this tutorial, you will get to know git Hooks to create event trigger scripts and their types, functions. Followed by types of workflows and working with real-time projects.

Learn how to build Git hub.
Git hub Operations and Git Life Cycle which includes various states and additional states.
---
GitHub Training – Certificate of Completion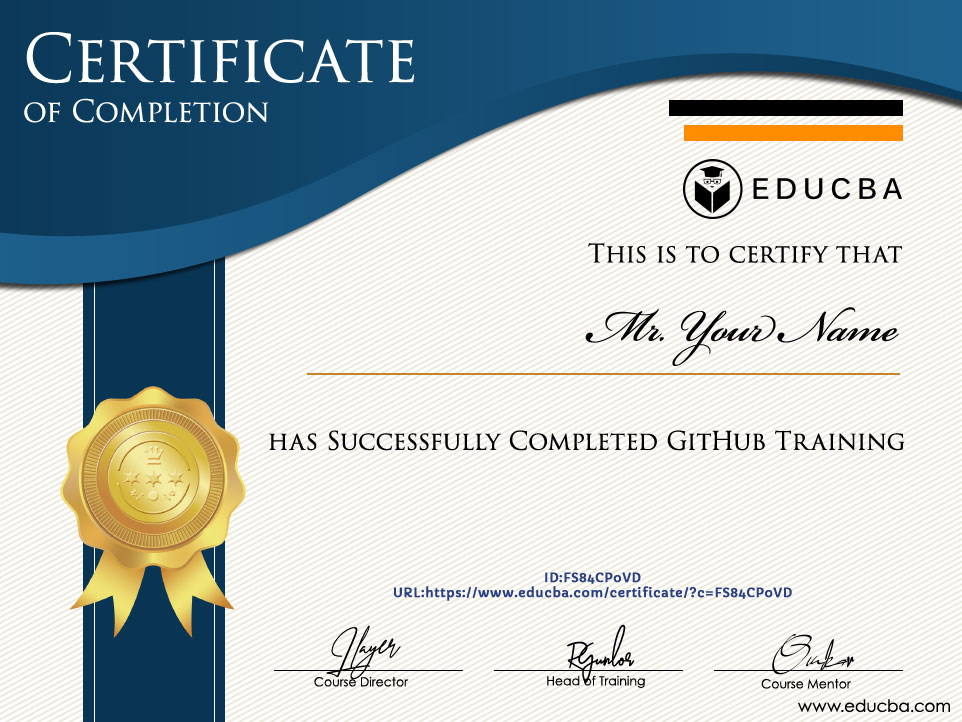 ---
What is GitHub?
 Git hub is an open-source development platform offers cloud-based git repository service helps developers to manage and store their source codes. It is user-friendly used well for open-source projects developed in 2008 has a web-applications. Version control and git are exactly the principles of Git Hub. According to a survey,90% of developers prefer Git for their software project codes. Git Hub is a web portal for Git Repositories and acts as a remote platform to host files and cost-effective. GitHub is a platform-independent and produces error-free outcomes with excellent support. An essential part of Git hub comprises repositories, pull requests, branches, commit and Git. Git hub acts as the best portfolio for developers and larger / smaller teams make Git has an essential part of the code of choice. On git hub space is limited to 1GB, GitHub services include forking, user management, branching, and editing. Branching is a pointer that refers to the last commit which moves forward automatically.
The main objective of the Git hub is to manage codes, packages, files that can work with Git. Git hub helps in visualizing data, building a game and advanced technologies across the world. It guides in collaborating with other developers means all the uploaded code are used by many users at the same time. The workflow of GitHub has three stages areas: Working directory, Staging area, Git repository. They are widely used for projects as they keep the code in one commonplace with the help of version control. Since it is a distributed version control, it could handle the issues, test, deploy at the remote. A local copy of the code can be created by cloning a Git repository. Instead of sending a code in the zip file you can upload it into a git repository and mail them a link. The repository is where metadata is stored is a directory of Git. Public files are stored locally on the computer as zip files too.
Which tangible skills you will learn in this course?
You will learn how to create a repository and working as an individual. At the end of the training, you could work on real-time projects and would learn how to collaborate as a part of the team. Gain knowledge on Git Source control, creating a pull request and deployments workflows so that the project is available on any computer. You will be comfortable developing and collaborating software and with other developers. Important program skills like knowing to set up in windows and working with Git commands. To brush up on your skills in IT environment developers can master this GIT training, you will be familiar with working with popular Git Hub websites. It helps you to create portfolio projects using Git showcase your skills in building GIT fundamentals, working with GitHub tools and helps in customer documentation. using GitHub on a team that gains a complete understanding of Project Management for implementation and storage.
Pre-requisites
No pre-requisite required for this Github training course but Basic knowledge on software development, Microsoft GUI, Windows Command-Line will be good. Skills required such as Apache and version controls. While working with Git hook you need to know installation programs like git, bash, Node.js. Students should have experience in Git to undergo repositories concepts that provide an additional back-up of the code.
Target Audience
Computer Programming, a software developer, Team leader, Managers could be a target audience to improve his portfolio. software Architects, software designers, Testing Professionals, technical expert Managers who wish to have career growth using Git and Git hub can go for this training. This Github training is mainly intended for testers, technical leaders, IT system Administrator, Tech support specialist and creative professionals who have little knowledge of SVN.
or Front-end Architect roles for experienced professionals in larger organizations.
FAQs
---
What are the requirements to install git and GitHub?
the requirements include GitHub desktop, 1 Gb Ram for Windows, if the webserver is used need to install PHP, windows server essential software and minimal requirements on hardware.
What are the GitHub Training objectives?
It outlines the version control concepts and the role of Git and briefly explains the concepts on the database.
Is any programming language is required to learn GitHub training?       
GitHub is built in C programming language. The popularity of programming language is paying a wave in the software industry. discovering programming language like python is good to GitHub.
What is the minimum time required to complete the GitHub training course?
You will learn the GitHub two courses in three hours with full lifetime access with on-demand videos.
What you will learn in this training?      
You can learn to build projects to collaborate with remote repositories.
 What are the Roles offered for GitHub certified Professionals?
Cloud Architect, cloud solution engineer, Platform service engineer.
Who can take up GitHub certification training?
GitHub training is essential for every IT professionals. Application developer, data manager, Administrator can do the GitHub course.
Sample Preview
---
Career Benefits
Work as a data analyst, a software engineer on Git Hub. Git hub is used in DevOps.Those who want to build their career in the IT sector can take up Git training. This training helps attendees to gain knowledge of Git applications. Improves your skill with real-time industry based real-time projects so that it amplifies individual exposure with the current career job market to faces real business world challenges. Companies like Amazon, Google, Facebook, Net Flix, IBM recruits GitHub developers for their front-end applications as they are the essential tools for software engineers. In recent days, Git hub trainers could seek a job in domains like data science, technical documentary, project designer. Adding GitHub in a profile gives an added value to the profile to get the first opportunity as a developer. For students, it helps in improving their performance and motivated towards their career growth. This Git hub training mainly focuses on career prediction for computer science domain candidates. You will be working with on-boarding where organizations bring new people into the group as a member of GitHub. It might help in Jumping your career as a professional developer. Quora, LinkedIn, Monster India are digging deep on GIT Hub recruitment tool. Beginners can step towards a new career in building their projects in the business world. you could have greatness in your path to become a  full-stack professional developer.
Course Reviews
---
Interesting
The Git Hub training is very interesting and covers more topics in an application-oriented in-depth manner. The course curriculum is designed with the industry requirements for attendees at various levels. This course helps to learn git features and production with version control.
John Carlo
Enjoyed learning version control
EDUCBA is a high-quality GitHub online training paying close attention with practical key principles. On successful completion of this training, you will be certified for GitHub training. You gain valuable knowledge and tremendous confidence to hunt a job in IT sector. They bring insights from an enterprise which provide proficient and skilled trainers with detailed information.
Steven Joseph
GitHub training
I deeply recommend this course to all of my colleagues and now I got full knowledge of GitHub. Recruiters are looking for a general outlook of your GitHub account and portfolio which helps in a job search. If you know basic concepts on Git you can figure out the concepts very easy.
Anil Nair