Learn from Home Offer TAKE THIS BUNDLE
Dreamweaver cc course (1 Courses, 3+ Projects)
This Online Dreamweaver CC Training includes 1 Course , 3 Projects with 12+ hours of video tutorials and Lifetime access.

Through this course, we are going to introduce you to Adobe Dreamweaver Creative Cloud (CC), its interface and also creating a web page right from scratch.
Adobe Dreamweaver for Beginners
Adobe Dreamweaver Project - Creating a Site
Dreamweaver Project – Static Responsive Website
Offer ends in:
TAKE THIS BUNDLE
* One Time Payment & Get Lifetime Access
What you get in this Dreamweaver cc course?
Online Classes
Technical Support
Mobile App Access
Case Studies
About Dreamweaver CC Course
| Course | | No. of Hours |
| --- | --- | --- |
| Adobe Dreamweaver for Beginners | | 51m |
| Adobe Dreamweaver Project - Creating a Site | | 6h 5m |
| Project on Dreamweaver | | 1h 52m |
| Dreamweaver Project - Static Responsive Website | | 30m |
---
| | |
| --- | --- |
| Course Name | Online Dreamweaver CC Course |
| Deal | You get access to all videos for the lifetime |
| Hours | 12+ Video Hours |
| Core Coverage | Learn Adobe Dreamweaver Creative Cloud (CC), its interface and also creating a web page right from scratch. |
| Course Validity | Lifetime Access |
| Eligibility | Anyone serious about learning web development |
| Pre-Requisites | Basic Design Knowledge and Basic Coding |
| What do you get? | Certificate of Completion for the course |
| Certification Type | Course Completion Certificates |
| Verifiable Certificates? | Yes, you get verifiable certificates for each1 course, 3 Projects with a unique link. These link can be included in your resume/Linkedin profile to showcase your enhanced skills |
| Type of Training | Video Course – Self Paced Learning |
| Software Required | None |
| System Requirement | 1 GB RAM or higher |
| Other Requirement | Speaker / Headphone |
Dreamweaver CC Course Curriculum
---
This Dreamweaver CC Training is divided into 2 courses First one is Adobe Dreamweaver for Beginners and the second one is Adobe Dreamweaver Project – Creating a Sit… The first course is designed for the starters who are new to this tool. It is divided into two courses with 10 video lectures and the total duration of 54 minutes. In the second course tells about how to use this tool by creating a project in this software. It is divided into one course with 53 video lectures and a total duration of 7 hours and 4 minutes. In the below table it has been explained about the content present in all the courses.
Goals
In today's world we have noticed that organizations hire the best of the people to make the most dynamic and spellbinding websites for them which would attract a lot of traffic leading to the popularity of the website. In simple terms, we aim at making you that developer who would be responsible for these popular websites.
Objectives
The course on Dreamweaver has a lot of internal objectives that would be discussed during the topic of teaching. But in an overall scenario we would go through the intention of why one would pursue the course and what objective this course will try to fulfill in due course of Dreamweaver course. Our course is designed in such a way that we would try to start everything from scratch and then build on the learning to move on to more advanced topics. This course comprises of 1 course and 3 projects aimed at not only building the platform to learn great theoretical knowledge but also get hands dirty on hands-on experience so that we can cover the void spaces which might have cropped up inadvertently.
Course Highlights
Quality education is what we are most talked about when it comes to delivering education in an online mode. With every passing course we try to incorporate learnings or feedbacks from previous ones so that we are better every day and try to cross the bounds of being perfect and be more perfect. Let us look at some highlights from the Dreamweaver course:
At the start we introduce you to the topic of Dreamweaver and try to make the learner comfortable with the topic, its different sections, and more specifically the version we would be studying, i.e. Dreamweaver CS6.
In the same section we would take a deep dive into other aspects of introduction like and basic sanity checks we would need to take before we are starting learning on any of the topics. Here we would also do you through the different files Dreamweaver supports and the features which Dreamweaver provides.
Now we are ready to take on the first theoretical portion of Dreamweaver and that is understanding the user interface of Dreamweaver. If you have long experience of using photoshop, Illustrator, or Flash, you would be very comfortable with the look and feel of Dreamweaver as it borrows the interface from these applications. The user interface is a unified whole, which essentially means that resizing one of the windows would affect the other around it.
We would also take you through the individual windows which provide the flexibility for handling specific tasks like the building of CSS styles etc. We would also go through on understanding what Document window is and what is the essence of it.
With the last bit on remaining things about interface we would then jump to the practical aspect of Dreamweaver.
Project Highlights
We have the same mantra for all our courses, that we won't let any of our course be without real-time projects. With the projects we would be able to build the gap between the theory learned and its application in real-life scenarios. So, without much ado, let us get a glimpse of Dreamweaver projects:
From the start of the first project, we would align ourselves to solve the only real-time problem and that too gives you a chance to solve them on your own. Living the life of website development virtually will help you imbibe a lot of skills to take care of the real project in your daily professional life. The first project would be to build a website that will incorporate the basic learning of Dreamweaver so that it will help you appreciate that even simple and basic features can create magical websites.
In the second project, we would create a website and understand the different elements required to build that site, and one by one we would go through each of the elements like "Home", "About Us", "Contacts" etc. pages and help you understand how to architecture it.
Finally, we have the last project on creating a static responsive website that will be mobile-friendly. In this project we would learn on adding structural elements and links and how images can be made responsive by just adding spaces!
Dreamweaver CC Course – Certificate of Completion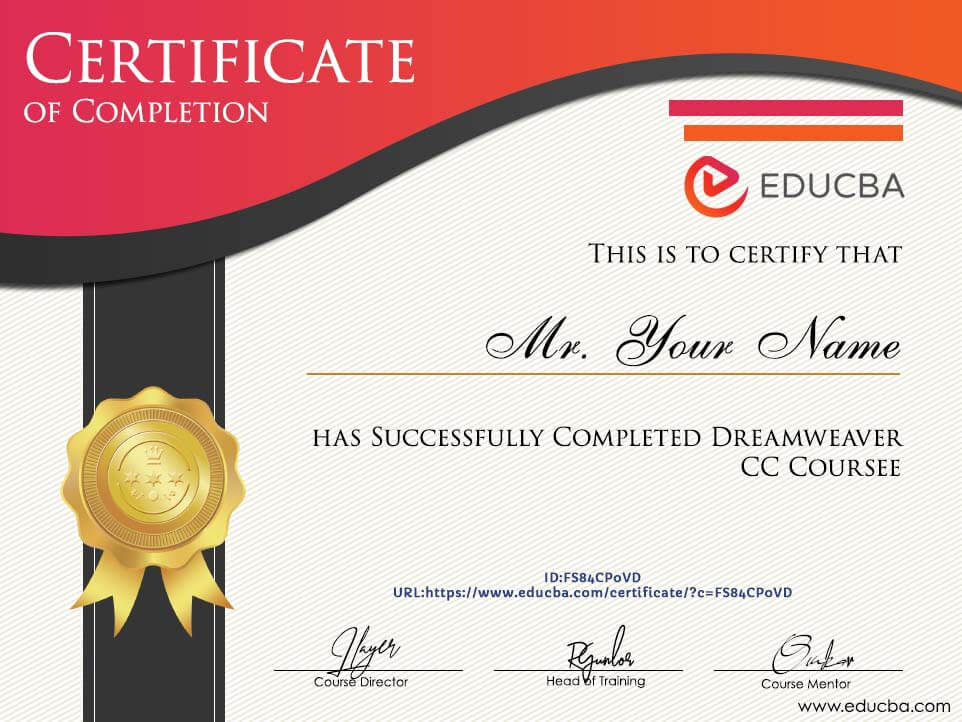 ---
What is Dreamweaver?
It is a web development tool. It was first launched by Macromedia in 1997. In 2005 it was undertaken by Adobe Systems. It is the most versatile software in which the programmer can visualize the code and develop the code at the same time. User can do syntax checking as well as code introspection through various hints will be provided to the developer while writing the code.

Which Skills will you learn in this Training
?
The main aim of this Dreamweaver CC Training is to make any students learn the coding and tell how to develop their websites. This course will allow the beginner to develop their hands in writing code in Dreamweaver. Users can write the code and visualize it at the same time. At the starting of the course, it is explained about the basics of this software and its user interface. In the last tutorial of the course, the user will learn how to write the website with different user-friendly tools.
Pre-requisites
This software acts as an interface tool with other web development tools like HTML, CSS, JavaScript, and many more. Thus the user should be aware of these web development soft wares to use this tool. But it is not at all necessary that the user should first learn these development tools before starting this Dreamweaver CC Training. The lectures are so well explained that even a starter or beginner can understand this plug-in after completing this course.
Target Audience
Image and Video Editing software are powerful tools for marketing products. Thus this plug-in can be used by all industries who are selling their product in the market. This plugin can be learned by any user to market their product and get new customers. This plugin is used by the film industry to provide different emotions without performing it into real life… Thus any user who wants to develop their career in the image and video editing industry can learn this Dreamweaver CC Training.
Dreamweaver CC Course – FAQ's
---
Why should we learn about Dreamweaver?
This software is used by web developers in designing their web site. It is a powerful tool to create web pages most conveniently and easily. The market for website designing is growing drastically. Thus any person with the basic knowledge of web designing can learn this course and develop their career.
How long it may take to learn about Dreamweaver?
There is no limited time frame in which the user learns this web development tool for designing the website. This course comprises of lectures not more than 9 hours. This Dreamweaver CC Training can be completed by one day also. But he or she will not able to create their web site if they will not practice it and use its tools correctly and logically.
Career Benefits
Dreamweaver is the web development tool available in the market for framing their web site most simply. The web development market is growing at a rapid pace. Thus any professional can learn this Dreamweaver CC Training and become a professional web site developer.
Reviews
---
Dreamweaver course
I always thought this would not work for me, but after these sessions I have great ease access to the tool. Thank You educate!
Linked
Bharath D Jain
Detailed Explanation
The course is very detailed and simple. I appreciate these videos tutorials, they were very helpful and educative. My sincere appreciation for your wonderful support team.
George Kwofie
Informative Site
I liked the way the course is organized. It was simple and easy to understand. Well planned and organized course content. The course is informative and the duration is just right. Suitable for beginners and those who wish to build their responsive website but don"t know where to begin. It would be good to have a short quiz at the end to test for the learner"s understanding. Looking forward to doing more courses on this platform.
Anto Perosha