TAKE THIS BUNDLE
Cyber Security Training (15 Courses)
15 Online Courses
77+ Hours
Verifiable Certificate of Completion
Lifetime Access
Web Application Security with OWASP Top 10 - Beginners
Web Application Security with OWASP Top 10 - Advanced
Certified Ethical Hacker V9
Hacking Techniques & IT Security Fundamentals
Hacking Techniques & IT Security Hacking and Data Mining
Offer ends in:
TAKE THIS BUNDLE
What you get
Online Classes
Technical Support
Mobile App Access
Case Studies
 Online Cyber Security Training Course
This Cyber Security Training Certification includes 15 comprehensive cyber security courses with 77+ hours of video tutorials and Lifetime Access. You will also get verifiable certificates (unique certification number and your unique URL) when you complete each of the 15 courses.
This Cyber Security certification is package of different courses and modules on Cyber Security and its related hacking and security techniques. It consists of multiple modules in the Cyber Security course including certifications also. It contains several other modules that contain internet network security, several hacking techniques such as ethical hacking etc. This Cyber Security course content has the list of comprehensive modules and chapters with detailed courses in the video format and hands-on courses.
To enable rich learning experience to the learners of this Cyber Security certification, the list of the complete courses and chapters are given the form of course curriculum for the course with the complete description of this course chapters.
Industry Growth Trend
The global network security firewall market size is expected to grow from USD 3.0 billion in 2018 to USD 5.3 billion by 2023, at a Compound Annual Growth Rate (CAGR) of 12.2%.
[Source - MarketsandMarkets]
Average Salary
Average Salary
$117,405 per year
The average salary for an IT Security Specialist is $117,405 per year in the United States.
[Source - Indeed]
About Cyber Security Course Certification
---
| | |
| --- | --- |
| Course Name | Online Cyber Security Certification Course Bundle |
| Deal | You get access to all 15 courses bundle. You do not need to purchase each course separately. |
| Hours | 77+ Video Hours |
| Core Coverage | Certified Ethical Hacking, Web Application Security with OWASP, Certified Ethical Hacker V9, Hacking Techniques & IT Security, Ethical Hacking & Penetration Testing |
| Course Validity | Lifetime Access |
| Eligibility | Anyone who is serious about learning cyber security and wants to make a career in Cloud computing/Data & Analytics |
| Pre-Requisites | Basis Cloud computing concepts |
| What do you get? | Certificate of Completion for each of the 15 courses |
| Certification Type | Course Completion Certificates |
| Verifiable Certificates? | Yes, you get verifiable certificates for each course with a unique link. These link can be included in your Resume/Linkedin profile to showcase your enhanced skills |
| Type of Training | Video Course – Self Paced Learning |
| Software Required | Microsoft Azure |
| System Requirement | 1 GB RAM or higher |
| Other Requirement | Speaker / Headphone |
Online Cyber Security Course Curriculum
---
In this section, each module of the training is explained briefly:

Web Application Security with OWASP Top 10 - Beginners
This Cyber security certification contains several concepts mentioned in course curriculum such as Computer Network and Internet, What is Network, Important aspects of Networking, Types of computer networking, Advantages of networking, Network devices overview and details, wireless technology and its applications, internet applications, FTP, search engine, retrieving documents from the web, advancement in web technologies.
Web Application Security with OWASP Top 10 - Advanced
In this chapter, the topics covered are Introduction, General Hacking methods, Protecting Online identity, Internet Phishing, Anti Phishing, Hacking, Data Mining, Spam, Cyber Terrorism, More on Data Mining, Cryptography, SQL Injection, Wi-Fi, Wireless Hacking and its advanced concepts.
Ethical Hacking Course V9
In this cyber security module, the concepts included are Introduction to Ethical Hacking, what is Ethical Hacking, Types of Attacks, Ethical Hacking Commandments, Basic Necessary tools, Footprinting and Reconnaissance, Scanning, Enumerating Targets, other operating systems, Android hacking, Wireless hacking, Digital Forensics, Hacking Computers, Cracking Windows, Web attacks.
Hacking Techniques & IT Security:01 The Fundamentals
In this Cyber Security Training module, the concepts are Introduction to General Hacking Methods, Internet Phishing and Anti Phishing, types of hacker attacks and spoofing, web spoofing and session hijacking, buffer overflow attacks, public and private keys, AES, RSA, Wireless hacking, fake AP wi-fi tool, access points etc.
Hacking Techniques & IT Security:02 - Hacking and Data Mining
In this cyber security certification, the modules explained are Introduction to ethical hacking and penetration testing, Installation of Kali Linux, operating systems, installing VMware tools, footprinting tools, and objectives, google hacking, WHOIS lookup, DNS footprinting, phishing attacks, Nmap, ZenMap, Harvester, WHOIS and dnsenum, Dnsrecon, DNS mapping, spear phishing and mass mailer attack, Rootkit hunter installation, backdoor and maintaining access, hacking win7 SAM database, jack the ripper, Meterpreter commands. password cracking, hacking through android, msfconsole, generating payloads, birthday theorem, and digital signature.
Hacking Techniques & IT Security:03 - Cryptography, SQL Injection and Wi-Fi
In this cybersecurity training module, the concepts covered are Introduction to certified ethical hacker v9, types of attacks, footprinting and recon, scanning network and enumeration, system hacking, bypassing Linux passwords, Metasploit, Web Application Pen testing, Cloud Security.
Hacking Techniques & IT Security:04 - Wireless Hacking
It contains Introduction to Basic OWASP application security training, SSL Implementation myth, Burp Suit and Nykto, understanding arbitrary inputs, key problems in application security, web application concepts works, Appsec core defense mechanisms, application requests and responses, OWASP top 10.
The Complete Ethical Hacking Course from Scratch
It contains Introduction to Advanced OWASP application security training, getting started, SQL injection and its types, Intro to SQLi, vulnerability SQL injection, Blind and Boolean, time based SQLi, time based SQLi preventing SQL injections, cross-site scripting and its types, Introduction to XML and AJAX, DOM-based XSS, Reflected XSS, Persistent XSS, Metasploit shell with XSS, broken auth and session management, Cross Site Request Forgery, Missing Function Level Access Control, Understanding Burpsuite capabilities, Metasploit and other tools.
Cyber Security Course – Certificate of Completion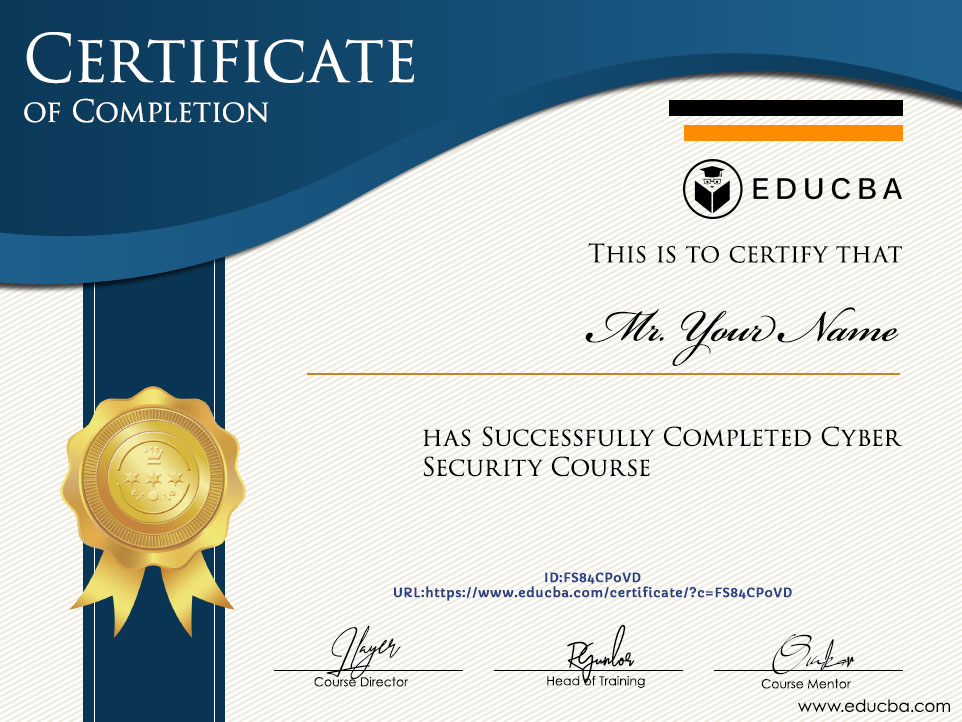 ---
What is Cyber Security?
Cyber Security is a field of computer science which deals with the security of computing systems or web applications. Cyber Security can also be called as Information Technology Security or Computer Security which is defined as the protection of the computer systems and its software hardware and especially the data residing in the hardware from any external damages from other internet works. The attack can be in any form from other networks such as a virus or direct attack through network. It also contains concepts that will identify the vulnerabilities in the system to get them fixed before any attacker makes to avoid any potential attack. The main elements of cyber security are Integrity, Availability, Authenticity, and Confidentiality. Firewalls play an important role in the Network security which comes under Cyber Security.
The main goals of the cyber security are to protect and preserve the confidentiality of the valuable data and maintaining the authorization of the users. Data Security is the main concern for the cyber security compared to the other software and hardware losses if any occurs. Cyber Security plays a major role in safeguarding and securing the computer systems software, hardware and data.
What tangible skills will I learn from this course?
The set of skills which can be acquired upon the completion of this Cyber Security certification training are web application security, OWASP, testing, CEH, certified ethical hacking, computer security, Cyber Crime prevention, hacking, cryptography etc. and including with some other web security technologies.
Cyber Security course also has many excellent modules and packages covered in the course curriculum which are very useful in learning the web security and hacking related skills such as ICMP Scanning, Security testing, IT Security, Crypto analysis, wireless hacking, VMWare, trojans, social engineering, penetration testing, ZenMap, DNS, ICMP, computer network, internet security and several other skills related to IT Security.
There are also few other skills which can be acquired from this Cyber Security course are such as UrlCrazy, Forensic escaping, Android hacking, Meterpreter, Metasploit, password cracking, prompt backdoor and few other cyber security techniques.
The Cyber Security course also has a set of tangible skills which are Harvester, WHOIS, Nmap, Dnsmapping, Dnsrecon, Msfconsole etc.
This Cyber Security course is very useful for the prospective ethical hackers and cyber security professional in order to protect the computer systems in any larger organizations where customer data is essential and of high importance.
Pre-requisites
Willingness to pursue career as Cyber Security Engineer or Ethical Hacker or IT Security Professional: The Cyber Security course has a set of few prerequisites which are required to proceed further with the course content of this Cyber Security course are such as UNIX or Linux basics, networking, any programming languages such as C++ or Java or JavaScript or Python or any object oriented or web related programming languages. This Cyber Security course is easy to learn if one has a basic or intermediate knowledge in any web or its security technologies or any web programming language and hands on experience would be an added advantage in the cyber security area to complete this Cyber Security course.
Knowledge in Networking or UNIX OS or Web programming: Any previous experience or knowledge in the areas of networking or UNIX operating systems or web programming languages or web security concepts or standards or any frameworks such as OWASP in maintaining the security of computer systems or web applications using the standard security techniques will add a greater benefit in learning the contents of this Cyber Security course very easily.
Target Audience
Students of Engineering in Computers: Any learner who is a student of computer science engineering or degree and strong in the networking and operating systems including with any computer programming language, then this Cyber Security course will be an added advantage to their academics and also can obtain more knowledge in the web security techniques using ethical cyber security techniques and its relative web security standards and frameworks in this course. This Cyber Security certification will add many other benefits upon completion of them. This Cyber Security course has been designed to advance career of any IT security related professional.
Security Engineer or Ethical Hacker: This Cyber Security course learners will be able to achieve more number skills from the learning contents of this certification which will further help in advancing the career as a Cyber Security Engineer or IT Security Professional or any White Hat Ethical Hacker. This Cyber Security course can be opted without any single thought because of its enormous job opportunities in the market. This Cyber Security course is highly recommended for any security engineer or Ethical hacker.
Bachelors or Masters of Computers in Engineering/Science: Any Bachelor or Master in Computers Science can opt for this Cyber Security certification to secure a job in any Web Security related or Ethical hacker roles easily in in any large organizations
Cyber Security Course FAQ's- General Questions
---
Why should I choose this Cyber Security certification course?
Any IT Security Engineer or Cyber Security Professional or Ethical Hacker working in the area of Computer System or Web Security and are willing to master the Web security methods and concepts should choose this Cyber Security course.
I don't have a background in computer science or web development technologies or technical engineering, can this Cyber Security course still be considered a good option?
YES, this Cyber Security Training can be considered option even without any knowledge on computer concepts as this has no pre-requisite. Anyone who is interested in learning cyber security concepts can opt for this. This course concepts can be learnt easily without any previous knowledge in web security techniques and can be learned in shorter time.
Would this cyber security certification add value to my profession?
Yes. this course would definitely add value to the learners' profile or profession and will also add a benefit that contains course certifications.
Is this a quick-fix to clear interview or do I still need to practice continuously while learning this Course?
Yes, this is can be a quick-fix without any previous knowledge or experience in Web technologies or web security related concepts or its relative IT security standards as this course will contain everything in detail. This Cyber Security course requires to spare a minimum of 77 plus hours to complete the video content.
Sample Preview 
---
Career Benefits
There are multiple career benefits upon learning this Cyber Security course and the course curriculum which are mentioned below:
This Cyber Security certification is a complete package of courses for the computer systems or web security that gives deep knowledge in the web security concepts including hands-on video content for any Computer or IT security engineer.
Any IT Security Engineer or Computer Security Engineer or Ethical Hacker can choose this Cyber Security course in order to master the security techniques and get the career elevated to a next level such as Information Security Consultant, Information Security Engineer, Security Analyst, Security Tester etc.
There are also several other benefits in the career on choosing this Cyber Security certification such as the Cyber Security course certification can also be a part of your profile as a professional qualification for the learners thus further improving the job opportunities in the IT market.