Learn from Home Offer TAKE THIS BUNDLE
CPANEL Course Bundle - 3 Courses in 1
This cPanel Training Certification includes 3 Courses with 10+ hours of video tutorials and Lifetime access. You will also get verifiable certificates (unique certification number and your unique URL) when you complete each of the 3 courses. You will get to learn how to get started with cPanel which is a web hosting control panel, understanding its dashboard and file manager.
TAKE THIS BUNDLE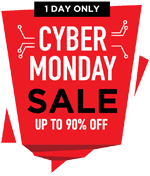 * One Time Payment & Get Lifetime Access
What you get in this CPANEL Course Bundle - 3 Courses in 1?
10+ Hours
3 Courses
Course Completion Certificates
Lifetime Access
Self-paced Courses
Technical Support
Mobile App Access
Case Studies
About CPANEL Course Bundle
---
| | |
| --- | --- |
| | |
| Courses | You get access to all 3 courses, Projects bundle. You do not need to purchase each course separately. |
| Hours | 10+ Video Hours |
| Core Coverage | Get started with cPanel which is a web hosting control panel, understanding its dashboard and file manager. |
| Course Validity | Lifetime Access |
| Eligibility | Anyone serious about learning cPanel |
| Pre-Requisites | Basic knowledge about web hosting would be preferable |
| What do you get? | Certificate of Completion for each of the 3 courses, Projects |
| Certification Type | Course Completion Certificates |
| Verifiable Certificates? | Yes, you get verifiable certificates for each course with a unique link. These link can be included in your resume/Linkedin profile to showcase your enhanced skills |
| Type of Training | Video Course – Self Paced Learning |
CPANEL Course Bundle Curriculum
---
In this section, each module of the Cpanel training Certification is explained.
| | | | |
| --- | --- | --- | --- |
| Sr.No. | Course Name | No of Hours | Course Description |
| 1. | cPanel- Beginner | 3 | The CPanel beginner course is the one which aims to provide you the basic information required to start with the Cpanel course. Training will include features such as home, an overview of the basic Cpanel beginner concepts, how to register for a domain name, getting web hosting for a particular website, how to set up a name server, Logging Cpanel Dashboard, about changing password, styles, contact information, statistics and dashboard usage, user manager, File permissions and file manager, etc.  These are the basic getting started features for the Cpanel beginner course. It makes sure to give you an overall view and flavor of the Cpanel certification. |
| 2. | cPanel- Intermediate | 3 | This cPanel Certification course structure is somewhat similar to what is mentioned in the Cpanel – Beginner course with the core difference is that it utilizes the intermediate aspects such as those related with the images, image scalar, Directory Privacy, Image converter, FTP, Disk usage, Backup, FTP sessions, Backup, MySQL databases, File Transfer Protocol Wizard, MySQL databases Wizard, phpMyadmin, Remote MySQL, etc… As Cpanel is an online web hosting control panel that is of a Linux base and provides automation tools and graphical interface which are specifically designed to simplify the process of website hosting to the end-user, this intermediate course is used to provide a good level of understanding about the Cpanel certification course. |
| 3 | cPanel Advanced | 5 | This is the most advanced form of all the courses provided under the Cpanel training Course realm as this one targets the concepts which are only to be followed by somebody interested in making their career shift in the domain of Cpanel This one not only targets the features such as Advance zone editor, Aliases, Webmails, Subdomains, Add on domains,  Email accounts, Redirect, Simple Zone editor, Email forwarders,  etc. but also targets the other advance and essential features without using our Cpanel training is incomplete.  This course also intends to teach you about IP Blocker, CPU and connection usage, SSH/TLS, Ruby on Rails, Hotlink Protection, Cron Jobs, Optimize Website, Indexes, Track DNS, MIME types, Error types, Virus Scanner, Softaculous Apps installer, CloudFlare, FileZilla FTP client, Installing WordPress, etc. |
| 4 | Total No of Hours | 10+ Hours | |
---
cPanel Training  – Certificate of Completion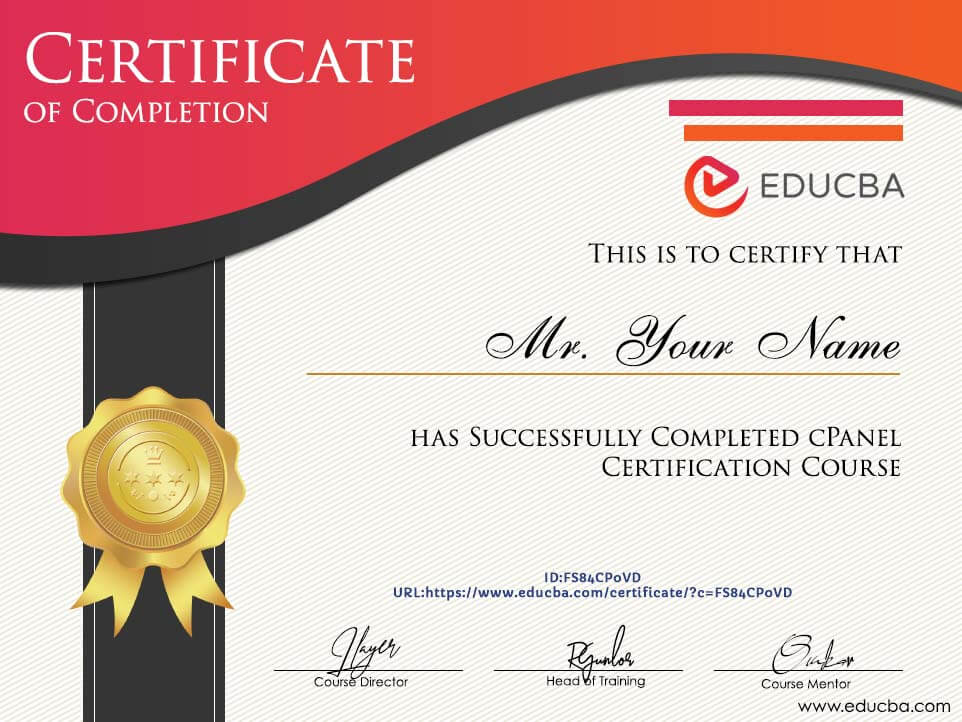 ---
Industry Growth Trend
The rapid application development market size is expected to grow from USD 7.8 billion in 2018 to USD 46.2 billion by 2023, at a Compound Annual Growth Rate (CAGR) of 42.9% during the forecast period.
[Source - MarketsandMarkets]
Average Salary
Average Salary
$72,155 per year
The average salary for a Web Developer is $72,155 per year in the United States.
[Source - Indeed]
Which skills you will learn in this course?
In this course, you will learn about basic and advance Linux and bash scripting as cPanel is based out of Linux. You will also learn and understand the concepts of advanced programming and online web site hosting as this is the primary feature of cPanel. Apart from these, you will also be made familiar and will understand the concepts of server administration. This provides a graphical user interface to manage your web hosting account and therefore once you get a good experience of the GUI, it is a good tangible skill which you can expect to learn from this cPanel Certification course. cPanel provides a wide array of features that ranges from adding an email address to handling subdomain names.
Pre-requisites
Before you start with this cPanel Certification, some basic pre-requisites ensure your eligibility and takes into criterion your criteria about being skillful enough to be able to do well with the course. It is a must needed step to ensure that the right audience opts for the cPanel training certification so that they can take maximum benefit out of the cPanel crafted by our experts especially for you.
The basic pre-requisites would include the following:
Basic knowledge of computers is needed.
Zeal and a passion to learn
Some level of interest in server administration
Understanding of Linux based systems
Knowledge of 3 tier architecture and how to operate GUI based systems
Basic understanding of web site hosting
Target Audience
The ideal target audience would be the professionals, students, and all those people who are trying to gain hands-on and understand the basics of the cPanel Course in a more detailed and comprehensive manner. The professionals would include
, Linux professionals, ones related to website hosting, resellers, third-party vendors, developers, and people who are trying to leverage the cPanel for their own business and companies. This is just an online web hosting control panel which is of a Linux base and provides automation tools and graphical interface which are specifically designed to simplify the process of website hosting to the end-user, therefore the ideal audience can also be the automation engineering specialist, analysts, and other business stakeholders. Professionals who have been working with other IT related technology and wish to switch into the Linux and server ecosystem by learning cPanel certification course. Students who are very new in entering the IT realm and wish to kick start their career by making use of something a lot more useful such as cPanel training. People who have been trying to create their piece of software and require the assistance of cPanel can make use of this cPanel Certification and can be the ideal target audience.
CPanel Course – FAQs
---
Would this CPanel training add value to my profession?
Yes, absolutely. This cPanel course is intended to make your Linux and server administration skills grow as you will be responsible to work on the cPanel which is an online web hosting control panel so the value adds that you get from this course would be related to online web hosting and server administration and other Linux administrative tasks. You will also be familiarized with WHM thereby making your skills set critical and you can expect good add on to your curriculum vitae.
If I want to be an expert in cPanel training, do I need to refer or study some other course too apart from this course?
The cPanel certification is designed in such a way that it covers all the major aspects and every theory and concept that needs to be studied. If you work well in this cPanel Certification, you would not need to study or refer anything else apart from this course. We would recommend you to complete all the modules of this course well in-depth and practice in parallel. Once that task is completed then you can start the revision. You should not find the need to refer some external material as the course curriculum for cPanel training is designed in such a way that gives an end to end visibility as a developer, analyst, and like any other professional working with cPanel.
Do I need to keep on practicing the skills I would learn from this cPanel Certification course?
If you consider the theory part and the conceptual part, that can be taken care of by just reading and going through cPanel certification just once. But if you are planning to make your career based on it, we would recommend you to keep practicing to not lose the flavor of it and also to be able to perform well at interviews and other professional places. The control panel handling and the GUI handling might be an easy task to work for but still, it would require some level of practice so that you do not forget what has been studied here or also to avoid any kind of mismatch in the theory and the practical cases.
Sample Preview
---
Career Benefits
This CPanel training aims to provide the benefit to all the people who are already working in some form of IT profession or the people who are new to the domain of cPanel and Linux. This is also beneficial for everybody interested to upskill themselves and start to work in a different domain and a realm altogether. cPanel has been a course that has affected everybody who is even slightly interested in working on how the administration tasks are done and how online web hosting is done. This would give you great hands-on over the Linux operating system and the control panel.
Reviews
---
Good training
I enjoyed this CPanel training. It seemed to be very up-to-date. The instructors were clear, concise, and thorough. The structure was intuitive and presented understandably, building on each step and using data frames and sets that avoided confusion by using names that didn't sound like operational commands and vice versa. Grammar and logic were exceptional, with very little wasted time.
Kovid
Nice Course
I love this cPanel Certification course. It is very valuable and easily understandable.
Vilakshan Narang
Thank you!!
This is a great CPanel training with very detailed videos and notes to provide a solid understanding of the material presented. Very nicely done and easy to understand and follow along for someone that is not as experienced.
Lauro