TAKE THIS BUNDLE
CentOS Certification Training (2 Courses)
2 Online Courses
10+ Hours
Verifiable Certificate of Completion
Lifetime Access
Offer ends in:
TAKE THIS BUNDLE
What you get
Online Classes
Technical Support
Mobile App Access
Case Studies
CentOS Certification Course
This Online CentOS Training Certification includes  2 comprehensive CentOS Course with 10+ hours of video tutorials and Lifetime Access. You get to learn everything about CentOS and you will see how one can actually work in this operating system. We understand it right from scratch i.e. its download, installation, features, Linux file systems, task scheduling, managing networks from scratch.
 In these days, there is various application that requires a specific platform to work. Some of the application is graphical user interface based and hence needed to be used in Window while some of the application is command line interface based and hence need the operating system that offers the execution of the command through the terminal. The applications that require the entire server to work on, so the system has to be highly capable to handle the server activities. Overall, what it means is, for various purpose, we need different systems and it is the only reason for the availability of various distributions of the operating systems in the market.
Here we are going to learn about the important distribution of Linux which is the subpart of Red Hat Enterprise Linux. We will be learning about CentOS in this course. You will see how it is different from the Debian architecture based operating system. There are some specific purposes for which this OS can be used and we will have look at all of them in this tutorial. So without wasting time anymore, let's go to have a glimpse of the topics that we are going to cover under this tutorial.
Industry Growth Trend
The rapid application development market size is expected to grow from USD 7.8 billion in 2018 to USD 46.2 billion by 2023, at a Compound Annual Growth Rate (CAGR) of 42.9% during the forecast period.
[Source - MarketsandMarkets]
Average Salary
Average Salary
$72,155 per year
The average salary for a Web Developer is $72,155 per year in the United States.
[Source - Indeed]
About CentOS Certification Course
| Courses | | No. of Hours |
| --- | --- | --- |
| CentOS - Beginners | | 6h 8m |
| CentOS - Advanced | | 4h 13m |
---
| | |
| --- | --- |
| Course Name | Online CentOS Certification Course |
| Deal | You get access to all 2 courses bundle. You do not need to purchase each course separately. |
| Hours | 10+ Video Hours |
| Core Coverage | Learn everything about CentOS and you will see how one can actually work in this operating system |
| Course Validity | Lifetime Access |
| Eligibility | Anyone who is serious about learning CentOS and its computing platform |
| Pre-Requisites | Basic knowledge about operation systems would be preferable |
| What do you get? | Certificate of Completion for each of the courses |
| Certification Type | Course Completion Certificates |
| Verifiable Certificates? | Yes, you get verifiable certificates for each course with a unique link. These link can be included in your Resume/Linkedin profile to showcase your enhanced skills |
| Type of Training | Video Course – Self Paced Learning |
| Software Required | None |
| System Requirement | 1 GB RAM or higher |
| Other Requirement | Speaker / Headphone |
CentOS Certification Course Curriculum
---
In this section, each module of the CentOS and Red Hat Enterprise Linux Certification is explained.
| | | | |
| --- | --- | --- | --- |
| Sr. No, | Course Name | No of Hours | Course Description |
| 1 |  CentOS – Beginners | 6 | In this CentOS Certification module, you will be going through the introduction of CentOS. In the initial part of the video, you will go through the jargons which will be explained to you in a detailed manner. We have made sure to explain the terms related to CentOS with the help of an example to make it convenient for you to understand the topics. This is a six hours long video tutorial where you will be covering every topic or module that falls under CentOS. In the mid of the video, the educator will be explaining you the actual requirement of CentOS which makes it popular. Though every topic is supported by example in this CentOS Certification, you will get the main example at the last of the tutorial which will clear most of the topics that can be considered as the extra part of CentOS. |
| 2 | CentOS – Advanced | 4 | This CentOS training module comprises of the advance part of the CentOS. In these four hours long video you will be explained all the topics that fall under the advanced level of CentOS. The important part about this section is, you will be asked to do the things on your own that will help you to enhance your efficiency in CentOS. The examples in this section are a bit more detailed and can be understood easily. The trainer has shown everything in the tutorial by actually doing the things so that you can grab the things in an easy manner. You will also be learning several topics in this section that are out of the scope of CentOS but used very frequently while working with this operating system. The CentOS Certification module will end with the overview or summary of the entire course to give you a glimpse of what all we learned. |
| | Total No of Hours | 10+ Hours | |
---
CentOS Course – Certificate of Completion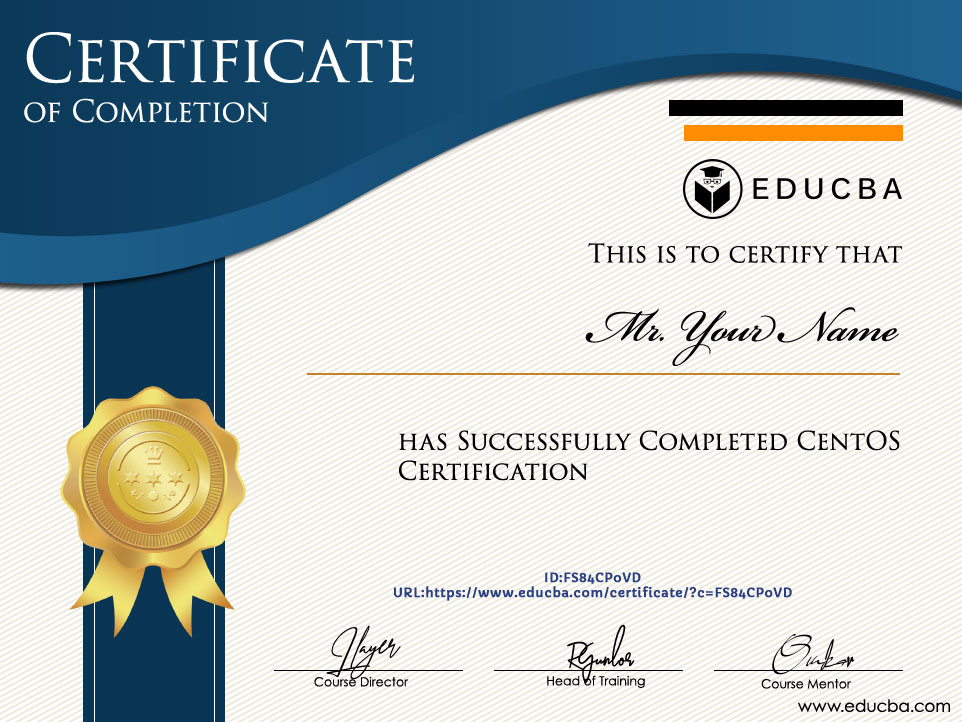 ---
What is CentOS?
 CenOS may be defined as the special distribution of Linux operating system which is a subset of the Red Hat Enterprise Linux. It is different from Ubuntu due to the different architecture. The current version of this operating system is 7.5-1804 which was released on 10 April 2018. It is considered better than Ubuntu due to its functionality of providing a better platform for computing. It makes working pretty fast and helps the application to perform complex computations in an easy manner. It is a free edition and can be used by the Linux users, for web hosts and so on.
This can also be defined as the operating system which was mainly produced to solve the computing-based problems. One can use this as the platform where the websites can be hosted to make it available for users sitting remotely. It is very easy to work with CentOS as compared to the other distribution. The reason for its popularity is nothing but the way is available for everyone to use. The small or sometime mid-sized businesses are the one that makes the efficient use of this operating system due to its free to use nature. It offers the command line interface similar to the other distributions which are implemented by the terminal. If compared with the window based system, it is pretty fast and can solve the computing problem conveniently.
Which skills you will learn in this CentOS Certification?
---
This CentOS Certification has been designed very carefully to make it convenient for beginners or professional. Regardless of your compatibility with any operating system, you will be able to learn this CentOS Training Certification in comparatively less time. The beginning of all the modules provides the explanation of the topics in a very easy manner and the complexity of the topics increases with the increase in timing which was done to make the course in a systematic manner. This CentOS Training covers every single topic that comes under CentOS to make you cognizant about this operating system.
In this CentOS Training, you will be learning about how to configure this operating system in your computer, how to work with this, the fundamental of CentOS, under the beginner portion. While in the advanced module is focused on how to leverage this OS for the computing functionalities, how the other applications can utilize the special resources provided by this operating system and things like this. All the topics covered here are backed by examples to make the learning very easy for you. Though the examples in the advance module are pretty complex, you will get the real exposure of how one can work on those parts.
This CentOS Certification Course will transform you into a professional or a CentOS expert who will be having all the skill set that is required to work with this operating system. After the completion of this CentOS Training Certification, one can be amply capable of performing any task on this operating system with ease. You will be able to do everything that comes across from deployment to its implementation in the real work environment. You will be working on several new things that are not the actual part of CentOS but can be considered as the common things when it comes on a Linux based operating system
Pre-requisites
In order to start learning this CentOS Course, you should be having a basic idea about the operating system. If you have a basic idea about any of the Linux distribution, you will learn this topic very easily. In case if you are already working on any Linux based operating system, you will end up learning a lot of new things that will offer an edge to your career. You will learn how this operating system could be deployed in the actual working environment and how it could be used to solve complex business problems. In addition to all those things, you will make it very easy for you to learn CentOS if you possess a basic understanding of this operating system.

If you have experience in working with the command line interface, it will make things very easy for you to grab all the topic taught here in this CentOS Certification course. Most of the examples that you will see here will be based on the command line interface where the commands will be submitted through the terminal. If you know how the terminal works, you will be able to learn it very easily as the major part of this CentOS Training Certification revolves around the CLI. If you are an expert of working on any CLI based operating system, you will find it very easy and will learn it quickly.

The fundamental of hardware will also be required to learn CentOS. When you will need to deploy this in the real work environment, you will find that the hardware devices or the configurations play a vital role. So if you know the basic things about hardware components like CPU, storage, memory and so on, it will be very easy for you to learn CentOS. Overall, you should be possessing the above-mentioned skills before you begin learning this CentOS training.
Target Audience
 The best target audience for this course are the students who want to learn the various distribution of the Linux operating system. They will learn about working on the other operating systems which will also reinforce your understanding of the other operating system. They can also make themselves ready for interview and for the internship by completing this CentOS Training Certification as the edge they will get after finishing this will make them shine among the crowd. The very important thing is, they will become job ready right after the completion of their college which is not a small thing. They will end up with opening a lot of opportunity doors for them.
The professional who is already working on any of the Linux distribution or working on any technology and wants to change their domain can learn CentOS to get some sharpness to their career. They will be mastering this operating system through this CentOS Training which will open them for the job positions of system administrators. They will add some extra values to their existing skill set and make them preferred among the other job seekers. The interesting part is, they can also apply for the position of the system administrator in their current organization in order to get a good package offer.
The educators who are willing to change the domain of their training or wants to explore more about the operating system can opt this CentOS Certification course to make them efficient in their field. Folks these days are preferring to learn different operating system, they can train them once they get trained completely on this technology. This CentOS Training can be a life-changing platform for them. There is a high probability that they will get freelancer projects one they are done with this CentOS Certification Course.
CentOS Course – FAQ's
---
Why should I learn CentOS?
CentOS is the operating system famous due to its capability to perform complex computation in very less time. It is the most popular OS when it comes to choosing a platform which provides a good platform for heavy applications. One can learn it to expand their understanding about the operating system so that they can make themselves comfortable with working on any of the operating systems or to achieve the functionalities that only CLI based operating system can give.
How long it may take to learn CentOS?
Depending upon your understanding of the operating system, the time it takes to learn this OS varies. You can learn this in two to three months if you are new to the operating system world but if you are familiar with this, you will be able to learn this within a month. You should learn the fundamental of the operating system before actually starting this tutorial if you want to save some time while learning this. In any situation, it can take an average of one and a half months to learn the basics of this operating system.
Is it easy to learn CentOS?
Yes, it is easy to learn CentOS. It is the other things that how likely you are to understand the concept of this operating system. If you are finding it tough to learn CentOS, it might be because you are new to this. Once you start learning the things, gradually you will find that you will start learning things very easily and you will actually find it easy to learn. The main thing you should be focused on is, you have to be curious to learn anything if you really want that to be easy for you.
Sample Preview
---
Career Benefits
As we already discussed in the early section, the course covers up most of the topics that come under CentOS. You will see all the things actually happening in front of your eyes and it's all because the course is intended to give you real exposure of how one can work with this operating system. Once you complete that course, you will be ready to work on it or to implement this in the real work environment. There are several It giants who want professional with the capability to work in the various Linux distributions and you can be one of their choices.
After the completion of this CentOS course, you will become job ready and will end up with opening a lot of opportunities doors for you. The edge you will get on learning this operating system will help you to promote your skills as that of system administrators. So if you are willing to learn CentOS, stop thinking too much. You are already in the right place. Opt this CentOS Training Certification and begin the tutorial and you will see how your growth begins in an exponential manner.
Review
---
Good!
Very good and very useful for a beginner! I learned a lot. Very useful and I recommend to those who are interested in CentOS and its world. I've been using other OS for some time, but I've also learned something new about this CentOS Certification course
Ferenc Garcia
Nice CentOS Training
Excellent system, and great information to get started. Well explained. For beginners and also for current users that need a refresh. I highly recommended this CentOS Certification course. The great thing is you have lifetime access, you can gather so much information and share it with friends, students, and colleagues. You will not be disappointed.
Gabriel Lim
Got a good deal!
Very Useful information. I learned commands I was not aware of in Linux. The videos were very helpful in showing me what is required to get the Linux working properly including all security features that should be implemented. A great CentOS course indeed. Thank you!
Sean Ewin