New Year '20 Offer TAKE THIS BUNDLE
Bootstrap Training (2 Courses, 6+ Projects)
This Bootstrap Training Certification includes 2courses, 6 Projects with 28+ hours of video tutorials and Lifetime access.

You will get verifiable certificates (unique certification number and your unique URL) when you complete each of them. This training will help you learn about Bootstrap Framework from scratch and also create high quality and amazing websites.
Bootstrap - Beginners to Beyond
Project on Bootstrap – Creating an Agency Website
Bootstrap - Create Responsive Websites
Offer ends in:
TAKE THIS BUNDLE
What you get in this Bootstrap Training?
Online Classes
Technical Support
Mobile App Access
Case Studies
About Bootstrap Training Course
| Course | | No. of Hours |
| --- | --- | --- |
| Bootstrap - Beginners to Beyond | | 4h 16m |
| BootStrap - Advanced | | 4h 04m |
| Project on Bootstrap - Creating an Agency Website | | 2h 39m |
| Projects on BootStrap | | 2h 27m |
| Bootstrap - Create Responsive Websites | | 5h 15m |
| Project - Build Responsive Website using HTML5, CSS3, JS And Bootstrap | | 6h 44m |
| Project on BootStrap - Creating an e-Commerce Website | | 1h 48m |
| Project on Bootstrap - Responsive Web App | | 1h 28m |
---
| | |
| --- | --- |
| Course Name | Online Bootstrap Course Bundle |
| Deal | You get access to all 2 courses, 6 Projects bundle. You do not need to purchase each course separately. |
| Hours | 28+ Video Hours |
| Core Coverage | Bootstrap Framework from scratch and also create live responsive website using the same |
| Course Validity | Lifetime Access |
| Eligibility | Anyone who is serious about learning Bootstrap Framework and wants to make a career in web development |
| Pre-Requisites | Basic knowledge of web application and of any existing object-oriented programming languages, HTML, CSS and JavaScript is advisable |
| What do you get? | Certificate of Completion for each of the 2 courses, 6 Projects |
| Certification Type | Course Completion Certificates |
| Verifiable Certificates? | Yes, you get verifiable certificates for each course with a unique link. These link can be included in your Resume/Linkedin profile to showcase your enhanced data analysis skills |
| Type of Training | Video Course – Self Paced Learning |
| Software Required | Open Source – Bootstrap Framework |
| System Requirement | 2 GB RAM or higher |
| Other Requirement | Speaker / Headphone |
Bootstrap Course Curriculum
---
To make the learners comfortable with a greater and easier learning experience, all the training courses and its related modules and chapters are designed in such a way that any type of learner can easily be grasped. The list of below courses and modules with its course description of Bootstrap certification are available to master the Bootstrap framework course

Projects on BootStrap
This Bootstrap certification contains a number of concepts mentioned in course curriculum such as Introduction to Bootstrap, Installation and downloading, adding a bootstrap file to HTML, Jumbotron basic HTML, Working on Navbar, Bootstrap development such as Bootstrap navigation collapse, Bootstrap dropdown, Bootstrap Glyph icons, Bootstrap buttons, alerts, images, badges etc.
BootStrap - Advanced
In this chapter, the chapters such as Introduction to Bootstrap, installing Bootstrap, Bootstrap Containers and Grids, Working with Grids in Bootstrap 4, creating grids in Bootstrap 4, creating complex web pages using Bootstrap 4, Typography and tables, creating tables, adding background colors to table elements, and more on typography in Bootstrap 4.
Bootstrap - Beginners to Beyond
In this Bootstrap certification, the concepts included in the chapters are such as developing projects from scratch using Bootstrap 4, Layouts of Bootstrap, setting up a project in Bootstrap, CDN viewport, Bower, structure of package management tool, grid system, container rows columns, introduction to nesting, image retina, text alignment, building the layout, Jumbotron, sections, styling, Carousel etc. .
Bootstrap - Create Responsive Websites
In this module, the chapters covered are Introduction to advance Bootstrap 4, customization of scroll speed, validation classes, customizing alerts, icons, creating footer forms, light box, pagination, customizing plugin with hands on exercises.
Project - Build Responsive Website using HTML5, CSS3, JS And Bootstrap
In this Bootstrap certification, the chapters covered are Introduction to building website, creating logo, styling Bootstrap, adding text on banner, working with footer block, adding to custom devices, content area, fixing footer design, creating social media sharing, aligning the logo on footer etc. with a number of examples.
Bootstrap Course – Certificate of Completion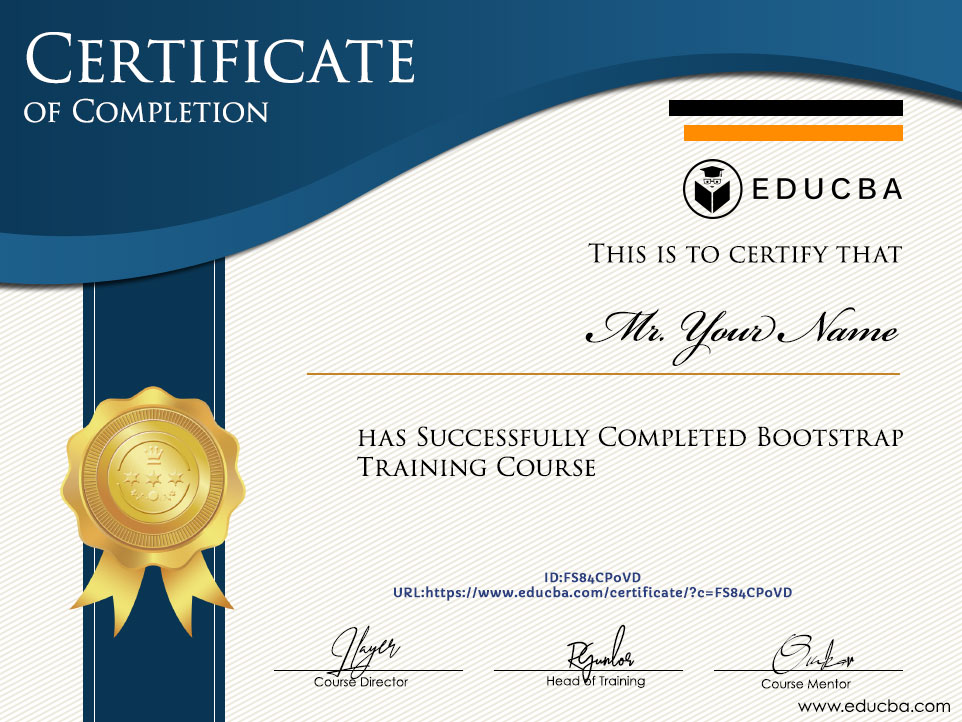 ---
What is Bootstrap?
Bootstrap is an open source and freely available web application User Interface framework based on CSS (Cascading Style Sheets). Bootstrap is one the most popular UI frameworks available in the market now. It was purely developed using HTML, CSS and JS web technologies. Bootstrap was originally developed by Bootstrap core team. Bootstrap was licensed under MIT License. The different features of Bootstrap are such as it supports different browsers such as Chrome, IE, Mozilla Firefox, Safari and Opera etc. It also supports responsive web design. It also supports multiple device models such as Computer, Mobile, Tablet etc. Bootstrap supports different style sheets models for dynamic and responsive web design styles. It provides reusable components rather than re-writing similar code elsewhere that improves reusability. This framework can be used with any of the front-end web frameworks and JavaScript or any web scripting languages such as HTML, CSS etc.
Bootstrap's has several sets of supporting features such as improvement in styling, addition of flex box support, addition of responsive components with spacing, improvement in images classes and media object.

Industry Growth Trend
The global computational creativity market size to grow from USD 204 million in 2018 to USD 685 million by 2023, at a Compound Annual Growth Rate (CAGR) of 27.4% during 2018–2023.
[Source - MarketsandMarkets]
Average Salary
Average Salary
$23 per hour
The average salary for a Web Designer is $22.74 per hour in the United States.
[Source - Indeed]
What tangible skills will I learn from this course?
The several set of skills those can be acquired on completing this Bootstrap certification are like HTML, CSS, JavaScript, many updated features of CSS (Cascading Style Sheets) such as flexbox model, styling components which are reusable and several integration features along with other JavaScript frameworks or CSS frameworks etc.
Bootstrap training has several useful chapters and modules to be learnt so as to obtain useful skills such as handling Bootstrap grid systems, typographies, code, tables, forms, helper classes, images, and several utility components.
There are multiple featured skills as a part of the Bootstrap framework such as layout components like buttons, button drop downs, navigation elements, pagination, jumbotron, page header, alerts, panels, list groups, media objects etc. The mentioned set of skills can be easily learnt by opting for this Bootstrap course.
There are also many other Bootstrap course relative topics like Bootstrap Plugins such as Modal, Collapse, Dropdown, Carousel, Tab, Scrollspy etc. which can be learned easily.
This Bootstrap course also has set of skills like Bootstrap Demos such as Sliders, Blogs, Material Designs, AJAX, Tabber Sliders, Maps, Images etc.
This course contains some custom components which are reusable so as to customize their functionalities as per the typical or complex functionalities.
This Bootstrap certification also provides a lot of knowledge and insights into CSS core concepts and related technologies like HTML and JS.
Pre-requisites
Willingness to pursue a career as Web Developer or UI or Front-End Developer: The Bootstrap course has a set of prerequisites to be able to learn before proceeding with this are HTML, CSS and JavaScript as a basic scripting or markup languages knowledge available in web technologies. This course requires some basic to intermediate knowledge in any scripting or web programming languages or any previous hands on experience in the web development technologies like HTML, CSS or JavaScript or any JS frameworks will add benefit to this Bootstrap course. This course may become tougher for a learner without any knowledge in any web technologies.
Knowledge in Web or UI application-based CSS frameworks: Any previous knowledge or experience in developing web pages or rich dynamic web-based applications using HTML or CSS or JS technologies will be an easier to the learner to grasp the contents of this Bootstrap course in order to proceed with the course contents as a cake walk and to pick the chapters at faster pace to master it. Any engineering or technical degree in computers rea or related bachelor's degree will fetch a lot of benefits to learn the course contents comfortably.
Target Audience
Students of Technology / Engineering in CS: If you are an engineering degree holder in or bachelor technology degree holder in relative fields like computer science or computer technology, then this Bootstrap course will benefit a lot of knowledge in the area of web development. This course will also add a number of benefits because of its content. This course is well recommended for the advancement of a career in the shortest possible time. It is a package of comprehensive modules to enable the learners with course contents in a crisp manner with vast knowledge including hands-on training.
Web Developer or UI Software Professionals: Learners who are willing to advance their technical career as a Web Developer or UI Front End Developer can choose this course directly without a single thought. This Bootstrap course is a must recommended course for any UI developer working on Bootstrap framework in their Software Development Profession.
Computer's Bachelors or Masters: Any Computers masters or bachelor's degree holder in engineering can choose this Bootstrap certification to clear any UI Bootstrap related interview or for any UI job interview easily.
FAQ's- General Questions
---
Why should I do this course?
Any Web Developer or UI or Front-end development professional who are willing to master the Bootstrap framework and its related technologies can pursue this course. Also who wants to achieve and reach greater heights in their career as UI developer should definitely choose this Bootstrap course. This will enhance the skill set of the learner irrespective of their experience.
I don't have a background in computers or web technologies or technical engineering, can this Bootstrap Course still be considered a good option?
YES, this cannot be easily mastered without any web technologies or computer science educational background as this course requires some web standards knowledge in terms of web technologies so as to understand this course, but still  this can be mastered if one has greater enthusiasm towards web technologies or internet.
Would this course add value to my profession?
Yes. Surely this course adds a greater value to one's profession and also reaps greater benefits such as included certifications along with the course curriculum.
Is this a quick-fix to clear interview or do I still need to practice continuously while learning this Bootstrap Course?
Yes, this will be a quick-fix if you are already having a basic or intermediate level in using this Bootstrap framework or else NO, if you are having zero knowledge in computer web technologies as this course curriculum and contents are designed very comprehensively having more than 21 hours video content including hands-on in this Bootstrap course.
Sample Preview
---
Career Benefits
There are many career and professional benefits out of this course contents and curriculum that are mentioned as below:

This course is good refreshing course for an experienced UI developer or Web developer.
Any web development professional can learn this course very easily which contains many technologies such as HTML, CSS and JS etc. in a detailed manner that includes all the concepts with videos and hands on explanation for the learner.
There are other several career benefits on opting this course which will be acquired once after the completion of this course like deep technical knowledge in UI or Web development frameworks for dynamic web pages with good foundational knowledge on technical areas.
There also exists several skills which can be learnt from this Bootstrap course which are very useful for web developers working on dynamic web page development with rich user experience.
Bootstrap Training Course Testimonials
---
Informative Site
I liked the way the course is organized. It was simple and easy to understand. Well planned and organized course content. The course is informative and duration is just right. Suitable for beginners and those who wish to build their own responsive website but don't know where to begin. Would be good to have a short quiz at the end to test for the learner's understanding. Looking forward to doing more courses on this platform.
Linked
Anto Perosha
Bootstrap – Create Responsive Websites
I can highly recommend this course to those who wants to learn about Bootstrap. It's very easy to follow and also it is available at good price. The presentation and the course material is of high quality.
Also, it is available online 24/7 and once you purchase the lifetime subscription, you have non-stop access.
Linked
Greg Kowalczyk
My Bootstrap course experience
This is the best and quality course available over the internet for the Bootstrap framework course and also for any UI developer aspirants in the area or skillset of web development for Bootstrap Web applications. This Bootstrap course contain hands on training along with the video courses and is very good for beginners also to grasp the content easily.
Elizabeth
Bootstrap Training
"This is an outstanding Bootstrap training with perfectly aligned course content and curriculum from EduCBA Courses as this Bootstrap course is well designed in such a way that the topic contents itself will give confidence in proceeding with the course for an easier learning journey.
BETTIE