$49$19975% Off TAKE THIS BUNDLE
Android Lollipop Training
5 Online Courses
14+ Hours
Verifiable Certificate of Completion
Lifetime Access
Android Lollipop Mobile Apps Development

5h 12m

Android Webservice

1h 27m

Social Media Integration on Android

4h 12m

Android Animations

1h 54m

Android Lollipop Data Storage Management

1h 57m
Offer ends in:
$49
$19975% Off
TAKE THIS BUNDLE
Skills you will master
Android Lollipop
Mobile Apps Development
Android Webservice
Social Media Integration on Android
Android Animations
Data Storage Management
Android Custom Designs
Creating New Layout
Standard Toolbar
Recycle View Widget
Layout Manager
View Holder
Drawer Model
Generate Constructor
Slider Fragment Java
String Array
Slider Adapter
Public Boolean Method
Relative Layout
Home Fragment
Online Android Lollipop Training
This Android Lollipop Training Certification includes 5 comprehensive Android Lollipop with 14+ hours of video tutorials and Lifetime Access. You get to learn a comprehensive detailed course on Android App Development using the Android version 5 which is Android Lollipop.
Android Lollipop was released in November 2014 by Google. In this training program, users learn about the latest features of Android Lollipop operating systems and how they can use the same to build android based mobile applications.
Android applications are increasing day by day and there is an app for almost everything today, So the market of app development is hot, and a lot of candidates are getting benefited by this. This online training program provides a vista for new and interested candidates who want to enter into the app development market. In this Android Lollipop Training, all new features of Lollipop operating system are covered giving the candidates an edge over other candidates for job openings in this field.
Android is designed using the Linux kernel. Its user interface is designed using direct manipulation of key ideas and data and it is available in all touch screen devices such as mobile phones, tablets, and personal computers. The basic mechanism of this operating system is to take input from these touch screen devices and users can use their finger to provide input or they can use touch stick too and the process is based on functions and provide result back on touchscreen device itself.
Please go through the document to understand the course curriculum, pre-requisites, target audience and career benefits of this Android Lollipop Training.
About Android Lollipop Training
---
| | | |
| --- | --- | --- |
| Course Name | | Online Android Lollipop Training |
| Deal | | You get access to all 5 courses bundle. You do not need to purchase each course separately. |
| Hours | | 14+ Video Hours |
| Core Coverage | | Android App Development using Android version 5 which is Android Lollipop. |
| Course Validity | | Lifetime Access |
| Eligibility | | Anyone who is serious about learning Android Lollipop and wants to make a career in this Field |
| Pre-Requisites | | Basic knowledge about app development and Android would be preferable |
| What do you get? | | Certificate of Completion for each of the 5 courses |
| Certification Type | | Course Completion Certificates |
| Verifiable Certificates? | | Yes, you get verifiable certificates for each course with a unique link. These link can be included in your Resume/Linkedin profile to showcase your enhanced app development skills |
| Type of Training | | Video Course – Self Paced Learning |
| Software Required | | None |
| System Requirement | | 1 GB RAM or higher |
| Other Requirement | | Speaker / Headphone |
Android Lollipop Training Curriculum
---
In this section, each module of the Android Lollipop Training is explained.
| | | |
| --- | --- | --- |
| Sr.No | Course Name | Course Description |
| 1 | Android Lollipop:01 – Mobile Apps Development | This Android Lollipop Training is about 5 hours long and consists of 38 short videos. It covers topics such as introduction to android lollipop, android lollipop media, why android 5.1 was released, android custom design, creating new layout, standard toolbars, recycle view widget, layout manager, view holder,  drawer model, generate constructor, slider fragment Java, public Boolean method, relative layout,  fragment transaction, build tool version, snack bars, floating action buttons etc. Inflating action buttons we talk about adding buttons, adding coordinator layout, creating fab hide on a scroll in Java, creating expand methods etc. |
| 2 | Android Lollipop:02 – Android Webservice | This Android Lollipop Training course is about 2 hours long and it contains 10 videos. It teaches concepts such as introduction to Android and web services as lesson 1. In lesson 2, we learn about JSON and concepts such as data display layout, post methods, get set methods, json application and data are covered and displaying data using while loops. In lesson 3, we learn about XML. In this lesson, we learn about Extensible markup language, fetch and display data, demonstrated applications and read data from XML file. |
| 3 | Android Lollipop:03 – Social Media Integration on Android | This Android Lollipop Training course is more than 4 hours long and contains 30 videos. Here you learn about the introduction to social media integration on Android. Apart from this, we also learn about single and multiple positions. Google maps, sync project with Gradle files, build cradle are covered. Next is Overlays. In Overlays, we learn about extra layers, types of Overlays, methods of Overlays etc. After Overlays comes Google Plus. New Google Plus project, enabling API and Click Enable are covered in this module. Next Facebook and Twitter are covered where login methods, creating applications, choosing a name, APP ID, contact email etc. are covered.  For Twitter, creating an application, filling form, getting the consumer key and secret keys and selecting read and write methods are covered. |
| 4 | Android Lollipop:04 – Android Animations | This online Android Lollipop Training is about 2 hours long and contains 14 videos. Here user learns about concepts such as introduction to Android animations, adding buttons, blink, linear layout, slide up and slide down, basic animation, flipper and back image, flipper view and flip animation, implement animation listener, swapper, the functionality of flippers, flip and page turn animation etc. |
| 5 | Android Lollipop:05 – Data Storage Management | This online Android Lollipop Training is also about 2 hours and contains 14 videos. It talks about concepts such as introduction to data saving and data reuse. And also shared preference operators, operational functions, saving key value set, handling shared preferences, android device monitor, reading and writing values etc. in the next lesson, we learn about the use of bundles such as bundle operators, database, working on bean class on creating methods etc. Next lesson is about web services where web services fundamentals are covered. |
---
Certificate of Completion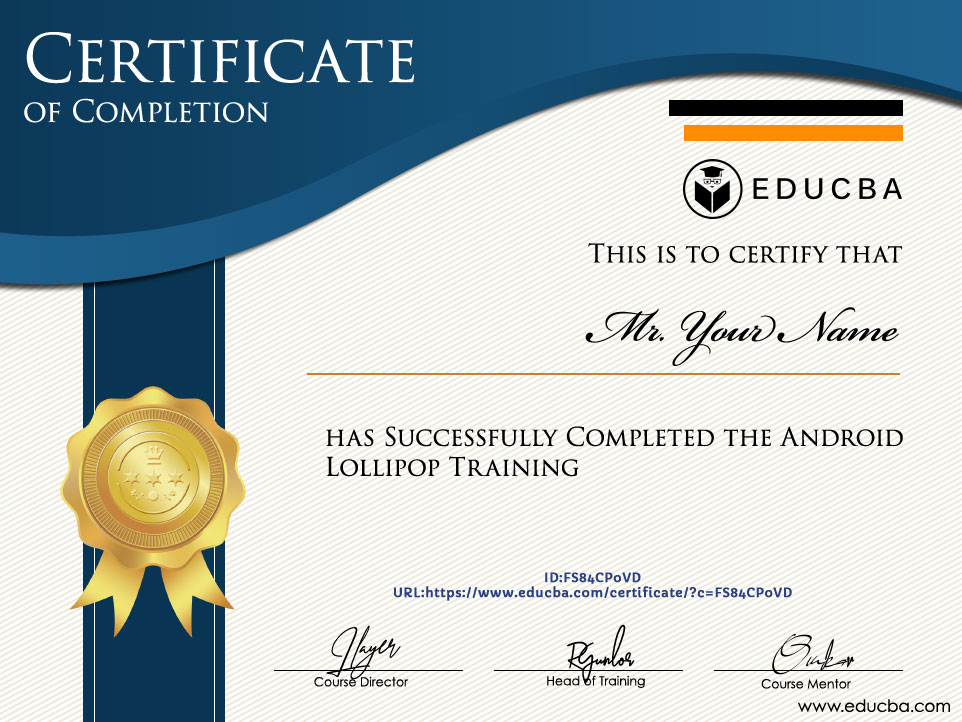 ---
What is Android Lollipop?
Android keeps on releasing newer versions which contain important upgrades on previous ones. The most important change in the Lollipop release was a completely redesigned user interface (UI). It was built around an innovative design language called Material Design. The material design concept was made to give users a paper-like feel to the UI. Apart from that, other changes were also incorporated such as improvements to the notifications bar and its style, which can now be accessed directly from the lock screen without requiring any password and displayed within applications as banners on top of the screen. Internal changes to the platform were also made and it was done using the Android Runtime (ART). Improved application performance was achieved, and it was intended to improve and optimize battery usage as well.
Lollipop's  successor is Marshmallow, which was released next year in October 2015
Major updates on Android 5.0 are listed below as a bullet point for easy understanding: –
A refreshed notification system
Individual notifications now displayed on cards based on material design language,
batches of notifications can be grouped by individual apps
Notifications are displayed on the lock screen as well as cards
A do-not-disturb feature is added for notifications.
The recent apps menu was redesigned as a three-dimensional stack of cards shape to show open apps
Individual apps can now display multiple cards under a recent menu
This should give an initial idea on the android lollipop and more details will obviously be covered in the training course.
Which Skills will you learn in this Android Lollipop 
Training?
In this section, we detail out the various skills that candidates can learn from this Android Lollipop Training. This section will help students access the intended learning outcome of the course and hence help them decide if they should enroll for the course.
Android Lollipop: – Update on all new features of lollipop upgrade.
Mobile Apps Development: – App development using lollipop, the core of this Android Lollipop Training.
Android Webservice: – Webservices on Android OS similar to web services on another platform.
Social Media Integration on Android: – How Facebook and Twitter apps work on the mobile OS
Android Animations: – How various animations such as flip and slide are built on the lollipop.
Data Storage Management: – How data is stored and retried with lollipop architecture on the Android platform.
Android Custom Designs: – Custom designs such as notification and open apps view are covered.
Creating a New Layout: – Layout changes been done based on a material language framework.
Standard Toolbar: – Many toolbar functions are provided for easier app development
Recycle View Widget: – Many new widgets are provided for better usability and design.
Layout Manager: – Layout manager is provided for multifunctionality on the device.
View Holder: – View holders are unique concepts to lollipop design
Drawer Model: – provided for better performance and UI
Generate Constructor: – Constructor is vital to lollipop OS.
Requirements / pre-requisites to Android Lollipop Training
---
In this section, we provide the pre-requisite for this Android Lollipop Training so that the candidates can learn any additional material is required before starting with this course for a better and smoother experience during the course. These pre-requisites are as below: –
Sound knowledge of Java is required before starting this Android Lollipop Training. If you are new to Java or never learned Java, it is advisable to first spend some time there and then come back.
Expert level java is not required but you should know at least basics of the concepts like OOPs, data scoping, multi-threading programming, exception handling, collections etc.
A personal computer or a laptop obviously needs a good internet connection.
Any IDEs is fine. You can use something like NetBeans or Eclipse based on your preference.
You will require to download and install the Android SDK tool from the Android website.
Target Audience for Android Lollipop Training
---
In this section, we list out suitable candidates for this course. This shall give a clear idea if this Android Lollipop Training is suitable for you or not.
Anyone interested in Android App development: This is a very generic actually. If you are passionate about building android apps, you are welcome to learn.
Beginners in the field of Android App development: Those people who are already in this field but wants to upskill themselves and learn new things which were releases with the lollipop.
Students who want to build a career as Android App developer: College graduates who have studied computer science or related subjects and wants to build a career in android app development.
Freelancers interested in Android lollipop training course and create their own App: The course is suitable for self-learners and go-getters as well. They can learn and build on the go simultaneously.
iOS developer interested in developing an App in Android: Those who are planning to move from iOS or wants to learn Android and iOS both.
Android Lollipop Training FAQ's
---
In this section, we provide common questions typically asked by students before enrolling for the course. This section will clean any doubt if you have regarding joining this Android Lollipop Training.
Who are the Instructors in this online training course on Android lollipop?
The instructors from this Android Lollipop Training are professional with several years of industry and academic experience.  They typically have tons of experience in the field of Online teaching and are subject matter experts. All the courses covered in the bundle are based on Industry-based standards and industry requirement. Also, the courses start from Scratch and do not assume any prior knowledge of students to get the participant well-acquainted with each and every concept and module.
Can I expect to get any technical Support during Android Lollipop Training period?
Yes, we do provide technical Support to all our students. When you have any technical issue, just drop an email or call us.
What are the Payment Options for this Android Lollipop Training?
There are both Online & Offline Payments available. You can pay by Credit Card, Debit Card or Net Banking and through mobile wallet. In offline payment option, Cash Deposit, Cheque, Demand Draft or money orders can also be done.
Is there any option to clear doubts like live discussions etc.?
Yes. You can contact our customer support for more details.
Career Benefits of this Android Lollipop Training
---
In this section, we provide various career benefits of this course. After completing this Android Lollipop Training, you can become one of the following: –
Data Analyst: They usually do data crunching or data manipulation
Android Mobile Application Developer: – You will build cool apps
Assistant Software Developer: You will build enterprise software to be used by millions of people.
Mobile Software Engineer: – You may work on converting a desktop application to mobile based applications.
Java Developer: – Java has a huge scope and is used almost everywhere.
System Engineer: – You will build large systems, operating systems, mainframe computers etc.
IOS Developer: – iOS developers are a niche market and good skills are always in demand.
iPhone Developer: – Android developer often finds it convenient to switch to iPhone developer compared to non- android developers.
This career section should give a clear picture to forthcoming students on the benefits of this Android Lollipop Training. Salary package is also relatively better in app development and job satisfaction is better compared to similar other software jobs.
Android applications are very popular and are in current trend. If we can make an application with the help of Android SDK and then launched on Google store and it becomes successful, one can earn in millions in no time.
Android Lollipop Training Reviews
---
Excellent
You cannot go wrong by doing the course Android Web Services by eduCBA. Instead of wasting time watching TV, I availed this course. Man, I am glad I did! Simple, Easy and to the point without waffling, it is an excellent course even if you will never do programming – it broadens your horizons of how your smartphone really works!
Linked
Greg Kowalczyk
Very Useful course
The social media integration is really helpful course. It helped me to implement facebook based login system for my app. The website is very easy to navigate. Overall, Awesome course and would recommend to my friends.
Linked
Balaprasad Vitthalrao Bhojane