Learn from Home Offer TAKE THIS BUNDLE
QUALITY MANAGEMENT Course Bundle - 32 Courses in 1 | 29 Mock Tests
This Quality Management Certification Course includes 33 courses with 131+ hours of video tutorials and Lifetime access and several mock tests for practice. You get to learn Total Quality Management (TQM) and its application in industries, Quality models, ISO standards, Lean Six Sigma, Lean Manufacturing, Defect Management and lot other concepts.
TAKE THIS BUNDLE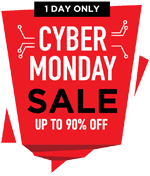 * One Time Payment & Get Lifetime Access
What you get in this QUALITY MANAGEMENT Course Bundle - 32 Courses in 1 | 29 Mock Tests?
131+ Hours
33 Courses
Mock Tests
Course Completion Certificates
Lifetime Access
Self-paced Courses
Technical Support
Mobile App Access
Case Studies
QUALITY MANAGEMENT Course Bundle at a Glance
| | |
| --- | --- |
| | |
| Courses | You get access to all 33 courses, Projects bundle. You do not need to purchase each course separately. |
| Hours | 131+ Video Hours |
| Core Coverage | Total Quality Management (TQM) and its application in industries, Quality models, ISO standards, Lean Six Sigma, Lean Manufacturing, Defect Management |
| Course Validity | Lifetime Access |
| Eligibility | Anyone serious about learning Quality Management and wants to make a career in this Field |
| Pre-Requisites | Basic knowledge about Project Management would be preferable |
| What do you get? | Certificate of Completion for each of the 33 courses, Projects |
| Certification Type | Course Completion Certificates |
| Verifiable Certificates? | Yes, you get verifiable certificates for each course with a unique link. These link can be included in your resume/Linkedin profile to showcase your enhanced project management skills |
| Type of Training | Video Course – Self Paced Learning |
---
QUALITY MANAGEMENT Course Bundle Curriculum
---
In this section, each module of the Quality Management Certification Course is explained.

Goals
Quality is an important aspect of every field nowadays. Quality control gives a detailed stepwise description to determine product sticks to earlier defined quality standards. The main goal is to check the quality of every product in every aspect.
Objectives
The main objective of the Quality management training is to maintain the desirable basic quality standard of the product. The process of identifying the defects and working on it for better improvement and maintaining quality control is better quality products. It results in better quality at every step of growth in terms of organization workflow. This course will cover all the latest features which come under Quality Management. So it will be useful for understanding basic to advanced concepts.
Course Highlights
This course is designed by keeping things in mind to fulfill learner technical exceptions in terms of Quality Management. Here we are going to highlights important concepts of Quality Management from scratch to advanced key features. Here is the list which shows what key features are going to cover:
Into the beginning we are focusing on the introduction of Total Quality Management (TQM) which includes an introduction to Quality, Dimensions of Quality, and Quality philosophies, TQM Activity, and Customer Satisfaction, Six Sigma in TQM, Understanding and Maintaining Quality Culture, Quality Assurance in TQM. It also includes Production, Planning, Control along with the introduction of CMMI with Framework, capability levels, Maturity levels, Project planning and goals, Measurement analysis, Organizational process and more.
Along with these points we are going cover Introduction to Lean Six Sigma, Tools applicable to Define phase, Measure phase, Analyze Phase, Improve Phase, Control Phase, Recognize phase. Introduction and details about Lean Six Sigma Green Belt along with Measure and Analysis.
It also covers Introduction to Lean Six Sigma in IT, types of Waste and seven levers with examples, DMAIC Integration, and methodology overview, Value stream mapping in Six Sigma and Philosophy.
This course includes Lean Manufacturing System Tools and Techniques with key features like steps for implementation, Types of lean tools, SEATON, Lean Manufacturing System SMED, JIT and Total Productive Maintenance (TPM).
Like other Belt, we are also going to cover Lean Six Sigma White Belt, Yellow Belt, and Green Belt. This section gives you details about Defect Management with Quality Control.
Project Highlights
After covering the entire feature through a glimpse of this training, the next step to do the actual implementation of all these features into the project demonstration. So here the small overview on the topic of the project we are going to cover in our course, those are as follows:
The project on Total Quality Management which is based on Six Sigma. And projects to trend you to develop Lean Software. Project demonstration using Lean Six Sigma Green Belt, Lean Six Sigma White Belt, Lean Six Sigma Yellow Belt.
Project Examples based on the Agile Scrum which is based on scrum techniques and practices and scrum Principles. Like Agile structure we are also going to focus on Scrum master with project example which is based on Scrum Events, Scrum Artifacts, and Scrum Values.
It will cover project examples on ISO 9001-2015 standards which cover points like QMS principle, QMS contents, QMS – case study Example, Project-based on Kaizen which has its principles, Checkpoints and changing features. As well as we will learn how to do Earned Value Management, Yes here we will have projects based example to briefly understand Earn Value Management. One more project based on ISO 27001 is going to cover in project examples, so it will cover various points though project points of view and cover points like Information security, Risk management, Risk Communication, Risk Assessment methodology and Risk Mitigation strategies and many more things.
---
Certificate of Completion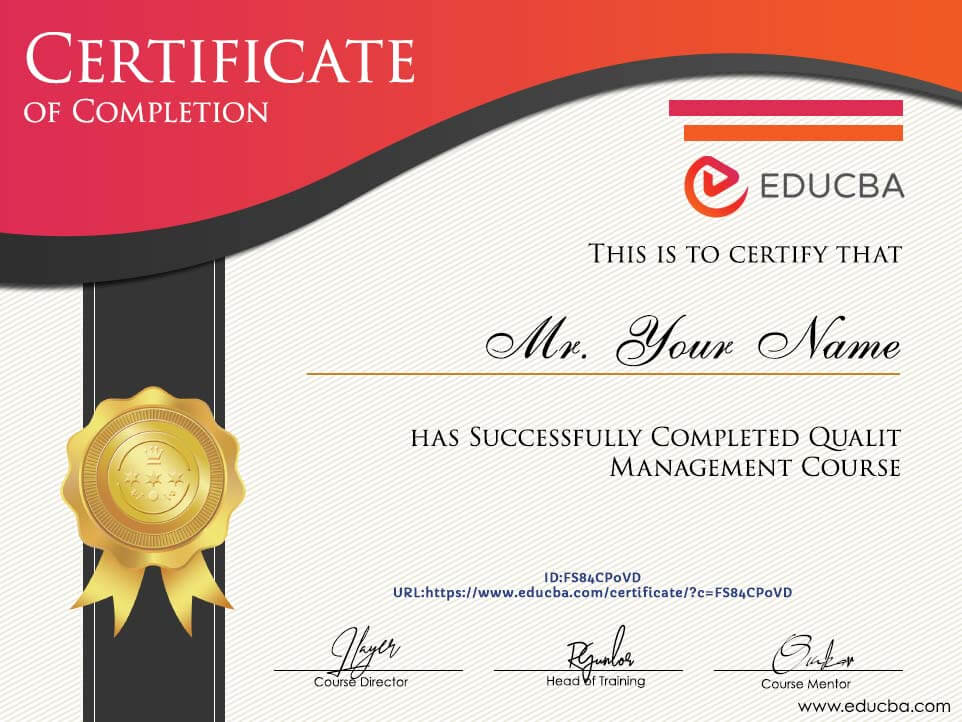 ---
What is Quality Management?
In a layman's Language, Quality Management is all about enhancing, improving and maintaining the quality of products manufactured and services provided, by following some vital tools and standards, to give maximum satisfaction to the customers by utilizing minimum but best resources.
It is a very Structured and Comprehensive program, and is different from every organization, depending upon the manufacturer. It teaches us how to keep a check on quality at every stage of the workflow.
This course will improve your understanding of quality and how to maintain it, as it's the vital cause of any successful organization.

Industry Growth Trend
The Professional Services Automation Market is projected to grow from USD 634.7 Million in 2016 to USD 1,244.8 Million by 2022.
[Source - MarketsandMarkets]
Average Salary
Average Salary
$89,711 per year
The average salary for a Quality Manager is $89,711 per year in the United States.
[Source - Indeed]
Also, you will learn how to implement get certified under ISO 9000, ISO 27001, Lean Six Sigma Green Belt.
Which Skills will you learn in this Quality Management Certification?
Quality Control: You will learn about quality control and management in this course. You will learn how to decrease errors, increase profit and assure the quality by the end of this Quality Management Certification Course course.
ISO Certified Courses: You will learn how to get your organization certified under ISO 9000, ISO 27001 and Lean Six Sigma Green Belt.
Waste Reduction and Defect Management: You will also learn the vital tools of Waste reduction and identifying defects and also how to minimize the unforeseen defects in an activity.
Encourage Mutual respect and Teamwork: This course will help you in the same.
Pre-requisites
Cravings and Passion to learn continuously: Without passion, nothing can be learned or achieved, you must have the desire to learn and grow.
Basic Computer Knowledge: Basic computer knowledge is all that required, as the course is online, so to avoid technical hindrance you shall have a basic knowledge.
Computer/Laptop with Internet Facility: As the Quality Management Certification Course is online, you need to have your computer/laptop with an internet connection.
Target Audience
Management Student: This Quality Management Certification Course is very important for you, as it will give you all the practical knowledge about quality and quality management., which will be helpful to you in setting your factory.
Professionals: If you are working in any organization, this is the perfect time to apply for this quality management course, as this will not only increase your knowledge but also help you to grow in our organization, and you can also have your setup.
Entrepreneur: An entrepreneur is solely responsible for industrial growth. He shall have all the knowledge to strategize things and make correct decisions. This course will help an entrepreneur in all important ways to run the business with profits.
Quality Management Course  – FAQ's
---
Why should I do this Quality Management course?
Because there's no better Quality Management course you would find in the market. If you're willing to learn Business Analysis, your search ends here.
What will I receive on the successful completion of this quality management certification course?
You will be acknowledged with the completion certificate, by our institute, which can be used as a feather in your resume.
How long is this Quality Management Course?
As this course is self-paced, you can take the course as per your convenience and leisure.
What should be the minimum qualification to apply for this Quality Management course?
No such criteria apply to learn from this. However, graduation in any subject could be helpful.
Sample Preview
---
Career Benefits
Because of your extensive knowledge base, now you can have an option of different job opportunities.
You will be able to help the company grow and raise its quality model, with the knowledge attained from this course.
You will never be lost, as you will get exposure to the vast expanse of the different industries of the world by knowing the tricks of quality.
Quality Management Course Reviews
---
TQM Activity and Customers
TQM Activity and Customers cover how Total Quality Management should be understood. A good overview of all considered aspects within TQM from customer, organization and employee point of view. Detailed discussion on how to reach customer satisfaction and Employee involvement is also discussed in detail. I loved this Quality Management Certification Course.
Linked
MARYBETH DE ROXAS
Interesting
I think the Quality Management Certification Course was interesting, the topics are very well developed. However, at times it was a bit repetitive. I believe that it is aimed at the general public so it applies to several areas. It was not a very long course so it seemed dynamic at times. In synthesis, it was interesting.
Linked
Evangelina S. Magni
good intro
it is nice to get some background on this topic, it gives you a guide to go through the way you want to take. I also want to add that the monitor it great he is a fluent English speaker who explains to you every matter and provides you the extra push that most of the students need to study besides your school. Greetings.
Linked
Fabrizio Alberti
Quality Management Certification Course
Great course. The diagrams models, and how to apply them will certainly have an immediate effect. They are simple to learn methods to find root causes and how to focus on fixes. They were explained nicely. The Six Sigma portion was also well done. The Quality Management Certification Course portion focuses on the application of Six Sigma in Quality control. It's well presented and has some very good material.
Brian Keith Crane
Reliable and Sophisticated
This Quality Management Certification Course course is very informative for someone who has a background in quality, it helped to give me some insight into all the parameters involved in successfully implementing and maintaining lean six sigma standards. I liked the structure of the course and enjoyed the fact that there were problems that were explained and worked through. However some areas could be improved upon, such as, the statistical information and formulas. These were a little overwhelming to try to remember, a physical documented version which could be saved by the attendee would make it easier to understand/remember and follow along with the information in the videos.
Linked
Alicia Nikita Gittens
Great Experience- Learnt A Lot!
Excellent Quality Management Certification Course!!! The instructor has explained all the important concepts and features of Lean Six Sigma systematically. This course is very informative on Lean Six Sigma Process, Tools and Techniques. The orientation of graphic diagrams and examples is key to understand it correctly. I recommend this course to others who want to take Lean Six Sigma Green Belt
Linked
Jos Ignacio Maestre Morales